Audible Plus keeps growing and has a lot to offer for former Audible Escape subscribers as well as new listeners! And while Plus doesn't offer quite as much as Escape in the Romance category, you can still listen to a bunch of absolutely fantastic Romance audiobooks for free with this unlimited subscription!
Related article: Audible Plus vs Premium Plus
If you're wondering whether Audible Plus is worth it for you as a Romance audiobook listener, let me put it like this: Audible Plus isn't Audible Escape / the Romance Package and it won't offer you as much. But Audible is constantly adding more books and right now, the Plus catalog has a bunch of popular and up-and-coming authors that are definitely worth a free trial month** (or a second look if you're already an Audible subscriber, given that you have free access to the Plus catalog).
Related article: Is Audible worth it?
The Best Romance Audiobooks in Audible Plus
Cara Bastone's Love Lines series is a must-listen for any Romance audiobook fan! All three books in this series are absolutely adorable, funny, and entertaining and have outstanding audio productions. Seatmate is the newest release and was one of my audiobook recommendations for April!
Emma Chase writes very fun Contemporary Romance and has several novels in Audible Plus. Her latest is Getting Real, narrated by the fantastic Andi Arndt and Zachary Webber!
One of the most popular Paranormal Romance series is included in Audible Plus, Molly Harper's Mystic Bayou! You can binge all 6 books and an additional novella. The latest full-length novel, A Farewell to Charms, was released in 2022!
Alexandria House's fantastic Audible Original Teach Me was among the most popular Audible Escape books of 2019. The third book in the Romey University series, Temper Me, was just released in 2022! And you can listen to all books in the series in Audible Plus.
One of the most popular Audible Plus Romance audiobooks is The Stand-In by Lily Chu, a wonderful, sprawling romantic comedy / women's fiction about a down-on-her-luck woman who gets the chance to take the place of a famous actress!
You know who really knows something about audiobooks? Audible! And when they hire some of the most popular Romance authors to write audio novellas, you can be sure to be well entertained! One of my favorites among the Audible Original Stories is A Walk in the Park by the amazing Rebekah Weatherspoon!
You will find a lot of Contemporary Romance on this list, but if you love epic Fantasy Romance, The Bridge Kingdom series is a must! Of course, you can listen to all books in the series with a Plus or Premium Plus subscription.
Sara Ney writes wonderful College Romance books and her #ThreeLittleLies is included in the Plus Catalog! It's a series of stand-alones and you can start with Things Liars Say, Things Liars Hide, or the most recent one, Things Liars Fake.
What are the ingredients for a good Romance audiobook? Well, you most certainly can't go wrong with a mix of Keeland / Penelope Ward, Sebastian York, and Andi Arndt! Their Audible exclusive Well Played is definitely one not to be missed.
Carly Phillips has several books in the Plus catalog, including the Dare Nation collection with over 20 hours of excellent Romance audiobook listening pleasure! This is a box set with 4 stand-alone novels.
Penny Reid is one of my favorite authors and I'm very pleased to tell you that her absolutely fantastic Knitting in the City series is free for Audible Plus subscribers. These are fun Romantic Comedy books with smart and witty banter! Start with Neanderthal Seeks Human.
Even though this Romance book series is also written by Penny Reid, it deserves its own mention. The Winston Brothers series is set in a small town in Tennessee and follows a group of bearded brothers finding love in the most unexpected places. Start with the wonderful Truth or Beard!
If you're looking for hot New Adult / College Romance novels that have a different take on the usual Romance tropes, the Ivy Years series by Sarina Bowen is a must! This series is among my all-time favorites and I love The Year We Fell Down the most!
Related article: The Best Romance Audiobooks of all Time!
Lauren Blakely was one of the most active authors in Audible Escape, and Audible Plus subscribers get to enjoy many of her audiobooks as well! The Always Satisfied series are four stand-alone full-length novels and three novellas with absolutely fantastic audiobook productions and you can binge them to your heart's content. Never Have I Ever is one of my favorite Lauren Blakely books.
The Caught Up in Love series includes rewritten and re-recorded versions of four older Romantic Comedy novels and novellas by Lauren Blakely. Start with The Pretending Plot and enjoy Joe Arden's fantastic narration!
An Unseen Attraction (Sins of the Cities)
KJ Charles (Author), Matthew Lloyd Davies (Narrator)
Add An Unseen Attraction to your library**
One of my favorite K.J. Charles series, Sins of the Cities, is included in Audible Plus! These M/M Historical Romance books follow three couples, but there's also an extremely captivating overarching plotline, so I strongly recommend listening to them in order. This is definitely a must-listen for my fellow M/M fans! Start with An Unseen Attraction.
Related article: Find more amazing M/M Romance books on Audible
This M/M Romantic Suspense series is entirely available through Audible Plus! It has captivating storylines with intriguing main characters and chilling mysteries. Start with Once Upon a Haunted Moor!
All three audiobooks in Avery Flynn's popular Romantic Comedy series are available in the Audible Plus catalog! Not every Romance novel heroine has to be beautiful and "traditionally perfect"…
All four books in Corinne Michael's beloved Second Time Around series are available in Audible Plus!
Whether you love Classics or wish you could finally get into them, Audible's abridged Jane Austen productions of Emma, Pride and Prejudice, and Sense and Sensibility are amazing! With a great cast of voice actors, these shortened versions of the original stories are super entertaining.
Pin this list of Audible Plus Romance Books for later: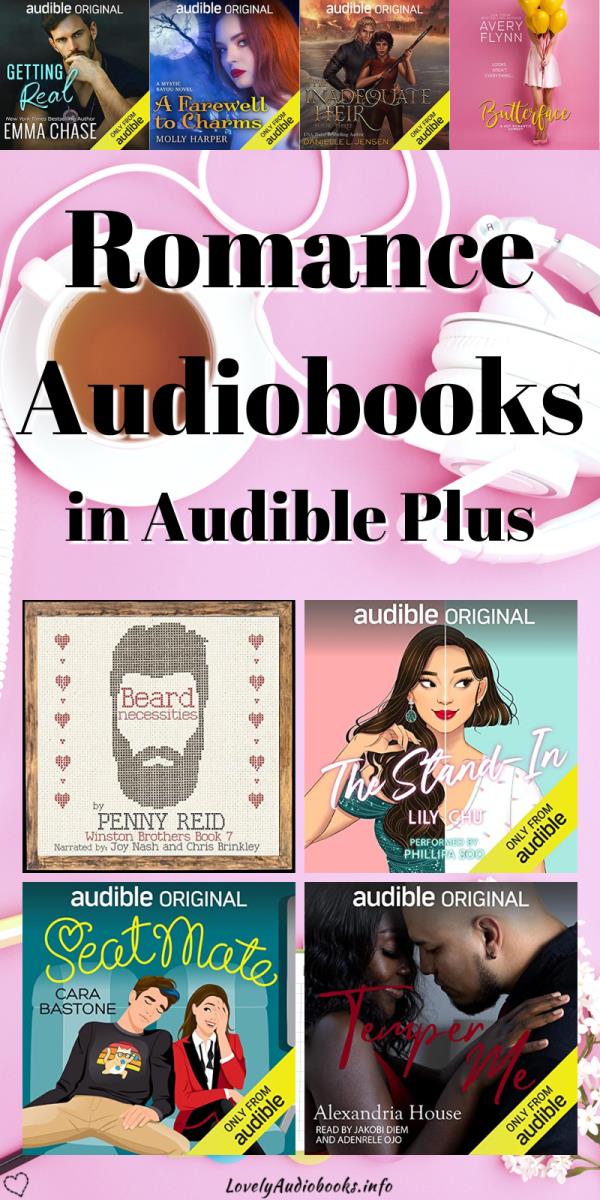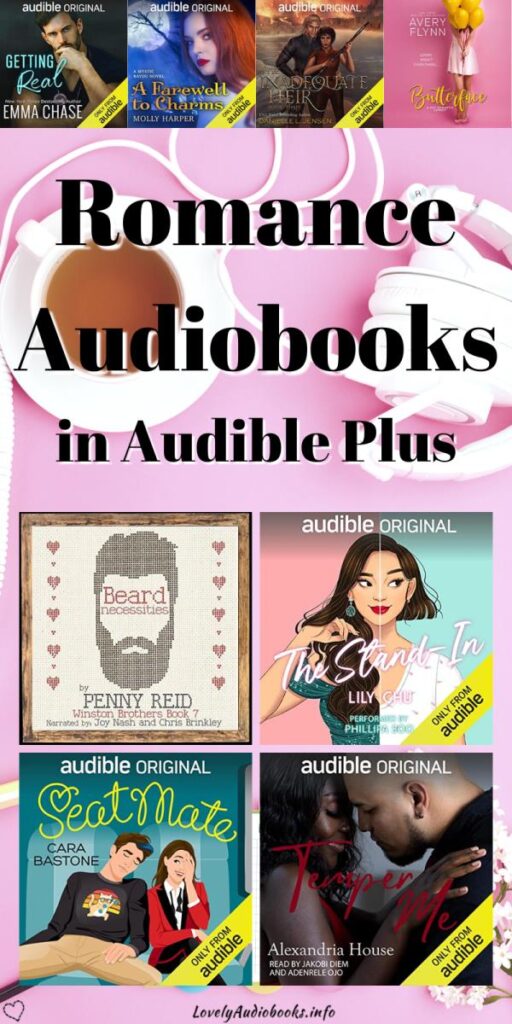 If you're looking for more Romance audiobooks in Audible Plus and don't want to miss any new additions to this unlimited audiobook subscription, follow me on Facebook! Every Friday, I post new Romance audiobook releases in Audible Plus and Kindle Unlimited, so you never miss anything.
All About Audible, Romance Books
/