As an Audible US, CA, or UK member, you can listen to as many free Audible books in the Plus catalog as you want. And Audible adds brand-new audiobooks to it all the time. Below, you can find the best new Audible Plus books in Fall 2021!
These books have all been released in the last 3 months and are included in your Audible subscription. I try to feature only stand-alone titles or books for which the entire series (or at least all earlier titles) are included in Plus so you can binge-listen to your heart's content. These audiobooks are all super popular with listeners, so you can be sure that it's worth it to give them a try!
What is Audible Plus?
If you haven't heard of Audible Plus** yet, as an Audible US, CA, or UK member you now have unlimited access to a catalog of around 10,000 free Audible books that are included in your subscription. You can borrow as many of them as you want! If you have an Audible Plus or Audible Premium Plus subscription, you won't be billed for listening to these books and you don't have to spend an Audible credit on them. Simply add them to your library with a click!
Related article: Is Audible worth it?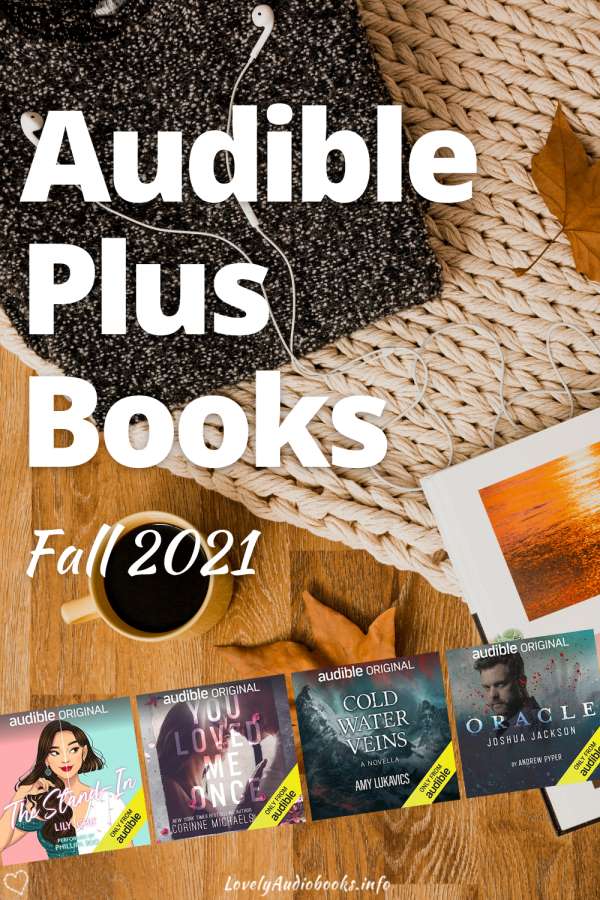 Sometimes, books might be removed again from the Audible Plus catalog. The following audiobooks were all included as of September 2nd, 2021.
The Most Popular New Romance Audiobooks
The Stand-In
Lily Chu (Author), Phillipa Soo (Narrator)
Add it to your library**
Gracie Reed is doing just fine. Sure, she was fired by her overly "friendly" boss, and yes, she still hasn't gotten her mother into the nursing home of their dreams, but she's healthy, she's (somewhat) happy, and she's (mostly) holding it all together. But when a mysterious SUV pulls up beside her, revealing Chinese cinema's golden couple Wei Fangli and Sam Yao, Gracie's world is turned on its head. The famous actress has a proposition: Due to their uncanny resemblance, Fangli wants Gracie to be her stand-in. The catch? Gracie will have to be escorted by Sam, the most attractive – and infuriating – man Gracie's ever met.
You Loved Me Once
Corinne Michaels (Author), Julia Whelan (Narrator)
Add it to your library**
From New York Times Bestselling author Corinne Michaels comes a heartbreakingly beautiful standalone story about letting love in. I'm losing myself trying to save everyone else… As a doctor, I walk a dangerously delicate balance of being compassionate but not overly invested. The same is true in my personal life–love is a luxury I can't afford. It isn't until Dr. Westin Grant breaks down all my walls and offers me a future, I find myself wondering if I'm brave enough to risk my heart.
What the Hex
Alexis Daria (Author), Jacqueline Grace Lopez (Narrator)
Add it to your library**
Welcome to Isla Bruja, a secret magical enclave near Miami and home to the richest and most powerful Latinx witch families. When Catalina Cartagena returns home for her older sister's wedding, she's shocked to discover that her soon-to-be brother in law is possessed by a demon. To make matters worse, everyone else seems to be under the demon's spell – except for Diego Paz, younger brother of the groom and Cat's childhood rival.
My Always One
Aleatha Romig (Author), Callie Dalton (Narrator), Joseph Discher (Narrator)
Add it to your library**
My Always One – Friends-to-lovers stand-alone When we were young, Samantha Anderson was the girl down the street. For as long as I remember, she's been my partner in crime, in adventures, and in almost everything. Sami is fun and sexy, my greatest confidant, and my best friend. From early on, we vow that our relationship will never change – through thick and thin, we'll remain always and forever in the friend zone. We will not cross that line.
Passion: Secrets in LA, Book 1
Molly McAdams (Author), Savannah Peachwood (Narrator), Tim Paige (Narrator)
Add it to your library**
There are moments in our lives that can change the course we're on. I believe when faced with those moments, we should take the unknown path. The risk. The excitement, the opportunity, the love…. The night I stumbled into a burlesque club in downtown Los Angeles, I took one of those paths and changed my life. I found a home I'd never had with my own parents. I found a confidence I'd never known as a prima ballerina. I found my passion. And it inadvertently led me back to the one moment I'd let slip away – to him. To a love so pure and whole and carnal, I thought it could withstand anything.
Things Liars Say: #ThreeLittleLies, Book 1
Sara Ney (Author), Alexander Cendese (Narrator), Elizabeth Hart (Narrator)
Add it to your library**
Lies, lies, lies. Everybody tells them…. Greyson Keller didn't intend to lie; it just came out that way. So when the object of that lie shows up on her doorstep, she is confused, shocked, and embarrassed. Calvin Thompson is an Ivy Leaguer, attending a university over an hour away, playing rugby and basically not giving a crap. So imagine his surprise when some guy named Greyson begins rumors online that they're dating – the only logical solution is to drive an hour and confront him….
The Most Popular New Thrillers in Audible Plus
Oracle
Andrew Pyper (Author), Joshua Jackson (Narrator)
Add it to your library**
Oracle is a psychological thriller audiobook following Nate Russo, an FBI psychic who helps solve abductions and homicides by touching those close to the missing persons. His unique gift comes with a terrible price: He sees the horrific moments before the victims disappeared. This high-stakes mystery, written by best-selling author Andrew Pyper and performed by Joshua Jackson, combines crime investigations with supernatural elements and killer instincts.
Sons of Valor: Tier One Shared-World, Book 1
Brian Andrews (Author), Jeffrey Wilson (Author), Ray Porter (Narrator)
Add it to your library**
Navy SEAL Keith "Chunk" Redman has been one of the military's top doorkickers since the day he pinned on his trident: loyal, single-minded, lethal. Tasked to lead a new, covert team of Tier One SEALs – the most elite special operators in the world – Chunk can no longer simply rely on the status quo. To safeguard America, he needs help to stay a step ahead of its adversaries. Brilliant at spotting patterns in the data that others miss, ex-CIA analyst Whitney Watts sees evidence of a troubling link between illicit Chinese arms sales and an attack on a US military convoy in Afghanistan. If she's right, it would portend not only massive casualties, but a devastating threat to global stability.
The Division: Hearts on Fire
Tom Clancy (Author), Katee Sackhoff (Narrator), Shannon Woodward (Narrator), Intae Kim (Narrator), Jilon VanOver (Narrator), Arie Thompson (Narrator), William Leon (Narrator), Scott Cooper Ryan (Narrator), Greg Perrow (Narrator), Jon Sprik (Narrator), Bernard C. Bayer (Narrator), Michelle Nakamoto (Narrator), Kiosha Lee (Narrator), Beau Dremann (Narrator), Robert Werner (Narrator), Paul Nobriega (Narrator), Kc Wayland (Author)
Add it to your library**
Hearts on Fire is written and directed by Kc Wayland, an award-winning writer, producer, editor, director and United States Army veteran whose film and audio work has been enjoyed around the world. Melanie Hoskins, an experienced firefighter-paramedic, has been recruited by a very selective and secret organisation known as The Division. Their mission is to protect the populace and secure the continuation of the United States. The Division is only activated at times of dire need. This just so happens to be one of those times. Based in New York City, Hoskins is forced to leave her civilian life and those she loves behind, and join the front line to try to control the 'dollar flu' virus that has been spreading throughout the city.
Village of Islands: A Short Story
Jim Shepard (Author), Stephen Graybill (Narrator)
Add it to your library**
From the award-winning author of The Book of Aron and Phase Six comes a powerful short story exploring one of the most devastating storms in American history. The 1935 Labor Day hurricane annihilated between 400 and 600 lives in the middle of the Florida Keys, and like all disasters, both exposed long-standing social and economic inequities and reminded us of the bonds that enable us to provide what rescue we can for those we cherish.
The Most Popular Audible Plus Books in Fall: Sci-Fi, Fantasy, and Horror
Cold Water Veins: A Novella
Amy Lukavics (Author), Lauren Fortgang (Narrator)
Add it to your library**
A chilling family saga with a supernatural twist, Cold Water Veins is a captivating story of sisterhood, secrets, and being called home. Two estranged sisters, Lillian and Adelia, struggle to come to terms after the mother they've believed to be dead for the past fifteen years actually passes away. Confused and in shock, they travel together to the isolated village of their childhood to claim the farm that was passed on to them. There's comfort in returning to this place of their birth, where a simpler, rustic life feels possible – but the sisters quickly realize that something is very wrong with the village, and that their mother was hiding more than they could have ever imagined.
Grand Theft Astro
Scott Meyer (Author), Elizabeth Evans (Narrator)
Add it to your library**
From the author of the "Magic 2.0" series comes an outer space caper where it's the thief who's having something stolen from her – her life. It is the distant future, and Baird is a loner, a part time spy, and a notorious alleged thief. "Notorious" for the audacity of her crimes; "alleged" because nobody has ever been able to legally prove she committed any of them. When the hush-hush agency known as the Toolbox recruits Baird, being a clandestine operative seems like a great way to get paid to do what she already does anyway.
Stan Lee's Alliances: A New Reality
Stan Lee (Author), Kat Rosenfield (Author), Luke Lieberman (Author), Ryan Silbert (Author), Wil Wheaton (Narrator)
Add it to your library**
A brand-new audio event set in the Audible and New York Times best-selling Alliances universe of legendary creator Stan Lee, performed by fan favorite Wil Wheaton. Biohacker Olivia Park is obsessed with an emerging mystery within Oz, the online portal created by alien technology. What she finds is a primitive xenobot, Eno, who takes her on a mind-bending trip through time that begins as the Berlin Wall is falling, and takes her back to the origins of the modern internet and the fall of a digital Atlantis created by her father, Wesley Park, and entrepreneur William Ackerson.
Strange Company
Roan Parrish (Author), Timmi Meskers – music (Author), Elizabeth Evans (Narrator), Michael Crouch (Narrator), Vikas Adam (Narrator), Ellen Archer (Narrator)
Add it to your library**
A queer horror collection that blends music and prose to bring its haunted worlds to life. Prepare for a chilling journey from a ruined church in Philadelphia, where the spirit that lurks is far from benign to a Prohibition-era New Orleans jazz club, where a young man finds the love of his life – if he can live through the night; from a Detroit cemetery, where teenaged rituals have unforeseen consequences to a deserted beach in an unknown place, where two sisters let the ocean decide their fate; from the Jersey Shore, where the magic of a wistful summer could tear reality apart; to a Michigan high school, where a teenager finds the mystery man of his dreams who's with him everywhere – and forever.
The Most Popular Audible Plus Books in Fall: Fiction
Precious Stones
Darrien Lee (Author), Tony Isabella (Narrator)
Add it to your library**
Owning the Stone-Chance Protection Agency has its perks. It's a profitable company that allows Ramsey and Keilah Stone to enjoy the finer things in life; however, it has also added an element of danger to their otherwise normal lifestyle. When Keilah was a field agent, she was an excellent marksman, known for being fearless when it came to protecting her clients. Now that she has a baby daughter, she's lost that competitive edge and longs for a slower life. That might not be possible, though, when the return of a shady ex-lover brings chaos into Keilah's life.
American Santa
Vanessa Hua (Author), Cindy Kay (Narrator)
Add it to your library**
Rivals since childhood, Fang and Lian both leave their village in China in search of fortune and adventure. After reuniting in a factory city, when Fang's grandmother falls ill, they hatch a plan to win the sympathies of an American online. When he replies, Lian secretly masquerades as Fang in a gripping story of friendship, love, and betrayal.
The Veil
Rachel Harrison (Author), Louisa Krause (Narrator)
Add it to your library**
Sally has recently left an unfulfilling job to volunteer at a living history museum, where she is assigned to the Death House. Every day, she dons Victorian mourning garb and describes traditional funeral services to tourists. It sounds depressing as hell, but for Sally, it's less depressing than her tepid marriage to her childhood sweetheart. This becomes all too clear when she accidentally travels through time and space to a liminal world where the ghosts of the living history museum haunt its grounds. There, she meets and falls hard for Victorian-era pretty boy Nathaniel.
The Johnson Sisters
Tresser Henderson (Author), D. S. VanNiel (Narrator)
Add it to your library**
The Johnson Sisters is the riveting story of a close-knit bunch struggling to keep the family legacy going in spite of their differences. Vivian, the oldest sister, has the house, the nice car, designer clothes, and money but no man with whom to share her life. After a previous abusive relationship, she's struggling with her self-esteem. What will it take to convince her she's worthy of love? Shauna is the funny, happy-go-lucky sister. Give her a drink and she's content with the world – until one tragic event forces her to face her demons. The revelation of her secret threatens to damage her relationship with her sisters.
The Most Popular New Nonfiction Audiobooks
Streets, Rhymes & 'Sugar': A Hip Hop Memoir by Michael Elliot
Michael Elliot (Author, Narrator)
Add it to your library**
In this moving audio memoir, Michael Elliot chronicles his life from being homeless on the streets of Philadelphia to successful Hollywood screenwriter and business entrepreneur. He talks about how his cycles of success and setbacks have become moments to focus on opportunity – like how first big success eventually fell away, and Michael found himself working at the Gap.
Black Gold
Teresa Edwards (Author, Narrator)
Add it to your library**
Teresa Edwards has won more Olympic medals than any other basketball player in history with four golds and one bronze. She is the youngest woman to win a gold medal in basketball – and the oldest. She's a WNBA pioneer and has been inducted into the Naismith Basketball Hall of Fame. Now, for the first time, she shares the story of her greatest loss – and her most incredible victory.
It Never Ends: A Memoir with Nice Memories!
Tom Scharpling (Author, Narrator)
Add it to your library**
Tom Scharpling is good at being funny, which is a miracle, considering what he's survived. Like hitting a deer and narrowly escaping with his life on the night of the 2016 election. But that's nothing compared to the struggles he had earlier in his life. It Never Ends is his memoir of a life writing comedy amidst a lifelong struggle with mental illness, a story he has never told before. It's the heartbreaking account of his intense coming-of-age, and the lengths he's undertaken to pull away from the brink of self-destruction.
New Audiobooks
/