The Wheel of Time is one of the most popular epic fantasy series of all time, and for good reason! The story is full of adventure, magic, and intrigue, and unbelievably captivating. If you love the Amazon Prime show and want to experience the original books, a The Wheel of Time audiobook is the perfect way to dive into this sprawling world!
**The marked links and book covers on this page are affiliate links. If you use them to purchase something, I earn a fee at no additional cost for you. Disclosure**
Publisher Blurb:

This program is read by Audie Award-winning narrators Michael Kramer and Kate Reading, and includes a bonus interview with the author.

Now an original series starring Rosamund Pike as Moiraine!

The first novel in Robert Jordan's #1 New York Times bestselling epic fantasy series, The Wheel of Time.

The Wheel of Time turns and Ages come and pass, leaving memories that become legend. Legend fades to myth, and even myth is long forgotten when the Age that gave it birth returns again. What was, what will be, and what is, may yet fall under the Shadow.

Moiraine Damodred arrives in Emond's Field on a quest to find the one prophesized to stand against The Dark One, a malicious entity sowing the seeds of chaos and destruction. When a vicious band of half-men, half beasts invade the village seeking their master's enemy, Moiraine persuades Rand al'Thor and his friends to leave their home and enter a larger unimaginable world filled with dangers waiting in the shadows and in the light.

Since its debut in 1990, The Wheel of Time has captivated millions of readers around the globe with its scope, originality, and compelling characters.
The Eye of the World Audiobook versions
There are currently two versions available of The Eye of the World audiobook. One is read by Rosamund Pike, our beloved Moiraine from the show. The other is read by Kate Reading and Michael Kramer. Those two narrators have recorded the entire 14-book series by Robert Jordan.
Now, as a listener about to get started with this epic series, it's a tricky decision which version of The Eye of the World you want to pick up. They are both well-loved by fans!
Rosamund Pike is not only a wonderful actress, she is also an outstanding and experienced audiobook narrator. And her recording of The Eye of the World audiobook is from 2021 so you get super crisp sound quality.
However, at the moment, it is unclear whether she will continue reading the entire series.
Macmillan Audio is currently producing new recordings of The Great Hunt and The Dragon Reborn with Rosamund Pike as narrator. But there is no official statement in regard to the other 11 books.
So, here is where it gets difficult! If this was only about The Eye of the World audiobook, I would probably recommend that you get the newly released version. But changing narrators in the middle of an audio series is no fun. I know this from experience because sometimes authors and publishers have to take this step e.g. due to scheduling.
But as listeners we get immersed in a world with many different characters and we get used to a character sounding a certain way. So, it can really make it difficult to let a story captivate you again if it's a world you are already familiar with, but everyone sounds different.
That means for me, if you are very sure you want to listen to the entire Wheel of Time audiobook series and not just dip your toe in with the first book, I lean towards recommending the older recordings by Kate Reading and Michael Kramer to you so you can get used to their voices for all the characters and they will stay the same throughout your trip from the Two Rivers to Tar Valon and onwards.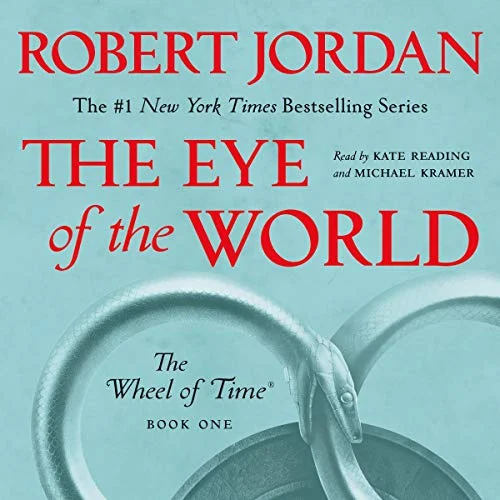 Their recording also has the advantage of having a male-sounding narrator for all chapters from a male point of view. And while Rosamund Pike has great male-sounding voices, many audiobook fans prefer a dual narration with two different narrators for books with male and female point of view chapters.
Plus, Kate Reading and Michael Kramer have both received Audie Awards and Earphone Awards. So you can rest assured that these two really know their way around narrating an audiobook!
Please check out samples of both versions before purchasing The Wheel of Time audiobook. A 14-book series is a long journey and you can't take that on while listening to a voice you don't love!
Where to get The Wheel of Time audiobook?
The Rosamund Pike Wheel of Time audiobooks are available on Amazon Audible**, Libro.fm**, and Audiobooks.com**.
The same goes for the Kate Reading and Michael Kramer audio versions: Amazon Audible**, Libro.fm**, and Audiobooks.com**.
Unfortunately, neither is included in Hoopla or Scribd. So, you can't simply borrow and binge the series. Yeah, I looked into it and was sorely disappointed!
Related article: My favorite Audible Alternatives
You can grab a free trial with Audible** to get The Eye of the World audiobook of your choice.
If you want to commit to the entire series after listening to it, you could consider an Audible 12 months subscription**. That comes at quite a discount compared to the monthly subscription (you get 12 credits for the price of 10) and you get all 12 Audible credits at once so you can make your way through the series at your own pace.
If you want to spend a bit less money on Amazon Audible and instead like to support indie bookstores, check out Libro.fm**! As a new subscriber, you get two audiobook credits in your first month, so you can also grab The Great Hunt here.
Audiobooks.com is also a solid choice that I can recommend. Plus, free trial**!!
All three stores have very stable apps with settings for narration speed and sleep timers. If you don't care too much about having all your audiobooks in one place, you can grab a trial month with each to get the first couple of The Wheel of Time audiobooks.
And that's it for now. I hope I could provide you with all the info you need to find the best version of these amazing audiobooks for YOU! 🙂
Reviews
/