What I love about Friends to Lovers books is that these Romance novels can give us a deep emotional connection without all the drama and angst! Just the kind of relaxing read (or listen) that you might crave at stressful times…
The characters in the following love stories are so likable and interesting together that they don't need ongoing dramatic conflict to keep me hooked. And since they know each other so well, you just might believe that they will really live happily ever after!
**The marked links and book covers on this page are affiliate links. If you use them to purchase something, I earn a fee at no additional cost for you. Disclosure**
Take a Hint, Dani Brown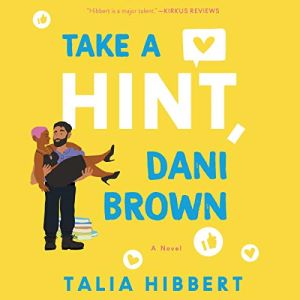 Talia Hibbert (Author), Ione Butler (Narrator)
Get the Audible book**
Or Buy it on Libro.fm**
Or Borrow it on Scribd**
Dani doesn't believe in love. That's how things fell apart with her ex-girlfriend. And that's why things have to stay in the friendzone with Zafir. For the sake of Zafir's charity, the two decide to pose as a couple for social media though. And since things are going so well with the fake relationship, why not add a friends with benefits arrangement on top of that? Totally safe, no one will fall in love here!
Dani and Zaf are two of my favorite friends to lovers! Zaf is such an amazingly sweet guy and I physically feel how torn Dani is about her feelings for him. She really wants to make sure he stays in her life. Ione Butler narrates the audiobook and it is so, so good!! If you have seen this book around everywhere (including on this blog here), there is a good reason for the hype, honestly. It cannot be hyped enough!
Related article: The Best Audible Alternatives
Baking Me Crazy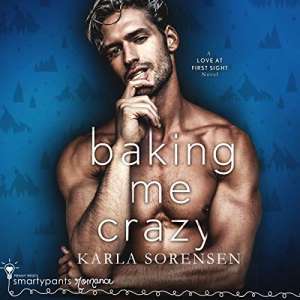 Smartypants Romance (Author), Karla Sorensen (Author), Chris Brinkley (Narrator), Reba Buhr (Narrator)
Get the Audible book in a deal**
Or Buy it on Libro.fm**
Or Borrow it on Scribd**
Levi wants to be a good friend to Jocelyn because he believes she needs a friend more than a boyfriend. But when another guy is coming on to her, Levi has to get his act together and make his move!
I loved Levi and how concerned and loving he was towards Jocelyn. Such a beautiful, romantic friends to lovers story and yet also cute and funny! The narration is done perfectly by Chris Brinkley and Reba Buhr!
Related article: How to get Audible books cheaper with Whispersync
Love, Comment, Subscribe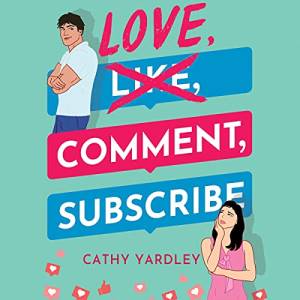 Cathy Yardley (Author), Jenapher Zheng (Narrator), David Lee Huynh (Narrator)
Listen for free with Kindle Unlimited**
Love, Comment, Subscribe is set in the world of professional YouTubers where Lily is trying to make a name for herself as a beauty influencer. She very much does not want to be considered a nerd anymore! Tobin is a former high school "friend" she only hung out with because she felt she had to. He belonged to the same group of nerdy friends as Lily. After one of his YouTube videos becomes a viral hit, she reluctantly reaches out to him to collaborate so she can grow her own reach.
Lily and Tobin aren't exactly best friends. But they share such a deep connection because they have known each other for so long. Tobin knows sides of Lily she doesn't dare to show anymore. But they find such a great balance together, they support each other and help each other see themselves and their goals more clearly. Jenapher Zheng and David Lee Huynh did such a fantastic job bringing this sweet and fun book to life!
Related article: How to listen to Audiobooks with Kindle Unlimited
Sunset Springs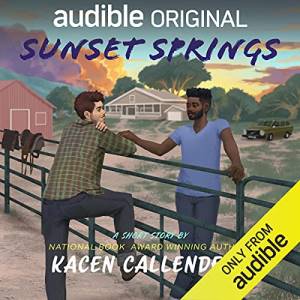 Kacen Callender (Author), Commarrah J. Yochanan (Narrator)
Listen for free with Audible Plus**
After losing his job, Charlie has to return to his hometown, a very white, very straight place, where he as a Black gay trans man feels very uncomfortable. Then Charlie runs into Jack, Charlie's highschool crush, who has recently come out as gay. Charlie and Jack carefully build up a very tender friendship.
Sunset Springs is a raw, yet beautiful Adult Trans M/M novella. And even though this is a quick listen, this Friends to Lovers Romance is completely captivating and emotional! I enjoyed the narration by Commarrah J. Yochanan very much. The perfect voice to bring this story to life!
Related article: How to get more out of your Audible Membership!
Always Only You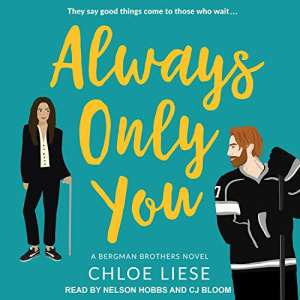 Chloe Liese (Author), CJ Bloom (Narrator), Nelson Hobbs (Narrator)
Get the Audible book in a deal**
Or Buy it on Libro.fm**
Or Borrow it on Scribd**
Ren has Frankie friend-zoned because she is his co-worker. And Frankie has Ren friend-zoned because she is a grump, basically. However, Ren is counting the days until they won't work for the same hockey team anymore so he can finally ask Frankie out! Until then, the two hang out as friends. More and more and more…
Frankie's and Ren's grumpy/sunshine romance is one of my favorite friends to lovers books! They are so utterly heartwarming and sweet and funny together! CJ Bloom and Nelson Hobbs did a wonderful job narrating this audiobook.
Related article: My favorite Romance audiobooks with great Disability representation!
While We Were Dating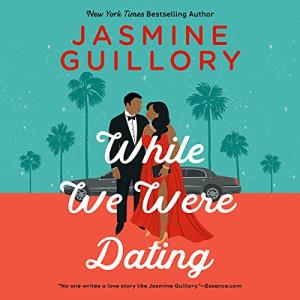 Jasmine Guillory (Author), Janina Edwards (Narrator)
Get the Audible book**
Or Buy it on Libro.fm**
Anna is a movie star and Ben works for a marketing agency. When they work on an ad campaign together, the two quickly develop a very deep and meaningful friendship. They talk very openly about their struggles with anxiety and depression. They spend more and more time together as part of a fake relationship for the media and really get to know each other.
Anna and Ben become best friends first before they give in to their chemistry and add "benefits" into the mix. I absolutely loved how Anna and Ben talked and opened up to one another! And the narration by Janina Edwards really brought out their vulnerabilities.
Role Model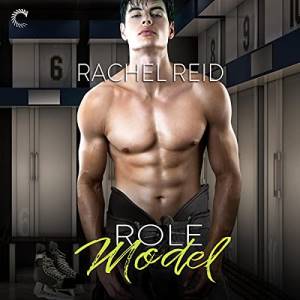 Rachel Reid (Author), Cooper North (Narrator)
Get the Audible book**
Or Buy it on Libro.fm**
Or Borrow it on Scribd**
Troy is a Hockey player who chose to stay in the closet. The homophobic slurs he encounters in games put him off any thoughts of coming out. But Harris, the out-and-proud social media manager of his new team, is too fascinating. So, Troy keeps seeking Harris' company and the two become best friends before Troy dares to make a move.
Role Model made me tear up because it was so insanely sweet! I loved how the two guys talked with each other and went from best friends to lovers. How carefully Troy approached Harris and just couldn't stay away. Their relationship journey is insanely sweet and moving. Troy is the kind of tortured hero I just can't help but love. He comes so far in this book! Cooper North is a wonderful narrator and the perfect fit for this audiobook!
Duke, Actually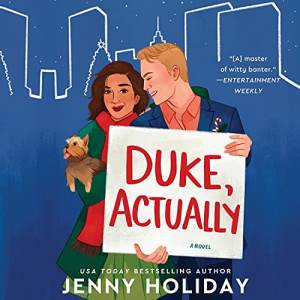 Jenny Holiday (Author), Stacy Gonzalez (Narrator)
Get the Audible book**
Or Buy it on Libro.fm**
Or Borrow it on Scribd**
Duke, Actually is not only fun on Christmas! Max and Dani are both very set on not wanting a relationship, like, ever. But they find that they actually get along really well. And between texting, phone calls, and being each other's +1 for important events, they become very good friends. Just that, of course. Since love is not for either of them!
Duke, Actually is such a fun book about friends becoming lovers! Max and Dani have amazing chemistry and their banter is hilarious. They are such a wonderful couple and Stacy Gonzalez did a great job delivering this in the audiobook!
Weather Girl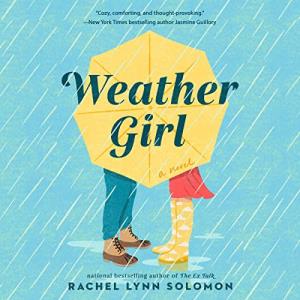 Rachel Lynn Solomon (Author), Sarah Mollo-Christensen (Narrator)
Get the Audible book**
Or Buy it on Libro.fm**
Ari has depression and doesn't think someone can love the real her. She believes she constantly has to wear a cheerful mask to be palatable for partners. Russell is a single dad with a dad bod and doesn't think he is a good catch for any woman. The two keep being thrown together and their friendship and attraction keep growing.
The romance between Ari and Russell unfolds slowly and it feels incredibly real and relatable. It's steamy and tender at the same time! Ari and Russell both show their vulnerable sides and it's just so incredibly sweet to see them become trusting friends and then lovers! Sarah Mollo-Christensen did a wonderful narration with such amazing voices for all characters.
Real Men Knit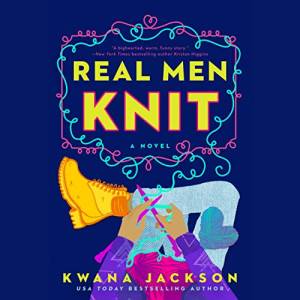 Kwana Jackson (Author), Keylor Leigh (Narrator)
Get the Audible book**
Or Buy it on Libro.fm**
Or Borrow it on Scribd**
Kerry works in a knitting store. Her childhood crush, Jesse, and his brothers recently inherited the store and are unsure what to do with it now. Jesse has always friendzoned Kerry and the brothers call her their honorary little sister. While Kerry has to deal with the heartache of (seemingly) unrequited love, she also has to decide between a job that would pay the bills and doing what she thinks is important, namely, helping children from her neighborhood.
Real Men Knit is a wonderful slow-burn childhood friends to lovers Romance set in the knitting store you wish you had in your neighborhood! Kaylor Leigh is a pleasure to listen to, making this audiobook a very relaxing, fun experience.
The Secret Pond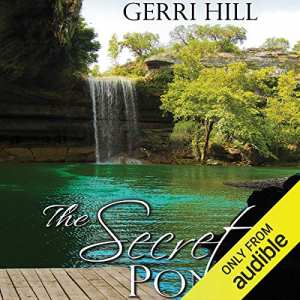 Gerri Hill (Author), Abby Craden (Narrator)
Hannah and Lindsey are both grieving after losing family members when Hannah's son and his dog bring the two women together. A friendship blossoms that slowly grows into more while the two women navigate their realities.
The Secret Pond is a beautiful, intensely captivating story about life and love after loss. The friendship between Lindsey and Hannah's son is so sweet and it's wonderful to see how things develop from there. This is a mellow, thoughtful slow-burn friends to lovers Romance novel. The audiobook is narrated by Abby Craden who I could honestly listen to all day every day!
His Grumpy Childhood Friend
Jackie Lau (Author), Emily Woo Zeller (Narrator)
Get the Audible book in a deal**
Or Buy it on Libro.fm**
Or Borrow it on Scribd**
Charlotte and Mike used to be best friends when they lived next to each other as kids. When they run into each other after half a lifetime without contact, Charlotte figures that Mike must be great at dating, given his good looks, and that he could surely teach her how to get better at flirting.
His Grumpy Childhood Friend is such a compelling book! It's at the same time fun and light, but it also discusses the emotional abuse Mike has endured as a child. I love the love coach trope and it's particularly sweet with these two childhood friends who are working out together what they need from a romantic partner. Emily Woo Zeller is an amazing narrator and I love her for Jackie Lau's characters!
Second Chance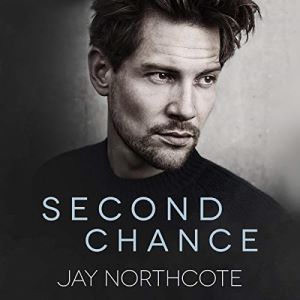 Jay Northcote (Author), Hamish Long (Narrator)
Get the Audible book in a deal**
Nate and his daughter move back to the hometown Nate left before transitioning. It doesn't take long before he meets Jack again, his former best friend – the gay best friend Nate was in love with as a teenager but who didn't return the feelings. The two start hanging out again but Nate doesn't know what he can expect from Jack now. And Jack has his own reasons for having returned to their hometown.
Second Chance is a wonderfully atmospheric, emotional, and sexy childhood friends to lovers book. The audiobook is narrated by Hamish Long who is a pleasure to listen to and created distinct voices for the two men. I loved this book so very, very much!
Brooklynaire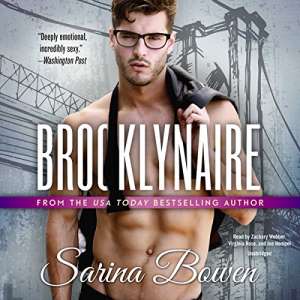 Sarina Bowen (Author), Zachary Webber (Narrator), Virginia Rose (Narrator), Joe Hempel (Narrator)
Get the Audible book in a deal**
Brooklynaire is the perfect choice when you're looking for best friends to lovers books! Nate and Rebecca have been besties forever. He's a super-rich genius and she's "only" an assistant. She is sure it couldn't possibly work and he thinks she's just not that into him…
I love myself a good nerd hero and the story of Rebecca's health struggles was well done and very emotional for me. Sarina Bowen is so great at writing complex, relatable, and interesting characters, one more thing that made this audiobook stand out! Zachary Webber and Virginia Rose are among the most popular Romance narrators and I enjoyed the mix with Joe Hempel as "fairytale narrator".
Mister Bodyguard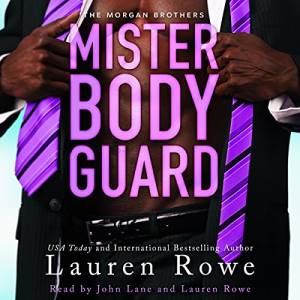 Lauren Rowe (Author, Narrator), John Lane (Narrator)
Get the Audible book in a deal**
Zander is hired as popstar Aloha's new bodyguard. He wants to do the whole thing the right way, so instead of wooing her, he befriends her and is the all-around amazing guy he always is.
As you'd expect from an honorary Morgan Brother, this book was laugh-out-loud funny. Zander is such a wonderful hero! He's honest, in touch with his feelings, and ridiculously likable. And he still manages to be super friggin sexy on top of that! I could very well imagine how frustrating it must be when a guy like that just wants to be friends… Lauren Rowe brings you one of my absolutely favorite Friends to Lovers books here! And the author herself and John Lane did a great narration.
Marriage of Inconvenience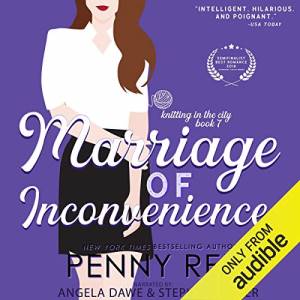 Penny Reid (Author), Angela Dawe (Narrator), Stephen Dexter (Narrator)
Listen for free with Audible Plus**
Or Buy it on Libro.fm**
Or Borrow it on Scribd**
Kat and Dan aren't exactly besties. But they've been sharing the same circle of friends for a long time. So, when Kat has a really big problem, namely, an urgent need for a husband, Dan steps up, happy to help out.
Honestly, that moment in the book made my heart hurt in all the good ways. As you'd expect from Penny Reid, Marriage of Inconvenience has a captivating storyline in addition to the beautiful love story between two friends! Angela Dawe and Stephen Dexter are wonderful narrators and I thoroughly enjoyed every minute of this audiobook! And yes, I listened to it more than once.
Not So Nice Guy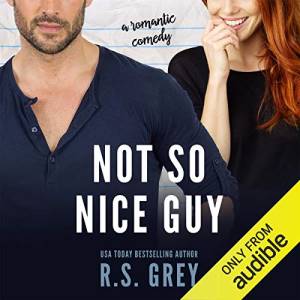 R.S. Grey (Author), Teddy Hamilton (Narrator), Luci Christian Bell (Narrator)
Get the Audible book in a deal**
Ian and Sam have been best friends for years. Somehow, they inadvertently ended up friend-zoning each other despite their chemistry. Now, Sam doesn't quite dare to risk their friendship while Ian is more determined than ever to romance her.
R.S. Grey romantic comedies are like a cozy blanket for my mind. From the first minute on, this author makes me feel relaxed and nicely entertained! I love the humor in this book and the charming characters who found themselves in a classic friend-zone dilemma. Luci Christian Bell has a super cute quirky voice and Teddy Hamilton is one of my favorite narrators. They brought this story to life perfectly!
Jock Row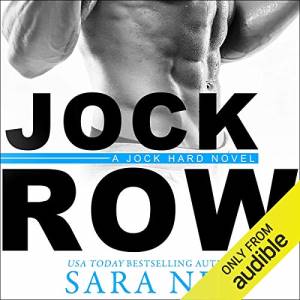 Sara Ney (Author), Ava Erickson (Narrator), Josh Goodman (Narrator)
Get the Audible book in a deal**
Rowdy has to kick Scarlett out of a frat party and finds himself talking to her for hours on the porch in front of the house. The jock and the stubborn nerd form a very unlikely friendship.
I love how all–around badass Scarlett is and how she brings out new sides of Rowdy. If you're craving a cute and sexy friends to lovers College Romance without angst but with lots of awesome banter, Jock Row is perfect! Ava Erickson has a beautiful young voice and always delivers a perfect narration. Both narrators did a fantastic job!!
Bedfellow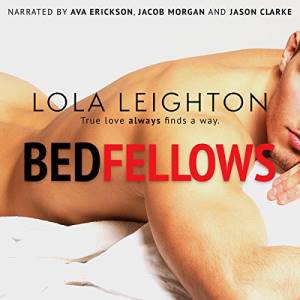 Lola Leighton (Author), Ava Erickson (Narrator), Jacob Morgan (Narrator), Jason Clarke (Narrator)
Now, Bedfellows is a little bit different from the other friends to lovers Romance books on this list. But it is an absolutely beautiful best friend love story! Sullivan and Will are besties. Then they fall for the same girl and things take a very interesting turn when they decide that both of them would date her – if she wants them both.
This is the cutest polyamory story ever! It's super hot but also very sweet and romantic with lots of turns that you might have hoped for but never actually expected. This is very much not a love triangle! All three main characters in this book have their own voice actor which makes this audiobook a particular pleasure to listen to!
Painted Faces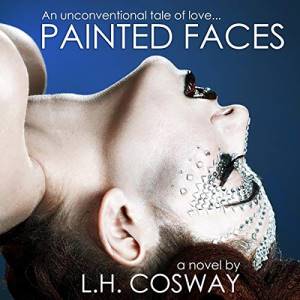 L.H. Cosway (Author), Ali Coffey (Narrator)
Get the Audible book in a deal**
Painted Faces might well be the perfect friend-zone Romance! Freda is fine being just friends with Nicholas who is insanely hot and has a truly sparkling personality. She can't believe he could desire her, which makes it all the more delicious when he does…
Painted Faces is not only a great choice when you're looking for best friends to lovers books, but it's also, in my opinion, one of the best Romance novels of all time! I love how it shakes up the usual gender norms while still being extremely sexy. L.H. Cosway writes some of the best sex scenes and this book – which I have reread about 100 times – gets to me every single time. If you trust me a little, get this book without reading the blurb. It's so much more fun that way, promise!
Pin these Friends to Lovers Books for later:
You love friends to lovers books but sometimes you crave more angst and drama? Check out my favorite Enemies to Lovers books as well!
Romance Books
/