What I love about Friends to Lovers books is that these Romance novels can give us a deep emotional connection without all the drama and angst! Just the kind of relaxing read (or listen) that you might crave at stressful times…
The characters in the following love stories are so likable and interesting together that they don't need ongoing dramatic conflict to keep me hooked. And since they know each other so well, you just might believe that they will really live happily ever after!
Brooklynaire
written by Sarina Bowen, narrated by Zachary Webber, Virginia Rose, and Joe Hempel
Get the audiobook in a deal on Amazon**
This is the perfect choice when you're looking for Best Friends to Lovers books! Nate and Rebecca have been besties forever. He's a super-rich genius and she's "only" an assistant. She is sure it couldn't possibly work and he thinks she's just not that into him…
I love myself a good nerd hero and the story of Rebecca's health struggles was well done and very emotional for me. Sarina Bowen is very good at writing complex, relatable, and interesting characters, one more thing that made this audiobook stand out!
Zachary Webber is among the most popular Romance narrators and I enjoyed the mix with Joe Hempel as "fairytale narrator".
Related article: How to get your audiobooks cheaper!
Mister Bodyguard
Written by Lauren Rowe, narrated by Lauren Rowe and John Lane
Get the audiobook in a deal on Amazon**
Zander is hired as popstar Aloha's new bodyguard. He wants to do the whole thing the right way, so instead of wooing her, he befriends her and is the all-around amazing guy he always is.
As you'd expect from an honorary Morgan Brother, this book was laugh-out-loud funny. Zander is such a wonderful hero! He's honest, in touch with his feelings, and ridiculously likable. And he still manages to be super friggin sexy on top of that!
I could very well imagine how frustrating it must be when a guy like that just wants to be friends… Lauren Rowe brings you one of my absolutely favorite Friends to Lovers books here!
Marriage of Inconvenience
written by Penny Reid, narrated by Angela Dawe and Stephen Dexter
Listen for free with Audible Plus**
Kat and Dan aren't exactly besties. But they've been sharing the same circle of friends for a long time. So, when Kat has a really big problem, namely, an urgent need for a husband, Dan steps up, happy to help out.
Honestly, that moment in the book made my heart hurt in all the good ways. As you'd expect from Penny Reid, Marriage of Inconvenience has a captivating storyline in addition to the beautiful love story between two friends.
Angela Dawe and Stephen Dexter are wonderful narrators and I thoroughly enjoyed every minute of this audiobook! And yes, I listened to it more than once 🙂
Related article: Is Audible Plus worth it?
Not So Nice Guy
written by R.S. Grey, narrated by Teddy Hamilton and Luci Christian Bell
Get the audiobook in a deal on Amazon**
Ian and Sam have been best friends for years. Somehow, they inadvertently ended up friend-zoning each other despite their chemistry. Now, Sam doesn't quite dare to risk their friendship while Ian is more determined than ever to romance her.
R.S. Grey Rom-Coms are like a cozy blanket for my mind. From the first minute on, this author makes me feel relaxed and nicely entertained. I love the humor in this book and the charming characters who found themselves in a classic friend-zone dilemma.
Luci Christian Bell has a super cute quirky voice and Teddy Hamilton is one of my favorite narrators. They brought this story to life perfectly!
Jock Row
written by Sara Ney, narrated by Ava Erickson and Josh Goodman
Get the audiobook in a deal on Amazon**
Rowdy has to kick Scarlett out of a frat party and finds himself talking to her for hours. The jock and the stubborn nerd form a very unlikely friendship.
I loved how all–around badass Scarlett was and how she brought out new sides of Rowdy. If you're craving a cute and sexy College Romance without angst but with lots of awesome banter, Jock Row is perfect!
Ava Erickson has a beautiful young voice and always delivers a perfect narration. Both narrators did a fantastic job!!
Bedfellows
written by Lola Leighton, narrated by Ava Erickson and Jacob Morgan
Now, this is a little bit different but it's an absolutely beautiful best friend Romance! Sullivan and Will are besties. Then they fall for the same girl and things take a very interesting turn when they decide that both of them would date her – if she wants them both.
This is the cutest menage story ever! It's super hot but also very sweet and romantic with lots of turns that you might have hoped for but never actually expected. This sure is something different in the Friends to Lovers books trope 😉
Ava Erickson and Jacob Morgan are two of my favorite narrators and their reading fit this story perfectly.
Goodbye Paradise
written by Sarina Bowen, narrated by Teddy Hamilton and Dake Bliss
Josh and Caleb grew up together and Goodbye Paradise is one of the most heartwarming Childhood Friends to Lovers books! Things happen and they get separated. But when they find each other again, they start to seriously think about their feelings for each other.
This is one of those best friend Romance novels that just blew me away. It's so warm and emotional. The two boys find their place in the world and with each other and grow so much. It's really heartwarming how they learn that everything they had dreamed about could actually come true. Goodbye Paradise is really the perfect Friends to Lovers story because Josh and Caleb have been besties forever and it naturally turned into love.
Teddy Hamilton's narration is absolutely fantastic! And I really appreciated that this audiobook has two narrators for the different points of view.
Always a Love Song
written by Charley Clarke, narrated by Melissa Moran
Bridget and Alex were childhood friends who grew to become more. But when the fire fades from their relationship, Bridget leaves Alex and her hometown behind. Years later, she returns after a failed engagement…
Always a Love Song is a bit more angsty than the other books on this list since Bridget and Alex are already beyond the best friend Romance phase and have to overcome a lot of issues to find their way back to each other. I loved them and their group of friends and how the people in their hometown tried to get them back together. This is a beautiful and captivating story and one of my favorite lesbian audiobooks of 2019!
Melissa Moran is a wonderful narrator who I always enjoy listening to. She has a very pleasant voice and perfect intonation.
Painted Faces
written by L.H. Cosway, narrated by Ali Coffey
Ah, the perfect friend-zone book! Freda is fine being just friends with Nicholas who is insanely hot and has – quite literally – a sparkling personality. She can't believe he could desire her, which makes it all the more delicious when he does…
Painted Faces is not only a great choice when you're looking for Bets Friends to Lovers books, but it's also, in my opinion, one of the best Romance novels of all time! I love how it shakes up the usual gender norms while still being extremely sexy. L.H. Cosway writes some of the best sex scenes and this book – which I have reread about 100 times – gets to me every single time.
If you trust me a little, get this book without reading the blurb. It's so much more fun that way, promise!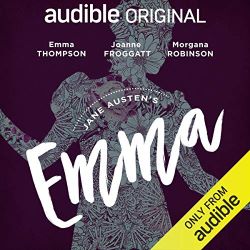 Emma (Audible Drama)
written by Jane Austen, narrated by Emma Thompson and a full cast
Listen for free with Audible Plus**
After all the Contemporary Romance novels, this is the Classic of Friends to Lovers books! If you're – like me – not much of a Classics reader, I can wholeheartedly recommend this audio play to you. It's abridged, so a bit shorter than the original. And with the full cast, especially with Emma Thompson's fantastic narration, the story comes to life and is easy to follow. I found it very entertaining!
This adaption of Emma is included in Audible Plus and you can listen to it for free with an Audible membership without having to spend an Audible credit!
You love Friends to Lovers books but sometimes you crave the drama of a good Enemies to Lovers? Check out my favorites for this popular Romance trope as well!
Booklist, Review
/