Enemies to Lovers books are pretty much my favorite kind of Romance novels! They explore a whole range of emotions and give you this feeling that "true love conquers all".
There's just something about this fantasy that the guy who keeps challenging you is secretly head over heels in love with you. It's a soothing thought, maybe even empowering…
Below you'll find my absolute favorite Enemies to Lovers books on Audible. They are all extremely entertaining, romantic, and sexy!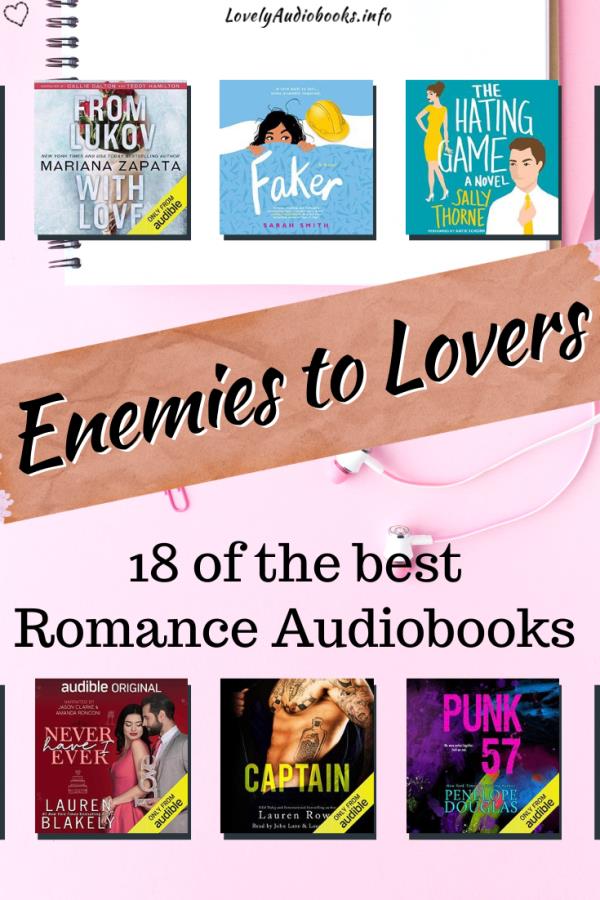 My Favorite Enemies to Lovers Audiobooks
The Hating Game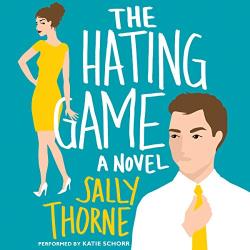 written by Sally Thorne
narrated by Katie Schorr
The Hating Game is the gold standard for Office Enemies to Lovers Romance novels! If you haven't read or listened to it yet, you absolutely should. I'm always hesitant to pick up hyped books, but believe me, this one deserves all the love and praise. It's a fun, fast-paced Romantic Comedy and Katie Schorr narrated it beautifully!
This title is also on our list of 50 of the best audiobooks!
Hate Notes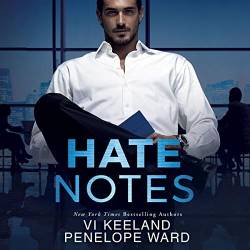 written by Vi Keeland and Penelope Ward
narrated by Sebastian York and Lynn Barrington
Listen for free with Kindle Unlimited**
This is a classic Enemies to Lovers story with a twist that broke my heart and was incredibly beautiful! Reed is the all-out-jerk alpha we've come to love and hate (yes, love and hate, you know it's true). Charlotte is a down-on-her-luck heroine who believes that deep down, Reed is an entirely different man than the facade he shows her and the world.
Hate Notes holds a special place in my heart because it's one of the few popular romance novels that deal with chronic illness.
Related article: How to listen to free audiobooks with Kindle Unlimited
Ache for You
written by J.T. Geissinger
narrated by Mackenzie Cartwright and Brian Pallino
Listen for free with Kindle Unlimited**
Ache for You is a Slow Burn Enemies to Lovers Romance set in Florence, Italy. Kimber has had nothing but bad luck and is now stuck in the beautiful city. Matteo is her kind-of-but-not-really stepbrother who wants to buy Kimber's company. And she has to ask herself if he's only playing her or if the sparks are real…
All three stand-alone books in J.T. Geissinger's Slow Burn series are great. But Matteo was my absolute favorite! And with Brian Pallino's accent, I'm sure you'll fall in love with him, too.
Boyfriend Material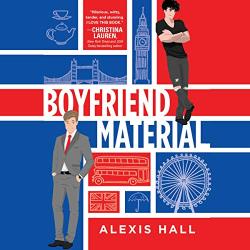 written by Alexis Hall
narrated by Joe Jameson
Even if you don't usually pick up M/M Romance, Boyfriend Material is a must for fans of Enemies to Lovers books! Plus, it's a closed-door Romance, so no explicit scenes. Either way, this book is so, so worth it for Romance readers! It's cute and deeply emotional, with amazingly witty banter that will completely crack you up!
With 2020 being everything that it is, this is the Romantic Comedy you need in your life!
Intention
written by Ava Harrison
narrated by Andi Arndt and Shane East
Get this audiobook in a deal on Amazon**
Madeline is the CEO of her friend's fashion label. Things for them are absolutely wonderful, until the day their company is taken over by a new investor. Nathaniel is your typical cocky British billionaire. And Madeline instantly hates everything about him. The two banter like mad until events take an entirely different direction.
This is one of the Enemies to Lovers books that moved me deeply. Madeline has to deal with serious health struggles and seeing Nathaniel change and grow to become the partner she needs hit me in a particularly soft spot. Please read or listen to Intention, it's so beautiful!
Related article: How to get Audible books cheaper on Amazon!
Work for It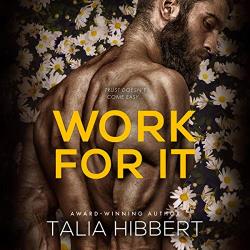 written by Talia Hibbert
narrated by Shane East and Chance Thoreau
Get this audiobook in a deal on Amazon**
I have one more M/M Romance for you! And this one is a whole lot steamier. Work For It is a beautiful Hate to Love story set in a small town. It's a bit angsty and I was quite worried if the two heroes would really make it in the end. But yes, the Happy Ending is everything you could hope for!
Talia Hibbert is an amazing author and this book has such a delicious hate to love journey.
Getting Schooled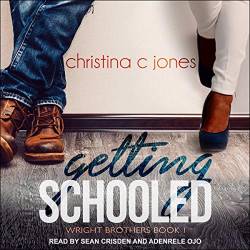 written by Christina C. Jones
narrated by Sean Crisden and Adenrele Ojo
Get this audiobook in a deal on Amazon**
The banter in Getting Schooled completely cracked me up! And I loved that Jason isn't your usual flawless Romance hero while Reese is my favorite kind of heroine: Smart and thoughtful, but also a little bit of a weirdo and with an utterly unexpected streak (you'll see when you get there). The chemistry between Reese and Jason sure is off the charts!
While this Enemies to Lovers book has a happy ending, their story continues in the second and third book of The Wright Brothers series. So you will get more info on how their relationship develops if you continue.
The Trouble with Hating You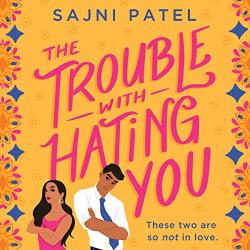 written by Sajni Patel
narrated by Soneela Nankani
It's always promising when the hate is already part of the title. And The Trouble With Hating You does not disappoint at all! This Enemies to Lovers love story has a very intriguing pace and concept, and some utterly beautiful romantic moments you don't want to miss.
Liya and Jay are both Indian-American and have to navigate their way between modern and tradition. Liya is very determined to stay single but Jay is making it quite difficult for her…
Faker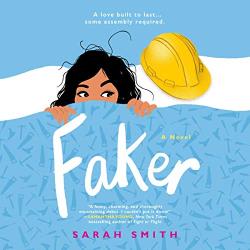 written by Sarah Smith
narrated by Donnabella Mortel
This workplace Romance is perfect if you've already read The Hating Game and are looking for a fresh take on the theme! Faker is set in a power tool company where Emmie has to constantly defend herself and her work in front of everyone. But her co-worker Tate is the worst in the bunch, never having a single nice word for her.
This is one of the cutest Enemies to Lovers books out there and was one of my favorite Romance novels of 2019!
Never Have I Ever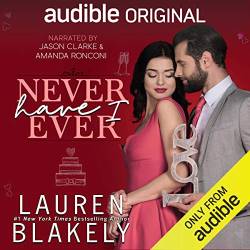 written by Lauren Blakely
narrated by Amanda Ronconi and Jason Clarke
A wedding planner and a divorce attorney? If that isn't the perfect set-up for an Enemies to Lovers book, I don't know what is! But to make it all the more heartwarming, he's also a single dad (and a wonderful one at that). Never Have I Ever deals with some pretty serious topics but it's so warm and sweet and will give you all the feels.
From Lukov with Love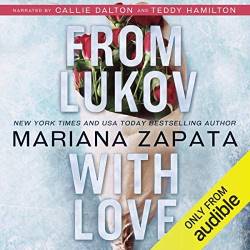 written by Mariana Zapata
narrated by Callie Dalton and Teddy Hamilton
From Lukov with Love has all the passion you'd expect in Enemies to Lovers books, while still giving you the slow burn we all love Mariana Zapata for. Ivan and Jasmine used to compete in figure skating but have to learn to work together. I adored Ivan, especially voiced by the wonderfully warm sounding Teddy Hamilton. And Jasmine is a kickass, complex, modern heroine.
This is a slow burn Sports Romance that will keep you on the edge of your seat because it's a deliciously intense story!
Walk of Shame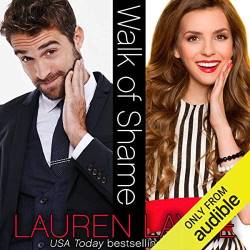 written by Lauren Layne
narrated by Susannah Jones and Joe Arden
Enemies to Lovers books don't always have to be angsty. Walk of Shame is an adorably fun book about a bubbly socialite and her neighbor who's annoyed by her. Susannah Jones is the perfect voice for Georgie who seems to have such a frivolous life, but actually has a lot more depth than she's getting credit for. Joe Arden reads the grumpy lawyer next door who keeps telling himself that this is really not his type of woman.
If you need a feel-good Romantic Comedy to unwind and giggle, Walk of Shame is perfect!
Thirty Day Boyfriend
written by Whitney G.
narrated by Erin Mallon and Zachary Webber
Get the audiobook in a deal on Amazon**
If you need a quick Enemies to Lovers romance, Thirty Day Boyfriend is perfect! This fast-paced fake relationship office romance is one of my favorite short audiobooks. Whitney G.'s novella honestly blew me away and manages to make a popular trope entirely its own. Emily just wants to get away from her job, but her boss really, really likes Emily and hires her for a special job: Playing his fiancée. And if you think she just gave in to his charm, I have to tell you, nope, no she didn't! She asked for an absolutely outrageous sum of money on top of the promise to let her out of her job afterward. Attagirl!
Thirty Day Boyfriend isn't only a must-read for fans of Enemies to Lovers books. It's on my list of romance recommendations for absolutely every opportunity (except maybe when my mom asks for a wholesome Romance). Wholesome this is not. But it's EVERYTHING!
Captain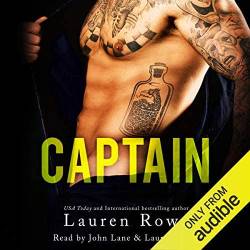 written by Lauren Rowe
narrated by John Lane and Lauren Rowe
Get the audiobook in a deal on Amazon**
Lauren Rowe is one of very few authors who can actually pull off insta-love. Her characters have so ridiculously much chemistry, it's absolutely believable that they see each other and know that's the one! And they pull me right along with them! In Captain, this instant soul-deep attraction turns into a whole lot of hate between Tessa and Ryan when things take an unexpected turn.
The Morgan Brothers series is one of my most beloved, and most often recommended series because every single book is an absolute favorite: Captivating, insanely hot, and with super likable characters! They're all stand-alones, but you really just want to listen to them all.
Hold Me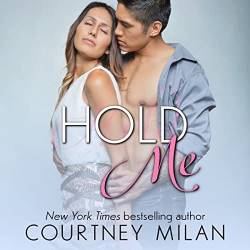 written by Courtney Milan
narrated by Xe Sands and Sean Crisden
Get the audiobook in a deal on Amazon**
Hold Me is not only a fantastic Enemies to Lovers book but also everything you could hope for in a story about finding love on the internet. Jay is a scientist. When he meets Maria he assumes she's just a pretty girl with no brains. He has no idea that she is actually the brilliant mind behind his favorite blog and the person he has fallen in love with online. Maria takes no shit from Jay and gives as good as she gets. Until he calls her a fake. Since she was not assigned female at birth, this hits a soft spot.
Hold Me is one of my all-time favorite contemporary romance audiobooks, so give it a try! It's book 2 in the Cyclone series but works perfectly fine as a stand-alone.
Punk 57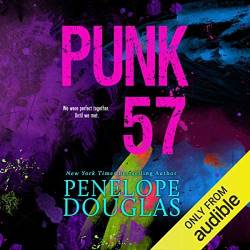 written by Penelope Douglas
narrated by Laurie Catherine Winkel and Matthew Holland
Get the audiobook in a deal on Amazon**
In my opinion, Punk 57 is one of the best bully romance books out there! This story has a female bully, Ryen. I really liked how she was portrayed and what her path looked like that led to her treating other kids so badly. Misha had been Ryen's pen pal for many years. But when they meet for the first time, she isn't at all what he expected, so he doesn't tell her who he really is.
Punk 57 has a lot of unique twists and turns with some well-placed angst while being utterly romantic! Misha and Ryen find each other again and again. That put this book on my "you absolutely have to read this"-list!
Friends without Benefits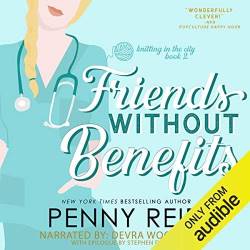 written by Penny Reid
narrated by Devra Woodward
Get the audiobook in a deal on Amazon**
Too many people are familiar with this fantasy: What if the boy who teased you in school really had a giant crush on you? That's exactly what Friends without Benefits is about – and so much more. This is one of those audiobooks I have listened to many times and I think many more will follow. If you're looking for a bully love story that is a little bit lighter and more of an adult romance than Punk 57, Penny Reid's novel is your perfect choice!
Friends without Benefits is in the Knitting in the City series, and while I have no idea why anyone would choose not to listen to the entire series, it works perfectly as a stand-alone. Feel free to start with this one!
Smut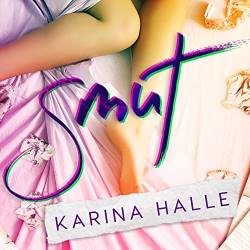 written by Karina Halle
narrated by Lidia Dornet and Shaun Grindell
Get the audiobook in a deal on Amazon**
Don't you just love your smut? I kind of assume that's why you are here 😉 This book is smut about smut! More specifically, two students who can't stand each other have to do a team project and end up writing erotica together. It's insanely entertaining and very sexy.
Smut is witty and amusing, making some meta-level fun of the romance genre (or rather, the romance story template) while being smack in the middle of it itself!
Review, Booklist
/