Enemies to Lovers books are pretty much my favorite kind of Romance novels! They explore a whole range of emotions and give you this feeling that "true love conquers all".
There's just something about this fantasy that the guy who keeps challenging you is secretly head over heels in love with you. It's a soothing thought, maybe even empowering…
Below you'll find my absolute favorite Enemies to Lovers books on Audible. They are all extremely entertaining, romantic, and sexy!
My Favorite Enemies to Lovers Audiobooks
This title is also on our list of 50 of the best audiobooks!
Hate Notes holds a special place in my heart because it's one of the few popular romance novels that deal with chronic illness.
Related article: How to listen to free audiobooks with Kindle Unlimited
All three stand-alone books in J.T. Geissinger's Slow Burn series are great. But Matteo was my absolute favorite! And with Brian Pallino's accent, I'm sure you'll fall in love with him, too.
With 2020 being everything that it is, this is the Romantic Comedy you need in your life!
This is one of the Enemies to Lovers books that moved me deeply. Madeline has to deal with serious health struggles and seeing Nathaniel change and grow to become the partner she needs hit me in a particularly soft spot. Please read or listen to Intention, it's so beautiful!
Related article: How to get Audible books cheaper on Amazon!
Talia Hibbert is an amazing author and this book has such a delicious hate to love journey.
While this Enemies to Lovers book has a happy ending, their story continues in the second and third book of The Wright Brothers series. So you will get more info on how their relationship develops if you continue.
Liya and Jay are both Indian-American and have to navigate their way between modern and tradition. Liya is very determined to stay single but Jay is making it quite difficult for her…
This is one of the cutest Enemies to Lovers books out there and was one of my favorite Romance novels of 2019!
A wedding planner and a divorce attorney? If that isn't the perfect set-up for an Enemies to Lovers book, I don't know what is! But to make it all the more heartwarming, he's also a single dad (and a wonderful one at that). Never Have I Ever deals with some pretty serious topics but it's so warm and sweet and will give you all the feels.
This is a slow burn Sports Romance that will keep you on the edge of your seat because it's a deliciously intense story!
If you need a feel-good Romantic Comedy to unwind and giggle, Walk of Shame is perfect!
Thirty Day Boyfriend isn't only a must-read for fans of Enemies to Lovers books. It's on my list of romance recommendations for absolutely every opportunity (except maybe when my mom asks for a wholesome Romance). Wholesome this is not. But it's EVERYTHING!
The Morgan Brothers series is one of my most beloved, and most often recommended series because every single book is an absolute favorite: Captivating, insanely hot, and with super likable characters! They're all stand-alones, but you really just want to listen to them all.
Hold Me is one of my all-time favorite contemporary romance audiobooks, so give it a try! It's book 2 in the Cyclone series but works perfectly fine as a stand-alone.
Punk 57 has a lot of unique twists and turns with some well-placed angst while being utterly romantic! Misha and Ryen find each other again and again. That put this book on my "you absolutely have to read this"-list!
Friends without Benefits is in the Knitting in the City series, and while I have no idea why anyone would choose not to listen to the entire series, it works perfectly as a stand-alone. Feel free to start with this one!
Smut is witty and amusing, making some meta-level fun of the romance genre (or rather, the romance story template) while being smack in the middle of it itself!
Pin this list of Enemies to Lovers Books for later: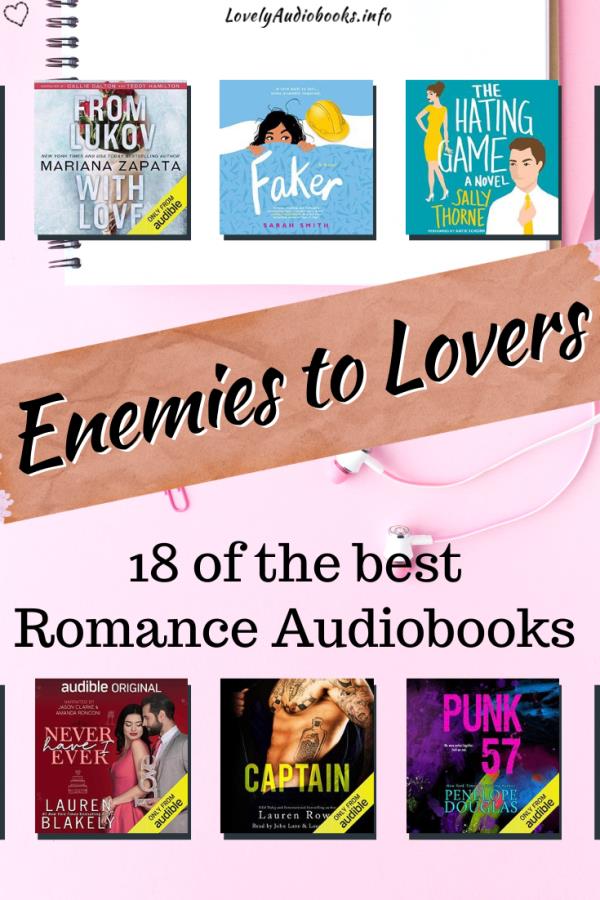 Review, Booklist
/