Love Triangle Romance books are something special in the world of love story novels! With their often thick angst and cheating protagonists, this trope isn't for everyone. But every now and then, I need a story that is so intense and so full of longing that it gives me all the feels…
**The marked links and book covers on this page are affiliate links. If you use them to purchase something, I earn a fee at no additional cost for you. Disclosure**
Angsty Love Triangle Books on Audible
Arsen: A Broken Love Story
Mia Asher (Author), Mackenzie Cartwright (Narrator), Roger Wayne (Narrator)

Get the Audible book in a deal**
Arsen is one of those stories that you can't forget. It's the gold standard of angsty love triangle books!
Our heroine is torn between Mr. Right and Mr. Oh So Wrong. Between the perfect partner and the one who makes her burn with desire. Between feeling wanted and feeling awful…
Arsen is the imaginary sequel to all the other Happily Ever After romance novels where the sensitive heroine finds her Mr. Perfect. In fact, Katherine's and Ben's beginnings are told in the "past"-chapters. In the present, they are married, just not so happy anymore. Life happened and killed their passion…
Mia Asher is a fantastic author and created this complex world of Kathy's (and Ben's and Arsen's) feelings. And I thought she did each of them justice (at least in their portrayal, not necessarily in the outcome).
One of the most difficult – but important – things about this book is to see how a solid relationship between two good people who love each other can fail when issues accumulate and aren't talked about.
Mackenzie Cartwright puts all of Kathy's pain into her narration, all the grief, sadness, and emptiness. The book is mostly from Kathy's point of view, but we also have a few chapters from Ben's and Arsen's PoV. They are both narrated by Roger Wayne who captures the atmosphere of the story very well and pulls you into the sorrow those two men have to go through.
And if you aren't at least sniffling after listening to the epilogue… well… you've got a thicker skin than me!
If you feel like a dark and truly painful, really well-written, heart-wrenchingly narrated, angsty Love Triangle Romance, Arsen is the absolutely perfect choice!
Related article: How to get your Audible books cheaper with Whispersync
Black Swan Affair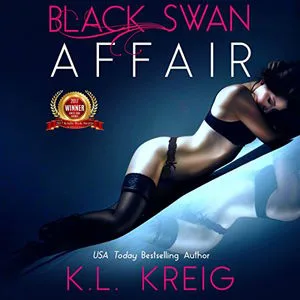 K.L. Kreig (Author), Ava Erickson (Narrator), Tad Branson (Narrator)

Get the Audible book**
"And he destroyed me the day he married my sister instead of me. So I did the only thing a girl like me in my position could do. I got my revenge. I married his brother, Kael. Now we're one big happy f–king family."
Black Swan Affair is a most deliciously angsty Love Triangle book and perfect if you're wondering what to read after Arsen!
Despite the impression you might get from the publisher's summary, I found it extremely easy to like the heroine, Mavs. She was faced with a really shitty situation and had to search for a solution to deal with all her feelings.
K.L. Kreig's story is constructed extremely well. There are a lot of jumps between past and present, slowly resolving all the plotlines surrounding Mavs, the two brothers, their families, and their business. It was insanely captivating and hurt so good!
Ava Erickson and Tad Branson managed to transport the emotions in Black Swan Affair in a way that made my heart break for these people. The woman who lost the love of her life to her sister and doesn't even know why. And the man who knows that the love of his life wants someone else…
For me, this is without a doubt one of the best Love Triangle books out there!
Related article: The Best Romance Audiobooks of all Time!
Heartbreak Warfare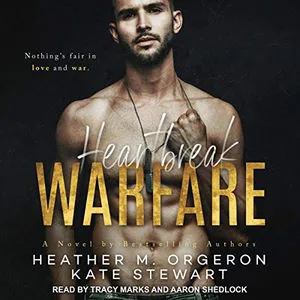 Heather M. Orgeron (Author), Kate Stewart (Author), Tracy Marks (Narrator), Aaron Shedlock (Narrator)

Get the Audible book in a deal**
Heartbreak Warfare will break your heart! Definitely!
This is a bit more suspenseful than the previous two Love Triangle books as this is a Military Romance and the heroine Katy and "the other man" Briggs meet and bond while kidnapped in a warzone.
Now, just a word of warning, a lot of readers have criticized the ending of Heartbreak Warfare because their guy wasn't chosen. Personally, I loved it, and it was the perfect ending for me. I thought all three people got their HEA. But not everyone might agree.
Nevertheless, this book will give you a book hangover after reading because it is absolutely intense!
Tracy Marks has a very special, melodic voice which I have come to love. It adds perfectly to the atmosphere of this story that is shaped by Katie's struggle with PTSD. Aaron Shedlock did a heart-wrenching narration of both Briggs and Gavin, Katie's husband.
What He Doesn't Know Duet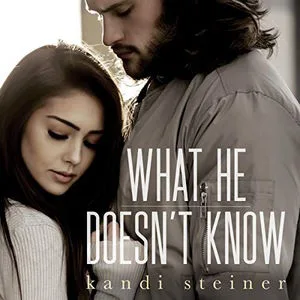 Kandi Steiner (Author), Erin Mallon (Narrator), Jason Clarke (Narrator), Sebastian York (Narrator)

Get the Audible books in a deal**
Are you ready to get sucked into a series of angsty love triangle books? The What He Doesn't Know duet (which also has a third part about the guy who was left behind) is INCREDIBLE!
On one side, we have the husband who fits perfectly into the quiet grumpy Romance hero stereotype. Turns out, being quiet and grumpy doesn't necessarily make your HEA last!
On the other side, we have the childhood friend and first love who shows up again in town after years without contact.
And between these two, there's a woman who has to get over a terrible loss…
The intensity of these two Love Triangle Romance books hit me pretty unexpectedly. There was so very much pain and heartbreak, I couldn't stop listening! I needed to find out so badly how these three would get out of this completely messed up situation…
And then there's the huge twist at the end of book 1 that made me reconsider everything!
Erin Mallon narrated What He Doesn't Know so beautifully. She has this vulnerable voice and her male characters actually sound so perfect that, at one point, I had to skip back 30 seconds because I thought they had moved over to duet narration! I also loved that the two men had different narrators. Jason Clarke and Sebastian York were both amazing!
Pin this list of Angsty Love Triangle Romance Books for later: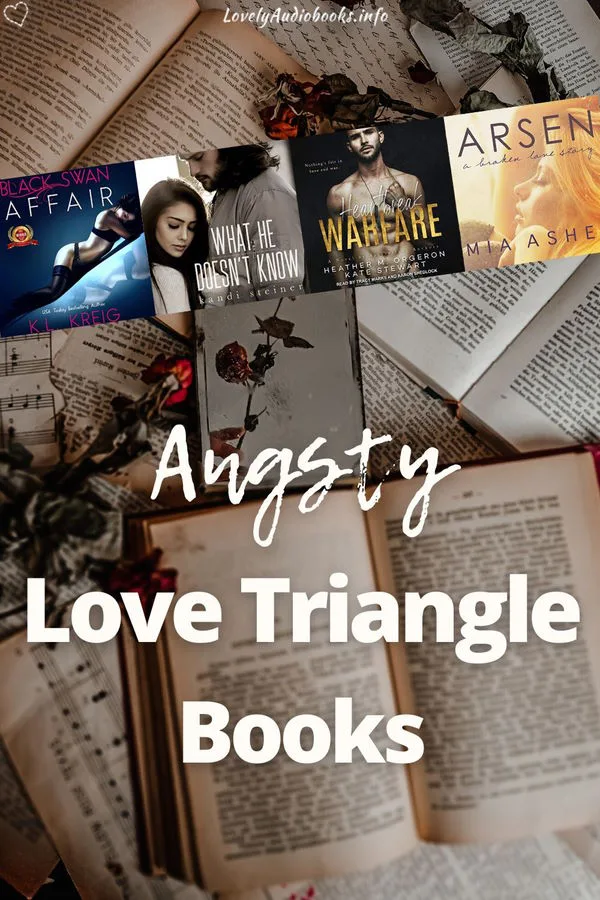 Love Triangle Romance Books on Audible
Undertow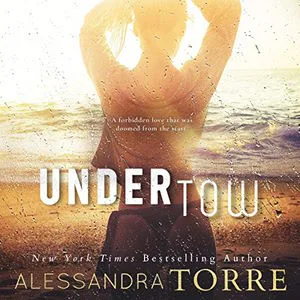 Alessandra Torre (Author), Hollie Jackson (Narrator)

Get the Audible book**
Not every Love Triangle Romance book has to be angsty! In Undertow, one of my favorite audiobook narrators tells the story of a woman in two relationships…
This love triangle Romance follows a bit of a different pattern. The heroine, Madison, is simply insatiable and has two boyfriends. Both men know there is another, but one wishes she'd choose.
This audiobook is fantastically narrated by Hollie Jackson. Her voice is very pleasant to listen to, and I like her calm style of voice acting. Meaning, she really acts things out, like laughing or sighing, but not in an "in your face"-way that would sound fake or hysterical.
If you crave slightly lighter but steamy Love Triangle Romance books, you can't go wrong with Undertow!
Beat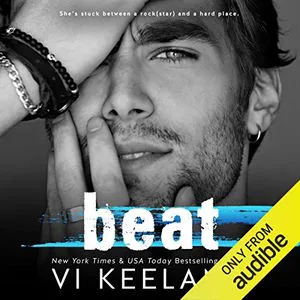 Vi Keeland (Author), Sebastian York (Narrator), Molly Glenmore (Narrator)

Get the Audible book in a deal**
Another book that is steamy but not that angsty is Beat by Vi Keeland. It mixes a forbidden love with the Love Triangle theme.
For my taste, Beat could have been more angsty, especially considering all the sneaking around in the tour bus. That could – and maybe should – have led to some seriously shitty feelings!
Nevertheless, this is a very sexy book by New York Times bestselling author Vi Keeland! And I loved Molly Glenmore's narration together with Sebastian York, who always knows how to deliver!
If you don't feel like committing to a longer story, Beat is a relatively quick listen with a length on Audible of less than 8 hours that will scratch that love triangles itch. Beat is a New Adult Romance novel and is a good choice if you're looking for love triangle books like Thoughtless by S.C. Stephens.
The Romantic Agenda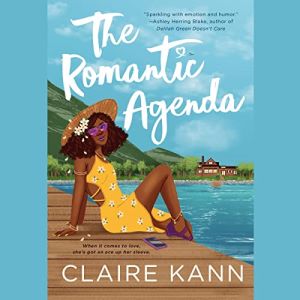 Claire Kann (Author), Adrienne Walker (Narrator)

Get the Audible book**
Now we move on to an even less angsty Love Triangle book that is absolutely delightful though!
Joy loves her best friend, Malcolm, who is asexual like Joy but has always had an active dating life – with everyone but Joy. When Joy meets Fox, she notices that she feels quite attracted to this new guy. She can't let go of Malcolm but notices how her feelings for Fox keep growing.
The Romantic Agenda is so well written and the characters so wonderful! Fox is gruff but such a sweetheart. And Malcolm, for all his shortcomings, has this deep connection with Joy that I found very moving.
I could not put down my earbuds while listening to Adrienne Walker's fantastic narration of this amazing book!
Rosaline Palmer Takes the Cake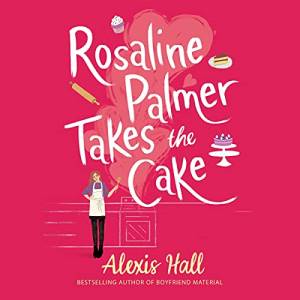 Alexis Hall (Author), Fiona Hardingham (Narrator)

Get the Audible book**
In Rosaline Palmer Takes the Cake, Alexis Hall has given us the bisexual single mom in a love triangle and on a baking show that we all wanted and needed, hah!
Alain is everything Rosaline knows she should want in a partner. He has a university degree and puts a lot of effort into wooing her.
But then there's Harry who is the exact opposite of Alain, and yet, Rosaline can't quite stop thinking about him.
I love Rosaline and her little chosen family. And the baking show, Bake Expectations, is ridiculously entertaining! It's a beautiful, tender love story but the book also doesn't shy away from discussing serious issues without coming off as preachy.
And this doesn't take away from how insanely funny Alexis Hall is, quite the opposite actually. It's these depths that make this story more relatable and realistic. Fiona Hardingham perfectly brings these characters to life!
Lucie Yi is Not a Romantic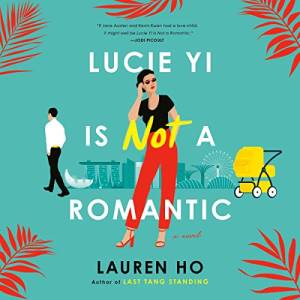 Lauren Ho (Author), Cindy Kay (Narrator)

Get the Audible book**
Oh Lucie… This Love Triangle book also has another of my favorite themes: Planned Pregnancy!
Lucie has broken up with her fiance and now sets out to become a mom on her own. And she quickly meets someone on a co-parenting app.
They get along very well and Lucie indeed gets pregnant. Then her ex-fiance pops back up and offers Lucie a stable environment to bring up her child.
And after all, the guy from the app just wanted a child, not a wife! If only she didn't like him so much…
I had a great time with this book and what it did with these two themes. The narration by Cindy Kay was wonderful, too! She has such a pleasant voice and really brought out Lucie's emotions and inner conflict. And her guy voices are fantastic as well!
The Layover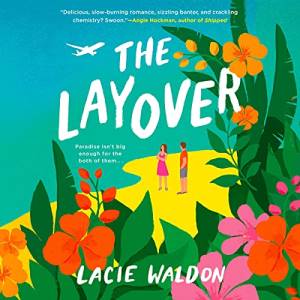 Lacie Waldon (Author), Jorjeana Marie (Narrator)

Get the Audible book**
The Layover by Lacie Waldon is a great mix of Enemies to Lovers and Love Triangle Romance!
Ava is going on her last trip as a flight attendant, after that she will settle down with her wonderful fiance and finally have the stable life she always wanted.
Unfortunately, her co-worker on this last flight is Jack, her nemesis. And to make things worse, they have an unplanned layover together!
I enjoyed Ava's journey of figuring out what she really wants and needs. And I absolutely adored Jack who is so different from what I had expected!
Jorjeana Marie is a wonderful audiobook narrator who is a pleasure to listen to!
Pin this list of Love Triangle Romance Books for later: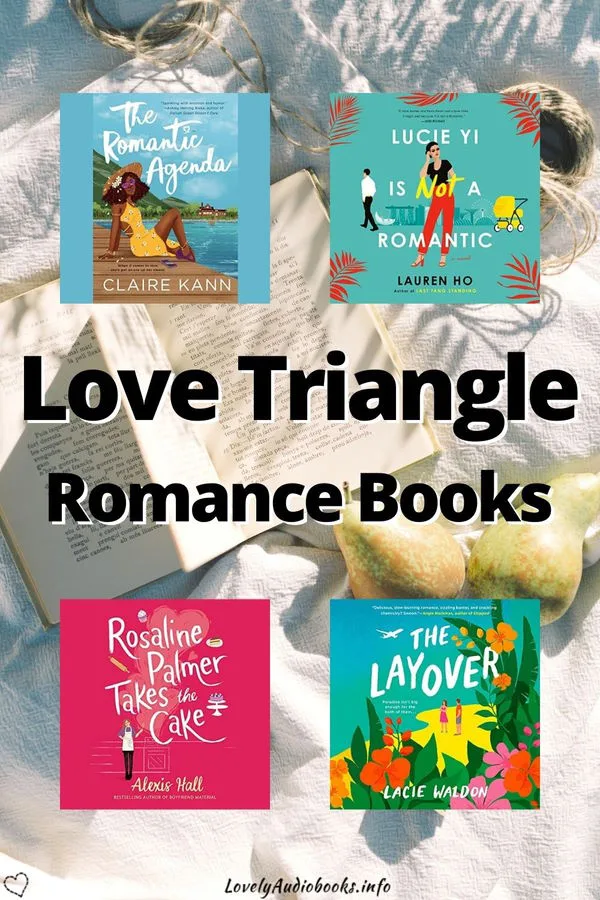 Romance Books
/