Have you binged Good Omens: The Nice and Accurate Prophecies of Agnes Nutter, Witch on Amazon Prime, too? Are you already waiting for season 2 to release? Well, time might pass faster while listening to the Good Omens audiobook!
You get to choose between three versions of the Good Omens audiobook on Audible. And they are actually all quite different! Below, you can find out more about the three books so you can choose the one that will be most enjoyable for you.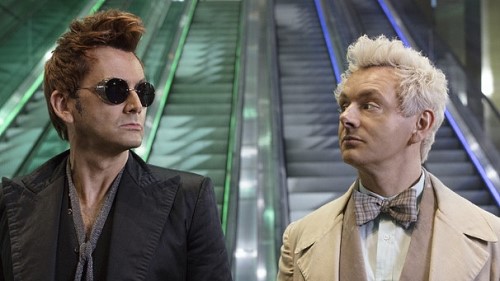 Blurb:

There is a distinct hint of Armageddon in the air. According to The Nice and Accurate Prophecies of Agnes Nutter, Witch (recorded, thankfully, in 1655, before she blew up her entire village and all its inhabitants, who had gathered to watch her burn), the world will end on a Saturday. Next Saturday, in fact. So the armies of Good and Evil are amassing, the Four Bikers of the Apocalypse are revving up their mighty hogs and hitting the road, and the world's last two remaining witch-finders are getting ready to fight the good fight, armed with awkwardly antiquated instructions and stick pins. Atlantis is rising, frogs are falling, tempers are flaring. . . . Right. Everything appears to be going according to Divine Plan.

Except that a somewhat fussy angel and a fast-living demon — each of whom has lived among Earth's mortals for many millennia and has grown rather fond of the lifestyle — are not particularly looking forward to the coming Rapture. If Crowley and Aziraphale are going to stop it from happening, they've got to find and kill the Antichrist (which is a shame, as he's a really nice kid). There's just one glitch: someone seems to have misplaced him. . . .

First published in 1990, Neil Gaiman and Terry Pratchett's brilliantly dark and screamingly funny take on humankind's final judgment is back — and just in time — in a new hardcover edition (which includes an introduction by the authors, comments by each about the other, and answers to some still-burning questions about their wildly popular collaborative effort) that the devout and the damned alike will surely cherish until the end of all things.
**The marked links and book covers on this page are affiliate links. If you use them to purchase something, I earn a fee at no additional cost for you. Disclosure**
The Unabridged Good Omens Audiobook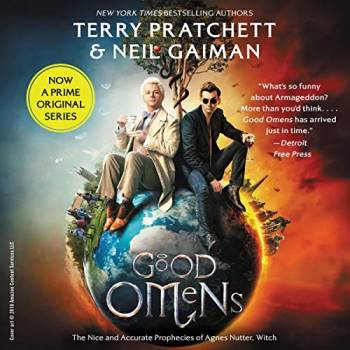 Let's start with the original book, read by Martin Jarvis! Even though the cover shows Michael Sheen and David Tennant, this audiobook is the one you should get if you want to experience the original book word for word, read by one narrator.
This is an unabridged version. That means the narrator really sits down with the book and reads it for you exactly as it is published in print.
Martin Jarvis is a wonderful narrator with an animated reading style and many different voices that make it very easy to follow the story and dialog.
Unlike the other two versions, with this Good Omens audiobook, you really only listen to that one narrator reading the story to you. Some audiobook listeners prefer this.
I suggest checking out the Audible samples to find out which version of the book you can follow better. Get Good Omens with Martin Jarvis on Amazon**
The BBC Radio Play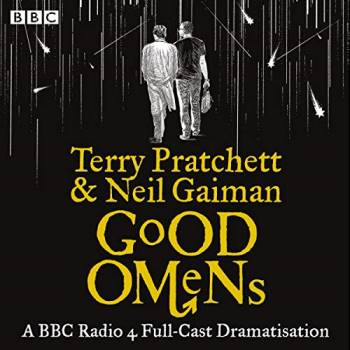 The BBC radio play is a great choice if you want to experience Good Omens once again, but don't quite want to commit to over 12 hours of listening.
Performed by a full cast of voice actors with sound effects, this version is abridged and only 4:19h long.
Abridged means that it is a shortened version of the original book. Most Audible audiobooks are unabridged, so they are exactly the same as the print or ebook. But some are condensed versions of the book.
This is particularly common in radio plays to make them work better for a range of different voices (e.g. by cutting out every "he said", "she said" or descriptions of noises that are given back directly in the dramatization).
I'm a big fan of BBC radio plays and usually recommend them every chance I get. And this one is certainly a lot of fun, given that ithe cast includes Mark Heap and Peter Serafinowicz!
However, if you have never read the book before, I recommend you choose one of the other two Good Omens audio books. It will give you the full original experience of this absolutely fantastic story. Get Good Omens BBC play on Amazon**
The Newest Good Omens Audiobook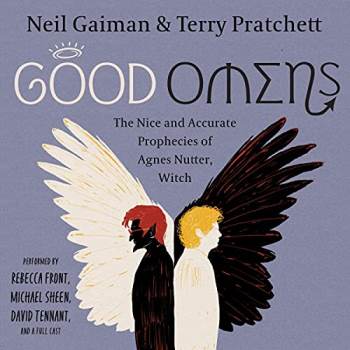 In this latest version from 2022, many members of the cast from the Good Omens TV show revisit their roles to bring us the best of both worlds: an almost unabridged Good Omens audiobook, read by a full cast!
David Tennant is back as Crowley and Michael Sheen as Aziraphale. I found this audiobook extremely enjoyable, and it is a fantastic way for fans to revisit Agnes Nutter's prophecies while we are waiting for Good Omens season 2.
As I mentioned earlier, people who are new to audiobooks might struggle to listen to a full-cast production. Mind, for some it is the other way around, and they find it easier to follow an audiobook like this one, with a full cast, that sounds like a movie!
Please check out the Audible samples before you make your final decision between this version and the one read by Martin Jarvis.
These are two very different listening experiences, and before you spend that valuable Audible credit, you should try to get an idea which kind of Good Omens audiobook production works best for you. Get Good Omens with David Tennant and Michael Sheen on Amazon**
Related article: The Best Audiobooks of all Time!
So, which Good Omens audiobook do you choose?
I've been a fan of Terry Pratchett for almost two decades. No other author was able to be this funny and entertaining while writing such deep and profound commentaries on society, capitalism, and how people tick!
And Neil Gaiman's work always has this inherent poetic magic. I can't describe it any other way. It's ethereal! And I am so ridiculously glad that he decided to bring Good Omens to the screen.
The show turned out to be everything I had hoped for, and I am looking forward to the continuation!
And in between, we now have the great new Good Omens audiobook with David Tennant and Michael Sheen to revisit this amazing story voiced by the actors who have brought them to life so well.
The new, full-cast version is definitely my personal favorite among the different Good Omens audiobooks. But the other two are close seconds and can easily come out ahead for other listeners. So, again, please check out the Audible samples before you make your decision!
Happy listening 🙂
Reviews
/