Fake Relationship books are simply where it's at in Romancelandia! This is hands-down my favorite trope. That moment when a connection of convenience turns into real feelings is the most romantic thing to me!
Somehow, fake relationships make for great love stories. Have you ever had a hot stranger come up and pose as your partner so the uncomfortable, pushy person hitting on you would go away? Just so you could strike up a conversation with the hot stranger and… anything could happen! It sure is a nice fantasy at least…
Some of the most popular Romance novels of the last years are fake relationship books. After all, there's nothing more fun than watching two people who hardly know one another navigate such a huge lie – especially when the faked intimacy leads to the real deal. If you're looking for a great romantic audiobook to listen to, here are my 14 favorite fake relationship romance books that are real fun!
**The marked links and book covers on this page are affiliate links. If you use them to purchase something, I earn a fee at no additional cost for you. Disclosure**
The Dating Plan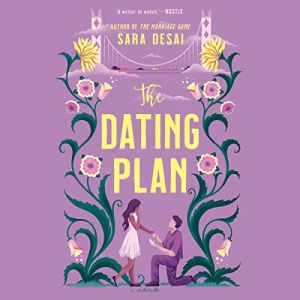 Sara Desai (Author), Soneela Nankani (Narrator)
Get the Audible book**
Or get it on Libro.fm**
Daisy has no interest in love and wants to get her family off her back. Liam needs to be married to inherit his family business. Fortunately, these two childhood friends can really help each other out with a fake relationship and planned marriage of convenience.
Yes, this book makes a lot of fun about the inheritance scheme and it is utterly fun and charming! Soneela Nankani is one of my favorite narrators and I couldn't stop listening to her bringing Daisy and Liam to life.
Related article: Libro FM vs Audible – What is the best Audiobook Subscription?
First Comes Like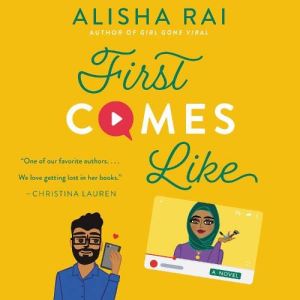 Alisha Rai (Author), Saira Ayers (Narrator), Neil Shah (Narrator)
Get the Audible book**
Or get it on Libro.fm**
Or listen on Scribd**
Jia is a beauty influencer and Dev is an Indian movie star. After Jia gets catfished and falsely accuses Dev, the two stay in touch. One thing leads to another – as they so often do – and the two get caught making out. Dev knows that this will be a problem for Jia's family and offers a fake relationship.
Jia's and Dev's love story is utterly unique and so them! Alisha Rai touches on several popular and beloved Romance tropes but none ever steal the spotlight from Jia's and Dev's beautiful growing love. Saira Ayers and Neil Shah are the perfect voices for this wonderful dual point of view Romance novel.
Related article: The Best Audible Alternatives
The Wedding Crasher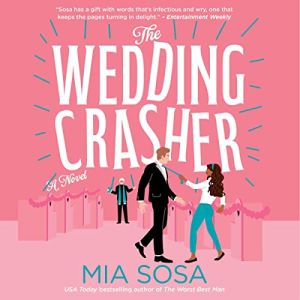 Mia Sosa (Author), Rebecca Mozo (Narrator), Alastair Haynesbridge (Narrator)
Get the Audible book**
Or get it on Libro.fm**
Or listen on Scribd**
Solange – more or less by accident – blows up Dean's fancy wedding. She didn't know that Dean was planning a marriage of convenience. Now that this fell through and since Solange feels she kinda owes Dean one, she ends up playing his fake girlfriend to help his career.
The Wedding Crasher is the perfect Romantic Comedy and absolutely delightful from beginning to end! I love the main characters who are both so likable and have amazing chemistry. And their family and friends are wonderful. Rebecca Mozo and Alastair Haynesbridge did a great narration!
The Romantic Agenda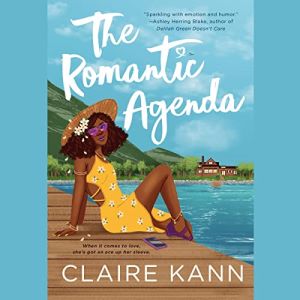 Claire Kann (Author), Adrienne Walker (Narrator)
Get the Audible book**
Or get it on Libro.fm**
Joy loves her best friend, Malcolm. They are both asexual but unlike Joy, Malcolm always had an active dating life – with everyone but Joy. When Malcolm invites Joy for a weekend trip with his new girlfriend and her best friend, Fox, Joy pretends to be interested in Fox to make Malcolm notice his feelings for her. But pretty quickly, things get quite emotionally entangled. Because Fox turns out to be quite… the fox!
The Romantic Agenda is a fantastic Romance novel and Joy one of the loveliest heroines I've ever seen. Adrienne Walker did a fantastic narration for this amazing Romantic Comedy!
While We Were Dating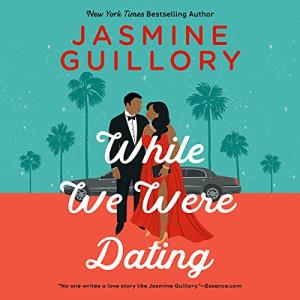 Jasmine Guillory (Author), Janina Edwards (Narrator)
Get the Audible book**
Or get it on Libro.fm**
Anna is a movie star and Ben works for a marketing agency. When they work on an ad campaign together, the two quickly develop a very deep and meaningful friendship. When Anna needs a companion for some publicity events, Ben agrees to be her fake boyfriend. They spend more and more time together pretending to be a couple for the media and grow closer quickly.
Anna and Ben become best friends first before they give in to their chemistry and add "benefits" into the mix. I absolutely loved how Anna and Ben talked and opened up to one another! And the narration by Janina Edwards really brought out their vulnerabilities.
Make A Scene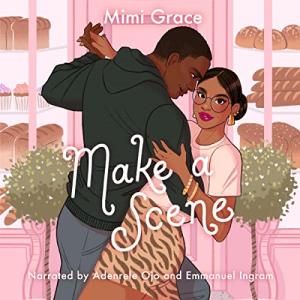 Mimi Grace (Author), Adenrele Ojo (Narrator), Emmanuel Ingram (Narrator)
Get the Audible book in a deal**
Or get it on Libro.fm**
Or listen on Scribd**
Duncan and Retta hardly know one another. But he is intrigued by her and agrees to be her fake date for a wedding in return for a parking spot, of all things! When he gets to know her family and finds out why she so desperately needed a date for this event, he starts to see her in a different light.
You can really feel how the attraction between Duncan and Retta is there from the beginning, and it just keeps growing. This is one of my favorite fake relationship books because it felt so wonderful and natural here! I enjoyed this low-angst story so much and Adenrele Ojo and Emmanuel Ingram perfectly brought it to life!
Related article: How to get Audible books cheaper with Whispersync
I'm So (Not) Over You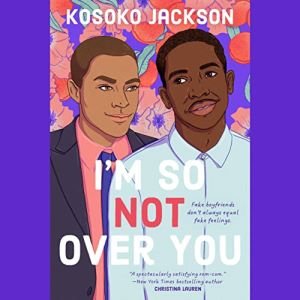 Kosoko Jackson (Author), Timothy Bell Reese (Narrator)
Get the Audible book**
Or get it on Libro.fm**
Second chance meets fake dating! Hudson asks Kian, his ex, to pretend to still be his boyfriend for a family wedding – a huge affair since Hudson's family is very rich. Kian agrees in the hopes of finding out what really destroyed their relationship.
One thing that is particularly special in I'm So Not Over You is that Kian and Hudson didn't break up over one big misunderstanding, as we see so often. Instead, we learn more about Hudson through Kian's eyes and it's explained between the lines why things happened the way they happened, how sometimes, you can be meant for each other but still not get things right the first time around. The narration by Timothy Bell Reese was absolutely fantastic and had a big part in me enjoying this audiobook so thoroughly!
The Soulmate Equation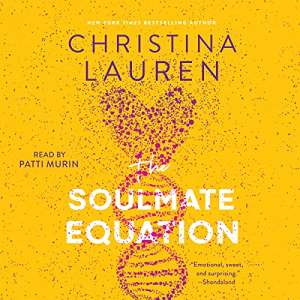 Christina Lauren (Author), Patti Murin (Narrator)
Get the Audible book**
Or get it on Libro.fm**
Or listen on Scribd**
Jess cannot stand River. At all! But when his dating app claims that the two of them are a perfect DNA match, according to their algorithm, he offers her a lot of money to fake date him and promote his dating service. Jess is a single mom and her freelance statistics business is struggling, so she reluctantly agrees.
This book perfectly transports the fated mates trope into a Contemporary Romance! If you are looking for a fun fake relationship romantic comedy to escape into, I'm sure you will enjoy The Soulmate Equation as much as I did!
The Love Hypothesis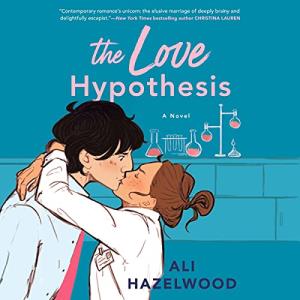 Ali Hazelwood (Author), Callie Dalton (Narrator)
Get the Audible book**
Or get it on Libro.fm**
Olive isn't interested in romance, but to get her best friend off her back, she claims to be dating. When her friend wants to see proof, one thing leads to another, and Olive ends up claiming to be dating Adam, a professor at their university! He has a reputation as a rather unlikable guy, but for reasons Olive can't quite figure out, he agrees to be her pretend boyfriend.
The Love Hypothesis was one of the most hyped Romance books of 2021 and for me, it really lived up to that! Olive and Adam are so cute and romantic together and their fake relationship really works. Callie Dalton did a fantastic job with the narration and this is a real feel good listen for anyone craving a fake relationship book!
The Dating Playbook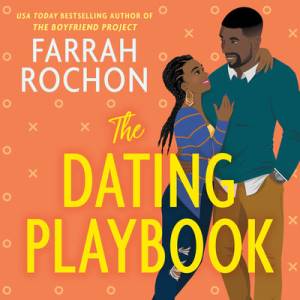 Farrah Rochon (Author), Rebecca Lee (Narrator)
Get the Audible book**
Or get it on Libro.fm**
Taylor is building her own business as a fitness coach, but things aren't exactly going smoothly. When former football star Jamar offers her a position as his personal trainer, it sounds like the perfect way to boost her career. And it's such a shame when her great plan is screwed up by the rumor that Taylor and Jamar are a couple. While the two have insane chemistry, Taylor had meant to keep her distance and stay professional. But it seems, a fake relationship would be the best publicity they could get now!
Farrah Rochon is without a doubt one of the best Contemporary Romance authors. And her heroines are so likable and relatable! Rebecca Lee brought Taylor, her strengths, her weaknesses, her dreams, and her feelings to life. A truly wonderful Romance book with a very fun fake relationship!
Boyfriend Material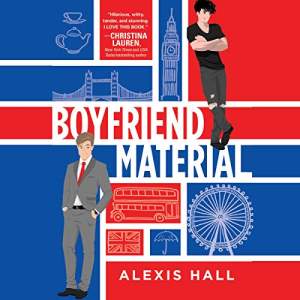 Alexis Hall (Author), Joe Jameson (Narrator)
Get the Audible book**
Or get it on Libro.fm**
Or listen on Scribd**
Oh Luc… As the son of two 80's popstars, the paps still love taking embarrassing photos of him. When he has to quickly turn around his reputation for the sake of the charity he works for, Luc needs to find a respectable boyfriend. Oliver seems like the perfect choice, even though Oliver never seemed to like Luc… at all.
Boyfriend Material is one of my absolute, all-time-favorite Romance novels, and – if you haven't read it yet – one of the fake relationship books you absolutely cannot miss! It's so funny, warm, and romantic and Joe Jameson is the perfect voice for Oliver and Luc!
If I Never Met You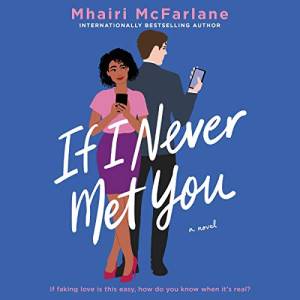 Mhairi McFarlane (Author), Sara Novak (Narrator)
Get the Audible book**
Or get it on Libro.fm**
Or listen on Scribd**
After being dumped in an absolutely awful way by her boyfriend of a decade who is also a co-worker, Laurie is heartbroken and out for revenge. Jamie is the most eligible bachelor in the office – and in need of a respectable girlfriend. Clearly, a fake relationship is the perfect solution for both!
If I Never Met You is an extremely well-written, captivating, sweet book with a strong feminist message. And the fake relationship with a side order of revenge is super fun and entertaining! Sara Novak is a delight to listen to and brought this story to life.
Written in the Stars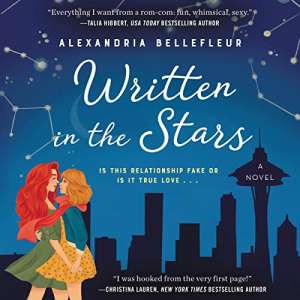 Alexandria Bellefleur (Author), Lauren Sweet (Narrator)
Get the Audible book**
Or get it on Libro.fm**
Or listen on Scribd**
Darcy's brother won't stop pestering her about finding a new girlfriend. What's the obvious solution for someone who got burned and doesn't want to fall in love again? A fake relationship, of course! And Elle is happy to oblige since she is looking for a business deal with Darcy's brother. What a perfect plan. What could possibly go wrong?!
Written in the Stars is an adorable Romantic Comedy with fun astrology elements. This is my favorite Lauren Sweet audiobook and the perfect choice if you are looking for F/F fake relationship books!
Take a Hint, Dani Brown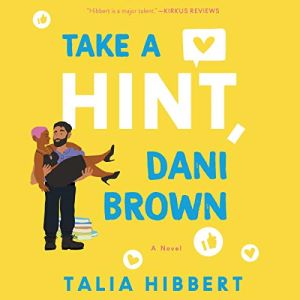 Talia Hibbert (Author), Ione Butler (Narrator)
Get the Audible book**
Or get it on Libro.fm**
Or listen on Scribd**
Dani doesn't believe in love. That's how things fell apart with her ex-girlfriend. And that's why things have to stay in the friendzone with Zafir. For the sake of Zafir's charity, the two decide to pose as a couple for social media though. And since things are going so well with the fake relationship, why not add a friends with benefits arrangement on top of that? Totally safe, no one will fall in love here!
Zaf and Dani are one of my all-time favorite Romance couples and Take a Hint, Dani Brown is a must-read for anyone looking for fake relationship books! Ione Butler narrates the audiobook and it is so, so good!
Pin these Fake Relationship Books for later: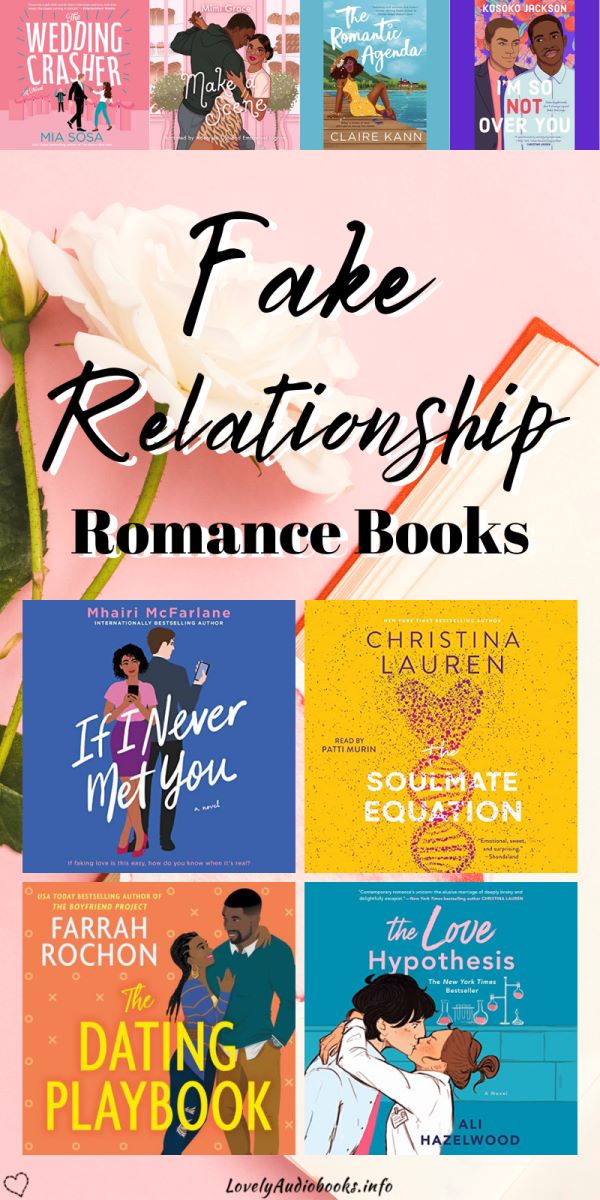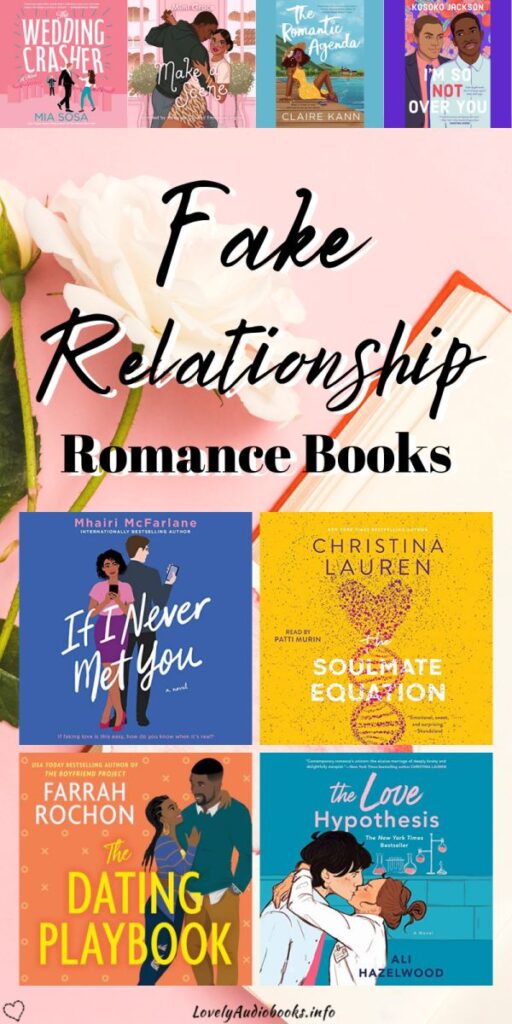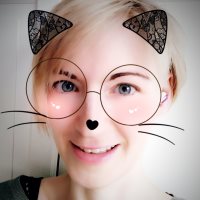 Eline Blackman (pronouns: she/they) fell in love with books as a child – with being read to and reading herself. 10 years ago, she bought her first Audible book. It was love at first listen! An average of 250 audiobooks per year has become the new normal and you will rarely see Eline without a wireless earbud. Romance and Fantasy are the go-to genres for this audiobook fan.
Romance Books
/