Romantic Christmas audiobooks are a wonderful escape from all the real-world problems and perfect to get in the mood for the holidays!
Whether you want to hear about families coming together without any health concerns (or political ones), want to hear how the magic of Christmas helps two people admit their feelings to one another, or want to score the perfect eggnog recipe with your fictional trip to Cape Cod, below, you will find entertaining Christmas audiobooks for every mood!
**The marked links and book covers on this page are affiliate links. If you use them to purchase something, I earn a fee at no additional cost for you. Disclosure**
Christmas in Rose Bend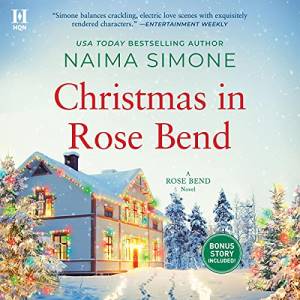 Naima Simone (Author), Mari (Narrator)
Get the Audible book**
The holidays have never been her thing. But Christmas in Rose Bend has more than one surprise in store…. Grieving ER nurse Nessa Hunt is on a road trip with her sullen teen half-sister, Ivy, and still reeling from her mother's deathbed confession: Nessa's dad wasn't really her dad. Seeking answers, they arrive in Rose Bend to find a small town teeming with the kind of Christmas cheer Nessa usually avoids. But then she meets the innkeeper's ruggedly sexy son, Wolfgang Dennison.
If you only listen to one Christmas Romance book this year, make it Christmas in Rose Bend! Set in a small town that celebrates this holiday with many fun events throughout the month of December, Naima Simone's new novel is a wonderful, heartwarming story about building a family with people you love and people you belong with. The audiobook is narrated by Mari who is a pleasure to listen to!
The Holiday Swap
Maggie Knox (Author), Stephanie Cannon (Narrator)
Get the Audible book**
The international best seller — A feel-good, holiday rom com about identical twins who swap lives 12 days before Christmas — perfect for fans of Christina Lauren's In a Holidaze and Josie Silver's One Day in December .
All they want for Christmas is a different life.
The classic trope of twins switching places might sound silly, but it is so wonderfully done in this Christmas Romance book, I was utterly captivated! Charlie has a baking show in LA, Cass runs the family's bakery in their hometown. After an accident, Charlie asks them to swap places – lives – and Cass uses the chance to get away from the rut. It kind of complicates things when both fall for a man in the other sister's life. This is such an enjoyable, emotional, feel-good Christmas audiobook and Stephanie Cannon did a wonderful narration!
The Geek Who Saved Christmas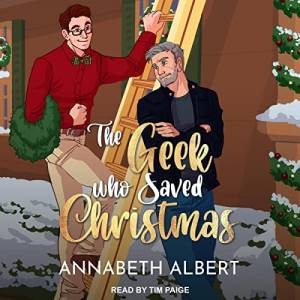 Annabeth Albert (Author), Tim Paige (Narrator)
Get the Audible book**
His grumpy neighbor needs some holiday sunshine… Gideon loves organizing holiday celebrations and decorations in his neighborhood. But his neighbor Paul prefers to be a grinch. Until Paul needs a Christmas miracle. Fortunately, Gideon is there to help!
Annabeth Albert's new book is such a wholesome MM Christmas Romance! Gideon and Paul are the perfect grumpy/sunshine couple and absolutely adorable together. I loved their interaction, their neighborhood community, and their relationship. A true feel-good Romance with lots of festive spirit and love! Tim Paige brought these two to life so well and I would have loved to be there for this Christmas celebration!
Her Pretend Christmas Date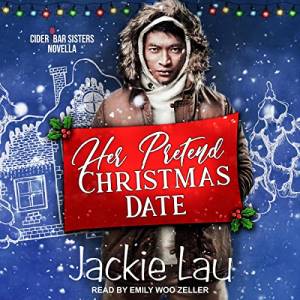 Jackie Lau (Author), Emily Woo Zeller (Narrator)
Get the Audible book in a deal**
After being set up on a blind date by a friend, Julie knows that Tom is the last man she'd be interested in. So proper and boring! Exactly the type of man her parents would love. So, she might have invented a few stories about him to keep her mom at bay. She didn't expect he would actually agree to fake-date her for Christmas though!
I adored Her Pretend Christmas Date! And even Julie's family who meant well, but didn't always do well by her. Christmas at the Tam house is so much fun with Julie's hilarious mom! Tom and Julie fight their mutual attraction to the absolute last, but it's so romantic – not to mention sizzling hot. Emily Woo Zeller's narration is everything you would expect from this outstanding audiobook narrator!
Related article: How to get Audiobooks Cheaper with Amazon Whispersync
Just for the Holidays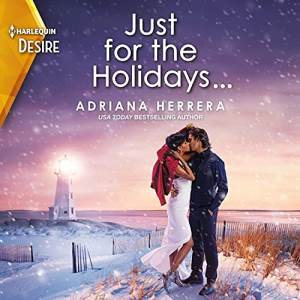 Adriana Herrera (Author), Lola James (Narrator)
Get the Audible book in a deal**
Being snowbound at Christmas leads to holiday sparks in this Sambrano Studios novel by USA TODAY bestselling author Adriana Herrera.
She's snowed in at Christmas… with a man she must resist!
Perla and Gael used to be a couple in college. Now she wants to hire him for a job. They get snowed in and on top of that, he asks her to put on a show for his ill mom so she'd think they're happily back together. Well, that's quite a lot for the holidays, isn't it? I adore this Christmas Romance novella by Adriana Herrera and it is so well narrated by Lola James!
Merry Measure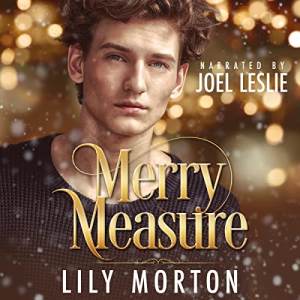 Lily Morton (Author, Publisher), Joel Leslie (Narrator)
Get the Audible book in a deal**
Things look like they're starting to change when Arlo finds himself sharing a room with Jack while on holiday in Amsterdam at Christmas. Will the festive spirit finally move them towards each other, or is Arlo just banging his head against a wall this time?
Fancy a trip to wintery Amsterdam? Arlo travels to the city to spend the holidays there with his brother and their group of friends. And Arlo's teenage crush, his brother's best friend Jack, is there as well! But there is some trouble with Jack's room and Arlo doesn't quite mind offering to share his room… and the one bed. The author and narrator team of Lily Morton and Joel Leslie once again give us an utterly delightful, sexy, heartwarming M/M Romance that I can only recommend to you all!
An Eggnog to Die For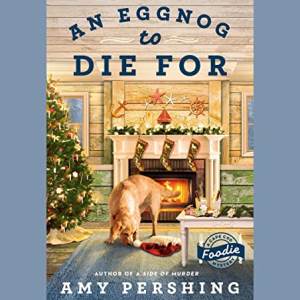 Amy Pershing (Author), Patti Murin (Narrator)
Get the Audible book**
Christmas is coming to Cape Cod, but when Sam Barnes finds a very dead Santa in a very hip restaurant, it's up to her to sift out suspects who have been naughty vs. nice….
Well, a dead Santa might not be everyone's idea of a festive Christmas audiobook but this Cozy Mystery is absolutely delightful if you want to mix things up a bit. The storyline between Sam and her boyfriend is utterly romantic, the food sounds mouthwatering, and a lot of people have a lot of intriguing secrets. Just as it should be for a perfect Cozy Mystery Christmas audiobook!
Happily Letter After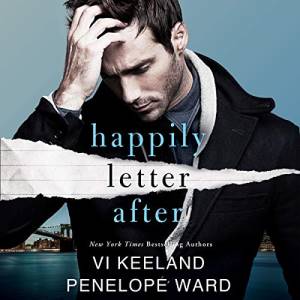 Vi Keeland (Author), Penelope Ward (Author), Andi Arndt (Narrator), Sebastian York (Narrator)
Listen for free with Kindle Unlimited**
From New York Times bestselling authors Vi Keeland and Penelope Ward comes a love story about taking chances and the surprises that come with them.
My love story all started with a letter. Only it wasn't from the man I'd eventually fall in love with. It was from his daughter. A sweet little girl named Birdie Maxwell who'd written to the magazine that I worked for.
Birdie writes a letter to Santa asking for things for her dad who struggles since the death of his wife 4 years earlier. The letter lands on the desk of a woman who is so touched that she makes Birdie's wishes happen for real. So, more letters follow. Birdie read by Andi Arndt is the absolute sweetest thing you can imagine! I loved this audiobook so very much and even though it doesn't have the typical Holiday Romance books cover, it's a perfect choice as a Christmas audiobook.
Related article: How to listen to Kindle Unlimited audiobooks
A Princess For Christmas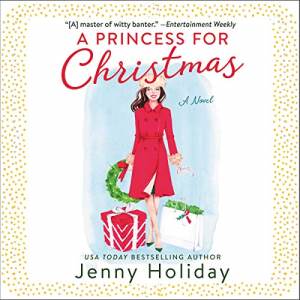 Jenny Holiday (Author), Charlotte North (Narrator)
Get the Audible book**
From USA Today bestselling author Jenny Holiday comes a modern fairy tale just in time for Christmas about a tough New Yorker from the other side of the tracks who falls for a princess from the other side of the world.
This adorable Christmas Romance book has many parallels to Hallmark movies… and pokes quite a bit of fun at it itself. A Princess for Christmas is a beautiful and romantic story and sizzling hot! This is one of my most favorite Christmas Romance books and Charlotte North brought it to life so well!
Duke, Actually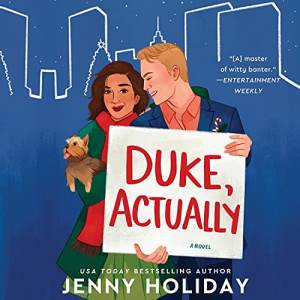 Jenny Holiday (Author), Stacy Gonzalez (Narrator)
Get the Audible book**
Maximillian von Hansburg, baron of Laudon and heir to the duke of Aquilla, is not having a merry Christmas. He's been dumped by a princess, he's unemployed, and his domineering father has sent him to New York to meet a prospective bride he has no interest in. In the city, he meets Dani Martinez, a smart (and gorgeous) professor he's determined to befriend before their best friends marry in the Eldovian wedding of the century.
Max and Dani are both very set on not wanting a relationship, like, ever. But they find that they actually get along really well and between texting, phone calls, and being each other's +1 for important events, they become very good friends. Just that, of course. Since love is not for either of them! I love Jenny Holiday's stories and characters and Duke, Actually is so much fun! It's even better if you listen to it after A Princess for Christmas.
Wrapped Up in You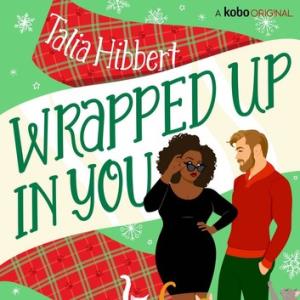 Talia Hibbert (Author), Selina Scott-Bennin (Narrator), Philip Battley (Narrator)
Get the audiobook on Kobo** (The first audiobook is free!)
From USA Today bestselling author Talia Hibbert comes a festive love story perfect for fans of Sally Thorne, Kate Clayborn, and The Brown Sisters trilogy. William Reid is nothing special, except for his billion-dollar acting career and his, you know, face. (Apparently, it's a good one.) Winning 'Sexiest Man Alive' was nice, but this Christmas, he has more important goals in mind… like finally winning over his lifelong crush (and best friend's twin sister), the super-smart and kinda-scary Abbie Farrell.
Talia Hibbert has released a Kobo exclusive Christmas Romance novella that's really worth getting! Wrapped Up in You has the typical Talia Hibbert humor and charm. You need this grumpy heroine and adorable himbo hero in your life! William is definitely my favorite book boyfriend on this list of Christmas audiobooks!
Related article: Why you should check out Kobo if you are an Audiobook fan (it's not what you might think!)
A Holiday by Gaslight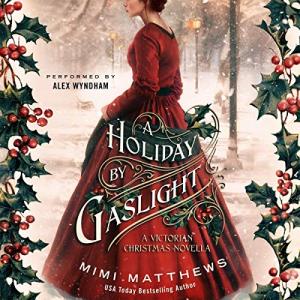 Mimi Matthews (Author), Alex Wyndham (Narrator)
Get the Audible book in a deal**
Sophie Appersett is quite willing to marry outside of her class to ensure the survival of her family. But the darkly handsome Mr. Edward Sharpe is no run-of-the-mill London merchant. He's grim and silent…
A Holiday by Gaslight is a sweet historical Romance novella with a beautiful atmosphere! I love the story and the narration by Alex Wyndham. With the relatively short length, it is the perfect audiobook to listen to while doing your Christmas decorations. But it's worth a listen whatever you are doing.
The Christmas Pact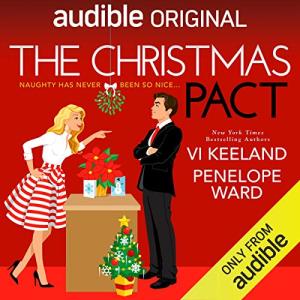 Vi Keeland (Author), Penelope Ward (Author), Andi Arndt (Narrator), Sebastian York (Narrator)
Listen for free with Audible Plus**
Eggnog. Check. Roaring fire. Check. Hot romance book. Check! Riley Kennedy's emails keep getting crossed with her male colleague, Kennedy Riley. The infuriating man forwards them along with his annoying commentary and unsolicited advice. At least she never has to see him in person, since they work in different locations…until they come face to face at the office holiday party.
The Christmas Pact is a super fun, entertaining Romantic Comedy novella for a quick escape from any holiday stress! And the unexpectedly sensitive hero will most definitely make you swoon…
Related article: What is Audible Plus and is it worth it for you?
Mistletoe and Mr. Right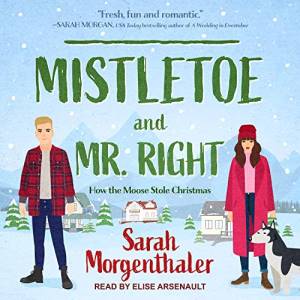 Sarah Morgenthaler (Author), Elise Arsenault (Narrator)
Get the Audible book in a deal**
Lana Montgomery is everything the quirky small town of Moose Springs, Alaska can't stand: a rich socialite with dreams of changing things for the better. But Lana's determined to prove that she belongs…even if it means trading her stilettos for snow boots and tracking one of the town's hairiest Christmas mysteries: the Santa Moose, an antlered Grinch hell-bent on destroying every bit of holiday cheer (and tinsel) it can sink its teeth into.
While most of us can only dream of seeing snow on Christmas, a trip to Alaska would surely take care of that. Mistletoe and Mr. Right is a great take on the Hallmark recipe of the successful businesswoman meeting a small-town guy… and a moose. This is a super entertaining, very charming Christmas Romance book with an awesome ending!
In a Holidaze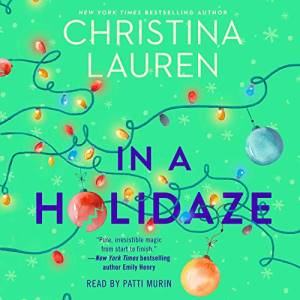 Christina Lauren (Author), Patti Murin (Narrator)
Get the Audible book**
One Christmas wish, two brothers, and a lifetime of hope are on the line for hapless Maelyn Jones in In a Holidaze, the quintessential holiday romantic novel by Christina Lauren, the New York Times bestselling author of The Unhoneymooners.
Did you love the Palm Springs movie? And Groundhog Day? Then you'll love In a Holidaze just as much as I did! It's a very cute, fun, slightly macabre Christmas Romance novel about a young woman who has to relive the Christmas vacation with her friends and family over and over… until she gets it right. This is definitely among the must-read Christmas Romance books!
Nick and Noel's Christmas Playlist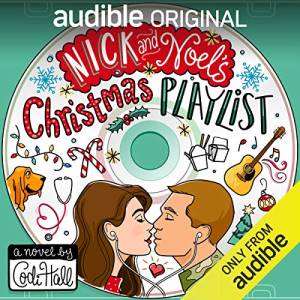 Codi Hall (Author), Brooke Bloomingdale (Narrator), Edward Thomas (Narrator)
Listen for free with Audible Plus**
Press play on happily ever after in this charming, heartfelt holiday rom-com. Nick Winters and Noel Carter have known each other their whole lives. After years of shared family holidays, working together on the Winters' Christmas tree farm, and being each other's safe haven, they wouldn't dream of crossing the line from friends to something more….
Nick and Noel's Christmas Playlist was an unexpected hit for me! The magic of this Friends to Lovers Christmas Romance is in the utterly lovable main characters. You can't help but root for them! This is also a really fun audiobook production with Brooke Bloomingdale and Edward Thomas narrating.
Four Christmases and A Secret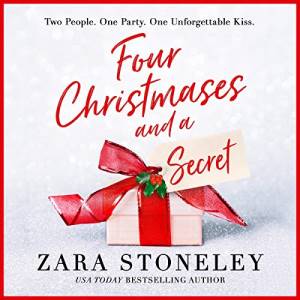 Zara Stoneley (Author), Georgia Maguire (Narrator)
Get the Audible book in a deal**
It's the most wonderful time of the year… Except for Daisy, Christmas means another of Uncle T's dreaded Christmas parties, complete with Christmas jumper and flashing antlers. And Oliver Cartwright. Gorgeous Oliver Cartwright. Who she hates.
Four Christmases and A Secret is a charming British Romantic Comedy about two childhood frenemies who were always in competition with one another. Then fate (and Oliver's uncle) bring them back together!
A Christmas Date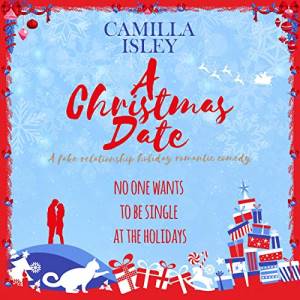 Camilla Isley (Author), Tami Raistrick (Narrator)
Get the Audible book in a deal**
No one wants to be single at the holidays. Even Little Miss Grinch, Nikki, a successful and independent woman, must face her bachelorette status at the most horrible time of the year. December is her personal version of holly-jolly hell: a merry torture made of couples kissing at every corner, forced vacation days, and an inescapable family reunion.
Do you share my love for the fake relationship theme? Then A Christmas Date is the Christmas Romance book for you! And really, a fake relationship for Christmas makes perfect sense to keep nosy family members at bay. Nikki is a grumpy heroine who goes from Grinch to Christmas Spirit and you really just have to root for her! She's the type of character we often see in male protagonists – seemingly hard on the outside, but very soft and actually heartbroken on the inside. I loved her and this book!
Snow Day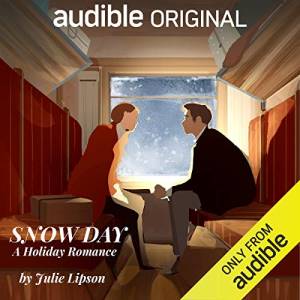 Julie Lipson (Author), Amanda Ronconi (Narrator), Victor Bevine (Narrator) and a full cast
Listen for free with Audible Plus**
What makes for a wonderful life? On a crowded Christmas train from Milan to Paris, Amy, an American headed to meet her fiancé, and Martijn, a Finn headed anywhere but home, meet cute. But when their train gets delayed in an Italian Alps hill town due to a snow storm, they, along with a passel of fellow stranded passengers, find comfort and joy in a cozy inn, run by a wise Italian man who forces them to look at the holiday and each other in a whole new light.
While a little village in Italy might not be the obvious choice for a Christmas holiday trip, you'll come to love it in Snow Day! This is an adorable Christmas Romance novella about finding your perfect match where you least expect it.
Hold Me Closer, Toni Danzig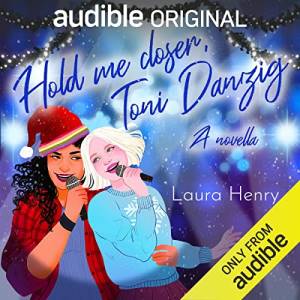 Laura Henry (Author), Suehyla El-Attar (Narrator), Lori Prince (Narrator)
Listen for free with Audible Plus**
Toni has admired Audrey from afar for a long time. After a one-night stand, Toni runs into Audrey the next day in her family's company. Now the two have to figure out their feelings for one another or spend a very awkward Christmas with Toni's family!
Hold Me Closer, Toni Danzig is a fun Christmas Romance novella perfect for fans of the one-night stand Romance theme! Toni has had a crush on Audrey for so long and when she gets a second chance at wooing the woman, she tries her best to make Audrey give her – and them – a real chance.
Booklist, Review
/