When you compared Audible vs Audiobooks com a few years ago, these two audiobook subscription services would have been basically the same. However, both have made significant changes two years ago, and these days, they offer very different membership perks!
Check out my short and to-the-point comparison below…
**The marked links and book covers on this page are affiliate links. If you use them to purchase something, I earn a fee at no additional cost for you. Disclosure**
The Price of Audible vs Audiobooks com
The standard membership for both Audible.com and Audiobooks.com is $14.95/month. You can cancel at any point and won't be billed anymore.
Audible.com also offers yearly subscriptions with either 1 or 2 credits per month, which significantly lowers the price per Audible credit and makes it cheaper than Audiobooks.com.
If you are an Amazon customer, you don't need to spend time signing up for Audible. You can simply log in with your Amazon email and password and use your Amazon payment method. Since Audible belongs to Amazon, they share a global log-in.
However, signing up to Audiobooks.com is also very quick and easy, and I appreciated that they accept PayPal as a payment method. You don't need a credit card like on Amazon!
Both audiobook services offer a 30-day free trial, so you can test them out yourself risk-free. If you buy a book for your one free audiobook credit, it's yours to keep with both Audible and Audiobooks.com, even if you cancel during the free trial.
Try Audiobooks.com 30 days free**
Membership Benefits of Audible vs Audiobooks com
This is the part where Audible and Audiobooks com differ significantly in 2023!
In the past, both services used to offer exactly the same. For your monthly fee, you would receive one credit with which you could buy a premium audiobook. Additionally, you would get 2 borrowed audiobooks from a monthly selection. For Audible, these were always Audible Originals. On Audiobooks.com, you could choose backlist bestsellers.
These days. you have new and very exciting options that make it worth it to try out both services for yourself.
Audible membership perks
As an Audible Premium Plus subscriber, you still receive a free audiobook credit for one book that you can choose from the entire catalog, and that is yours to keep.
In addition to that, you get access to the Audible Plus catalog and can listen to as many of the over 10,000 included titles as you like!
These audiobooks are Audible Originals and Audible Studios productions, as well as books from popular authors that were invited to the program. So these are high-quality audiobooks! And you get unlimited listening!
That's a pretty solid perk, really.
Audible Plus is a form of digital library service, which means these books will be removed from your device if your membership runs out. But until then, you can listen to as many of these books as you want without having to spend an Audible credit.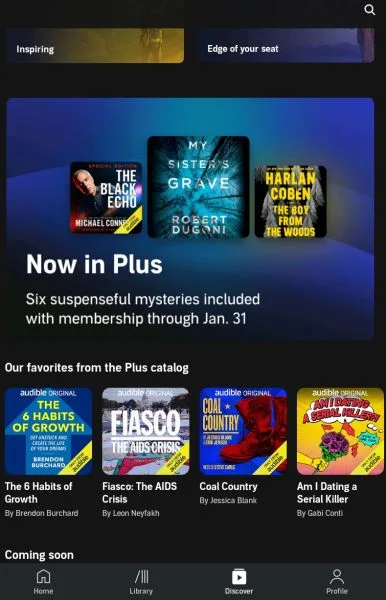 Audiobooks.com membership perks
As an Audiobooks com member, you can opt to use your monthly audiobook credit in different ways. Instead of buying a book to keep, you can use one credit to join an "Audiobook Club" and listen to as many of the included audiobooks as you like.
If you used to be an Audible Escape subscriber, the Audiobooks.com Romance Club** might be interesting for you. They offer clubs for a number of genres, and you can borrow as many of the included titles as you like. You don't have to pay per book!
In that sense, it's similar to Audible Plus. But the included books are very different and would require you to spend a credit anywhere else. In Audiobook.com's offer, you can borrow them and get unlimited listening!
But it's important to note that these audiobooks aren't yours to keep. Just like Audible Plus books, you only have access to them while your subscription is active.
So, you won't have anything lasting to show for your monthly fee if you cancel your subscription. And because of that, I strongly recommend that you take a look at the Audiobook Club catalogs before you decide to use your credit in this way!
See if they offer enough audiobooks that you want to listen to!
Audiobook Club links: "Best of" – Romance – Thriller – Sci-Fi/Fantasy – Health&Wellness – Business – Kids – Religion
Additionally to your credit, you can pick one audiobook from a small monthly catalog of bestsellers, the VIP Selection. These are full-length novels. But you only borrow them, and once your subscription runs out, these audiobooks will also disappear from your app.
Check out the current VIP Selection!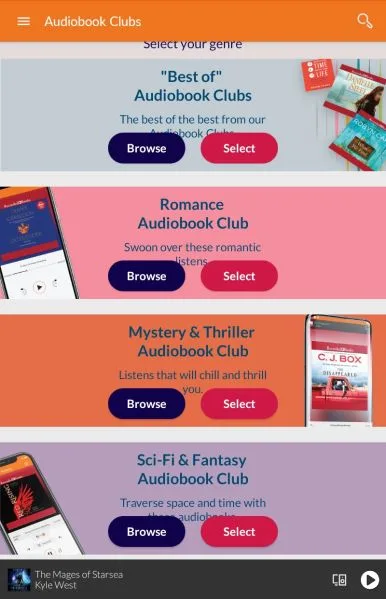 Summary of Membership Benefits Audible vs Audiobooks com
To sum up the membership benefits, as an Audible subscriber, you get unlimited access to a catalog of audiobooks in addition to your free audiobook that you get to keep.
As an Audiobooks com member, you can only get unlimited listening if you spend your credit on this. This can still be the better option for you though if Audiobooks.com has several titles in an Audiobook Club that you want to listen to.
With Audible, it's pretty safe just to sign up and then find something you like. With Audiobooks.com, it's better to carefully check first if you find their offer interesting.
Both stores offer a lot of sales and deal events. But Audible's sales are only for active subscribers, while Audiobooks.com sales are open to anyone.
In my opinion, that makes the Audiobooks.com app such a good thing to have for any audiobook fan. Even if you have your monthly subscription at Audible.
Check out the Audiobooks.com Sales**!
Audiobook Apps
There isn't much difference in regard to the Audiobooks vs Audible app. Neither service lets you use your own choice of audiobook player. You have to use their product, and while they slightly differ in style and layout, they offer similar functions like sleep timer or narration speed.
By the way, if you want a "1 free audiobook per month" subscription that lets you download audiobooks as MP3s and play them in any Play Store app, you should check out LibroFM!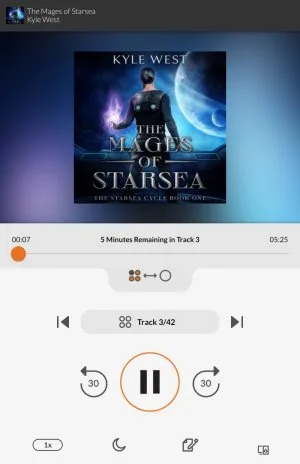 Customer Service and Returns Policy
While Audible's return policy comes with its own set of problems for customers and audiobook creators, it is without a doubt comfortable to use when you want to return an audiobook that wasn't right for you. You can simply give it back by clicking a button in your Purchase History. No questions asked.
My experiences with Audible customer support have always been excellent. They reply swiftly and are usually very helpful and focused on the best possible customer service.
Audiobooks.com doesn't have a returns policy. If an audiobook doesn't work well or has major issues, you have to contact customer service to check a possible refund with them.
But you can't comfortably give back a book that simply wasn't quite right.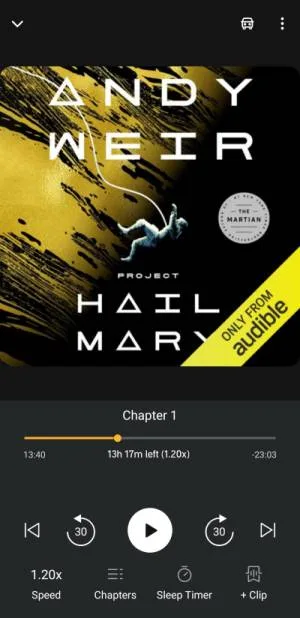 Conclusion: Audible vs Audiobooks com
If you listen to one or two audiobooks a month, there really isn't much of a difference for you between Audible vs Audiobooks com. Just pick one by gut feeling or decide whether you want to give your money to Amazon or an independent company.
However, if you are an avid listener, finishing one or more books every week, you should take a closer look at both the Audible Plus catalog and the Audiobook Clubs on Audiobooks.com to see which one offers more audiobooks that you personally find interesting.
Of course, it would also make sense to take turns and get the best from both services!
If you listen to many audiobooks, you should also make sure to pop by the Audiobooks.com Sales page regularly to see if they have something good.
Get your free test month on Audiobooks.com and on Audible to try them out for yourself. The books you buy for your test month credit will be yours to keep!
Try Audiobooks.com 30 days free**
If you aren't sold on either of these two subscriptions, check out my comparison of more Audible competitors!
And if you need book recommendations to get started, check out our list of 50 of the best audiobooks of all time!
Audiobook Subscriptions
/