Of course, everyone has heard of Audible. But depending on how many audiobooks you listen to in a month, another audiobook service might be much better specialized for what you need.
Finding the right audiobook service for you can help you to save money and get the kind of listening experience you will enjoy most!
**The marked links and book covers on this page are affiliate links. If you use them to purchase something, I earn a fee at no additional cost for you. Disclosure**
What is important when picking the best Audiobook Service for you?
You might be aware that there are a lot of different audiobook apps and stores. And the way different audiobook membership plans are tailored means that someone who listens to one audiobook a week will likely need a very different service from someone who listens to one audiobook a month.
People who listen to fewer audiobooks might find it very important to be able to buy exactly that one title they are currently interested in. While those who listen to a lot of audiobooks might be most concerned about staying within their book budget.
So, this very important aspect, how many books you actually listen to, is the basis for this post! But let's first take a look at the various points you might want to keep an eye on when comparing audiobook services…
Pricing
You can listen to audiobooks for as little as $0.00 if you have a free library card that offers digital audiobooks. But cheaper is not always ideal!
And if you have a certain budget available, you have many options to choose the best audiobook service for you that most matches what's important to you.
Borrowing or Owning
Directly tied in with the pricing consideration is whether it's important to you to own your audiobooks or if you are happy to borrow them.
In free library apps like Hoopla or Libby, you only borrow your books, and they will be removed after 2-3 weeks. In paid subscriptions like Scribd, Audible Plus, or Kindle Unlimited, you also borrow audiobooks, but you can keep them for as long as your membership is active.
If you buy an Audible book, it's yours to keep, but it is under DRM, which means you are not guaranteed to always be able to download an audiobook again that you bought in the past. You are only guaranteed one download after purchase!
This is buried somewhere in the Audible Terms of Service and the issue critics of DRM most often name. If you buy something, you would assume it's truly yours.
But audiobooks might, for example, be removed if a newer version with a different narrator is recorded, as we can currently see on Audible with the Discworld audiobooks. The old recordings are removed as the new ones are released. And they can also disappear from the Audible libraries of customers who bought the old versions in the past.
If you buy DRM-free MP3 audiobooks, you can save them on a hard drive and be sure that you will always be able to revisit these books.
So, DRM might be an important point for you if you want to own your audiobooks!
Sound Quality
Audiobook services also have quite significant differences in sound quality. Audible, for example, offers mediocre sound quality. Libby's sound quality is very noticeably low.
That has the upside of letting your download and start to listen very quickly. But the experience during an audiobook is not quite as good as when you have a higher quality audiobook that takes a little bit longer to download initially but sounds much crisper.
Audiobook Apps
The minimum I expect to find in audiobook apps are different narration speeds (ideally on a sliding scale), bookmarks, and a sleep timer. It was quite shocking to me when I recently tried out a new-to-me audiobook service (not on the below list) that didn't offer bookmarks.
I always set one before turning on the sleep timer, and I was not thrilled that I had to remember my spot in this app!
Some audiobook apps are also more temperamental than others. The Scribd app likes to overload my Samsung tablet. The Audible app was almost unusable on my previous Fire tablet.
Membership Benefits
We all love a deal, our brains are programmed for that. So, getting a bunch of benefits with a membership fee always feels good.
But these benefits actually need to be beneficial to you personally!
If you, for example, only ever listen to one audiobook a month, you don't get anything out of Audible's otherwise excellent membership benefit that you can listen to as many audiobooks as you want from the Audible Plus catalog.
But let's discuss this more in the next section…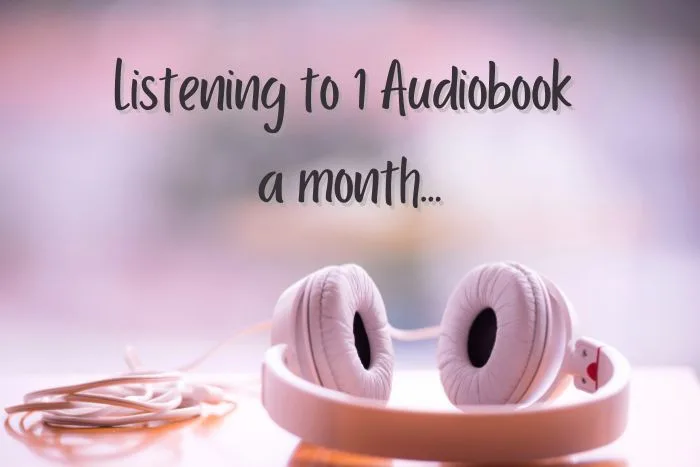 You Listen to 1 Audiobook a month…
Then the best audiobook service for you is Libro.fm!
Similar to Audible, Libro.fm offers you a membership plan with one audiobook credit per month for an audiobook of your choice. But unlike Audible, this store doesn't belong to and benefit Amazon. Instead, your money benefits a local bookstore of your choice.
You get to support independent bookstores and your local community with your digital audiobook purchases!
And they sell DRM-free audiobooks!
1. It's affordable!
For someone who listens to one audiobook a month, an affordable pricing model is crucial. With Libro.fm, you can choose between two options. Either you sign up for the monthly membership, which costs $14.99 per month.
Or you create a free account and only buy audiobook credits when you need them. A credit from one of the credit bundles** costs $15, which is a negligible difference to the monthly subscription, in my opinion.
And it's a fantastic option if you don't feel entirely comfortable being tied to a monthly subscription!
Libro.fm also has great sales and deals that let you buy DRM-free bestselling audiobooks for less than $5.
Check out current Deals on Libro.fm**
2. You support local bookstores
One of the most significant advantages of Libro.fm is that it partners with independent bookstores to sell audiobooks.
When you purchase an audiobook from Libro.fm, you can choose which local bookstore you want to support, and a portion of the sale goes directly to that bookstore.
So, while you don't spend more on an audiobook credit here than on Audible, your local community and your favorite authors benefit much more from your purchase, as Libro.fm also pays higher royalties!
3. A vast selection of audiobooks
Libro.fm sells over 325,000 audiobook titles. You can browse through various genres, including fiction, non-fiction, business, and self-help, to find the perfect audiobook for you.
The Libro.fm editors also create excellent book lists. Their recommendations are a wonderful source of inspiration on what to listen to next, and I often find new favorites here.
4. High-quality audio and reliable app
Libro.fm provides very high sound quality, and you can either download your audiobooks as MP3 to listen to on any device or in any app of your choice, or you can listen directly in the Libro.fm app.
The app is very user-friendly and available on both iOS and Android devices. It's one of the most stable audiobook apps I have used and offers all the crucial features in addition to a very nice library layout.
If crisp audio quality is very important to you, Libro.fm is the best audiobook service for you and far beats the lower sound quality of Audible!
5. Easy to cancel or pause membership
If you're someone who listens to one audiobook a month, you may want to pause or cancel your membership from time to time. With Libro.fm, you can do so easily through your account settings.
There's no need to worry about being locked into a subscription or about unused audiobook credits. You get to keep any saved-up audiobook credits if you cancel! And, of course, you keep all of your purchased audiobooks.
Also, Libro.fm credits never expire!
Libro.fm is a wonderful store that I always love to use, and the one I want to recommend to everyone who listens to one audiobook a month. It's the most ethical audiobook service while still being affordable and convenient.
It's a really great option for anyone looking for a quality audiobook experience!
If you want to read more about Libro.fm, check out my comparison of Libro FM vs Audible!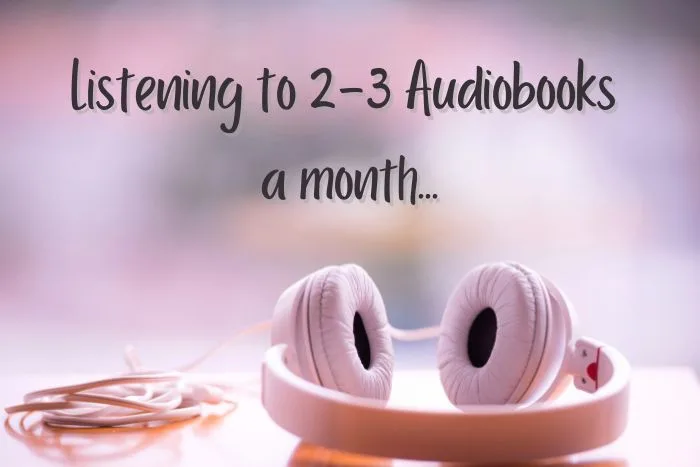 You Listen to 2-3 Audiobooks per month…
Then the best audiobook service for you is either Audible or Audiobooks.com.
Both give you 1 credit per month for a premium audiobook of your choice, while their membership benefits allow you to listen to one or two more audiobooks without any extra cost.
If you can afford it, I would still recommend Libro.fm as the best audiobook service for anyone who listens to 2 audiobooks a month.
But since you have to buy additional credit bundles regularly, the cost can add up, and Audible or Audiobooks.com are simply more affordable then.
Try out Audible in a 30-day free trial**

Try out Audiobooks.com in a 30-day free trial**
1. Large selection of audiobooks
Both Audible and Audiobooks.com offer a massive selection of audiobooks, with hundreds of thousands of titles to choose from.
Additionally, Audible has thousands of exclusive audiobooks, including audiobooks narrated by your favorite authors or celebrities, that you can't find anywhere else.
2. Membership Benefits
As an Audiobooks.com subscriber, you can borrow one additional audiobook every month from a changing catalog of bestsellers ("VIP").
As an Audible subscriber, you have unlimited access to every audiobook in the Audible Plus catalog and can listen to as many Audible Originals and other included audiobooks as you want.
Both stores also offer various sales and deals events. On Audible, these are member-exclusive. On Audiobooks.com, they are open to everyone and a good opportunity to try out the service.
Check out current Deals of Audiobooks.com**

Check out current Deals on Audible**
3. Affordable pricing models
Both Audiobooks.com and Audible's standard membership costs $14.95 per month and gives you one credit, which you can use to purchase any audiobook on the platform.
Both stores also offer plans for 2 credits a month, which lowers the cost for each individual credit, as well as credit bundles that come in handy when you, e.g., want to buy a full book series or want to top up your library before a road trip.
Related article: The Best Audiobooks for Road Trips
4. Flexibility and easy to use
Both Audible and Audiobooks.com offer user-friendly platforms that are easy to use. You can access your audiobooks on various devices, including your phone, tablet, or computer.
You can pause your subscription or cancel it at any time. If you end your membership, you will keep access to Audible Plus or to your borrowed Audiobooks.com VIP book until the end of your billing period.
Both services offer solid iPhone and Android apps with all the features we expect!
Try out Audible in a 30-day free trial**

Try out Audiobooks.com in a 30-day free trial**
If you want to listen to 2 or 3 audiobooks a month but can't spend more than $15, Audible and Audiobooks.com are the best audiobook services to consider.
They are both popular subscriptions that offer you lots of perks. And you can be sure to get great value for your money with an excellent audiobook listening experience!
If you want more info about these two stores, read on in my comparison of Audible vs Audiobooks.com!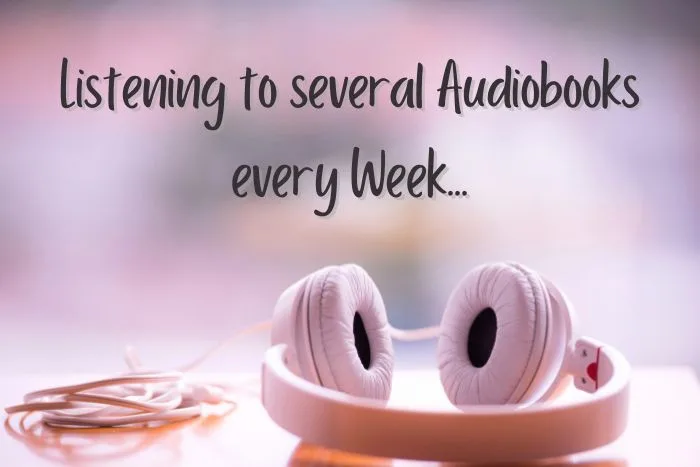 You Listen to several Audiobooks per week…
You are my people! 😉
To keep things affordable at this advanced level of listening, the best audiobook service for you is Scribd, paired with a library card for access to Hoopla and Libby.
Scribd is an audiobook service that stands out from the crowd. It gives you access to a huge catalog of audiobooks, and you can listen to a bunch of bestsellers and popular audiobooks here for a relatively low monthly fee.
Try out Scribd in a 30-day free trial**
1. Listen a whole lot!
Scribd is an excellent audiobook service that also gives you access to ebooks, magazines, and documents for just $11.99, which actually makes it the cheapest audiobook service on this list.
A Scribd membership is similar to what Hoopla or Libby offer. You can borrow a few current bestsellers per billing period, as well as several popular backlist audiobooks (e.g., titles that are already a few years old) and a whole bunch of Scribd exclusive and indie-published audiobooks.
As you use Scribd actively, you might find that, at times, you won't have access to certain audiobooks anymore. You'll be able to listen to these in the next billing period.
Scribd is not an unlimited service! But once you are familiar with it, you will probably find that you always have access to some interesting audiobooks.
However, since it is not unlimited, I mentioned pairing it with a library card, so you can, e.g., get some bestsellers on Hoopla, which is a library app that gives you a certain number of monthly downloads but doesn't differentiate premium content.
And Libby requires wait times but is a great place to get audiobooks from Penguin Random House. Those are not available on Hoopla or Scribd.
2. Quality content and a large catalog
The Scribd app lets you stream or download audiobooks. The sound quality is very good, and you get a fun listening experience when choosing audiobooks from their fantastic selection.
The Scribd catalog has hundreds of thousands of audiobooks, including most books from HarperAudio and Tantor, as well as countless other publishers and indie authors.
3. All-in-One App
In one app, you can access Scribd's audiobooks, ebooks, magazines, and sheet music. You can browse their catalog directly in the app, and it's very convenient to use.
Related article: The Best Audiobooks on Scribd
In conclusion, for someone who listens to several audiobooks every week, Scribd is the best audiobook service to consider. You get access to a vast library of quality content for an affordable price!
Scribd offers great value for the money and a wonderful audiobook listening experience.
Try out Scribd in a 30-day free trial**
If you want to find out more about Scribd, read on in my comparison of Scribd vs Audible!
Many websites claim that they offer the one single best audiobook service. But what's best for you depends mostly on how many books you listen to, as well as on your monthly budget for audiobooks, and if you have certain requirements for the content, e.g., that your current book club title is available, or that you get to keep all of your audiobooks.
I hope with this overview, I could help you find a subscription that best matches what you need and that you will happily be able to listen exactly the way you want!
In case you didn't find all the info you need here, you can read more about the various audiobook services in these blog posts:
How to get more out of your Audible Membership
Audiobook Subscriptions
/