Sure, Audible is great and all, and it is the biggest player on the audiobook market. But the following 10 Audible alternatives are worth a look and might be a better fit for you!
There are many audiobook services around these days. But to be one of the best Audible alternatives, they need to have something special that really sets them apart and gives us audiobook fans something Audible can't give us.
The Best Audible Competitors
The Audible Premium Plus plan is not the only subscription service that offers you one credit per month for an audiobook of your choice. Here are Audible alternatives that will also give you one "free" audiobook for a similar monthly fee that also have other perks!
🎧 IF YOU ARE IN A HURRY, I recommend you grab a free trial for this popular audiobook subscription**!
It's an excellent audiobook service from an independent company that works very similarly to Audible and offers many perks.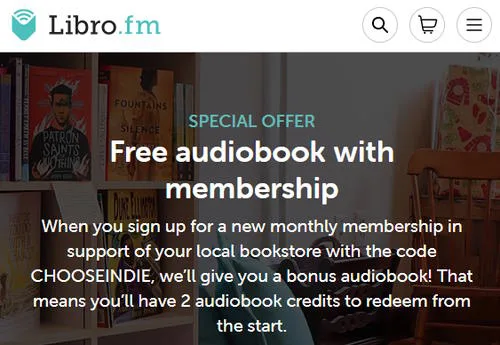 Libro.fm
Libro.fm is a storefront for independent bookstores to sell digital audiobooks. If you want to shop small and local, Libro.fm is the best Audible alternative!
They also offer a surprisingly big list of fantastic membership perks. As part of your "1 credit a month" membership, you get a 30% discount on all audiobooks in their catalog. And you can easily buy additional credits.
You can also return audiobooks on Libro.fm! So, it's safe to take chances on new-to-you authors and narrators. While you can't return books yourself like on Audible, it's only a quick support chat to have your credit refunded.
But most importantly, this ethical alternative to Audible sells audiobooks in MP3 format! Why is this a big deal? Because that means they are DRM-free!
Audible books can and do disappear from your library, e.g., because distribution rights have changed or because the author re-recorded the audiobook with a new narrator. You can get a refund for this from Audible – but only if you notice and contact them!
And the audiobook you loved would still be lost.
Libro.fm audiobooks are yours forever and ever! You can listen to them in any audiobook player and on any device you want. You can save them on a hard drive, and no one can ever take them from you.
Unlike Audible books, you really truly own audiobooks you buy on Libro.
They also have a fantastic phone app that's really pleasant to use. For me, this is one of the best apps like Audible!
And I always appreciate their audiobook recommendations! They are extremely well done and show you something new, not the same old same old you see everywhere.
If you are not a fan of monthly subscriptions, Libro is still a great service for you. Their Audiobooks clubs** have a changing selection of bestsellers and fan favorites every month. The deals start at only $3.99! And yes, these are also MP3 audiobooks!

🎧 Check out their Special promo for 2 audiobook credits in your first month**
Libro.fm is currently only available in the US and Canada.

For more information, check out my in-depth comparison of Libro fm vs Audible.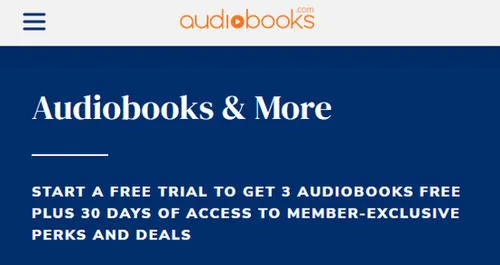 Audiobooks.com
I've gotten the impression that Audiobooks.com is often overlooked. But it's actually a fantastic service we should all check out more often!
This is also a "1 free audiobook per month" alternative to Audible, but they've recently started offering a new form of subscription.
Instead of spending your credit on one free premium audiobook, you can use it to get access to an Audiobook club from which you can borrow as many audiobooks as you like!
However, if you go this route, make sure you carefully check out the club's catalog before joining. These selections aren't all that huge, and I know many of my readers are avid audiobook listeners. So please make sure that the Audiobook club you choose has many titles you are interested in that you haven't already listened to.
It feels like it's easy to waste a credit here. But if you choose the club you join with care, it's a really solid offer to get unlimited listening for a selection of books that you might not find in Hoopla or Everand (Scribd) or other "unlimited audiobooks" subscriptions.
As an additional membership perk, no matter how you spend your credit, you can also borrow two additional free audiobooks from a monthly changing selection of bestsellers.
If you are looking for an Audible clone, Audiobooks.com probably comes closest! With the credit for a free premium audiobook and two monthly bestseller borrows, this subscription plan is equal to the one Audible offered before introducing the Audible Plus catalog.
Like Libro.fm above, this Audible competitor offers many sales events that don't require an active subscription and are really worth checking out!

🎧 Grab a 30 Day Free Trial**! If you use your credit for a premium audiobook, it will be yours to keep, even if you cancel your subscription.
Audiobooks.com is available worldwide.

You can read more in my in-depth comparison of Audible vs Audiobooks com.

Downpour
Downpour might not be as well known as Audible, but many people absolutely swear by it!
This Audible alternative has a "one audiobook credit per month" plan, but they are actually cheaper than Audible at just $12.99! And it's easy and convenient to buy additional credits for the same price.
Most Downpour audiobooks are offered DRM-free, as MP3, so you can download them and keep them safe forever! And there are often various formats and purchase options, e.g., renting an audiobook for a very low price or buying a CD.

🎧 Grab a 30 Day Free Trial** to score an audiobook in MP3 format that's yours to keep!
The Cheapest Audible Alternatives
A standard Audible subscription can feel pricy at $14.95. Fortunately, many cheaper alternatives to Audible also offer a whole lot of audiobook listening!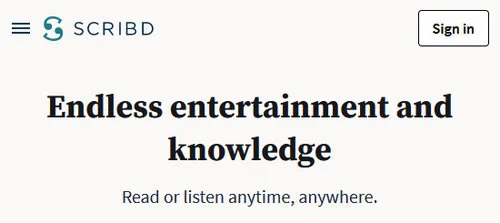 Everand (formerly Scribd)
For many listeners, including me, Everand (the recently renamed Scribd book and audiobook subscription) is the best Audible alternative. And it's the one I use the most. It's so much listening for just $11.99 per month!
This Audible competitor is a digital library service. You don't buy any audiobooks here, instead, you get access to them while you have an active subscription.
And you can pretty much listen as much as you want!
There are some limitations in place, though. You can't listen to, e.g., all of HarperAudio's newest releases one after the other. After a few, the rest will be locked until the following billing period.
But at this point, you still have access to countless audiobooks from indie publishers, backlist titles, and Everand Exclusives.
You can stream or download the audiobooks in the app, and the Everand plan also includes access to ebooks and sheet music.
For me, Everand might well be the best audiobook app since you can browse and download audiobooks in the app without having to use a browser!

🎧 Grab the 30 Day Free Trial** and start listening as much as you want!
Everand is available in many countries.

If you want more information, read more in What is Everand?
Related article: The Best Audiobooks on Scribd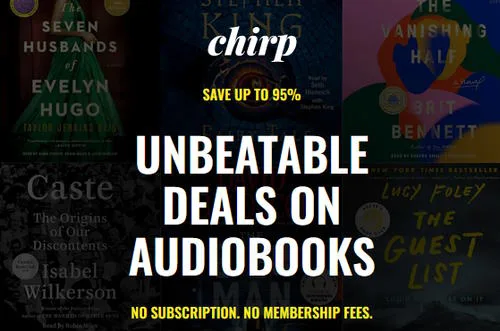 Chirp
Chirp is a must-have for every audiobook fan since it is the cheapest audiobook app!
This Audible alternative doesn't require a subscription and has no monthly fee. It's basically an audiobook outlet.
They have super cheap deals, even for bestsellers, starting at just $0.99. It's really great for trying out new-to-you authors and narrators or buying titles you are missing from your favorite author's backlist.
Chirp is the perfect addition to other audiobook services! You use it whenever they have something good. And over time, you can build a significant audiobook library here for a very small price.

🎧 Get a 30% discount on your first purchase**
Chirp is only available in the US and Canada.

Read on about this audiobook service in my review of Chirp audiobooks.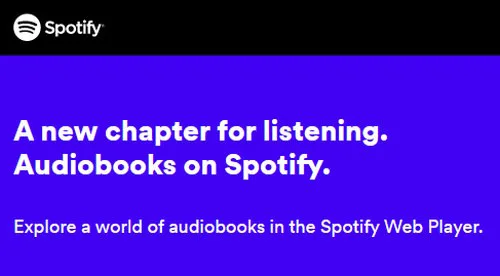 Spotify
Spotify is pushing more and more into the audiobook market, which is actually a really good thing.
Audible has gotten very comfortable in its position as the market leader and has made many decisions that were very bad for independent audiobook creators.
Spotify is big enough to put some pressure on Audible, hopefully improving the situation for authors, narrators, and small publishing houses.
You can borrow audiobooks on Spotify with your free or premium subscription. At the moment, it's still a bit clutzy to find them though. It's best to browse audiobook playlists to find something to listen to!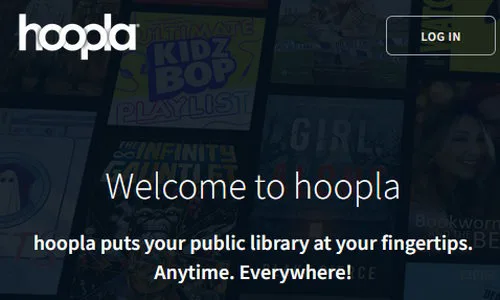 Library Audiobooks, Hoopla, and Libby
A library card is a must-have for any bookworm privileged enough to have a library nearby! Even those who only like digital audiobooks.
Many libraries participate in online programs like Overdrive or Hoopla, so you can borrow ebooks and audiobooks through these apps.
In Overdrive Libby, you might have wait times until you can get an audiobook. In Hoopla, you usually have a limited number of borrows.
Regardless of that, library audiobooks are the number 1 best free Audible alternative! And they are, of course, a fantastic addition to other audiobook services.
If your local library doesn't offer digital books, you can check if you are eligible for a free card from a bigger library in your state that includes access to Hoopla and Libby. It's worth it since you get an app like Audible but free and tons of bestsellers to enjoy!
Alternative Ways to get Audible Books
If you are looking for Audible alternatives because you can't afford or don't want the monthly subscription, but like this service otherwise, here are three ways to get Audible books for free or cheaper!
Free Audible Codes
Audible provides audiobook publishers with a number of free codes for their book that they can give away. Listeners can turn these codes in for a free copy of the audiobook.
Many indie authors and newcomer narrators use these codes as an incentive for listeners to give them a chance and to get more reviews on their Audible book page.
Writing an Audible review only takes a few minutes, and requesting audiobook review copies is a great way to discover and support new authors and narrators.
If you have ever wondered how to get a free audiobook from Audible, this is the best way!
Click here to find websites with free audiobooks that don't require a review, and here for places to get free Audible review copies!
Amazon Whispersync and Kindle Unlimited
Even though Amazon promotes its Whispersync feature a lot, it's easy to miss for those not in the know.
It's a great way to get exclusive Audible books for as little as $1.99! And you don't even need a subscription.
The trick is that many Kindle ebooks offer a package deal for the audiobook – and the price for the audiobook and ebook taken together is often much less than what an Audible credit is worth!
This even works with free ebooks or ebooks borrowed through Kindle Unlimited.
Especially audiobooks that are only published on Audible almost always have a Whispersync deal.
So, between the great Audible alternatives above and Whispersync deals, you will probably never need an Audible credit again!
Kindle Unlimited itself also includes thousands of free Audible books. And it's cheaper than Audible, just $11.99 a month.
It's a fantastic match with Whispersync deals. You can choose from tens of thousands of audiobooks at a hugely discounted price that is much more affordable than Audible credits.

🎧 Grab a 30 Day Free Trial** to try out Kindle Unlimited audiobooks!
Related article: How to get Amazon Whispersync deals
While there are many more audiobook services out there, I believe that the 8 Audible competitors and two alternatives to Audible credits I have described above are the most affordable and usable options.
I use all of them regularly myself, and, depending on how many audiobooks you listen to and which kind of books you enjoy, I'm sure you will find a service here that fits you much better than Audible.
Happy listening!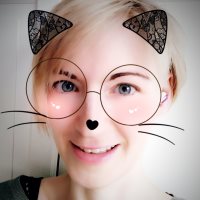 Eline Blackman (pronouns: she/they) fell in love with books as a child – with being read to and reading herself. 10 years ago, she bought her first Audible book. It was love at first listen! An average of 250 audiobooks per year has become the new normal and you will rarely see Eline without a wireless earbud. Romance and Fantasy are the go-to genres for this audiobook fan.
Audiobook Subscriptions
/