In this post, I'll show you different ways to get free audiobook review copies: Through websites and Facebook groups that give away free audiobook codes for Audible, or directly from publishers!
If you're a book blogger, adding some audiobooks to your TBR can be a great way to increase your reading time and get more content for your blog. But some of these websites don't even require you to have a blog! Many self-published authors are looking for audiobook reviewers and are happy to provide you with Audible promo codes in exchange for an honest Audible review!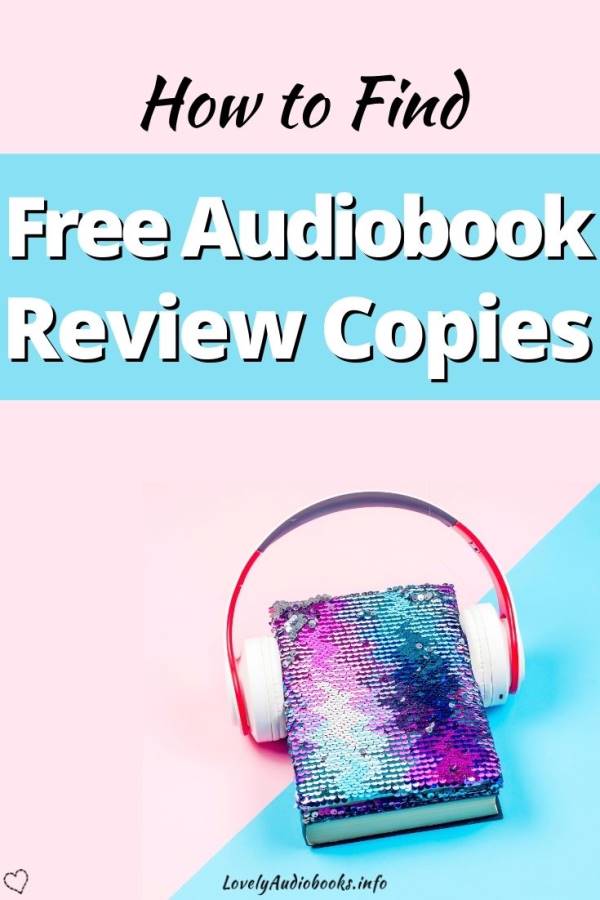 Can you get Audiobook ARCs?
Yes! Audiobook reviewers can get free audiobook review copies. However, advance copies are fairly rare compared to the ebook market.
The most common way to provide review copies for audiobooks are Audible promo codes. Authors and narrators who use ACX receive a number of Audible promo codes that they can give away to audiobook reviewers after the audiobook has been published.
What are Audible Promo Codes?
An Audible promo code is a unique combination of letters and numbers. Together with the Audible promo code, you'll receive a link. Just copy and paste the code into that page and click the button to redeem it. The audiobook will be added to your Audible library. It will be yours to keep, just like any Audible book you would buy yourself.
You don't need an Audible membership or provide payment information to redeem free Audible promo codes! You can simply log into Audible with your usual Amazon login and password.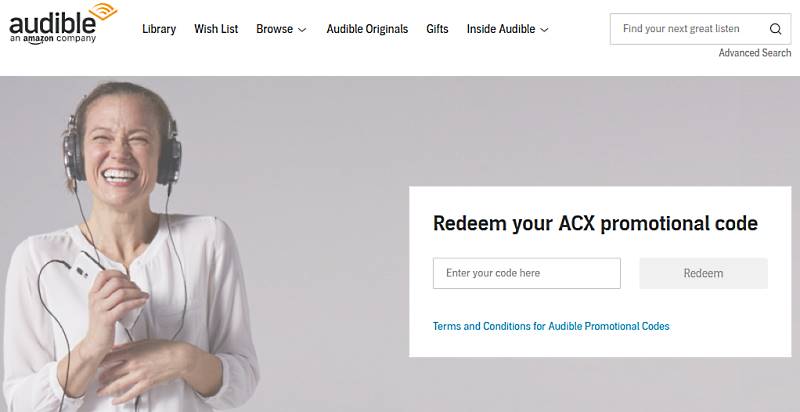 International Audiobook Reviewers
The websites and groups I've listed below offer free audiobook codes for Audible.com or Audible.co.uk. But you can also use them if you're not from the US or UK!
If you are an international audiobook reviewer or blogger, you can also simply log into Audible.com (or co.uk) with the same username and password you use for your local Amazon. Audible belongs to Amazon and your login works on all Amazon websites! But you'll have to change the marketplace in the Audible app to actually get to your new audiobooks. Please take a look at my guide on how to use Audible.com as an international listener.
How to Review Audiobooks
Audiobook reviews should be a bit different from a book review since narrators have a big influence on how enjoyable an audiobook is. A mediocre story performed by a great voice actor can be absolutely captivating! While the best story might not keep your attention if the narrator isn't a good fit.
If you haven't written audiobook reviews before, take a look at my guide on how to write a quick and easy Audible review.
Websites for Free Audiobook Codes
For Reviewers and Book Bloggers
This is a very nice website from a real audiobook fan with many great audiobooks. You can get free audiobook codes for a selection of audiobooks from all genres or, if you're a book blogger, you can join audiobook tours.
Requirements: When you take part in "Adopt an Audiobook", you have 3 months to post your audiobook review on your blog and on Audible or Goodreads. You can request a new audiobook when you have posted your review for the previous one. Visit this website to read the rules: Request an Adoption
To join blog tours, check the F.A.Q.s here: Audiobook Blog Tours
For Reviewers and Book Bloggers
AudioFreebies is a very new site with a rapidly growing catalog of audiobooks. Pick the audiobooks you're interested in and the authors will email you the Audible promo code.
Requirements: None. Authors might individually ask you to leave a review. But you are generally free to decide what you want to do after listening to your free audiobook.
For Reviewers and Book Bloggers
Audiobooks Unleashed is a great new website for free audiobook codes! You receive your Audible promo codes directly after choosing an audiobook. And you can sign up for an account with which you can apply for advanced listening copies!
Requirements: Audiobook reviewers can get Audible promo codes through this website. If you make an account and connect it with your Audible listener page, you might be eligible for very limited ARCs.
Facebook Groups for Audible Promo Codes
There are countless Facebook groups for anything and everything, but also a big number of Facebook groups about audiobooks. They're a great place for audiobook reviewers and book bloggers to get in touch with authors and narrators directly to get free audiobook codes in any genre.
There are many more groups than the ones listed here. But the following are the ones I have the most experience with and that offer a decent choice of books.
This is a very well organized group by a team of audiobook promoters. They always have a fantastic selection of Romance titles for audiobook reviewers. Additionally to the review group, they also have an audiobook tour group specifically for book bloggers and bookstagrammers.
Requirements: There's a post for each currently available audiobook and you can request US or UK Audible promo codes. You have a month to post your review on Audible and one other place (like Goodreads or a blog). You can request a new audiobook once the review for your last one is visible on Audible.
Audiobook Addicts has over 6000 members and a weekly audiobook exchange thread in which authors and narrators of any genre offer free audiobook codes to audiobook reviewers. Check the pinned post to find the review copies!
This is my own Facebook group and you'll find many narrators and authors offering Audible promo codes in the group. We're mainly focused on Romance. The group also keeps you up-to-date on cheap audiobook deals.
This is the Facebook group of Audiobook Boom. You'll find lots of indie audiobooks in the group and you can request a review copy by writing a comment.
Aural Fixation is a big and influential Romance audiobook group on Facebook. They opened a new group specifically for Audible promo codes giveaways. The group includes both new and more well-known authors and narrators.
Audiobook Publishers
If you are interested in advance listening copies, the tried and trusted method of book bloggers is getting in touch with publishers directly! You can send an email to Audible, Tantor, Brilliance, or any other audiobook production company or publishing house that you regularly encounter while listening. Introduce your blog and include a few statistics on your visitors and Social Media audience.
On Evelina's blog, you can find some more in-depth info on what publishers want to see when you ask them for review copies.
If this personal contact isn't quite your thing, LibroFM offers a fantastic program for audiobook influencers! LibroFM is an indie audiobook store with its own review copy program that gives reviewers access to a monthly selection of early listening copies from big publishing houses. Apply for it here!
You can unsubscribe at any time by clicking the link in the footer of my emails. For information about my privacy practices, please read the Privacy Policy.
All about Audiobooks, Blogging
/