There's something ridiculously romantic about babies in Romance novels. Sometimes, I really feel like some good Pregnancy Romance books with lots of family love and babies who are really wanted!
However, I have found that surprise pregnancy is not at all the trope for me. But planned pregnancy is an entirely different thing, and I love love LOVE those! That's why I wanted to share with you my most favorite planned pregnancy Romance books.
Of course, the baby bargain books below all have fantastic Audible versions as well!
**The marked links and book covers on this page are affiliate links. If you use them to purchase something, I earn a fee at no additional cost for you. Disclosure**
The Baby Maker
Lili Valente (Author), Sebastian York (Narrator), Andi Arndt (Narrator)

Get the Audible book in a deal**
Some men are troublemakers or dealmakers. The men in my family? 
We're baby makers. 
For six generations, the women of wine country have had a saying: don't bang a Hunter man unless you want a bun in your oven.
Yeah, well. I've got a saying too: no thanks. The last thing I need is baby makes three. My business is expanding and the only thing I'm interested in getting knocked up is my bottom line.
But then one night Emma Haverford makes me an offer I can't refuse–she backs away from the land I have my eye on in exchange for a favor…
A big, fat, baby making favor…
The Baby Maker made me swoon quite a bit! Dylan melted my heart. And Emma? I totally felt for her.
If you feel like taking a little imaginary trip to a vineyard, this book has the perfect setting for you! It's like you're taking a wine vacation… with a super hunky neighbor who has magical man juice.
The baby plan itself was exactly what I craved, and Emma is a heroine you simply have to root for.
This is a super hot, very emotional story in a beautiful place with interesting and lovable people!
And Andi Arndt and Sebastian York are a narrator duo you can always rely on to deliver you an excellent audio experience.
Related article: How to get audiobooks cheaper with Whispersync deals
The Knocked-Up Plan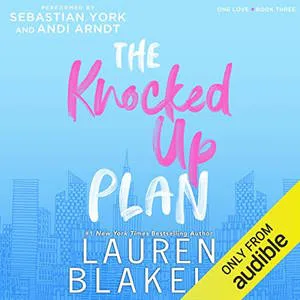 Lauren Blakely (Author), Andi Arndt (Narrator), Sebastian York (Narrator)

Get the Audible book in a deal**
There are three little words most guys don't want to hear on the first date. Not those…I mean these… "knock me up."
This single gal has had enough of the games, the BS and the endless chase. I know what I want most, and it's not true love. It's a bun in the oven, and I'm not afraid to hit up my s-e-x-on-a-stick co-worker to do the job. Ryder is gorgeous, witty and charming — and he's also a notorious commitment-phobe. That makes him the perfect candidate to make a deposit in the bank of me.
I won't fall for him, he won't fall for me, and there's no way baby will make three.
The Knocked-Up Plan is one of the funniest and cutest pregnancy Romance books!
Ryker was burned from a previous breakup but is totally down for some no-strings help for his kind-of-friend / kind-of-co-worker Nicole. Alas, are there ever no strings in a Romance novel?
Ryker and Nicole are both therapists and very open and clear about their feelings and wishes. It was pretty heartwrenching how they both dared to be vulnerable with each other.
This is one of my favorite Lauren Blakely books! It's a steamy, entertaining Romantic Comedy that can give you tons of happy feels!
Josh and Gemma Make a Baby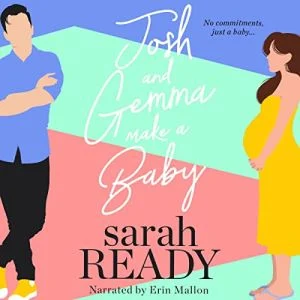 Sarah Ready (Author), Erin Mallon (Narrator)

Get the Audible book**
Or listen on Scribd**
New Year's Resolution: Have a baby. Preferably with Josh Lewenthal.
Meet Gemma Jacobs. She's driven, energetic, and a positive thinker. She has a great career working for famed self-help guru Ian Fortune, she lives in a cute studio apartment in Manhattan, and her family is supportive and loving (albeit a little kooky). Her life is perfect. Absolutely wonderful.
Except for one tiny little thing. 
After a decade of disastrous relationships and an infertility diagnosis, Gemma doesn't want a Mr. Right (or even a Mr. Right Now); she just wants a baby. 
Oh, Josh and Gemma… this book is everything you want in a planned pregnancy Romance novel!
Gemma is divorced and struggles with infertility due to endometriosis. She decides she doesn't want a life partner, but she does want to try having a child on her own.
Instead of an anonymous donor, she asks her brother's best friend, the guy she had her first time with, if he would be open to donating.
I found Gemma so relatable, and this is such a fun listen! Erin Mallon is a fantastic narrator with such sexy guy voices.
Related article: Scribd vs Audible
The Best Friend Problem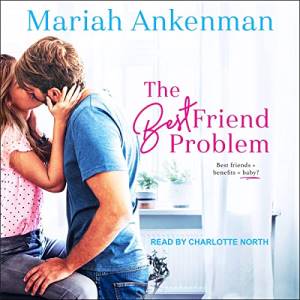 Mariah Ankenman (Author), Charlotte North (Narrator)

Get the Audible book in a deal**
Prudence Carlson has been lucky in life. A fulfilling wedding-planning business run with her girlfriends in Colorado, plus the best guy friend ever in her firefighter bestie Finn. All that's missing from it is a baby. Luckily, it's the 21st century – Pru can take matters into her own hands. She doesn't need to find true love to create the future love of her life.
The Best Friend Problem is an adorable, low-angst, friends-to-lovers pregnancy Romance book.
Pru gets pregnant by accident (instead of getting pregnant the way she had planned) when she and her best friend Finn have what was supposed to be a drunken one night stand.
The two of them have pushed any thoughts of actually dating each other far, far away. They are not willing to risk their friendship, and Finn believes his job is too dangerous to have a family of his own.
This is such a cute book with everyone rooting for Finn and Pru to get their happily ever after with baby!
Charlotte North filled the audiobook with so much emotion.
Baby Daddy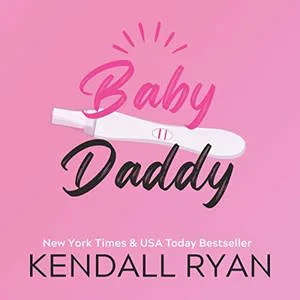 Kendall Ryan (Author), Sebastian York (Narrator), Virginia Rose (Narrator)

Get the Audible book in a deal**
"Will you help me?"
"With my sperm? Yes."
From New York Times bestselling author, Kendall Ryan, comes a sexy new standalone romance.
We met in a trapped elevator.
Emmett was on his way to work, sophisticated and handsome in his tailored suit and tie.
I was on my way to the sperm bank. Awkward, right?
At thirty-five, my life hadn't taken the path I thought it would and I was tired of waiting—I wanted a baby. And I was ready to take matters into my own hands to make it happen.
I had checked out a few reviews before buying Baby Daddy. And a lot of people complained about the "unrealistic" meet-cute. Well… yeah… they meet in an elevator, and he decides on the spot that he'll help her with her pregnancy plan. It's right there in the blurb!
But the thing is… this planned pregnancy Romance book is about the path they take after they meet and make the baby agreement.
And it was so adorable and emotional (and super hot)! I loved Jenna and Emmett. They are both real, three-dimensional characters with relatable thoughts.
If you enjoy love stories with instant attraction between two strangers, give this one a try!
The Baby Proposition: A pregnancy bargain romance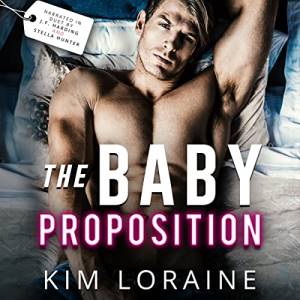 Kim Loraine (Author), J.F. Harding (Narrator), Stella Hunter (Narrator)

Get the Audible book in a deal**
When the woman I've longed for decides she wants to have a baby, there's only one man for the job — me. Now, if I can just convince her.
I wanted Clara the first time I saw her two years ago, but as soon as I figured out we'd be working together, I knew I had to stay far away.
And the friend zone has been working just fine.
Well, mostly.
The night she tells me she's ready to get knocked up by some random donor changes everything. Not on my watch.
Are you ready for a hot cowboy? Because Maverick has a whole lot going for him! And not just that.
The Baby Proposition is recorded in duet narration, making this an extra fun and steamy audiobook with J.F. Harding reading Maverick in all chapters, and Stella Hunter reading Clara.
The Baby Proposition is extremely captivating, and it really scratched my itch for planned pregnancy Romance books! I fell so hard for these two. And I loved Kim Loraine's little meta-comments on Romance books.
Hot Cop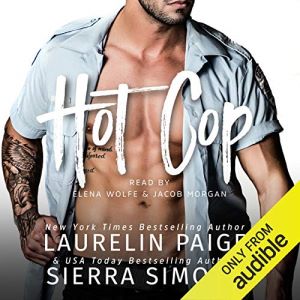 Laurelin Paige (Author), Sierra Simone (Author), Elena Wolfe (Narrator), Jacob Morgan (Narrator)

Get the Audible book in a deal**
Livia Ward wants a baby before she's thirty. And even though Officer Chase Kelly is exactly the kind of cocky jerk this librarian has sworn off, he is undeniably hot. Both of them think they can give each other what they want–a few nights of fun for Officer Kelly, a no-strings baby for Livia–but this hot cop is about to learn that sex, babies, and love don't always play by the rules.
Hot Cop is such a fun and perfect choice when you are looking for planned pregnancy Romance books!
Livia wants a baby, and the eternal bachelor and extremely hot cop Chase was only supposed to get the very first part of the job done. He likes the idea of having a kid without ever committing to a family. Until he actually faces the reality of his child running around in the world not knowing him.
I loved Chase and the journey he takes in this book. And Livia is so lovable. The two have fantastic chemistry and, as you can expect from Laurelin Paige and Sierra Simone, this is a smoking hot baby bargain Romance!
Elena Wolfe and Jacob Morgan truly brought Chase and Livia to life!
Pipe Dreams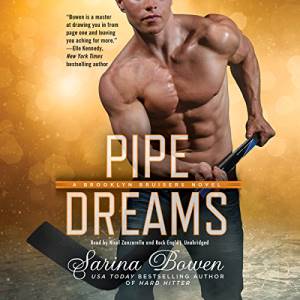 Sarina Bowen (Author), Nicol Zanzarella (Narrator), Rock Engle (Narrator)

Get the Audible book**
A goalie has to trust his instincts, even when taking a shot to the heart.
Mike Beacon is a champion at defending the net, but off the ice he's not so lucky. A widower and a single father, he's never forgotten Lauren Williams, the ex who gave him the best year of his life. When Lauren reappears in the Bruisers office during the playoffs, Beacon sees his chance to make things right.
Lauren hates that she's forced to travel with the team she used to work for and the man who broke her heart. There's still undeniable sexual tension running between her and Mike, but she won't go down that road again. She's focused on her plans for the future – she doesn't need a man to make her dreams of motherhood come true.
Lauren is a very self-reliant woman, and since the relationship with the love of her life came to an ugly end, she decides to make her baby dream come true in a clinic.
Unlike most other titles on my list of planned pregnancy Romance books, Pipe Dreams revolves mainly around Lauren and Mike getting their second chance. The baby plan is a bit of a catalyst for them, even though Lauren doesn't plan in any way for Mike to be involved.
This is an extremely heart-wrenching novel, given the history of loss that Mike and his daughter experienced.
If you enjoy second chance love stories, Pipe Dreams is the pregnancy Romance book for you!
A Lady Awakened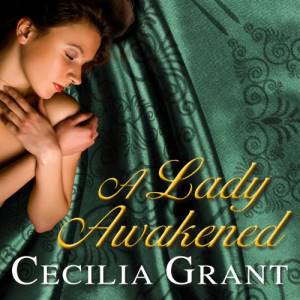 Cecilia Grant (Author), Susan Ericksen (Narrator)

Included in Audible Plus**
Or listen on Scribd**
Newly widowed and desperate to protect her estate and beloved servants from her malevolent brother-in-law, Martha Russell conceives a daring plan. Or rather, a daring plan to conceive. After all, if she has an heir on the way, her future will be secured. Forsaking all she knows of propriety, Martha approaches her neighbor, a London exile with a wicked reputation, and offers a strictly business proposition: a month of illicit interludes… for a fee.
In this Historical Romance, a lady desperately needs a child. Not so much out of her wish to have one but because of the difficult societal structures she lives in.
A Lady Awakened is an insanely good book! And if you get a bit of a kick out of awkward bedroom scenes this one is a must-read.
The love story is so sweet and tender. The surrounding storyline is intriguing and kept me pretty much on the edge of my seat. And I absolutely adored this version of planned pregnancy Romance books!
Susan Ericksen is an excellent narrator who filled this story with so much life and emotion.
Related article: The Best Romance Audiobooks of all Time!
Nobody's Baby But Mine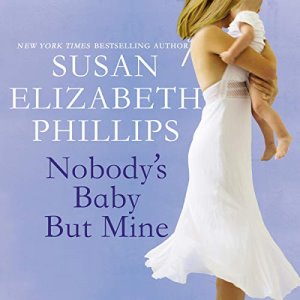 Susan Elizabeth Phillips (Author), Anna Fields (Narrator)

Get the Audible book**
Or listen on Scribd**
Genius physics professor Dr. Jane Darlington desperately wants a baby. But finding a father won't be easy. Jane's super-intelligence made her feel like a freak when she was growing up, and she's determined to spare her own child that suffering. Which means she must find someone very special to father her child. Someone who's more comfortable working out his muscles than exercising his brain.

Cal Bonner, the Chicago Stars' legendary quarterback, seems like the perfect choice. But his champion good looks and down-home ways are deceiving. Dr. Jane is about to learn a little too late that this good ol' boy is a lot smarter than he lets on—and he's not about to be used and abandoned by a brainy, baby-mad schemer.
Nobody's Baby But Mine is a classic by Romancelandia standards, where things evolve very quickly – which means this book from 1997 has a lot of iffy moments that might well make today's reader cringe. Nevertheless, it made me laugh out loud many times!
It's entertaining and a wonderful take on the planned pregnancy Romance trope.
Jane makes an awful, awful mistake. But she is still somehow extremely charming and lovable. And really, the same goes for Cal who most definitely is a problematic hero.
Yet, if you go in reading this book as set in the time it was written in (and when they rock out to Rod Stewart while watching VH1 it's really not hard to remember that these are the 90s, haha), it's very enjoyable indeed and a great addition for everyone looking for planned pregnancy Romance books!
When She's Pregnant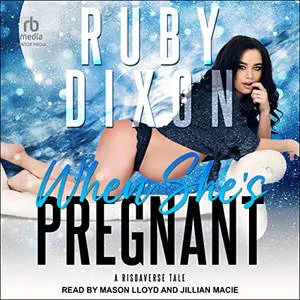 Ruby Dixon (Author), Mason Lloyd (Narrator), Jillian Macie (Narrator)

Get the Audible book in a deal**
Or listen on Scribd**
Naomi has spent her entire profits from her farm's yield for a fertility shot. She wants a baby to ease some of the loneliness of life at the edge of the universe. Unfortunately for her, the donor she had lined up can't finish the job. What's a lonely, ovulating human to do?
This one heads to the Port Custodial office and asks for help from the military custodian on duty. Brawny but awkward Ainar isn't sure why this human is insisting on needing his help for sleeping, but he's happy to assist someone as delicate and pretty as the human colonist. And when he figures out what she really wants…well.
Surely this is a dream come true.
When She's Pregnant is too adorable! If you're ready to take your love for planned pregnancy Romance books to a different planet, you will love this one.
Naomi and Ainar are so sweet together, and I instantly fell in love. You can tell how taxing it is for Naomi to accept that she won't be able to return to Earth and her family. And Ainar is from an entirely different culture.
But the two make the perfect match, and it's so romantic how this baby-making turns into real feelings.
Mason Lloyd and Jillian Maxie filled this audiobook with so much feeling, it's absolutely wonderful and very much worth a listen!
Pin this list of Pregnancy Romance Books for later: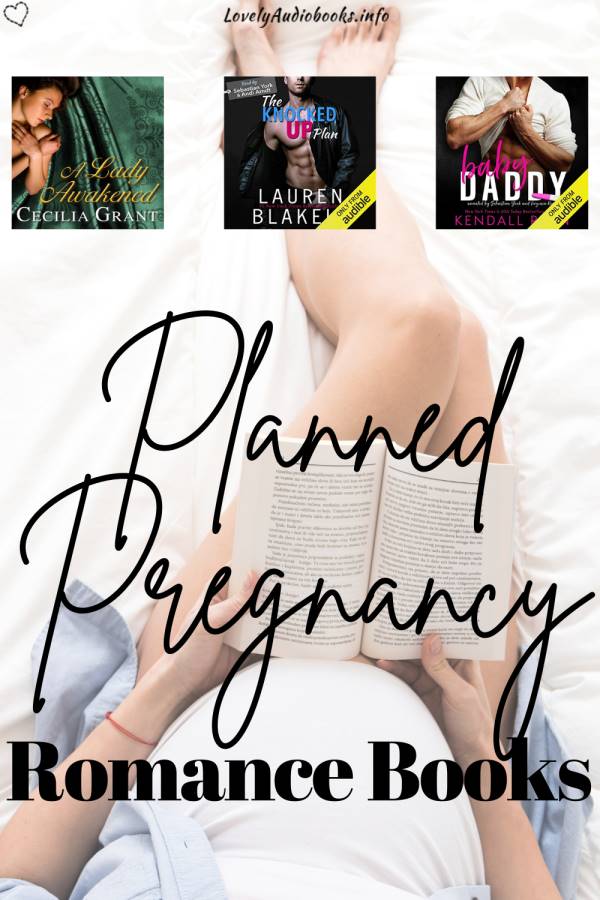 I hope you will enjoy these pregnancy Romance books. I loved them all! The audiobook productions for all of these books are outstanding, and if you are looking for cute, steamy, and emotional Romance novels that end with "and baby makes 3" these books will be perfect for you!
Romance Books
/