Are you looking for spooky audiobooks that aren't gory or terrifying? No worries if you aren't into Horror. There are plenty of great spooky audiobooks that are a bit weird, a bit funny, and just creepy enough to get you in the mood for Halloween!
I sometimes think that I'm doing Halloween all wrong. But I'm really not into proper scary books! However, even stories that aren't terrifying can be fun this time of year. Whether you enjoy paranormal Romance in haunted houses, stories about witches and ghosts, or chilling Urban Fantasy with all kinds of monsters, spooky audiobooks that aren't Horror can be the perfect Halloween books, even if you aren't a fan of the traditional terrifying stories. I hope you enjoy the list of my favorite weird and spooky audiobooks!
Blue Billings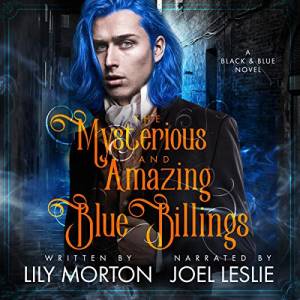 Lily Morton (Author), Joel Leslie (Narrator)
Get the Audible book in a deal**
This paranormal M/M Romance set in a haunted house is the perfect mix of adorable romantic pining and creepy ghost story! The ghosts in this book are no joke, I can tell you that. But Blue Billings and Levi Blake are wonderful together. And the audiobook is narrated by Joel Leslie who is always such a treat to listen to!
Related article: How to get your Audible books cheaper with Whispersync!
The Dispatcher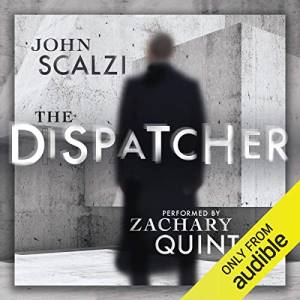 John Scalzi (Author), Zachary Quinto (Narrator)
Listen for free with Audible Plus**
The Dispatcher might well be the most popular Audible Plus book ever and if you have not yet listened to this, Halloween is the perfect time! The premise of this book is that in 999 out of 1000 cases, a person who gets murdered returns back to life. I found this created an oddly spooky atmosphere because it's so far out, yet everyone just accepts it. And you can easily imagine how it would indeed be like that if it happened in real life. The narration by Zachary Quinto is absolutely amazing, you really don't want to miss this!
Related article: What is Audible Plus?
Cemetary Boys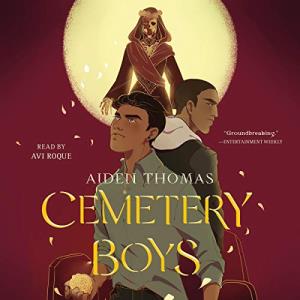 Aiden Thomas (Author), Avi Roque (Narrator)
Get the Audible book in a deal**
Ghost, brujos, and cemeteries await in this Young Adult Romance! Transboy Yadriel doesn't only summon ghosts, he also falls in love with one. That sure complicates things when Yadriel wants to prove to his family that he is a male magic-user in their tradition. This is a beautiful, emotional story that works perfectly as a Halloween audiobook. And I loved Avi Roque's narration!

The Ocean at the End of the Lane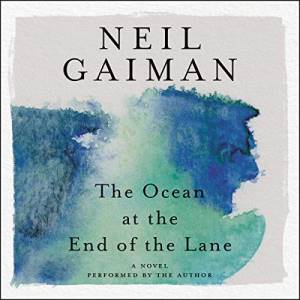 Neil Gaiman (Author, Narrator)
Get the Audible book**
You can't get around Neil Gaiman when you are looking for good Halloween books! And that is most certainly not a hardship. But if The Sandman is too creepy for you, then get the Ocean at the End of the Lane. This is an incredibly atmospheric story with just the right amount of weird and spooky. And it's narrated by the author himself who has just about the best storyteller voice!
Bad Witch Burning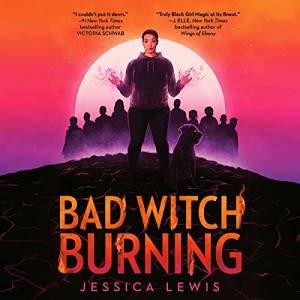 Jessica Lewis (Author), Kamali Minter (Narrator)
Get the Audible book**
Bad Witch Burning is no light reading. This Young Adult Urban Fantasy is a sad, yet powerful story about a young witch without any training who finds out that she can bring dead people back to life. And while this seems like the perfect opportunity for her to ensure she and her mom will have enough money for rent and food, these undead are not unproblematic! Kamali Minter's narration makes this such a captivating, spooky audiobook that you won't be able to turn it off!
Once Upon a Haunted Moor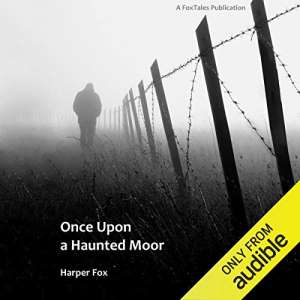 Harper Fox (Author), Tim Gilbert (Narrator)
Listen for free with Audible Plus**
This paranormal M/M Romantic Mystery is just as atmospheric as its cover! A psychic and a local cop search for a lost child in the moor, on Halloween! This is pretty much the perfect Halloween book for Romance audio fans. Whether or not there really is a ghost, you will have to find out for yourself. Tim Gilbert did this story real justice!
Payback's a Witch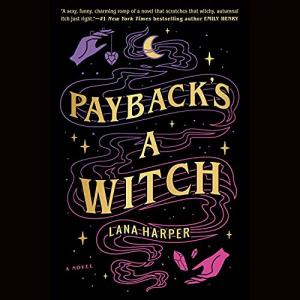 Lana Harper (Author), Jeremy Carlisle Parker (Narrator)
Get the Audible book**
(Release date: October 5th)
Did you love the Halloweentown movies when you were younger? Then you should visit Thistle Grove! Halloween all year 'round, thanks to the four local witch families. Payback's a Witch is a captivating, entertaining blend of Paranormal Fantasy and Romance. And when Emmy and Talia make out in the creepy witch forrest, you get sapphic Halloween perfection! Jeremy Carlisle Parker did such a great job with the narration. Talia sounds incredibly hot!!
Related article: The Best Audiobooks of 2021
Kraken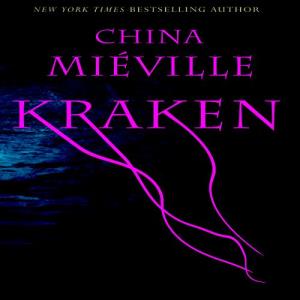 China Mieville (Author), John Lee (Narrator)
Get the Audible book**
Is this the weirdest book there is? Well, I don't know. Who am I to judge. But it sure is plenty weird, and a little bit scary (or more so, depending on how scary you find super weird stuff). But giant tentacles are just about perfect for monster-themed Halloween reading! I loved this book, it is a fast-paced, stand-alone Urban Fantasy that's very British and very tentacly and extremely weird. Did I mention weird? You are in for something special here and John Lee's narration fits it perfectly!
Harmony Black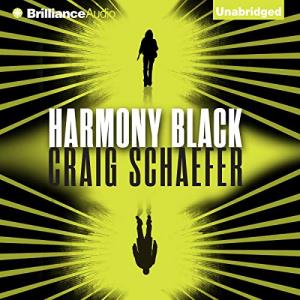 Craig Schaefer (Author), Christina Traister (Narrator)
Listen for free with Kindle Unlimited**
Be prepared for a damn scary boogeyman! Harmony Black is a witch and part of an FBI Black OPs team that solves supernatural cases. They hunt stuff that goes bump in the night and things get pretty creepy in this Urban Fantasy series. Halloween is really the best time of the year to listen to this awesome spooky audiobook that is so well narrated by Christina Traister!
Related article: How to listen to audiobooks with Kindle Unlimited
The Affair of the Mysterious Letter
Alexis Hall (Author), Nicholas Boulton (Narrator)
Get the Audible book**
If you want more weird Halloween books, then this super weird, fantastic(al) Holmes / Watson retelling is just the thing! Captain John Wyndham reports about his adventures with The Sorceress Shaharazad Haas who is not easily impressed by anyone or anything. The two travel through various parts of their world, one weirder than the next, in pursuit of a blackmailer. The humor and utter Britishness of it all come through perfectly in Nicholas Boulton's narration!
Discount Armageddon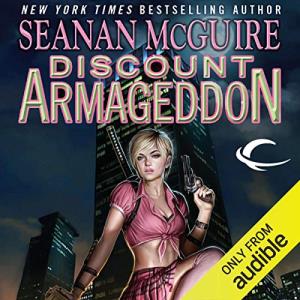 Seanan McGuire (Author), Emily Bauer (Narrator)
Get the Audible book**
More beasties and monsters! Verity Price doesn't hunt them though. She's a cryptozoologist and protects them in this very cool Urban Fantasy series by Seanan McGuire. The InCryptid series is just as atmospheric as its cover. A badass and spooky audiobook narrated by the wonderful Emily Bauer!
The Twenty-Sided Sorceress
Annie Bellet (Author), Folly Blaine (Narrator)
Get the Audible books in a deal**
Jade Crow runs a small gaming and comic store in a supernatural town in Idaho. She is also a sorceress, but, shhh, no one is supposed to know that because sorcerers are feared for their heart-eating ways! So she never uses her magic… until she gets entangled in all kinds of adventures. I love this Urban Fantasy series and how Folly Blaine brought these characters to life! It's not super creepy, but spooky enough with all the little beasties. And the heart-eating, obviously!
Friends with the Monsters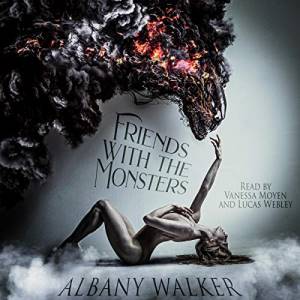 Albany Walker (Author), Vanessa Moyen (Narrator), Lucas Webley (Narrator)
Get the Audible book in a deal**
You want more heat in your Halloween books? Then this monstrous Reverse Harem might be just the spooky audiobook for you! Dami is friends with all the things that go bump in the night. But with no one else. Until three guys show up in her house! Vanessa Moyen is one of my favorite voices and Lucas Webley made for some hot and creepy guys.
Booklist
/