Did you watch Beauty and the Beast as a child and were strangely disappointed when Beast turned into some boring prince? Then these Monster Romance books are perfect for adult you! No one changes into a human here. But human protagonists get all the joy of finding the monstrously amazing love of their life!
From furry aliens to demons, dragons to minotaurs, even monsters need love and in these wonderful books, they find it!
**The marked links and book covers on this page are affiliate links. If you use them to purchase something, I earn a fee at no additional cost for you. Disclosure**
Mead Mishaps Series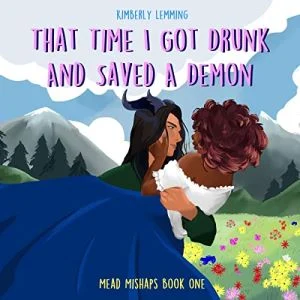 Kimberly Lemming (Author), Hazel Addison (Narrator)
The Mead Mishaps series is probably my favorite Monster Romance book series! Set fully in a cozy, low-tech, medieval-vibes fantasy world, we accompany Cin in "That Time I Got Drunk And Saved A Demon" as she, well, saves a demon, and then falls for him. And in "That Time I Got Drunk And Yeeted A Love Potion At A Werewolf", we get to know Cin's best friend Brie better who, well, throws a love potion at a werewolf who then imprints on her. Whoops! I love the sense of humor in these books, as well as the captivating adventures, and the sweet, sweet love. The perfect mix!
The audiobook versions of both books out so far in the series are narrated by Hazel Addison who has a fantastic range of voices for the human and non-human characters.
Related article: How to get Audible books in a deal with Whispersync
Morning Glory Milking Farm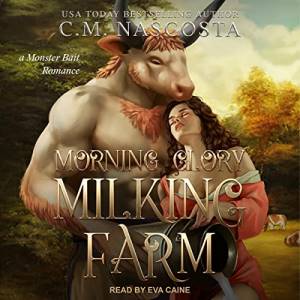 C.M. Nascosta (Author), Eva Caine (Narrator)
Morning Glory Milking Farm by C.M. Nascosta has been an absolute break-out hit and made Monster Romance even more popular! This is a very well-written indie Romance about a woman who is struggling after finishing college. When she can't find a job in her field, she accepts a position as a "milking technician" in a facility that "milks" male Minotaurs to produce potency-enhancing medication for human men. Violet is conflicted about the job but soon finds an entirely new community among supernatural beings.
I loved how the audiobook version is narrated by Eva Caine who really brings Violet to life perfectly.
Related article: Is Scribd free? And if not, is it worth it?
The Pykh Series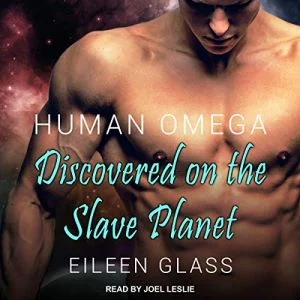 Eileen Glass (Author), Joel Leslie (Narrator)
Are you ready for an adventure? Then go with Carter to the space cats planet! Siel, Pykh, and Carter get to know each other in a cage, the two furry aliens and the human space marine are slaves to some yucky bug people. But together, they manage to escape captivity and have to track through a jungle to get to safety. This is such an incredibly captivating, atmospheric series with amazing audiobook narration. Honestly, Pykh and Siel are way too cute and fluffy to be considered monsters, but they ARE giant alien cats, so… There you have it!
The audiobook trilogy is narrated by the amazing Joel Leslie who fills these stories with so much life and emotion and depth.
The Dragon's Bride
Katee Robert (Author), Lessa Lamb (Narrator), Jack Calihan (Narrator)
Katee Robert is (for very good reason) one of the most popular Monster Romance authors. And The Dragon's Bride is a fantastic, incredibly captivating book! Briar Rose escapes an abusive marriage by making a deal with a demon. Her part of the bargain is to live with a dragon man and give him a chance to woo her. The dragon, Sol, wants a child. But for Briar the nature of their relationship – having been traded to Sol – as well as the limited timeframe complicate things. While she quickly starts to like Sol, she isn't willing to consider a real relationship and a child if she is only allowed to stay in the dragon realm for 7 years!
The audiobook is read by Lessa Lamb and Jack Calihan whose voices match the characters so well!
Ice Planet Barbarians
Ruby Dixon (Author), Hollie Jackson (Narrator), Mason Lloyd (Narrator)
The big blue guys from the ice planet are a gateway for many readers who are curious about Monster Romance books. When I first started Ice Planet Barbarians, I was surprised at the unexpectedly dark beginning of this series. A group of human women gets abducted but are then left behind on a hostile ice planet. Only a small group of aliens manages to survive here and they are willing to help the humans. But there are other beings around who have a quite considerable influence on the relationships between the women and the blue guys.
The audiobooks are all narrated by Hollie Jackson and Mason Lloyd who bring out how dramatic life on the ice planet is.
Beauty and His Beast
Bey Deckard (Author), Michael Ferraiuolo (Narrator)
This retelling of the most classic of Monster Romance stories is absolutely captivating and extremely sexy! Beauty and His Beast is a very steamy Sci-Fi Romance set on a spaceship. Marrex believes himself cursed and spends his life alone cruising the universe. But then a young human man happens to land on board and while Marrex tries to avoid him, the two are drawn to one another.
Michael Ferraiuolo is an outstanding audiobook narrator and did a wonderful job giving voices to Marrex and Juniper!
Friends with the Monsters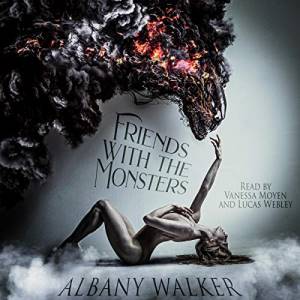 Albany Walker (Author), Vanessa Moyen (Narrator), Lucas Webley (Narrator)
Friends with the Monsters is a very steamy polyamory Romance. Dami is friends with all the things that go bump in the night. But with no one else. Until three guys show up at her house! Obviously, they aren't exactly normal human men either. But they are a very different type of monster than what Dami has encountered so far.
The audio version is narrated by Vanessa Moyen, who is one of my favorite narrators, and Lucas Webley, who gave very hot voices to those scary guys.
AITA?
Cassie Alexander (Author), Avery Caris (Narrator)
AITA? is a fun, fast-paced love story between a human woman who is having her bisexual awakening and a lesbian demon. Becky is stuck in a quite loveless relationship. When her fiance wants to spice things up, he summons a demon who should join the couple in bed. Who shows up is Quenalith, and she most certainly won't play along with this plan. She does, however, find Becky extremely appealing. After their unfortunate first encounter, Becky and the demon keep running into one another.
AITA? is available as an exclusive audiobook on Scribd and is narrated by Avery Caris. I had such a blast listening to this cute Romantic Comedy!
Demons Do It Better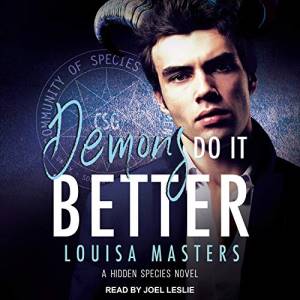 Louisa Masters (Author), Joel Leslie (Narrator)
Louisa Masters and Joel Leslie are my go-to team when it comes to anything paranormal-ish Romance audiobooks. Demons Do It Better is an incredibly entertaining Urban Fantasy Monster Romance. Sam is living a normal human life and is only accidentally hired for an office job managing the supernatural races. But he loves his new job and co-workers. Plus, at the office, he gets to know Gideon, a broody, scary, very attractive demon.
The audiobook version of Demons Do It Better is superbly narrated by Joel Leslie and the entire Hidden Species series is extremely much fun to listen to!
Swordheart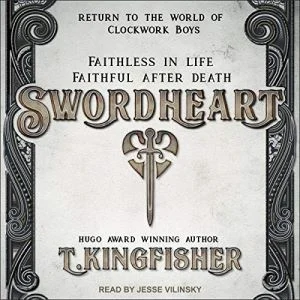 T. Kingfisher (Author), Jesse Vilinsky (Narrator)
T Kingfisher's World of the White Rat is probably more "Monster Romance adjacent" but it still shares the same vibes. Set in a fantasy world, the heroine Halla comes into possession of a sword with a not-so-super-nice swordsman, Sarkis, trapped inside of it. Now she owns him, basically. And he will kill whoever his wielder tells him to attack! This fact makes the sword extremely attractive to other people as well. So, these two have quite some adventures to get through before they can give in to their attraction.
The Swordheart audiobook is read by Jesse Vilinsky who makes Halla so relatable and her voice for Sarkis is intensely sexy!
Pin this list of Monster Romance books for later: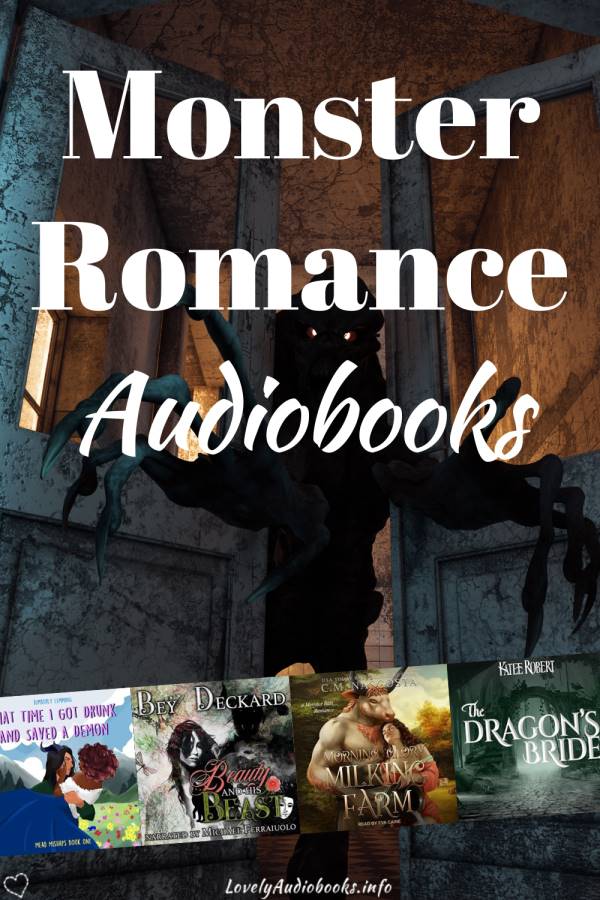 Romance Books
/