Heartstopper by Alice Oseman is a well-known and beloved webcomic that has been adapted as a Netflix show. But what about us audio fans? Is there a Heartstopper audiobook?
Let's take a look at our options…
**The marked links and book covers on this page are affiliate links. If you use them to purchase something, I earn a fee at no additional cost for you. Disclosure**
Does Heartstopper have an Audiobook?
Long story short, no, there is no audio version of the entire comic. The Heartstopper books are graphic novels and would need to be adapted to work without the visual aspect of the drawings.
So, at the moment, there are no Heartstopper audiobooks that put the original comic into listening format.
However, there are several Alice Oseman audiobooks in the Heartstopper world to enjoy!
Firstly, you've got the Solitaire series**. The main character of Solitaire and This Winter is Tori, Charlie's older sister.
Loveless and Radio Silence are two stand-alone books featuring Georgia and Frances that are also available in audio format.
And secondly…
Is there a Nick and Charlie Heartstopper audiobook?
Alice Oseman has written a Heartstopper novella titled Nick and Charlie, which is set after the (currently available) comics and the events in the Netflix show, as Nick is heading off to college while Charlie has another year of school to finish.
And this beautiful story is indeed available as an audiobook!
While I haven't read the graphic novels, I'm a huge fan of the Netflix show and have watched it several times. And it was a real treat for me to listen to the adorable Nick and Charlie audiobook.
Joe Jameson is a wonderful narrator who was the perfect choice to voice Charlie. And David Stagg did an excellent job bringing Nick to life.
They are the narrators of the newest version of the Nick and Charlie audiobook from January 2023. There is also an older recording from 2020, read by Huw Parmenter and Sam Newton, which I can also recommend.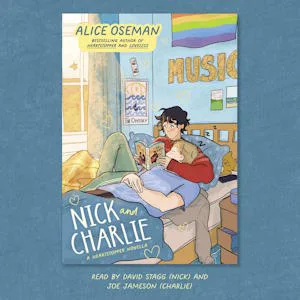 Blurb:

A short novella based on the beloved characters from Alice Oseman's acclaimed debut novel Solitaire and graphic novel series Heartstopper – now a major Netflix series. From the author of the 2021 YA Book Prize winning Loveless.

Absence makes the heart grow fonder, right?

CHARLIE: 'I have been going out with Nick Nelson for two years. He likes rugby, Formula 1, dogs, the Marvel universe, the sound felt-tips make on paper, rain and drawing on shoes. He also likes me.'

NICK: 'Things me and Charlie Spring do together include: Watch films. Sit in the same room on different laptops. Text each other from different rooms. Make out. Make food. Make drinks. Get drunk. Talk. Argue. Laugh. Maybe we're kind of boring. But that's fine with us.'

Everyone knows that Nick and Charlie are the perfect couple – that they're inseparable. But now Nick is leaving for university, and Charlie will be left behind at Sixth Form. Everyone's asking if they're staying together, which is a stupid question – they're 'Nick and Charlie' for God's sake!

But as the time to say goodbye gets inevitably closer, both Nick and Charlie question whether their love is strong enough to survive being apart. Or are they delaying the inevitable? Because everyone knows that first loves rarely last forever….
Where can I listen to a Heartstopper audiobook?
You can buy the newest recording of Nick and Charlie with Joe Jameson and David Stagg on Audible. Get it here**
If you want to avoid Amazon, you can also purchase it on Libro.fm** or on Audiobooks.com**. Libro.fm is an audiobook store that lets you buy digital audiobooks from local indie bookstores and they are even DRM-free!
If you have a library card that gives you access to Hoopla, you can borrow Nick and Charlie for free.
And with a Scribd subscription, you can borrow the Nick and Charlie Heartstopper audiobook** there as well.
Scribd and Hoopla offer several Alice Oseman audiobooks free of charge for subscribers.
If you are looking for more queer love stories like Nick and Charlie's or Elle and Tao's in audio format, make sure you check out my favorite LGBT Romance books and MM Romance books!
What is Heartstopper?
"Heartstopper" by Alice Oseman is a heartwarming and tender graphic novel and TV series that explores the themes of friendship, love, and self-discovery among a group of British high school students. At its core, the story follows the growing relationship between the two main characters, Charlie and Nick.
Charlie is openly gay after having been outed at school, while Nick is initially unsure about his own feelings. As the story unfolds, the two boys become friends and navigate the ups and downs of high school life, including issues related to identity, bullying, and acceptance. Their bond deepens over time, and the series beautifully portrays queer joy.
"Heartstopper" deals with important topics such as mental health, LGBTQ+ issues, and the importance of being true to oneself. It's a touching and relatable story that resonates with many people as it explores the complexities of love and friendship during the teenage years.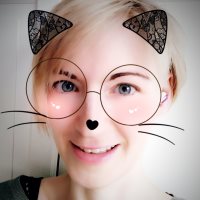 Eline Blackman (pronouns: she/they) fell in love with books as a child – with being read to and reading herself. 10 years ago, she bought her first Audible book. It was love at first listen! An average of 250 audiobooks per year has become the new normal and you will rarely see Eline without a wireless earbud. Romance and Fantasy are the go-to genres for this audiobook fan.
Reviews
/