When we're talking about Kindle Unlimited vs Audible, it used to come down to a question of quantity vs quality. However, with Audible Plus, Audible has introduced a game changer! Let's take a look at the details of these two audiobook subscriptions…
First things first, though, when you're asking to compare Kindle Unlimited vs Audible, you're already aware that Kindle Unlimited includes free audiobooks. But I'd still like to point you to my guide on how to find Kindle Unlimited audiobooks! It includes links that take you straight to the free audiobooks, as well as a guide for the lesser-known option of buying audiobooks at a discount as a Kindle Unlimited subscriber.
**The marked links and book covers on this page are affiliate links. If you use them to purchase something, I earn a fee at no additional cost for you. Disclosure**
What's the difference between Kindle Unlimited vs Audible?
Since both Kindle Unlimited and Audible are Amazon products, there's less difference between these two than you might expect!
While Audible is one of the pure audiobook subscriptions, Kindle Unlimited also lets you read ebooks and magazines for free. But since the point of this article are the audiobooks, we'll mostly leave the ebook aspect of Kindle Unlimited aside.
As for the similarities: Kindle Unlimited audiobooks are actually the Audible narration! That means you use the Audible app to listen to them, and it's the same audiobook that you could also buy for an Audible credit.
But you don't need an Audible membership to use this feature of your Kindle Unlimited subscription!
Kindle Unlimited books are only borrowed – like in a library or on Netflix. They aren't yours to keep, and once you cancel your subscription, you won't have access to these audiobooks anymore.
The same goes for any audiobooks you borrow through Audible Plus, Audible's new "all you can listen" catalog.
When you get an audiobook with your free Audible credit, on the other hand, the audiobook is yours to keep. And if you cancel your membership, you can still listen to these Audible books in your library as often as you want.
So, if you're wondering: "Does Kindle Unlimited include Audible?" The answer is a resounding: "Yes and No!" Kindle Unlimited includes some of the Audible books and allows you to listen to Audible free of the usual charge per audiobook, but you don't get access to everything from Audible's catalog.
Related article: Is Audible worth it?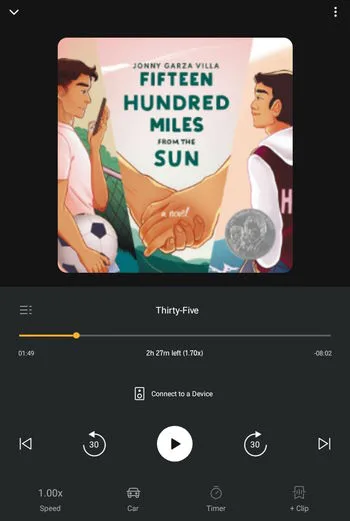 Audible vs Kindle Unlimited: Cost
An Audible Premium Plus membership costs $14.95 per month. For this fee, you receive an Audible credit for one free audiobook that you can pick from the entire Audible premium catalog (which includes almost every audiobook out there).
Additionally, you have unlimited access to the Audible Plus catalog of over 10,000 audiobooks, and the prices for all premium Audible audiobooks are reduced. Unused credits carry over to the next month for up to 1 year.
If you cancel your membership, you lose any unused credits. So make sure you always use them before canceling! You keep all the audiobooks you bought with money or Audible credits but not the ones you borrowed through Audible Plus.
You can also sign up for Audible and only subscribe to Audible Plus. This new membership plan costs only $7.95 per month and gives you unlimited access to the aforementioned 10,000 Audible books included in the Audible Plus catalog.
The price for a Kindle Unlimited subscription is $11.99 a month, and you get access to their ebook library of over three million titles and to over 5000 free audiobooks.
Additionally, you get special deals on audiobooks for tens of thousands of Kindle Unlimited ebooks. These audiobooks then cost you as little as $1.99, and they are yours to keep after your subscription ends. The free audiobooks, however, are only borrowed!
So when you cancel your subscription plan, all "Read and Listen for Free" Kindle Unlimited ebooks and audiobooks are removed from your devices.
All three subscriptions offer a 30 day free trial period! Of course, you get to keep the free audiobook from your free 30 day trial with Audible** so you can listen to it after your subscription ends.
You also get to keep any of the cheap discounted audiobooks you buy during your Kindle Unlimited test month**.
Lastly, you can also get a free trial for Audible Plus**. But I suggest you grab the Audible Premium Plus trial that includes a free Audible credit!
Related article: Tipps and Tricks for your Audible Free Trial and Membership
Kindle Unlimited vs Audible: Catalog
If there's an audiobook, you will most likely find it on Audible! They have the most extensive catalog of all audiobook shops.
In addition to all traditionally published audiobooks, as well as most indie- and self-published titles, they also offer their own very high-quality Audible exclusive productions.
That's why it's the most popular among the "1 free audiobook per month" audiobook subscription services!
Kindle Unlimited only includes a small fraction of Audible's catalog, and these titles are usually published through Amazon's own imprints. You might not find your book club choice of the month among the Kindle Unlimited audiobooks.
They also regularly offer bestsellers, but these are usually only available for a limited time.
For example, The Hunger Games trilogy, The Hobbit, and The Fellowship of the Ring were "Read and Listen for Free" until recently, but the audiobooks have since been removed from the program and cost an Audible credit now.
New audiobooks are added every month, though, so it's unlikely you'll run out of interesting titles any time soon!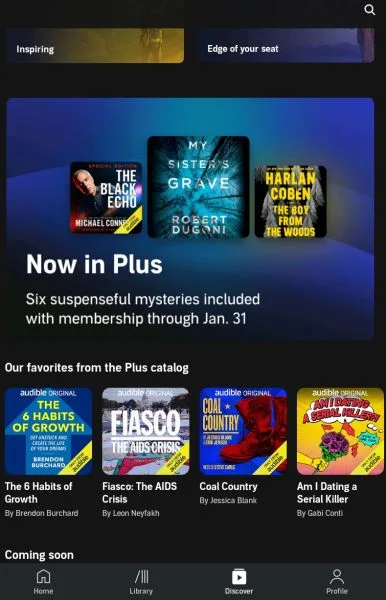 Kindle Unlimited vs Audible Plus
Let's play the numbers game for Kindle Unlimited vs Audible Plus!
As I mentioned before, Audible Plus includes over 10,000 audiobooks as well as podcasts, and as an Audible member, you have unlimited access to these for free. As a Kindle Unlimited subscriber, you only get free access to around 5000 audiobooks.
However, Kindle Unlimited comes out ahead when we look at new releases!
In the first quarter of 2023, Kindle Unlimited added 19 new Romance audiobooks, 32 new Thriller releases, 6 Sci-Fi & Fantasy books, and 18 Literature & Fiction audiobooks.
In the same timeframe, Audible Plus added four new Romance audiobooks, four new Thrillers, 5 Sci-Fi & Fantasy books, and 5 Literature & Fiction novels and short stories.
Kindle Unlimited consistently brings you popular new releases every month with a good selection of full-length books in the Romance, Suspense, and General Fiction genre.
Audible Plus might have started with a higher total number, but it includes podcasts and 1-hour-long audiobooks. So, neither catalog is clearly better than the other. It really depends on your personal preference!
Related article: Audible Plus vs Premium Plus
Audible vs Kindle Unlimited: Which one is better?
Now, who comes out ahead in the Kindle Unlimited vs Audible match? Well, that depends on you!
Right now, an Audible Premium Plus membership looks to be better than Kindle Unlimited since it offers you both unlimited listening with a good selection of titles, as well as one premium audiobook to keep that you can freely choose… from almost every audiobook in existence!
If you listen to 1 or 2 or maybe a handful of audiobooks a month and are usually looking for specific titles – for example, the most recent bestseller or a book club pick – an Audible membership is simply the best choice for you because you can be sure to find the audiobook you want and can get great value for your Audible credit.
However, apart from the higher price of Audible Premium Plus, Audible Plus feels a bit all over the place, while Kindle Unlimited is very established. And as a Kindle Unlimited subscriber, you can be sure that you will get high-quality new releases every month.
So, if you like to listen to a lot of audiobooks, if you enjoy discovering new authors and genres, if you read a lot of indie-published titles that others might not have heard about, then Kindle Unlimited is perfect for you and definitely worth it for the audiobooks alone, even if you never touch any of the ebooks in the subscription!
Get a 30 day free trial with Audible** and 30 days Kindle Unlimited for free** to try both out for yourself!
If you want a few recommendations to get you started, check out these book lists with my favorite Fantasy audiobooks in Kindle Unlimited, the best Romance audiobooks in Kindle Unlimited, the most popular Romance audiobooks in Audible Plus, and the best Audible Originals in Audible Plus!
Before you leave, I also want to mention that Audible is not the only audiobook service in town! There are some fantastic alternatives to Audible and tons of free trials to check out.
Happy listening!
FAQ Summary
Does Kindle have Audiobooks?
Yes, Kindle Unlimited US includes audiobooks. And you can listen to them on newer Kindle devices.
How does Kindle Unlimited work with Audible?
Audible and Kindle are connected through the Amazon Whispersync feature that automatically syncs the progress of an ebook and audiobook (for eligible titles). When you borrow a KU ebook with narration, the audiobook is automatically added to your Audible app, and the listening progress is synced with your reading progress.
Is Audible free with Kindle Unlimited?
Yes and no. Some Audible books are free with Kindle Unlimited. But this is only a small fraction of Audible's entire catalog.
How do Audible Narration vs Audiobook compare?
If you have a Kindle Unlimited ebook with Audible narration, that means you actually have access to the audiobook. Audible narration and audiobook are just different terms for the same thing.
Sign up for the Lovely Audiobooks Newsletter here!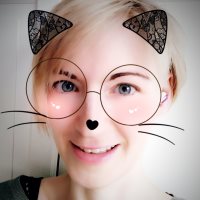 Eline Blackman (pronouns: she/they) fell in love with books as a child – with being read to and reading herself. 10 years ago, she bought her first Audible book. It was love at first listen! An average of 250 audiobooks per year has become the new normal and you will rarely see Eline without a wireless earbud. Romance and Fantasy are the go-to genres for this audiobook fan.
Audiobook Subscriptions
/