Libro.fm is probably the most exciting Audible alternative. Unlike other audiobook services, it allows you to turn away from big corporations like Amazon and Google, and instead support local bookstores, even when you're buying digital audiobooks!
That brings us to one of the most interesting differences Libro fm offers. Unlike Audible or Audiobooks com, Libro fm actually sells you MP3s without DRM. That means you can download your audiobook files and play them on any device or app you like!
I've been using Libro fm more and more this year and am greatly enjoying this audiobook subscription. Erin from My Life Within The Pages was so kind as to write an introduction to this audiobook service for Lovely Audiobooks and make a comparison of Audible vs Libro fm. Erin is a Creative Writing Senior at the University of Colorado Denver and works for Barnes & Noble and Illumify Media Global which is a publishing company based in Denver.
After her summary, I'll tell you a bit more about my experiences and introduce you to some newer features like the Libro fm ALC.

**The marked links and book covers on this page are affiliate links. If you use them to purchase something, I earn a fee at no additional cost for you. Disclosure**
Librofm Introduction
A Guest Post from Erin @ My Life within the Pages
What is Librofm?
There is no doubt that Audible is the go-to option for audiobook subscriptions today. However, for those of you looking to support your local Indie bookstore a second option exists! Thousands of Indie bookstores across the USA have teamed up for a partnership with Librofm to make buying audiobooks directly from your preferred store a reality. All books purchased through Librofm are purchased from the independent bookstore that you designate at your time of sign-up. I am currently supporting a Denver staple, Bookbar. Check them out!
Audible vs Librofm
There are other great perks for a Librofm vs Audible subscription! The thing that drew me to them initially was the fact that all of the books that are purchased are DRM-free, meaning you own the book permanently. No changes can be made, and you can't have the book taken from you later on. It is a huge plus for users that amass vast libraries.
The pricing is comparable to Audible, being only 5 cents more at $14.99 per month. The structure is nearly identical; you receive one audiobook credit per month. In addition to your credit, you also receive 30% off all other audiobooks purchased while you have your subscription.
Related article: Libro FM vs Audible
Bulk Buy Audiobooks
One of the coolest perks though is their bulk buy program for audiobooks. If you are looking to buy many copies of the same audiobook for employees, trainees, or another group, Librofm has a provision for that. They will work with you to set up the best option for your company or organization.
The Personal Touch
Person to person approach is my favorite thing about Librofm. Have a book that isn't what you hoped? Send them an email and a real person will work with you on a refund. Don't get me wrong; I love Audible. I even carry a subscription to both sometimes. But the real personal contact and the ability to support my favorite store keep me coming back to Librofm.
Thank you, Erin! That was really interesting. If you want to read more of Erin's articles about books, writing, and publishing, check out her blog My Life Within The Pages. You can also find her on Facebook, Twitter, and Instagram.
Now on to my own experiences with Libro fm audiobooks.
Audible vs Libro fm Audiobook Deals
One thing we all appreciate about Audible are their many deals. Backed by Amazon, Audible can afford to offer us a lot of perks and deals that simply aren't in the budget for other companies. Overall, listening to audiobooks with Audible is a bit cheaper than using Libro fm. However, Libro.fm has a sales section as well and hosts regular events with various audiobook deals or even freebies. For my fellow audiobook addicts, it's definitely worth it to take a look at this Audible alternative. I can only recommend you regularly search Libro fm for their current sales!
The Libro fm App
While you can download all your Libro fm audiobooks as MP3s, you can also use their own audiobook app to listen. If you compare Libro fm vs Audible, the former offers an app that is just as reliable and has a nice and intuitive menu. If you – like me – use several devices to listen to audio books, it's easier to just install the app on all of them since you can always continue where you left off on another device. I often swap between my phone and tablet so I've been using the Libro fm app a lot instead of downloading the MP3 files.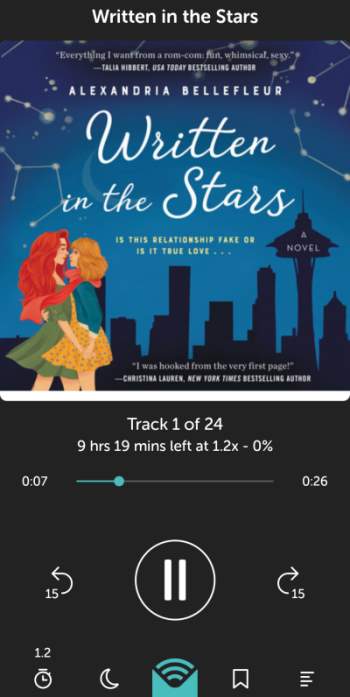 Libro fm ALC
Unlike any of the other big audiobook services, Libro fm offers its own review copy program in collaboration with big publishing houses! If you have a blog or have built bookish Social Media profiles, you can apply to the Libro.fm ALC. Once you are accepted, you'll get access to a number of free audiobook review copies every month. This is a fantastic program that I use every month and enjoy thoroughly. I've discovered some of my favorite audiobooks of 2020 here!
But the ALC isn't limited to influencers. The same program also offers this audiobook selection on Libro.fm free for teachers and for librarians!
Some publishers have started working with the Libro.fm promo code system instead of using Audible or direct downloads. This is a great route since, at least for us as reviewers, it connects the best of both worlds. You can use the comfortably Libro fm app that has the same features as the Audible app, but you can also download MP3s to listen on the device or with the MP3 player of your choice.
Libro fm for International Listeners
Currently, you can only get a Libro fm subscription if you live in the US or Canada. But if you're an international listener and are looking for an Audible alternative with DRM-free audiobooks, you can buy Libro fm gift cards for yourself. At $15 per audiobook credit or month, they cost about as much as a regular subscription for the other big audiobook services.
Give the Gift of Libro fm!
2020 has been extremely difficult for small businesses and Libro fm is a fantastic way to support local bookstores while staying safe at home. As with Audible, you can buy gift cards and email them to the recipient. Or you can choose a specific audio book and gift it directly.
This year, I will give away Libro fm gift cards for Christmas because I simply love this Audible alternative and have only good things to say about them!
Audiobook Subscriptions