Maybe you remember that I joined the
Bookish Blog Hops
in October, too. This time around it's a wonderful way to add a bit of Christmas spirit to my lil blog again 🙂 
A fictional creature to replace Rudolph and meet on the roof…
Here's my thought process to answer this question: Since the creature is likely supposed to pull a heavy sleigh through the air it has to be able to fly and it can't be tiny and weak. Rudolph is also famous for his nose, so it's gotta have a prominent nose.
Who fits all of those requirements? Falkor from the Neverending Story! That story was one of my favourites as a child and he's the absolutely most lovable flying creature EVER <3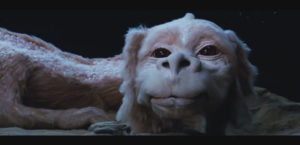 … and what does everybody else say?
I'm a huge Percy Jackson fan and so I'm going to go with Blackjack. Blackjack is a pure black Pegasus who is introduced to us in The Sea of Monsters (book 2) when Percy saves him from the Kronos' army ship where he is being held prisoner by Luke.
Blackjack would make a perfect replacement for Rudolph as he is loyal and brave. He's strong too and would do everything he could to help out Father Christmas. Plus, he's a Pegasus… that would be super cool to see. Adds ride a flying horse to Christmas wish list…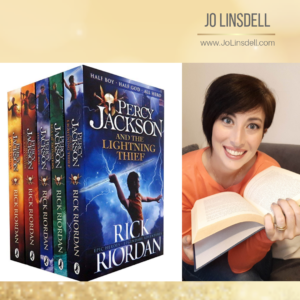 See I didn't even think of the animals Jo. I went with who I'd be willing to face my fear of heights and sit on the roof for. But, to replace Rudolph, they'd have to fly so that leave Vampires. Now I like the books about the sparkly ones because they show a creative twist on a mythology, but none of them are really tempting. Not a big fan of The Southern Vampire series. That leaves Ann Rice. Lestat is only yummy when Stuart Townsend plays him. Otherwise Lestat is an egocentric brat really. So I went with Marius De Romanus.
For those who aren't familiar with Marius, here is a brief history. Marius was born in 30 BC to a Celtic slave and a member of a ruling Roman family. He was turned when he was about 40 by a druid who discovered and turned Armand. He took care of "Those who Must Be Kept" Akasha and her husband Enkil the original vampires. Marius is very wise and optimistic. He is also one of the oldest living vampires.The history he has seen would be enough to keep me on that roof!
Another tough one, so many different ways to answer this. lol
And such great answers so far. Well if we are going with the ones who can fly let's see….
Oh here's one..hehe….Iron Man(hey it's a comic book)..and he has a shiny red suit, that's Christmassy(is that word?).lol
He can also keep the sled safe & sound when it lands on the roof. 😉
This holiday hop is so much fun and this was one question that I didn't have to think too hard about.  My choice is Aiden Merrick from the Dragon's Gift: The Huntress Series by Linsey Hall.
In paranormal romance, I do cross paths with a motley crew of mythical creatures, but Aiden popped into my mind immediately.  In this series, Aiden is our devastatingly handsome hero and the most powerful shifter in the world. As the Origin shifter, he has the power to shift into any animal but prefers one in particular, the mighty and magical Griffin.  Aiden is wealthy, loyal, and giving. He would be the perfect sexy beast to guide Santa's sleigh.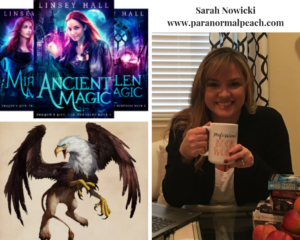 Oooh a tricky one as I would be quite excited to meet Rudolph! However a fictional character to replace him and who I would like to meet would be Aslan, from The Lion, The Witch & The Wardrobe by C.S.Lewis. There are so many wonderful fantasy books nowadays for children and Y.A. but I always like to make sure I read some of the classics such as this series to my kids. Plus I'm a Leo and so have always adored Lions.
Thanks everyone for taking part in my stop of the Holiday Hop! :-)If you want to hop with us next time, join the Facebook group:
Bookish Blog Hops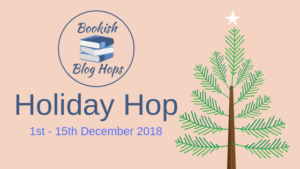 Follow the rest of the Holiday Hop:
1st A book you love so much you want everyone to find under their Christmas tree this year so they can read it too. Hosted by Jo Linsdell JoLinsdell.com
2nd A book cover that has a wonderfully Christmas feel to it. Hosted by Jackie Nolan thebookwormcafeblog.wordpress.com
3rd A book you'd like to find in your Christmas stocking this year. Hosted by Jackie Nolan thebookwormcafeblog.wordpress.com
4th A fictional character you'd like to spend Christmas with. Hosted by Brandy Potter brandypotterbooks.com
5th A fictional character you'd like to kiss under the mistletoe. Hosted by Renee Guill 2turnthepagebookreviews.blogspot.com
6th A fictional creature to replace Rudolph and meet on the roof. Hosted by Eline LovelyAudiobooks.info
7th A book set at Christmas. Hosted by Sarah Nowicki paranormalpeach.com/
8th A book that left you feeling cold (DNF) Hosted by Kim Jackways writersideoflife.com
9th A fictional place that would be perfect for a winter vacation. Hosted by Brandy Potter brandypotterbooks.com
10th Best book(s) you read this year. Hosted by Jackie Nolan thebookwormcafeblog.wordpress.com
11th What book release(s) are you most anticipating. Hosted by Laura Morningstar lauramorningstar.com/
12th Favourite winter read. Hosted by Kim Jackways writersideoflife.com
13th A book that would make a great Christmas movie. Hosted by Erica Robyn ericarobynreads.com
14th A fictional character that you think would make a great Christmas elf. Hosted by Brandy Potter brandypotterbooks.com
15th Fictional characters you'd like to invite to your New Years Eve Party. Hosted by Laura Morningstar lauramorningstar.com/