Sometimes, you turn around and notice… that many of your favorite audiobooks are British Romance novels, written by British Romance authors, narrated with a British accent, and are simply… all around British!
The following three authors are among my absolute favorites and I have listened to most of their backlists. But these three novels stood out to me. While these British Romance authors have much more widely known books, I am absolutely in love with these three books in particular and believe more people should know about them.
So, let me share with you some great audiobooks that fall in the "all around British Romance" category…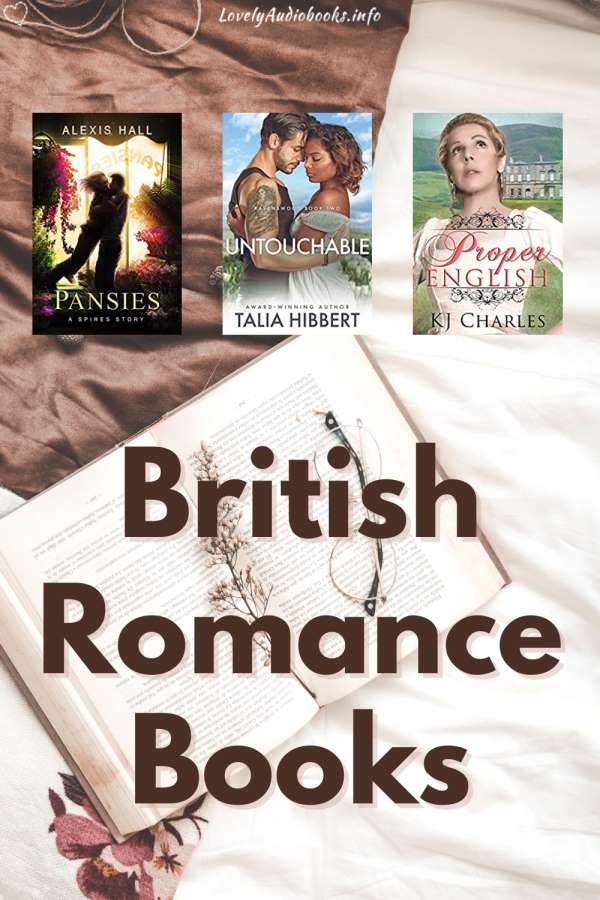 **The marked links and book covers on this page are affiliate links. If you use them to purchase something, I earn a fee at no additional cost for you. Disclosure**
Untouchable
written by Talia Hibbert, narrated by Rupert Channing
If you enjoy grumpy heroines and sweet heroes, Talia Hibbert is the must-read British Romance author for you! I love her dry sense of humor and her heroines that I always find very admirable in their sense of self-worth and their determination. Untouchable is from the Ravenswood series of Contemporary Romance novels, set in a small English town of the same name. Hannah is being treated as somewhat of an outcast and can't find a job in child care due to this. Until she's hired as a nanny and, quite inconveniently for her, falls for her boss.
Sleeping with the staff wasn't part of the plan.
Sensible, capable, and ruthlessly efficient, Hannah Kabbah is the perfect nanny… until a colossal mistake destroys her career and shatters her reputation. These days, no-one in town will hire her—except Nathaniel Davis, a brooding widower with a smile like sin and two kids he can't handle.
Prim and proper Hannah is supposed to make Nate's life easier, but the more time he spends around his live-in nanny, the more she makes things… hard. He can't take advantage of her vulnerable position, but he can't deny the truth, either: with every look, every smile, every midnight meeting, Nate's untouchable employee is stealing his heart.
The trouble is, she doesn't want to keep it. Forbidden love isn't high on Hannah's to-do list, and trust isn't one of her strengths. When dark secrets threaten to destroy their bond, Nate's forced to start playing dirty. Because this reformed bad boy will break every rule to finally claim his woman.
Please be aware: this book contains depictions of depression and anxiety that could trigger certain audiences.
Related article: How to get your Audiobooks cheaper
Pansies
written by Alexis Hall, narrated by Cornell Collins
I discovered Alexis Hall through Boyfriend Material and have been working my way through his backlist ever since. Pansies is one of my favorite British Romance novels because it's so tender and emotional! This Contemporary M/M Romance is not set in London but in a smaller town. Pansies has a bit of a gritty feel to it. Through the descriptions of the area, nothing here tries to be fabulous or puts on airs. Well, except for Fen, I guess! This isn't a bully romance, even though it kind of is. However, it is most definitely a British Romance audiobook you need to listen to! And you can never go wrong with a Cornell Collins narration anyway.
Alfie Bell is . . . fine. He's got a six-figure salary, a penthouse in Canary Wharf, the car he swore he'd buy when he was 18, and a bunch of fancy London friends.
It's rough, though, going back to South Shields now that they all know he's a fully paid-up pansy. It's the last place he's expecting to pull. But Fen's gorgeous, with his pink-tipped hair and hipster glasses, full of the sort of courage Alfie's never had. It should be a one-night thing, but Alfie hasn't met anyone like Fen before.
Except he has. At school, when Alfie was everything he was supposed to be, and Fen was the stubborn little gay boy who wouldn't keep his head down. And now it's a proper mess: Fen might have slept with Alfie, but he'll probably never forgive him, and Fen's got all this other stuff going on anyway, with his mam and her flower shop and the life he left down south.
Alfie just wants to make it right. But how can he, when all they've got in common is the nowhere town they both ran away from.
Contains mature themes.
Related article: 15 of the Best MM Romance books on Audible
Proper English
written by KJ Charles, narrated by Bella Lowe
Almost all of KJ Charles' audiobooks are narrated by Cornell Collins who is really one of the best British Romance narrators. The two of them are an absolute dream team. But for this list, I have chosen a different one! While KJ Charles is known for her fantastic Historical M/M Romance, Proper English is a Historical Lesbian Romance, narrated by the fantastic Bella Lowe. This is the classic manor murder mystery you need in your life! No one here is quite what you would expect and you will be absolutely charmed by Pat and Fen.
A shooting party at the Earl of Witton's remote country house is a high treat for champion shot Patricia Merton – until unexpected guests turn the social atmosphere dangerously sour.
That's not Pat's biggest problem. She's visiting her old friend, the Earl's heir Jimmy Yoxall – but she wants to spend a lot more time with Jimmy's fiancée. The irrepressible Miss Fenella Carruth, with her laughing eyes and lush curves, is the most glorious woman Pat's ever met, and it quickly becomes impossible to remember why she needs to stay at arm's length.
But while the women's attraction grows, the tensions at Rodington Court get worse. Affairs, secrets, betrayals, and blackmail come to light. And when a body is discovered with a knife between the shoulderblades, it's going to take Pat and Fen's combined talents to prevent the murderer destroying all their lives.
Related article: My Favorite Romance Audiobooks of 2020
Romance Books
/