Week 21, 2019
Big News from Audible today! The Romance Package is getting a new name, Audible escape. I couldn't find out much more than this yet, but I'll keep you posted of course.
Leaving the Romance title behind makes it more likely that authors from other genres will add some of their audiobooks to Audible escape. If you're a regular visitor, you might have noticed how many Mystery audiobooks are added to Kindle Unlimited "Listen for Free" every month.
So, I would imagine that this name change will be particularly interesting for the self-published Thriller authors.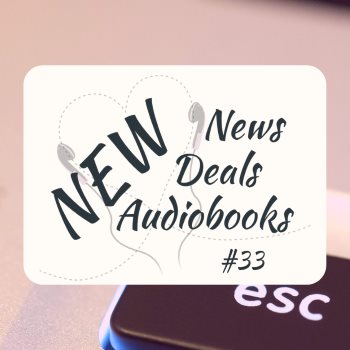 The Week on the Blog
The RecomMondaytion this week is Bad Girl Love. Check out my review and that awesome cover!
Last weekend, I updated my audiobook list of love stories with disabled and chronically ill protagonists. I have added 3 more audiobooks, including one very new release.
And since Wednesday, you can find my favorite friends-to-lover audiobooks here!
What I'm currently listening to…
I felt like going for something completely different. So, I'm now -finally – listening to my Torchwood audio plays! It's a bit weird, getting used to all the background sounds of a play again. But they're so good. And I really loved Torchwood.
**The marked book links and covers on this page are Amazon affiliate links. If you use them to purchase something, I receive a small fee at no additional cost for you. Thank you for supporting my blog! **
Here are this week's super cheap audiobook deals (under $7 without a subscription):
The Dark Bones
Loreth Anne White (Author), Emily Sutton-Smith (Narrator)
Listen for free with KU**
Twisted
Aleatha Romig (Author), Charlotte North (Narrator), Jacob Morgan (Narrator)
Pick up the deal**
Be the Girl
K. A. Tucker (Author), Katie Schorr (Narrator)
Even cheaper with KU**
Or listen for free with the Romance Package / Audible escape
Blood Bond: 13
Helen Hardt (Author), John Lane (Narrator), Lauren Rowe (Narrator)
Pick up the deal**
Also get 14** and 15**, or all together in Volume 5**
Exciting new releases with Whispersync deals under $12 (under $7.50 with KU):
Don't Bait Me: Nora Jacobs, Book Three
Jackie May (Author), Hollie Jackson (Narrator)
Pick up the deal**
The Peer and the Puppet (When Rivals Play Book 1)
B.B. Reid Author), Joe Arden (Narrator), Savannah Peachwood (Narrator)
Pick up the deal**
The Girl in the Painting
Max Monroe (Author), Alexander Cendese (Narrator), Stephanie Rose (Narrator)
Pick up the deal**
I hope you found a fun new audiobook to listen to this weekend. And if you're from Europe, don't forget to go vote (if you didn't do it yesterday, that is).
Happy listening!