It's not easy to write a review about a book that's so personal for me. So, please excuse all the rambling in this post. But just so you know, Get a Life, Chloe Brown by Talia Hibbert is one of my favorite audiobooks of 2019!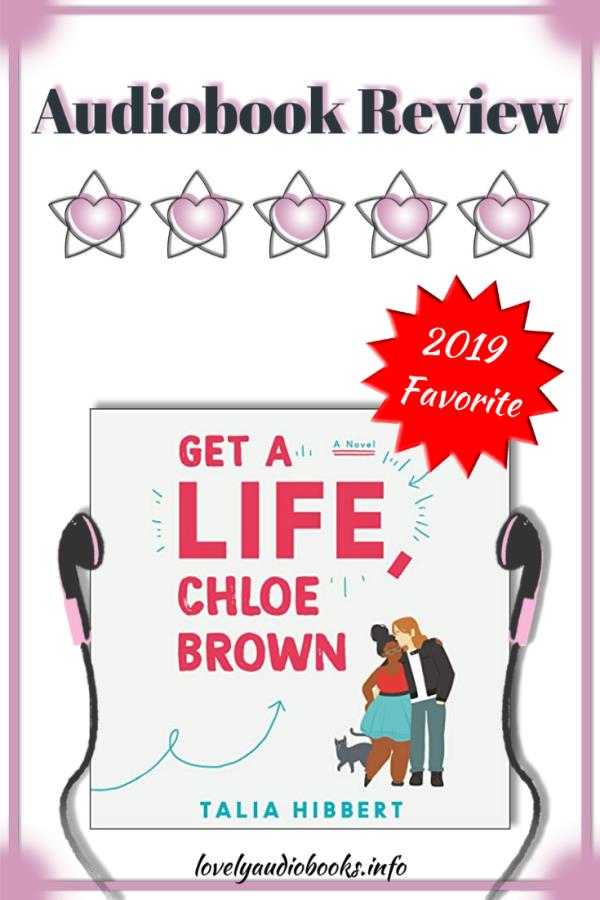 A lot has been said about the feeling of seeing yourself represented in a book (or movie…). And while I understood it, I didn't really get it… until I got it. I can't properly put in words how it made me feel to read a Romance heroine with Fibromyalgia. But it was a big deal.
Thank you, Talia Hibbert, for writing a Romance heroine who isn't healthy!
The thing with invisible illness is… it's truly invisible. It's just not a topic in public life. Which, I suppose, makes sense because people with fatigue and chronic pain aren't a part of normal life.
And that's what Chloe Brown is struggling with. I understood it all and it made me so emotional to see all my experiences given back accurately. The life before and after, when you were still "normal", and now that you're sick. Having to bring up the courage to rebuild or build a new life for yourself when you can't rely on your body anymore and when normal parts of life are 10 times more difficult, or entirely impossible.
Invisible illness is a bitch. It's not sexy. It's nothing you can heroically overcome to be stronger afterward.
And I could see this entire struggle in Chloe Brown. Yet it's still the hopeful Romance story I was looking for. Chloe finds her perfect thoroughly-good-guy Romance hero who sees her pain, who keeps her limitations in mind, and who supports her in living her life more fully.
But it wasn't just the chronic illness that made me love this book. It's fantastically written because Talia Hibbert has a way with words. It's an enemies-to-lovers Romance with lots of great banter. And it's a bucket list story which is such a great starting point for a character to get out of their comfort zone and become the person they want to be.
The Narration
Get a Life, Chloe Brown is narrated by British actress Adjoa Andoh who has a lot of audiobook experience. She has a wonderful voice and reading style. It was easy to differentiate between all the characters and she brought Chloe's emotions out so well. The narration was absolutely perfect!
Recommendation
Let me put it like this: JUST READ THE BOOK! Seriously, this is an amazing, smart Romance that I'm sure you'll love. And if you have ever struggled with your health, this is a total must-read anyway. Just… you'll love it. Trust me.
This book is without a doubt among my favorites of 2019 and absolutely Audible credit-worthy.
Check out my reviews of Take a Hint, Dani Brown and Act Your Age, Eve Brown, too!
Blurb: Get a Life, Chloe Brown by Talia Hibbert
Chloe Brown is a chronically ill computer geek with a goal, a plan, and a list. After almost—but not quite—dying, she's come up with seven directives to help her "Get a Life", and she's already completed the first: finally moving out of her glamorous family's mansion. The next items?

• Enjoy a drunken night out.
• Ride a motorcycle.
• Go camping.
• Have meaningless but thoroughly enjoyable sex.
• Travel the world with nothing but hand luggage.
• And… do something bad.

But it's not easy being bad, even when you've written step-by-step guidelines on how to do it correctly. What Chloe needs is a teacher, and she knows just the man for the job.

Redford 'Red' Morgan is a handyman with tattoos, a motorcycle, and more sex appeal than ten-thousand Hollywood heartthrobs. He's also an artist who paints at night and hides his work in the light of day, which Chloe knows because she spies on him occasionally. Just the teeniest, tiniest bit.

But when she enlists Red in her mission to rebel, she learns things about him that no spy session could teach her. Like why he clearly resents Chloe's wealthy background. And why he never shows his art to anyone. And what really lies beneath his rough exterior…
Review
/