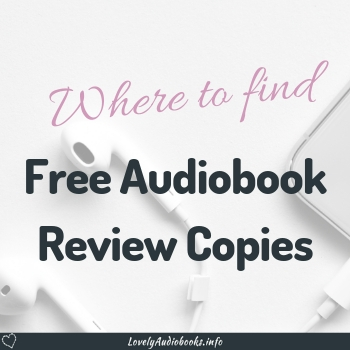 Free Audiobooks in exchange for honest reviews
– A Resource for Book Reviewers and Book Bloggers
If you're a starting book blogger or regularly read reviews, you have probably seen this line around a lot: "I received this book for free in exchange for an honest review".
Requesting review copies is no cheap hack to get free audiobooks!
It's instead a great way to support authors and narrators. They benefit from the support of having more ratings and reviews on their books. And you get to listen for free.
When I started out, I looked at book blogger guides like the one by the wonderful Evelina (New Book Blogger 101). But I couldn't find much information anywhere on where I could request audiobook review copies.
Over time though I accumulated a list of sources that I would like to share with you.
Audible codes for review copies
All of the websites and groups below give you an Audible code to get your review copy. It's usually from Audible.com. If you are an international blogger or reviewer, you can simply log in to Audible.com with the same username and password you use for your local Amazon. (Audible belongs to Amazon and your login works on all Amazon websites.) You can then redeem the code at the bottom of the page and buy your review copy with this free credit.
You can also listen to your new audiobook on your phone. Please take a look at this guide I made for international listeners. If you scroll down in that article, you can find a step-by-step guide with pictures on how to easily change the Audible marketplace in the app.
Websites, Blog Tours and Facebook Groups
There are many places that offer free audiobooks in exchange for reviews. Some are targetted at bloggers, others at any reader / listener who is willing to leave a review on Audible or Goodreads. As a book blogger you can also join audiobook blog tours if you like.
Audiobook Promotion Websites
For Reviewers and Book Bloggers
In principle this site is awesome. It's run by an audiobook production company and there are hundreds of audiobooks from all genres. But I was not always happy with the production quality of the offered audiobooks (some were great, others not so much). And the website is annoying to navigate. It takes a long time to load because all covers are shown on the front page. You can't easily open several tabs with different books either.
Requirements: None! They ask you to please leave a review, but you are not required to do it. You can get 1 audiobook per week.
For Reviewers and Book Bloggers
This is a very nice website with many great audiobooks. It is mainly for bloggers, but I believe any book reviewers can "adopt an audiobook". You can get review copies for a selection of audiobooks from many genres and bloggers can also join audiobook tours.
They offer great resources on how to write a good audiobook review and how to sign into a different Audible than your usual, local one.
Requirements: When you take part in "Adopt an Audiobook", you have 3 months to post your review on Audible and on your blog and/or Goodreads. You can request a new audiobook when you have posted your review for the previous one. Visit this website to read the rules: Request an Adoption
To join blog tours, check the F.A.Q.s here: Audiobook Blog Tours
Audiobook Facebook Groups
For Reviewers and Book Bloggers
There are countless Facebook groups about anything and everything, but also countless Facebook groups about audiobooks. They're a great place to get in touch with authors and narrators directly to get review copies in any genre.
There are many, many more Facebook groups than the ones listed here that offer review copies. But these 4 are the ones I have the most experience with and where you have a decent choice of books.
This group has over 4500 members and a weekly audiobook exchange thread in which authors and narrators of any genre offer their audiobooks for free in exchange for a review.
Requirements: Individual since you receive the code directly from the audiobook creator. You are usually expected to provide an Audible review soon.
This is a very well organized group by a team of audiobook promoters. They always have a fantastic selection of romance audiobooks. Additionally to the review group, they also have an audiobook tour group specifically for book bloggers and bookstagrammers.
Requirements: There's a thread for each currently available audiobook and you request the code in the thread. You have a month to post your review on Audible and one other place (like Goodreads or a blog). You can request a new code once the review for your last one is visible on Audible.
This romance audiobook group has over 6000 members and is a great place for listeners to engage with authors and narrators. You will regularly find posts from popular authors and narrators offering review copies. Depending on the popularity this is sometimes in the form of a giveaway.
Requirements: Individual since you receive the code directly from the audiobook creator. You are usually expected to provide an Audible review soon.
Just as the group name says! You can find audiobooks from many different genres here and get a review code directly from the author or narrator.
Requirements: Individual since you receive the code directly from the audiobook creator. You are usually expected to provide an Audible review soon.
Thank you for reading! I hope this list was helpful to you. If you're a book blogger, adding some audiobooks to your reading list can be a great way to increase your reading time and get more content for your blog. If you're a listener, writing reviews is a fantastic option to receive free audiobooks. And while enjoying your free books you also find and support new authors.
Before you leave, check out my audiobook guide with the best subscription deals that offer unlimited access to high-quality Audible audiobooks: Audiobook Subscription Guide
Happy listening!
Please pin and share this post 🙂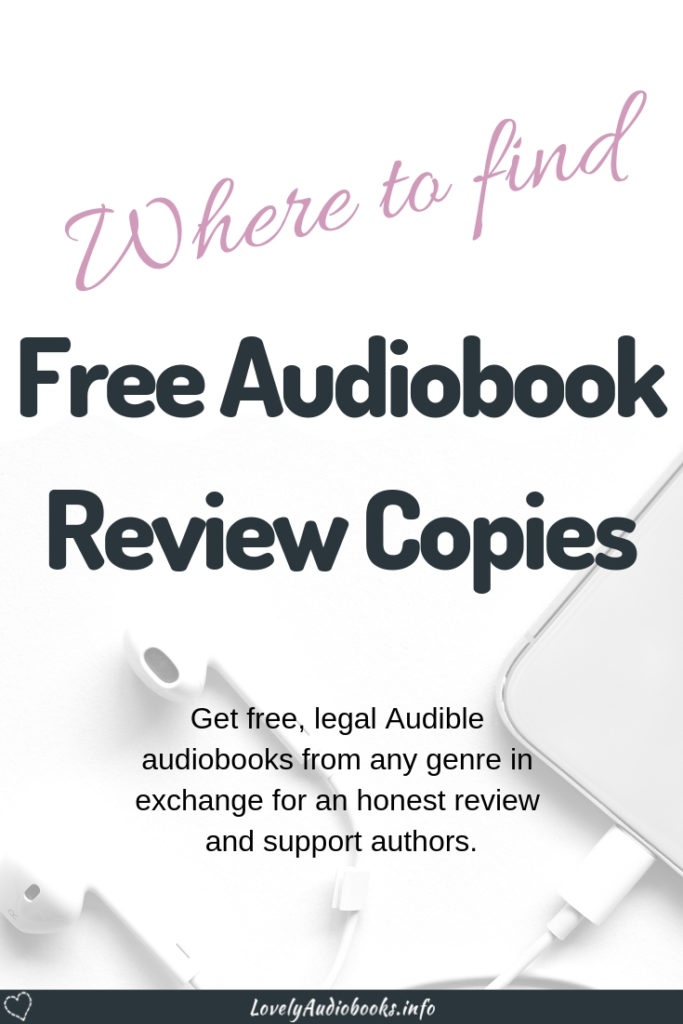 Book bloggers, did you see my other blogging resources yet?
The monthly Book Review Link-up:
New visitors and shares for your favorite book reviews!
The Book Blogger Pinterest guide:
Increase your blog traffic significantly by using Pinterest!