Short audiobooks are amazing to get you out of your reading slump or to stay entertained during a drive! But it hurts to spend an entire Audible credit on a 3-hour audiobook instead of, say, a 13 hour one. That's why I want to share with you some fantastic novellas that you can listen to for free with a Kindle Unlimited subscription, Audible Plus, or that you can pick up for a super cheap deal!
Less than 5 hours long, but full of fast-paced story, emotions, and action, these short audiobooks will keep you perfectly entertained!
**The marked links and book covers on this page are affiliate links. If you use them to purchase something, I earn a fee at no additional cost for you. Disclosure**
Why Short Audiobooks are so Awesome
In the days before I found out about unlimited audiobook subscriptions, I was quite focused on audiobook length. Considering how much I already listened back then, I felt I needed to get many hours of entertainment for every Audible credit. So, the minimum for me was 9 hours. But preferably more than 10! And I missed out on a lot of great books that way…
Fortunately, these days, we don't have to pay the full price for each audiobook – or not even pay for each one individually at all! Which means we can all fully enjoy short audiobooks.
The world of novellas and short stories is amazing. In a reading slump, it can be difficult to commit to a story and really give in to it. Short audiobooks are perfect at those times because they are fast-paced and have a different flow that makes it easier to dive right into it without the feeling of committing to an epic plot.
But these short audiobooks are also good choices for driving. You can easily finish them in a day while being well entertained on your road trip to and from your destination.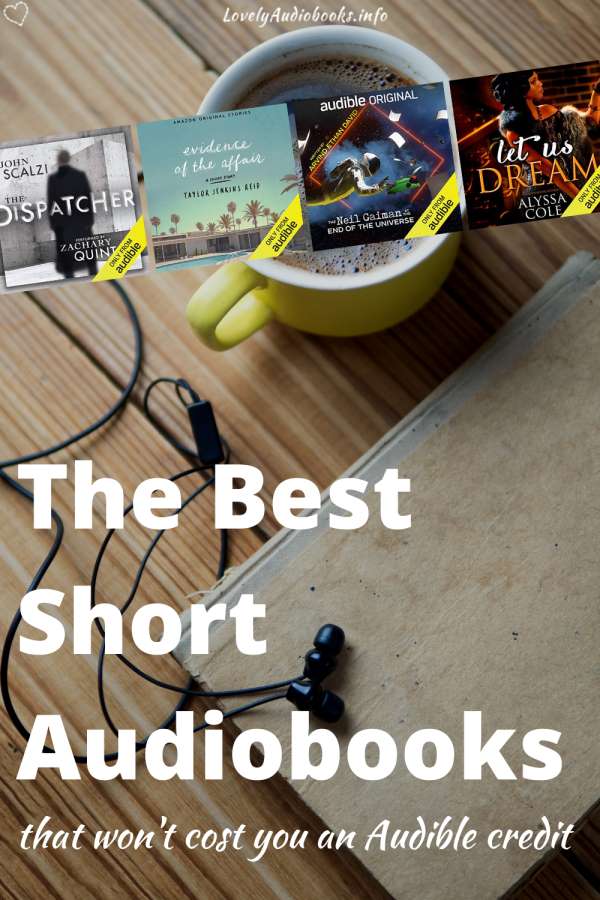 The following list is a mix of audiobooks I have listened to and recommend, as well as very popular short audiobooks with high ratings on Audible that other listeners recommend but that I didn't get to yet.
7 of the Best Short Audiobooks in Kindle Unlimited
These Fiction audiobooks are all free with Kindle Unlimited. Read more about how to listen to audiobooks with Kindle Unlimited!
Evidence of the Affair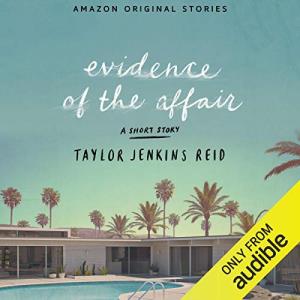 written by Taylor Jenkins Reid, narrated by Julia Whelan, George Newbern, James Daniels, and Dara Rosenberg
Taylor Jenkins Reid is the bestselling author of The Seven Husbands of Evelyn Hugo and Daisy Jones & The Six which is on this list of the best audiobooks. In Kindle Unlimited, you can find her novella Evidence of the Affair. The story is told in the form of letters between a man and a woman whose spouses are cheating on them. I was utterly captivated and absolutely loved the (pretty unexpected) ending! This is without a doubt a must-listen short audiobook.
A Wedding Thing: The One
written and narrated by Shea Serrano and Larami Serrano
If you're married or in a long-term relationship, treat yourself to the wonderful novella A Wedding Thing by Shea and Larami Serrano! It's a very raw and emotional story that I believe every person in a long-term relationship will feel. The Serranos talk about love and romance but also about the very real and serious problems you might have to face when you want a family. I enjoyed A Wedding Thing!
Rummage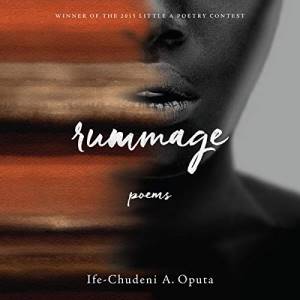 written and narrated by Ife-Chudeni A. Oputa
Rummage is an award-winning poetry book. It tells the story of a young woman growing up and going through different periods of her life. The storyline is clear and easy to follow (even for me as someone who rarely listens to poetry), and the poems are deeply moving and emotional. This is a very special audiobook you should give a chance even if you don't usually listen to poetry!
Close to the Bone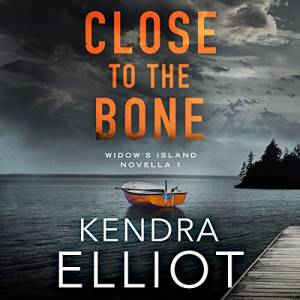 written by Kendra Elliot, narrated by Christine Williams
Get your chill on with this Thriller in novella-length! Close to the Bone is the start to the Widow's Island Novella series about the FBI agent Cate Wilde who returns to her childhood home – Widow's Island – and teams up with Tessa Black, the local deputy, to solve the case of a teenager's skeletal remains.
Ark: Forward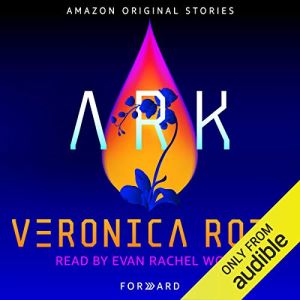 written by Veronica Roth, narrated by Evan Rachel Wood
Ark is the start of an Amazon exclusive series of Science-Fiction short stories. Each book is narrated by a famous actor from a Sci-Fi or Paranormal TV show. In the first book, a young scientist remains on Earth to finish cataloging plants while the rest of the planet is evacuated.
Everything My Mother Taught Me (Inheritance collection)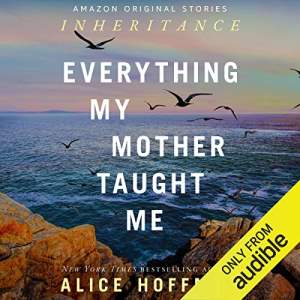 written by Alice Hoffman, narrated by Brittany Pressley
Everything My Mother Taught Me is the first part in the Inheritance collection, five stories about secrets, unspoken desires, and dangerous revelations between loved ones.
In the Heart of the Fire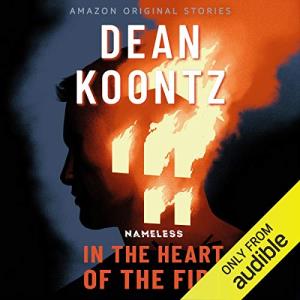 written by Dean Koontz, narrated by Edoardo Ballerini
New York Times bestselling author Dean Koontz offers an exclusive series of short stories in Kindle Unlimited. In the Heart of the Fire is the first part of Nameless, a riveting collection of short stories about a vigilante nomad, stripped of his memories and commissioned to kill.
10 of the Best Short Audiobooks in Audible Plus
If you have an Audible subscription, you automatically have free access to the Audible Plus digital library! It includes thousands of audiobooks that you can borrow without any extra cost. Read more about Audible Plus!
Lucky Suit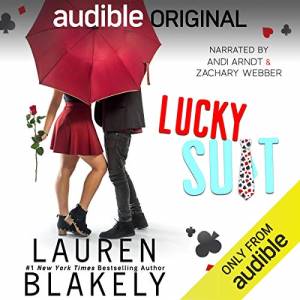 written by by Lauren Blakely, narrated by Andi Arndt and Zachary Webber
If you for some reason haven't listened to Lucky Suit yet, you should change that! It's a very entertaining mistaken identity Romantic Comedy. Lauren Blakely is always good for a straight-shooting heroine. And her hero is absolutely adorable! Even more so thanks to Andi Arndt and Zachary Webber who is always a pleasure to listen to.
The Set Up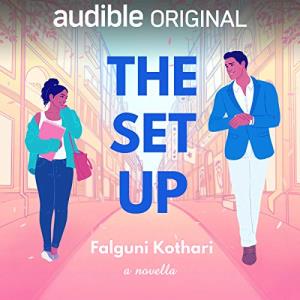 written by Falguni Kothari, narrated by Soneela Nankani and Vikas Adam
The Set Up is currently one of the most popular audiobooks in Audible Plus! This is an utterly charming and funny Romantic Comedy. I absolutely loved this dating story, and the narration is fantastic!
One Upon a Haunted Moor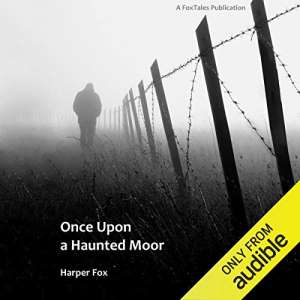 written by Harper Fox, narrated by Tim Gilbert
Once Upon a Haunted Moor is an atmospheric Mystery novella with a gay romance. It is the first part in a series of The Tyack & Frayne Mysteries that are all also included in Audible Plus.
The Neil Gaiman at the End of the Universe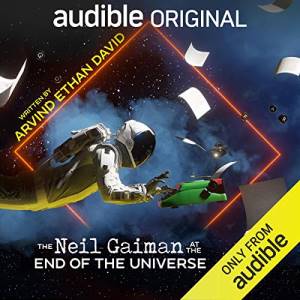 written by Arvind Ethan David, narrated by Neil Gaiman and Jewel Staite
This new and pretty crazy Sci-Fi short story is a must for Neil Gaiman fans! It's wonderfully narrated by the man himself. And the story is… Well… it's something different and full of unexpected twists and turns! Give it a try!
The Very First Damned Thing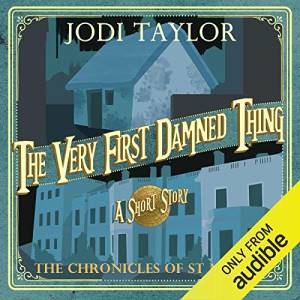 written and narrated by Jodi Taylor
The Chronicles of St Mary's is a fascinating timetravelling Fantasy series and the author herself has recorded a short story prequel, The Very First Damned Thing. This is a great introduction to the series for those who haven't listened to it yet, and a wonderful treat for those who have!
The Five-Year Hitch: Not Quite a Love Story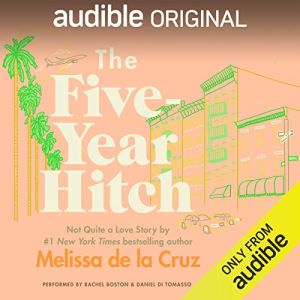 written by Melissa de la Cruz, narrated by Rachel Boston and Daniel di Tomasso
The Five-Year Hitch is a great production with duet narration and sound effects. In a podcast interview form, two people talk about how they kept getting together and breaking up again.
Dispossession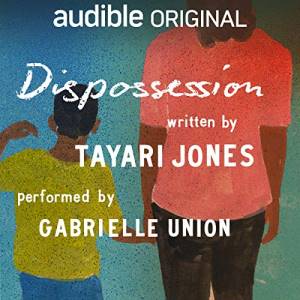 written by Tayari Jones, narrated by Gabrielle Union
Dispossession is a very powerful and moving short story about a mother and her regrets and conflicting thoughts and emotions in regard to her now-adult son who avoids her. It's narrated by Gabrielle Union!
Even Tree Nymphs Get the Blues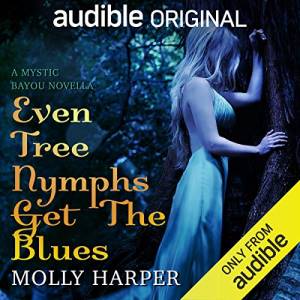 written by Molly Harper, narrated by Amanda Ronconi and Jonathan Davis
Even Tree Nymphs Get the Blues is a cute Paranormal Romance novella set in the Mystic Bayou. The entire Mystic Bayou series about a town of supernatural beings is included in Audible Plus.
The Dispatcher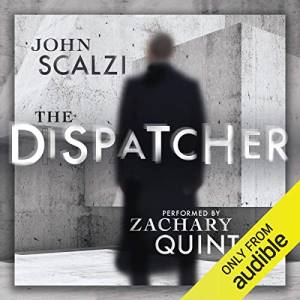 written by John Scalzi, narrated by Zachary Quinto
The Dispatcher has a breathtaking 71000 ratings on Audible with a 4.5 star average rating! I'm pretty sure that this is the most popular audiobook of all in Audible Plus. Zachary Quinto narrates this Science Fiction Thriller!
Related article: 13 Weird and Spooky Audiobooks that aren't Horror
The Mountain and the Sea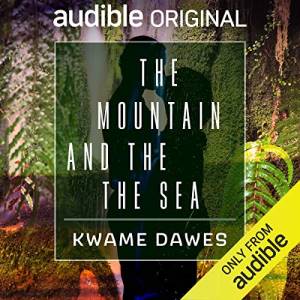 written by Kwame Dawes, narrated by Paula-Anne Jones
The Mountain and the Sea is a romantic tale about letting go of the past and embracing the present. Set on the lush Jamaican coast, the poetic prose brings to life the warmth of the sands, the spice in the foods, and the passion of a Caribbean love affair. It is read by Jamaican narrator Paula-Anne Jones.
My Favorite Romance Novella Audiobook Deals
You can buy the following audiobooks for really cheap deals on Amazon US. When you buy them together with the ebook, you still pay much less than the value of an Audible credit. Read more about Amazon Whispersync deals!
Thirty Day Boyfriend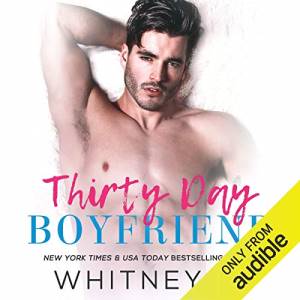 written by Whitney G., narrated by Erin Mallon and Zachary Webber
Get the audiobook deal on Amazon**
Thirty Day Boyfriend is so damn hot! If you enjoy enemies-to-lovers, office Romance, and a good fake relationship, this is an absolute must-read! It still baffles my mind how this story is so short when it is actually so intensely emotional. It comes as no surprise then that this is such a highly rated Audible book! Trust me, you won't regret listening to this!
Let Us Dream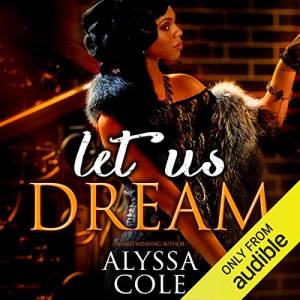 written by Alyssa Cole, narrated by Karen Chilton
Get the audiobook deal on Amazon**
Let Us Dream is a Multicultural Historical Romance set in 1917 Harlem. It's a beautiful story about an incredibly strong woman, making the most of the luck she's had in a very difficult time, and the man she hires to cook in her night club. This is an amazing novella about two utterly intriguing people that you won't regret listening to!
Tallulah's Temptation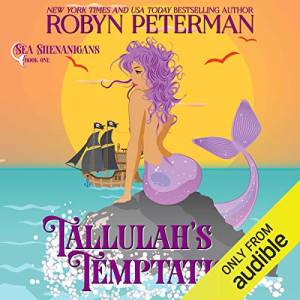 written by Robyn Peterman, narrated by Shane East and Amanda Ronconi
Get the audiobook deal on Amazon**
I feel there should be a Romance reader badge of honor for "Read a book about a Vampire Pirate". So, get Tallulah's Temptation and grab your badge, haha! Robyn Peterman is always good for some light paranormal fun. And this short audiobook is stuffed full of adventure and mermaids. And of course, the Vampire Pirate with the huge ego!
I hope you'll have a great time with these short audiobooks! And if you're looking for more ways to get the most out of your Audible credits, check out my list with 25 of the best Romance audiobook box sets to get 3 or even 4 audiobooks for one Audible credit.
Kindle deals can slightly differ between international Amazon websites. The lists on this blog are based on Amazon.com. If you live elsewhere, you might be sent to your local Amazon. Please don't be disappointed if your marketplace has different prices. Sometimes, a US "Listen for Free" might cost a little elsewhere, while other deals might, in turn, be cheaper on your Amazon. You can only download Kindle audiobooks from your local Amazon website.
Booklist, Review
/