Are you wondering which books to read in summer? Just ask the book bloggers!
It's summer. The time of year when the bookworm puts on their sunscreen, sunglasses, and straw hat to enjoy their book in a deckchair in the garden.
The books we talk about today all have amazing covers that can take you on a little mini-vacation. So, even when you don't have a beautiful romantic garden or perfect sandy beach, these books will give you that summer feeling!
Did you ever hear that question "Beach or Mountains?" Well, I absolutely love the ocean. I will always pick the beach even though I don't care much for sunbathing. It just makes me happy to be close to water. So, love stories set on islands are always a winner for me. And that really shows with my three favorite books to read in summer…
Meant to Be (An Anchor Island Novel) by Terry Osburn
The Anchor Island series is entirely "listen for free" in Kindle Unlimited. The descriptions of the island are just as captivating as the cover. The stories are entertaining, with the perfect mix of lightheartedness and depth that I look for in a beach read.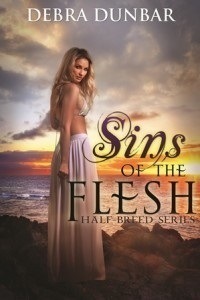 Sins of the Flesh (Half-Breed book 2) by Debra Dunbar
The book doesn't use this cover anymore, sadly. It now has a new, darker cover image on Amazon. But I just love the beautiful island look! The story is set in Hawaii, where Amber (half-succubus, half-elf) wanted to spend a nice relaxing vacation. Until she has an unfortunate run-in with an ancient goddess!
A Sudden Crush by Camilla Isley
I haven't yet read this, but it's at the top of this year's "books to read in summer" list for me! I absolutely adore the cover art. Can you already feel that warm evening breeze, too? I don't usually go for clean romance. But I'm really intrigued how A Sudden Crush will work out with the married lady being stuck on an island with a hot guy for months…
This post is part of the awesome Bookish Blog Hop. Let's see what the other book bloggers feel are the best books to read in summer…
Becki at A Book Lover's Adventures
New out this summer is Sunset Beach by Mary Kay Andrews. The beach chairs right in the water, that's summer! I am really looking forward to diving into this one.
These are my two books to read in summer: The Reef by Nora Roberts, and Echoes of Evil by Heather Graham.
The Reef
" Tate Beaumont has a passion for treasure-hunting. Over the years, she and her father have uncovered many fabulous riches, but one treasure has always eluded them: Angelique's Curse—a jeweled amulet heavy with history, dark with legend, and tainted with blood. In order to find this precious artifact, the Beaumonts reluctantly form a partnership with salvagers Buck and Matthew Lassiter.
As the Beaumonts and Lassiters pool their resources to locate Angelique's Curse, the Caribbean waters darken with shadowy deceptions and hidden threats. Their partnership is placed in jeopardy when Matthew refuses to share information—including the truth behind his father's mysterious death. For now, Tate and Matthew continue their uneasy alliance—until danger and desire begin to rise to the surface…"
Echoes of Evil – This is the 26th book in the Krewe of Hunters Series.
"Brodie McFadden is supposed to be on vacation, getting some sunshine and deciding if he wants to join his brothers in the Krewe of Hunters, a special paranormal investigation unit of the FBI. But a diving excursion with an old navy buddy to a historic shipwreck uncovers a crime scene—and the corpse is new.
Museum curator Dakota "Kody" McCoy just wants her Key West culture festival to succeed. She's always had a deep connection to her home, including being regularly haunted by some of the resident ghosts. Then, in the middle of a performance, a beloved local musician drops dead. It seems accidental, but Kody isn't so sure.
Brodie thinks the recent deaths are linked, and he needs help from Kody. Something about her festival is dangerous. And the threat is creeping ever closer. Has she uncovered a treasure from the past that someone will kill for?"
Leslie Conzatti at Upstream Writer
For this one, I'd have to pick "any book in the Books of Bayern series by Shannon Hale**." Seriously, look how pretty they are! And the stories they contain are just as pretty as the covers. I loved the whole series!
For this question I automatically thought of the book Read, Write, Love at Seaside by Addison Cole, which is on my TBR for this summer.
Read, Write, Love at Seaside by Addison Cole is a Sweet with Heat novel and conveys all of the passion you'd expect to find between two people in love without any graphic scenes or harsh language. If you're looking for a spicier romance, pick up the steamy edition, Read, Write, Love, written by New York Timesbestselling author Melissa Foster. Addison Cole is Melissa's sweet-romance pen name.
In READ, WRITE, LOVE at SEASIDE…
Bestselling author Kurt Remington lives to write. He spends twelve hours a day in front of his computer, rarely leaving the seclusion of his beach-front property, where he's come to finish his latest thriller — that is, until free-spirited Leanna Bray nearly drowns in the ocean trying to save her dog. Kurt's best-laid plans are shot to hell when he comes to their rescue. Kurt's as irritated as he is intrigued by the sexy, hot mess of a woman who lives life on a whim, forgets everything, and doesn't even know the definition of the word organized.
Leanna's come to the Cape hoping to find a fulfilling career in the jam-making business, and until she figures out her own life, a man is not on the menu. But Leanna can't get the six-two, deliciously muscled and tragically neat Kurt out of her mind. She tells herself she's just stopping by to say thank you, but the heart-warming afternoon sparks an emotional and unexpectedly sweet ride as Kurt and Leanna test the powers of Chemistry 101: Opposites Attract.
Fortune Furlough by Jana Deleon. It has a nice summer beach cover and loving the beach look of it.
If you want to come along on future Bookish Blog Hops, join our Facebook group.
Booklist, Blogging
/