Get out that handknit throw blanket, grab a steaming cup of cocoa, and cuddle up with these wonderful Cozy Mystery audiobooks! These funny murder mysteries and women sleuth books are the perfect mix of relaxed reading and captivating mystery novel.
One thing I particularly love about Cozy Mysteries, other than wondering who did it, are the absolutely fearless women in these books! Someone slashes their tires or sends a threatening note? Well, they just find it annoying and sleuth so much harder! It would be useful to interrogate this scary lady they don't know? No problem, social anxiety and shyness are not in their vocabulary. I honestly admire that so much! These aren't dumb heroines, they might at times be a bit naive, but they are fearless and trust that everything will turn out well in the end. And it does! Because this is the world of Cozy Mystery books, where bad things happen to bad people and everything ends mostly well.
**The marked links and book covers on this page are affiliate links. If you use them to purchase something, I earn a fee at no additional cost for you. Disclosure**
What is a Cozy Mystery?
A Cozy Mystery (or: Cosy Mystery if it's a British one) is pretty much exactly what the name implies: While crime and murder mystery are at the core of the story, the atmosphere is less frightening and gloomy than in Thrillers or Suspense novels. The story is more light-hearted and not so claustrophobic. The detective is also most often an amateur who was initially the suspect and the setting is a small town.
You can easily spot a Cozy Mystery by its cover. They are much cuter and friendlier than other Mystery or Suspense books with very distinct artwork.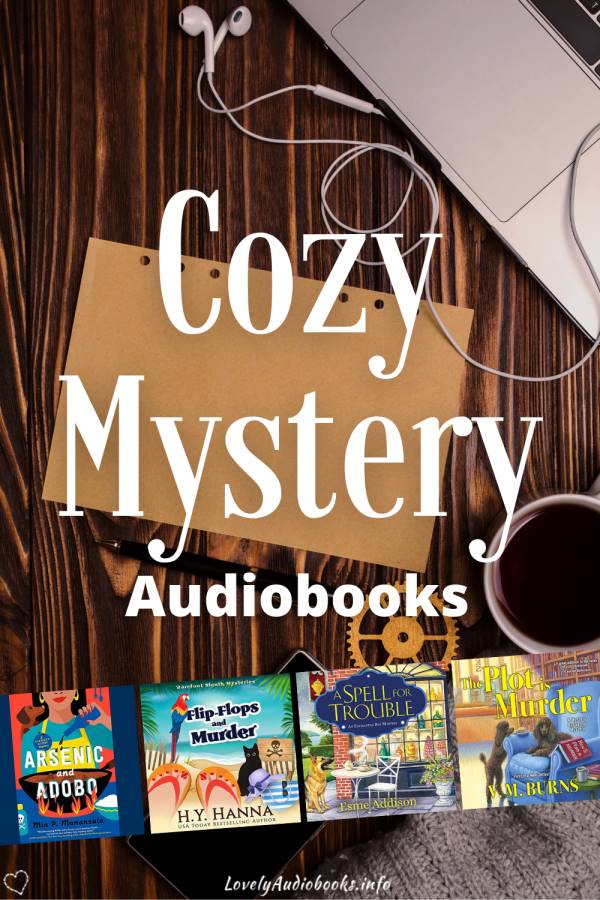 Flip-Flops and Murder
written by H.Y. Hanna
narrated by Pearl Hewitt
Get the Audible book in a deal**
English girl Ellie has an invitation to a beach resort in Florida. But when she arrives, she doesn't find her aunt as she expected. Instead, she finds the body of her aunt's rival author. While her aunt seems to have disappeared!
I have a weakness for British accents, so Ellie, charmingly narrated by Pearl Hewitt, was an instant favorite. This wonderful narration paired with the beach resort setting was absolute perfection! This book flowed so well and every aspect of the mystery with the different characters and suspects came together neatly. If you are looking for a great Cozy Mystery series, you absolutely should check out The Barefoot Sleuth Mysteries and author H.Y. Hanna! This is a 4-book series and all titles are available as audiobooks.
Related article: How to get Audible books cheaper with Amazon Whispersync
Arsenic and Adobo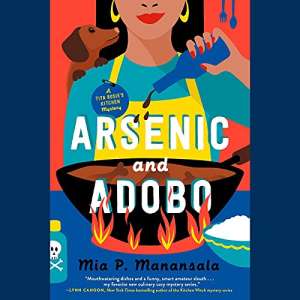 written by Mia P. Manansala
narrated by Danice Cabanela
A mean food critic flops over dead right there in the restaurant of Lila's family! As if that wasn't awful enough, warm and sweet Tita Rosie is treated as the only suspect by the police. Lila has to find out what's really going on and uncovers more than she bargained for.
Arsenic and Adobo is a wonderful culinary Cozy Mystery that I couldn't turn off (I might actually have gotten too little sleep there). Lila is such a kickass heroine and her family is completely lovable! This is an extremely gripping, fantastically crafted story and Danice Cabanela's narration has turned this into a must-listen for Cozy Mystery audiobook fans! This is honestly one of the best Mystery audiobooks when you're looking for a light yet engaging listen. The next book in the A Tita Rosie's Kitchen Mystery series, A Homicide and Halo-Halo by Mia P. Manansala, will be out in February 2022.
Related article: The Best Audiobooks of 2021
Murder by Page One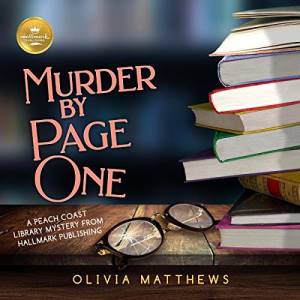 written by Olivia Matthews
narrated by Janina Edwards
Marvey moves from Brooklyn to a small town in Georgia. She has a great group of bookish friends there. But when the body of an author is found in her friend's bookstore and her friend is the only suspect, Marvey has to use her librarian superpower (research!) to find out who the real killer is.
I loved this quirky group of librarians, they're friendship goals! The story is utterly captivating and I enjoyed Marvey as heroine so much. A truly great woman! Janina Edwards is the perfect voice for her. The A Peach Coast Library Mystery series by Olivia Matthews is brand-new and this wonderful bookish Cozy series is one I will most certainly continue to follow!
The Plot is Murder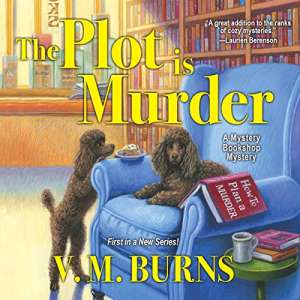 written by V.M. Burns
narrated by Kate Rudd
Get the Audible book in a deal**
Samantha lives and loves Mystery books! She is in the process of opening her very own mystery-focused book store while working on her first novel, a Historical English Cosy Mystery. But when a corpse turns up in her backyard, the body of a man she was not friendly with, things get very real very quickly.
This book has a wonderful meta-level and we move between two stories: Samantha's real life and her novel. The balance is perfect! The focus is on "the real world", but we also get a nice taste of the historical Cozy (and we even find out who the murderer is). The perfect cozy vibes are rounded out with an adorable, feisty grandma! This is an ongoing series with book 7 coming out in November. But only the first book is available on Audible. It is read by a great narrator, Kate Rudd, and even if you are 100% audio and won't be able to continue the Mystery Bookshop series, it is worth getting The Plot is Murder!
Dial A for Aunties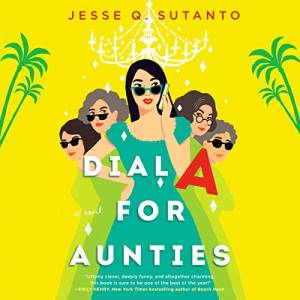 written by Jesse Q. Sutanto
narrated by Risa Mei
Meddelin accidentally kills her blind date. Whoops! Fortunately, she has a mother and three aunts who have no problems dealing with a body. Or, well, it turns out, making a corpse disappear isn't all that easy. And then there's the question: Who even is this guy??
Dial A for Aunties doesn't quite follow the usual pattern of a Cozy Mystery, but it is still perfect when you want a funny murder mystery! It's fast-paced, with many laugh-out-loud moments, and the story, writing, and narration flow extremely well. An absolute must-listen! Risa Mei brings the characters to life perfectly in the audio version. The next book, Four Aunties and a Wedding by Jesse Q. Sutanto will be released in March 2022.
Engagement and Espionage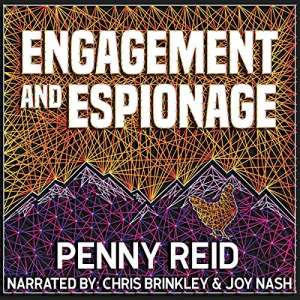 written by Penny Reid
narrated by Chris Brinkley and Joy Nash
Cletus and Jenn seemingly found their Happily Ever After, but things are not well in Green Valley! Someone killed a lot of chickens and that's just the beginning. But Cletus and Jenn are on the case.
If you have read Penny Reid's Winston Brothers series, you will remember Cletus (he is for sure one of the most memorable Romance heroes). And following Cletus and Jenn on their new adventures is a delight! While the two navigate their HEA, they also use their devious minds to figure out what's going on in Green Valley. The audiobook is narrated by the wonderful Chris Brinkley and Joy Nash. This is an ongoing series and currently, there are two books out in the Solving for Pie: Cletus and Jenn Mysteries series.
A Spell for Trouble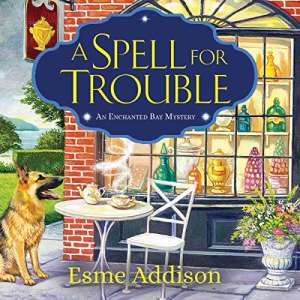 written by Esme Addison
narrated by Emily Durante
After his death and a stressful phase in her job, Alex moves to the hometown her father has always warned her away from. She wants to reconnect with her remaining family. Turns out, they are witches with a very special heritage! … And a lot of enemies. When a man turns up dead, Alex's aunt is taken into custody. But Alex is determined to solve the case!
A Spell for Trouble is a fun paranormal Cozy Mystery. I especially loved the world-building in this book and how it was based on Eastern European folklore. Very unique! So far, two books have been released in the An Enchanted Bay Mystery series by Esme Addison. Both are narrated by Emily Durante who is a great fit for the story and characters.
A Deadly Inside Scoop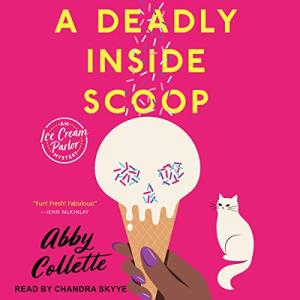 written by Abby Collette
narrated by Chandra Skyye
Win moves back to her hometown to take over her grandparents' ice cream parlor and bring back its glory days. Not an easy undertaking in Winter! And then she stumbles over the body of a man her family hated – and her father is the suspect…
With a warm cup of tea and a cold bowl of your favorite ice cream, you are prepared for this ice-cold culinary Cozy Mystery! I loved the two friends here, and Win's backstory for returning to her hometown was a particularly touching one. Chandra Skyye did a great job bringing all the many wonderful characters in this story to life! Currently, the Ice Cream Parlor Mystery Series by Abby Collette has two books, with both available in audio format.
And Then There Were Crumbs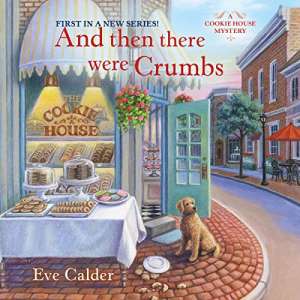 written by Eve Calder
narrated by Christa Lewis
Get the Audible book in a deal**
After losing her partner and her job, Kate flees to a small island town in Florida. She lands a job in a bakery but is off to a rough start with the old baker who doesn't really want her there. When a body shows up shortly after, Kate is the first suspect, followed closely by the mean baker…
And Then There Were Crumbs is a wonderfully relaxing yet captivating book! The town is described beautifully and listening to the audiobook will make you feel like taking a trip to this seaside town yourself. I loved the dog and the wonderful people Kate gets to know. The narrator is Christa Lewis who did an outstanding performance! The A Cookie House Mystery series by Eve Calder currently has three books, all available on Audible.
A First Date with Death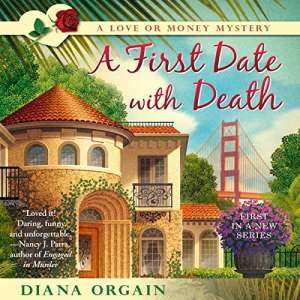 written by Diana Orgain
narrated by Eva Kaminsky
Listen for free with Audible Plus **
As a favor to her TV producer friend, ex-detective Georgia takes part in a Bachelorette-type TV show. She never even felt like doing this and then one participant after another is involved in "freak accidents". And to top it all off, one candidate is replaced by her ex-fiance who had canceled their wedding on short notice!
A First Date with Death is a wild story and completely entertaining! Fans of reality shows will surely get a kick out of this setting and the concept of a dating TV show gone wrong. Eva Kaminsky is a fantastic narrator and the first two audiobooks in the A Love Or Money Mystery series are even included in your Audible membership through Audible Plus!
Jed Had to Die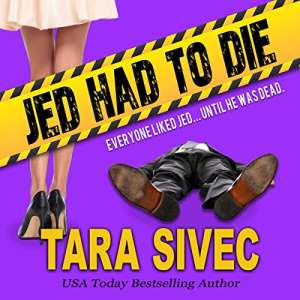 written by Tara Sivec
narrated by Amy McFadden
Get the Audible book in a deal**
Everyone in Payton's little hometown thinks she's nothing but trouble. She was happy to have left that place behind. But when her friend asks her to come back, she doesn't hesitate, even though she doesn't know why. When the very beloved mayor, her friend's husband, is found dead only shortly after Payton's arrival, things once again look pretty bad for her…
This story had it all: Serious feels and lots of fun! From the quirky small-town folks to the serious issues surrounding the murder, this is one of the best funny Mystery books out there, with a good dose of Romance and Happily Ever After! Amy McFadden did the extremely captivating narration and this book is actually on our list of 50 of the best audiobooks of all time! This is a stand-alone book.
Sex, Lies, and Online Dating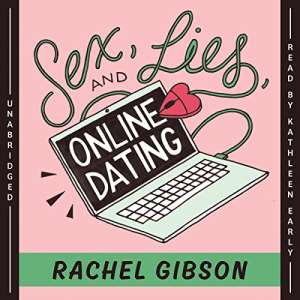 written by Rachel Gibson
narrated by Kathleen Early
Listen for free with Audible Plus**
Lucy is a successful crime fiction writer and as research for her next book, she meets men anonymously through an online dating site. She uses them as inspiration for her fictional killer's victims. Incidentally, a series of real-life murders begins. And the victims are men who used the online dating site and met with Lucy…
I was so intrigued by all the puzzle pieces in this novel! This is a bit more on the Romance side than the other Cozy Mystery audiobooks I have listed, because the focus is on Lucy and Quinn and how they work through the rather complex issues of building a relationship with each other. Quinn is an undercover cop and suspects Lucy might be a serial killer. And Lucy notices that Quinn is lying to her a lot but doesn't understand why, since he seems so nice and she can't think of anything that he would really need to hide. This quirky, funny Romantic Mystery audiobook is narrated by Kathleen Early who did an absolutely captivating narration!
Audio Booklists
/