Rook Takes Queen by Em Stevens is easily one of my favorite audiobooks of 2018! It's a beautiful love story between two very special women who are thoroughly likable.
If you're pretty, you're often underestimated. If you're smart, you're often alone. And if you're pretty and smart, you're kind of screwed.
I'm hardly talking from experience here, but the way Em Stevens portrayed it was very logical and realistic.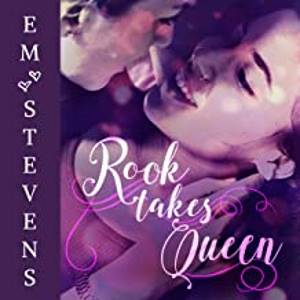 Rook takes Queen
written by Em Stevens, narrated by Ainslie Caswell
So, we start out with Rook, genius Grandmaster chess player, failing at life. She has no direction and is fairly immature, despite being in her 30's. I liked her right away though. She's a funny little punk. Twists and turns make her run into Carmen, her polar opposite in many regards: An extremely driven beauty queen.
It's a quite fascinating set-up and both protagonists are adorable, interesting, and real.
Writing
This was such a romantic book! I really liked how Em Stevens followed what I would call a "standard Romance recipe". That sounds kind of bad but it really isn't. It's what I want to read and what I'm often missing in les-fic. The story ventures into the forbidden love trope. But it does so in a Romance way, not in a "coming out" way. It was actually an unexpected twist and done really well.
Related article: My Favorite Lesbian Romance Audiobooks
Narration
I love Ainslie Caswell's voice. It fit the two women perfectly and her narration was very captivating. She wasn't always exactly on point in regard to using the correct intonations and sometimes the voices weren't so easily distinguishable because of it. Nevertheless, it was an engaging, fun narration style and I was invested in the story.
Recommendation
If you're looking for a sexy, romantic audiobook with two women, I wholeheartedly recommend Rook Takes Queen!
I received a free copy of this audiobook from the publisher without any obligations. I decided to write a review because I thoroughly enjoyed listening.
Review
/