Welcome to the Lovely Audiobooks audiobook challenge! This reading challenge is for every interested listener, whether you're new to audiobooks or listen every day.
The challenge is very flexible and you can play it however you like. So no matter your listening habits, if you think it'd be fun to explore the world of audiobooks, go for it! The goal is to shake up your usual listening habits and to show you all the different flavors of audiobooks, like different narration styles. That's why – unlike the Audible challenge – there are 30 specific prompts that introduce you to all aspects of audiobooks.
**The marked links and book covers on this page are affiliate links. If you use them to purchase something, I earn a fee at no additional cost for you. Disclosure**
F.A.Q.
What is the Audiobook Challenge?
The point of a reading challenge is first and foremost fun, but also to read a bit differently than you usually do. Unlike the Audible challenge, this audiobook challenge isn't only about a number! The challenge prompts cover different narration styles and forms of audiobooks, as well as many book genres, to help you explore the world of audiobooks.
What can you do with the prompts?
If you want to start listening to audiobooks or have the reading goal to listen more, you can use the prompts as an inspiration to pick audiobooks. You can also combine prompts and work your way through the list like that.
What if I already listen to a lot of audiobooks?
Perfect! Then you can do the challenge like a marathon and go through the entire list of prompts in one go, maybe even in 30 days! It's a fantastic way to get rid of a reading slump and mix up your listening habits.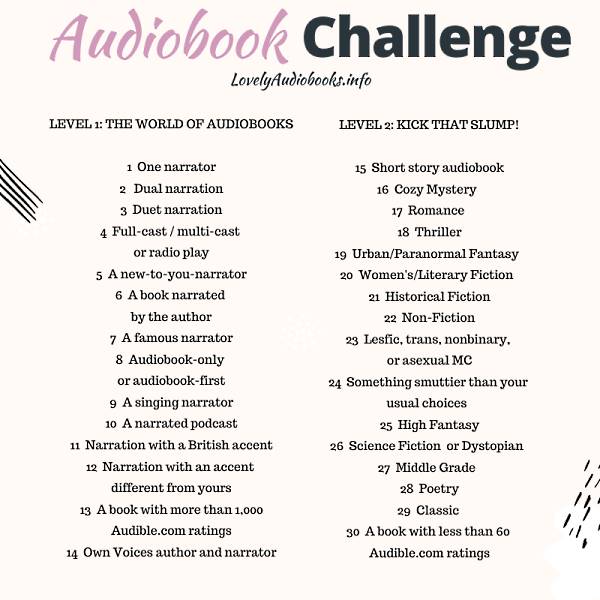 Prompts Printable
Grab the audiobook challenge prompts as a printable PDF so you can easily mark which ones you've already done!
Audiobook Suggestions
Not everyone loves prompt research. So, if you'd like to do the audiobook challenge but don't feel like searching for fitting books, you can use my suggestions. However, I'm a Romance reader, so my recommended books are usually… just that 😉 You can also take a look at my audiobook marathon diary where I listed all the Audible books I listened to in January 2020: 30 audiobooks in 30 days!
To keep the challenge affordable, most of my suggestions are included in an unlimited audiobook subscription. Grab a free test month for Kindle Unlimited**, Audible Plus**, and Scribd if you don't have a subscription yet!
Related article: The Guide to Affordable Audiobook Binge-Listening
Audiobook Challenge 2020 Prompts
Level 1: The World of Audiobooks
1 One narrator: Pick a book narrated by only one person
2 Dual narration: Pick a book narrated by two people who each take turns narrating a whole chapter
3 Duet narration: Pick a book narrated by two people who each narrate the same characters in every chapter
Shy Girls Write it Better**, Kitty Cat**
4 Full-Cast / Multi-Cast or Radio Play: Pick a book with at least 3 narrators voicing different characters
The A.I. Who Loved Me**, The Virgin Gift**
5 A new-to-you Narrator
Paradise**
6 A book narrated by the Author
Misadventures of a College Girl**, A Wedding Thing**
7 A famous Narrator: Pick a book narrated by an actor or someone who is famous for something other than audiobooks
8 Audiobook-only or audiobook-first: Pick a book that's only available as audiobook or was first released as audiobook
Repeat**, The A.I. Who Loved Me**
9 A singing Narrator: Pick a book with a narrator who doesn't only read but also sings in the recording
The Hobbit**, Satisfaction Guaranteed**
10 A narrated Podcast: Listen to a narrated podcast or story podcast
11 Narration with a British accent
Tallulah's Temptation**, A Crack in Everything**
12 Narration with an accent different from yours
Peachy Flippin Keen**, Spencer Cohen**
13 A book with more than 1,000 Audible.com ratings
14 Own Voices Author and Narrator: Pick an #ownvoices production
Level 2: Kick that Reading Slump!
15 Short Story audiobook
Forward Collection**, Winter Collection**, Brief Cases (Dresden Files)
16 Cozy Mystery
And Then there Were Crumbs**, Murder at Mountain Vista** (KU)
17 Romance
18 Thriller
19 Urban/Paranormal Fantasy
Ready to Were**, Moon Dance**
20 Women's/Literary Fiction
21 Historical Fiction
22 Non-Fiction
The Misadventures of an Awkward Black Girl, You're Never Weird on the Internet
23 Lesfic, Trans, Nonbinary, or asexual Main Character
You Should See Me in a Crown, Felix Ever After
24 Something smuttier than your usual choices
25 High Fantasy
The Fellowship of the Ring**, The Palace Job (Rogues of the Republic)**
26 Science Fiction or Dystopian
Forward Collection**, Marked (Servants of Fate)**
27 Middle Grade
Odd and The Frost Giants, Secrets of the Magic Ring**
28 Poetry
Love & Misadventure**, Rummage**
29 A Classic
30 A book with less than 60 Audible.com ratings (Extra karma points if the audiobook is older than a year and you leave a review afterward!)
Have fun! 💕
The info in this post is also part of my web story on why audiobooks are awesome!
All about Audiobooks