The April Audiobook Recommendations are so fun! Lots of genres, fantastic authors, and outstanding narrators…
And we have some of my favorite themes this month! We have books that will make you feel like you are on vacation, as well as a bunch of new Romances with my most favorite Online Love trope, several outstanding new Romance audiobooks that are included in Kindle Unlimited, and other flavors to fit every mood.
**The marked links and book covers on this page are affiliate links. If you use them to purchase something, I earn a fee at no additional cost for you. Disclosure**
Vera Wong's Unsolicited Advice for Murderers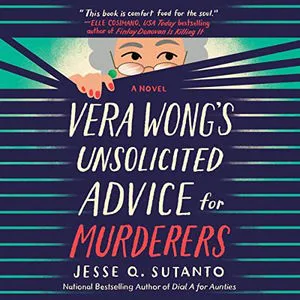 Jesse Q. Sutanto (Author), Eunice Wong (Narrator)

Get the Audible book**
Or listen on Scribd**
Vera Wong's Unsolicited Advice for Murderers looks and feels like a Cozy Mystery. But, like other books by Jesse Q. Sutanto, it breaks quite a few rules of the genre.
This is an absolutely delightful Mystery, though, and a truly heartwarming book about finding family!
I loved all the different characters here and the way the story builds up. There's Vera Wong, of course, whose tea shop is not seeing a lot of customers anymore. One morning, she finds a dead person in the shop. And with a trick, she draws out all the people who might have had a motive to get rid of the dead man…
Eunice Wong is one of my favorite narrators, and I could have listened to this audiobook for many, many more hours! Come to think of it, I will probably listen to it again soon.
Flowerheart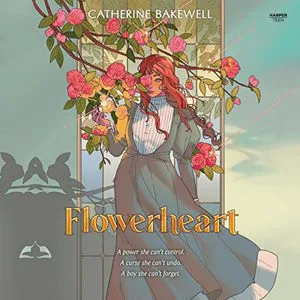 Catherine Bakewell (Author), Morag Sims (Narrator)

Get the Audible book**
Or listen on Scribd**
If you are a regular on Lovely Audiobooks, you might know that I'm always looking for cozy books. That's how I stumbled over Flowerheart. It was actually one of my most anticipated books of 2023!
I instantly fell in love with the cover, too. However, I got a bit confused when reading the blurb. It sounded like a suspenseful, high-stakes story and not all that cozy.
Now I finally got to listen to this wonderful Young Adult Fantasy, and I can assure you that the book has very cozy vibes!
Clara struggles with her magic. She can't control it and accidentally hurts her father. Both she and her father receive a lot of support from the magical community, though.
Clara also gets involved in a mystery about a drug-like potion that puts people into a form of vegetative state where they aren't truly conscious anymore but can eat and drink.
The book has a truly happy ending and many factors that make the life-or-death stakes less threatening.
Morag Sims is such an outstanding narrator who brought out all of Clara's emotions! I enjoyed listening to Flowerheart immensely.
The Wicked Bargain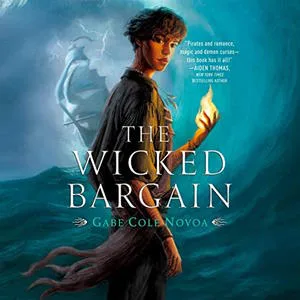 Gabe Cole Novoa (Author), Vico Ortiz (Narrator)

Get the Audible book**
Or get it on Libro.fm**
The Wicked Bargain is a very captivating Young Adult Historical Fantasy set in the Caribbean Sea during the time of the Spanish conquistadors.
Mar is the child of a famous pirate captain and can wield magic which is a very rare and feared trait.
This is a wonderful book if you are looking to read about action, adventure, love, and magic. And the main character is nonbinary!
I always enjoy listening to Vico Ortiz, and it's fantastic to hear them bring a book with so many Spanish phrases and words to life!
Related article: Nonbinary Books on Audible
Blessed Odds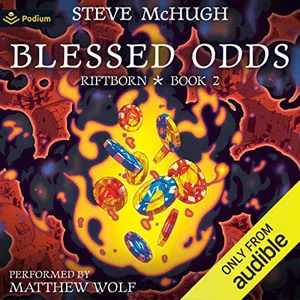 Steve McHugh (Author), Matthew Wolf (Narrator)

Get the Audible book in a deal**
Steve McHugh is one of my favorite Urban Fantasy authors, and I was so excited to see that he has a new series!
Blessed Odds is the second book in the Riftborn series about Lucas, a riftborn and the last of the Raven Guild. The Rift works very differently from any magic systems I have read about so far.
It's a very fast-paced, suspenseful series!
If you enjoyed the Hellequin Chronicles, you will love this, too! There are many parallels, but this series absolutely stands on its own.
Matthew Wolf embodied Lucas' angst really well and filled all the characters with so much life!
The Karma Map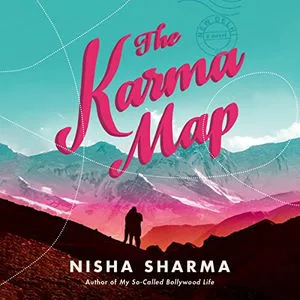 Nisha Sharma (Author), Soneela Nankani (Narrator), Fajer Al-Kaisi (Narrator)

Listen for free with Kindle Unlimited**
If you adore grumpy heroines as I do, you will love The Karma Map! Tara is a reformed queen bee. She was never shy to share her opinion – and it was rarely flattering to others.
After calling out her supposed friends for their bad behavior, she gets canceled, though. And she decides things have to change. She takes on the position of a junior guide for a temple tour in North India.
While this is very much a Romance novel, it's also a stunning trip through the country and provides a lot of food for thought.
I truly enjoyed listening to The Karma Map! And I love both narrators. You can never go wrong with a Soneela Nankani audiobook and I have recently listened to my first Fajer Al-Kaisi narration and always keep an eye out for his books now.
Something Wild and Wonderful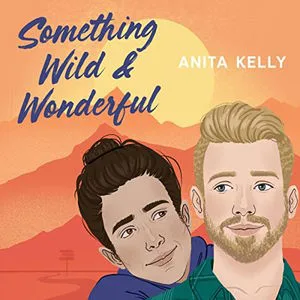 Anita Kelly (Author), Mark Sanderlin (Narrator)

Get the Audible book**
Or get it on Libro.fm**
This book was so fascinating! It felt like a long, meditative hike.
Alexei and Ben meet on the Pacific Crest Trail. Both have just set out on a months-long trip, planning to walk until they figure out their lives.
I enjoy camping and walking, but I'm not quite at the level of the main characters in this book. The descriptions of nature and hiking a trail for weeks were absolutely amazing! And I loved these two people so much!
Mark Sanderlin has a wonderful voice, and Something Wild and Wonderful is such a lovely, atmospheric book.
A Witch's Guide to Fake Dating a Demon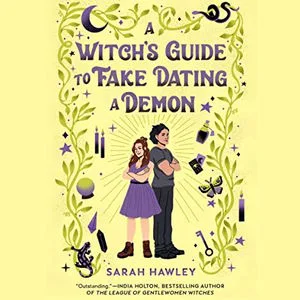 Sarah Hawley (Author), Helen Laser (Narrator)

Get the Audible book**
Or get it on Libro.fm**
This adorable paranormal Rom-Com was exactly what I needed after several serious books!
A Witch's Guide to Fake Dating a Demon is super fun and super sexy. I loved the heroine's special power!
Mariel was supposed to be the most powerful witch in her community. But then, she only manifested plant magic. And her family makes sure to share their disappointment with her on a regular basis.
To make matters worse, Mariel accidentally summons a demon instead of flour. And the demon says he can only leave once she has made a bargain for her soul…
Helen Laser perfectly brings Mariel and sexy Oz to life!
Looks Good on Paper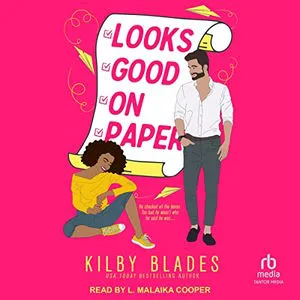 Kilby Blades (Author), L. Malaika Cooper (Narrator)

Get the Audible book in a deal**
Or listen on Scribd**
I listened to a Christmas Romance novella by Kilby Blades a year ago, which I enjoyed very much. And Looks Good on Paper is even better!
This book is a beautiful trip to Italy with a wonderful heroine who feels so relatable and is so damn likable. And so is Alessandro, really. Although he does suffer from rich people problems.
It also has one of my most favorite tropes: Meeting through letters and a case of mistaken identity!
An all-around thoroughly enjoyable audiobook with a fantastic narration by L. Malaika Cooper!
How to Win a Breakup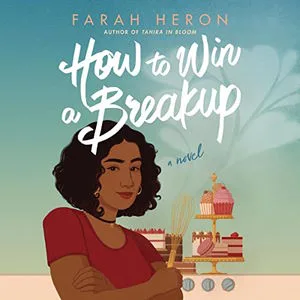 Farah Heron (Author), Soneela Nankani (Narrator)

Listen for free with Kindle Unlimited**
This book gave me a trope-gasm! First, we start with my favorite: Becoming friends online, not knowing each other in real life.
But then, Samaya runs into the guy from her online friend's photo during a school project. And apparently, she has been catfished! Because this guy is not the guy she gamed with.
However, David is super nice and very laid back. And he agrees to fake-date Samaya – my other favorite trope – so she can "win the breakup" from her ex-boyfriend, who is already dating Samaya's frenemy Hanna.
This Young Adult Romance is such immense fun with lots of twists and turns. It kept me guessing who the actual online friend was!
And of course, it's all wonderfully brought to life by Soneela Nankani.
Strictly Friends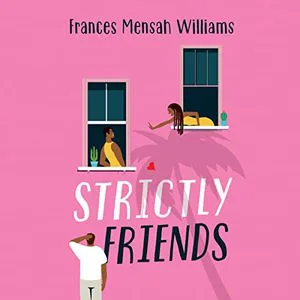 Frances Mensah Williams (Author), Ione Butler (Narrator)

Listen for free with Kindle Unlimited**
Strictly Friends is heaven for any Love Triangle fan!
First, we have Kenny, the father of Ruby's son. Four years earlier, he up and left, but Ruby needs to seek him out so her son Jake can get to know his father.
Then we have Griffin. He has been Ruby's best friend forever and has been a huge support for her and Jake. But he's a player who never has a serious relationship.
And then Ruby runs into Mac, an artist who is so attractive and charming and doesn't bring any of the baggage she has with Kenny and Griffin.
And all of this plays out on a beautiful Caribbean island!
This is such a wonderful, fun, emotional audiobook, and Ione Butler did a wonderful narration, bringing out all of Ruby's complicated thoughts and feelings.
Related article: The Best Love Triangle Romance Audiobooks
The Neighbor Favor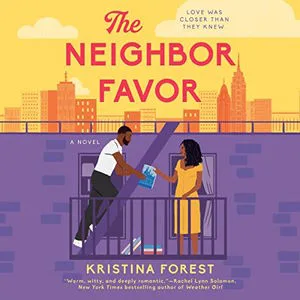 Kristina Forest (Author), Keylor Leigh (Narrator), Malik Rashad (Narrator)

Get the Audible book**
Or get it on Libro.fm**
The Neighbor Favor is the third book in this month's audiobook recommendations with my favorite trope: Getting to know each other through emails or letters!
Lily and her favorite authors have a wonderful email conversation. But then they lose touch. A while later, they become neighbors – neither knowing that they just met for real the person they fell in love with online!
Parts of the book are done in duet narration. Mails and messages are always read by that character's narrator. It's fantastic! Keylor Leigh and Malik Rashad turned this wonderful story into a truly outstanding audiobook!
And this is definitely a must-listen for fans of the Dear Aaron audiobook.
By the way, there are so many fantastic books mentioned in The Neighbor Favor, like This Is How You Lose The Timewar or The Fifth Season. Some are made up, too, but many are real and worth checking out!
Damsel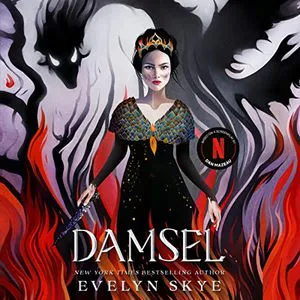 Evelyn Skye (Author), Imani Jade Powers (Narrator)

Get the Audible book**
Or get it on Libro.fm**
The last book on this month's list of new audiobooks is an interesting case.
As it stands, Damsel doesn't have the best reviews. But I enjoyed this audiobook so much and want to recommend it to you, regardless of what others say!
The story is based on an upcoming Netflix movie that was turned into a book by Evelyn Skye. And it absolutely scratched an itch for me!
We have a very empowered heroine, Elodie, who is willing to give everything for her impoverished country. So, she agrees to get married off to a prince. What she doesn't know is that she will be sacrificed to a dragon right after the wedding.
That's how Elodie finds herself fighting for her life in a dragon's lair!
While others seemed to have been less impressed with this story, I loved how this audiobook played like a movie in my head, and I adored the ending! It was a twist I did not see coming, and that felt immensely good and satisfying to me.
Imani Jade Powers is always a treat to listen to! Consider giving this one a chance!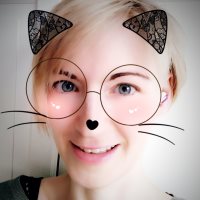 Eline Blackman (pronouns: she/they) fell in love with books as a child – with being read to and reading herself. 10 years ago, she bought her first Audible book. It was love at first listen! An average of 250 audiobooks per year has become the new normal and you will rarely see Eline without a wireless earbud. Romance and Fantasy are the go-to genres for this audiobook fan.
New Audiobooks
/