Goodbye 2020, we sure won't miss you. And welcome 2021, you beautiful shiny new thing! 😀 And since it's a new year, it's time for some shiny new audiobook recommendations for January 2021!
This month's audiobook recommendations are a nice mix of LGBT and straight Contemporary Romance. And at the end of the post is the January book review linky where my fellow book bloggers can share their recent book reviews and recommendations so we can all find more book to read in January!
Audiobook Recommendations for January 2021
Unscripted
J.R. Gray (Author), Joel Leslie (Narrator), John Solo (Narrator)
I have no words to describe how fantastic this M/M Romance this! The story, the narration… This is one of my favorite audiobooks of 2020 and you absolutely, absolutely need to listen to Unscripted by J.R. Gray!
The Marriage Code
Brooke Burroughs (Author), Soneela Nankani (Narrator), Vikas Adam (Narrator)
Get the Audible book in a deal**
The Marriage Code has very high ratings and as a Kindle Unlimited subscriber, you can pick up the audiobook for only $1.99. It's so rare to encounter Indian heroes and I always enjoy heroines who work in STEM. So I picked this up right away and am looking forward to listening!
Related article: This is one of my 10 favorite Office Romance books on Audible!
Separate Like Stars
Diana Kane (Author), Abby Craden (Narrator)
Get the Audible book in a deal**
Separate Like Stars is a very epic, intense second chance WlW Romance. I've started with this audiobook and it's so heartwrenching! Abby Craden is – as always – absolutely amazing!
How to Get Lucky
Lauren Blakely (Author), Joe Arden (Author, Narrator)
Ooh, this is an exciting one, everyone! Our beloved Joe Arden has teamed up with Lauren Blakely to not only narrate her newest Romance audiobook, but to write it together with her! I'm really looking forward to this. It's always special when author and narrator are the same person because they bring the audiobook perspective to the writing process, and bring the author's perspective on the story and characters to the narration.
Roommate
Sarina Bowen (Author), Heart Eyes Press LGBTQ (Author), Teddy Hamilton (Narrator), Stephen Dexter (Narrator)
Sarina Bowen's M/F and M/M Romances are always winners for me, and after recently having finished Topsecret – which was absolutely amazing (!!) – I'm very much looking forward to her next release!
Delivering Evil for Experts (Guild Codex: Demonized, Book 4)
Annette Marie (Author), Cris Dukehart (Narrator), Teddy Hamilton (Narrator)
I already had the immense pleasure of listening to an advance copy of the last part in the Guild Codex Demonized series and it was so fantastic! The Guild Codex world is amazing and I really enjoyed Robin's and Zylas' journey which is entirely different from Tori's. Even if you finished the Spellbound series, you won't see the twists in this one coming!
Bound Together
Nikki Ash (Author), K Webster (Author), Kelsey Navarro (Narrator), Tim Paige (Narrator)
It's finally here, the second part in the Torn and Bound duet! This was everything a Menage story could possibly be: So beautiful, so heartbreaking, so romantic. If you enjoy steamy Romance audiobooks, this is really a must-listen!
New Releases [Sponsored]
Audiobooks I've listened to in December 2020
I might have gone a bit nuts in the recent Audible sales, but it was so worth it! I picked up Topsecret by Sarina Bowen and Elle Kennedy, and two books by Christina C. Jones (The Truth and Equivalent Exchange) and they were absolutely fantastic!
I also enjoyed my first Tessa Dare audiobook, Beauty and the Blacksmith. It's an older book but has only now been released as audiobook. Such a cute story! The Audible Plus title Call Me Maybe was also adorable. A really cute Romance if you – like me – enjoy phone/letter/internet love stories where the protagonists only meet face to face for the first time after having fallen in love already.
The Friend Zone was a great listen for me as well. But I read some reviews later and understand that it's a very problematic book for some readers (specifically those who might be most interested in the story). It really is a shame that the author decided to go with the ending like this. So, I have mixed feelings about including this in my audiobook recommendations. Consider taking a look at reviews before getting it!
Horsemen's War was also a highlight, the epic finale to the Rebellion Chronicles (Hellequin)! You can now listen to all of it in Kindle Unlimited.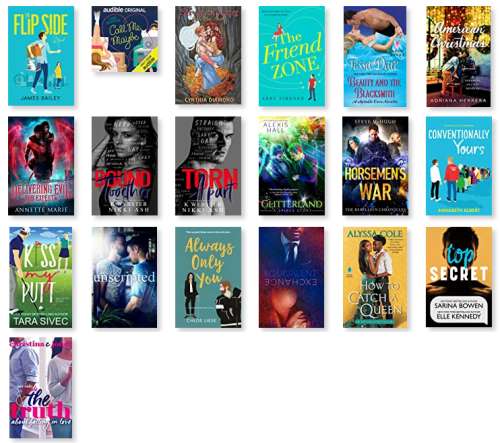 The January 2021 Book Review Linky
The monthly book review link-up is a place for book bloggers to share their recent reviews. Be they negative or positive, for print books, ebooks, or audiobooks, a list of mini-reviews for several books, or a discussion of one book, with spoilers or without, Romance, Horror, Non-Fiction, or anything in-between! If it's a book review, you can add your link to the tool below to get more visitors and shares.
If you're new to the linky and want to take part, take a look at the Introduction to the Monthly Link-Up first.
Please don't forget to add a backlink at the end of your blog post so more people will find the link-up. And you could give this post a share on Pinterest, Facebook, and/or Twitter. If you have a few extra minutes, pop by some of your fellow linker-uppers, and maybe even share or comment on their posts. Everyone loves engagement 🙂
Have fun!
Blogging, New Audiobooks
/