June is audiobook month and Pride month, yay!! It's my favorite month here on the blog and I want to share all the happy queer Romance audiobooks with you! So, you will find mostly those in my audiobook recommendations for June below. But there's something for almost every mood really.
**The marked links and book covers on this page are affiliate links. If you use them to purchase something, I earn a fee at no additional cost for you. Disclosure**
Chef's Kiss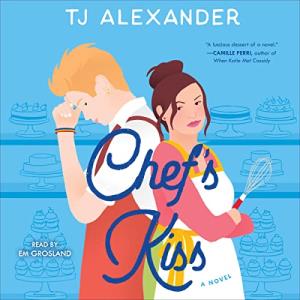 TJ Alexander (Author), Em Grosland (Narrator)
Get the Audible book**
Or listen on Scribd**
Chef's kiss is such a captivating slow-burn romance and a must-listen this Pride month! The book is entirely from Simone's point of view. And to be very honest, Simone is not exactly the most lovable of heroines initially. She is very high-strung, a bit self-centered, and all in all, the grumpy to Ray's sunshine. This is very much enemies to lovers from Simone's side, but at the same time, Simone wanted nothing else than to be close to Ray. And it was so romantic to see them make their way to one another! I absolutely adored Ray and it's so great that they get to be such a happy-go-lucky character. I haven't seen such a cheerful nonbinary love interest like Ray before. And the narration was wonderful. I love Em Grosland's voice!
Related article: My favorite Audible Alternatives in 2022
First Time for Everything
Henry Fry (Author), Will Watt (Narrator)
Get the Audible book**
Or get it on Libro.fm**
First Time for Everything is a Queer Fiction novel that manages perfectly to go through the entire range of emotions. At the beginning, I felt so sorry for Danny. Later on, I started to crush on Danny. And at times, I wanted to slap Danny, cause… sheesh! He is going through a lot in this book but then again, he goes through profound personal development, with his therapist and his best friend by his side. Will Watt did such a perfect narration of this, it completely drew me in. A fantastic book about being queer and trying to figure yourself out when everyone else has an opinion on who you should be.
A Lady for a Duke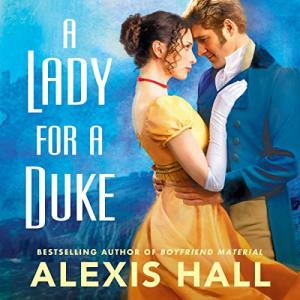 Alexis Hall (Author), Kay Eluvian (Narrator)
Get the Audible book**
Or get it on Libro.fm**
In the past, Viola was a soldier who everyone believed fell in Waterloo. She used this situation to transition and live as a woman. Her sister-in-law takes her on as a companion. But when her best friend, who Viola believed would be better off assuming her dead, continues to struggle badly, even two years later, she gives in and visits him. A Lady for a Duke is a sprawling, enthralling Historical Romance with a wonderful cast of characters and a very lovable hero and heroine. Kay Eluvian is an amazing narrator who truly understands how to bring the characters to life! A very enjoyable audiobook!
Related article: The Best LGBT Romance Books on Audible
Seducing the Sorcerer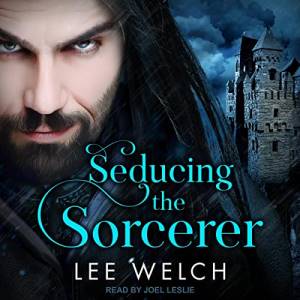 Lee Welch (Author), Joel Leslie (Narrator)
Get the Audible book in a deal**
Or listen on Scribd**
Seducing the Sorcerer is the new Fantasy Romance audiobook by Lee Welch. It's a weird and wonderful story about a down-on-his-luck groom who happens to get himself a magical horse. A magical flying horse! Made of sack! A magical flying horse made of sack that takes him straight to the country's magician in his dark tower!! Ooh, did I have fun with this book! The story is wonderful and absurd and unexpected and so raw, and I never saw that resolution coming but it made me so happy! (I feel like I'm maybe using too many exclamation points here, but… I don't know how else to express how this book made me feel!) It's also seriously steamy, I might even call it dirrrty! There's a lot of rough smexy times here (smack-sy times? haha) And it's narrated by Joel Leslie who brought Fenn and Morgrim to live so perfectly. H's one of my all-time favorite narrators and so absolutely amazing! Huge recommendation!
Nate Plus One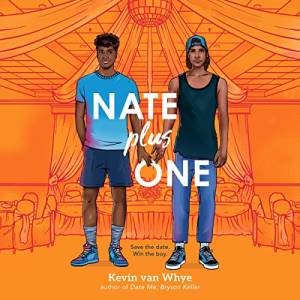 Kevin van Whye (Author), André Santana (Narrator)
Get the Audible book**
Or get it on Libro.fm**
I loved this Young Adult Romance! The story is mostly set in South Africa and the descriptions are so wonderful. I really felt like being a tourist there together with Nate and Jai. I liked their sweet love story and also Nate's growth and how he was figuring things out for himself. André Santana did a wonderful narration! His voice is certainly fitting for YA. And I'd love to hear him also narrate adult queer Romance because I want more like this!
The Lesbiana's Guide to Catholic School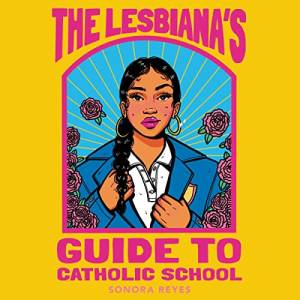 Sonora Reyes (Author), Karla Serrato (Narrator)
Get the Audible book**
Or listen on Scribd**
The Lesbiana's Guide to Catholic School is such a fantastic book! I enjoyed this one immensely. But also, as a queer parent, it completely broke my heart to think that a young girl would worry about (and prepare for!!) being kicked out by her mom if it ever came out that she's a lesbian. Nevertheless, I was captivated by the wonderful cast of characters, the overall hopeful tone of the book, and the way Karla Serrato brought Yamilet to life. I highly recommend this to anyone enjoying queer YA Fiction!
These Walls Can Talk 3: Rise of the Machine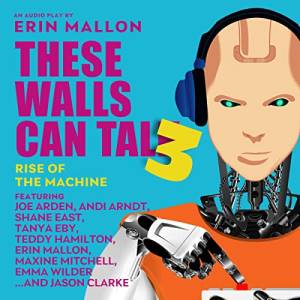 Erin Mallon (Author, Narrator), Joe Arden (Narrator), Andi Arndt (Narrator), and a full cast
I adored the first two These Walls Can Talk books, Erin Mallon's full cast audio plays set in the world of audiobook narrators. And the third book was everything I had hoped for and so much more! Funny, engaging, with many unexpected twists and turns, and, of course, an amazing cast of voice actors. A must-listen for any Romance audio fan!
Crimes of Passion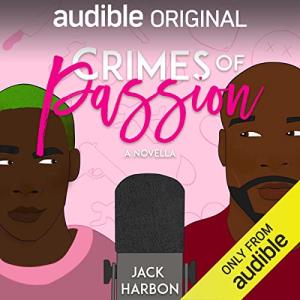 Jack Harbon (Author), Kevin Free (Narrator), Ron Butler (Narrator)
Listen for free with Audible Plus**
Crimes of Passion is a super fun audio short story in Audible Plus. It's an enemies to lovers Romance between two true crime podcasters who want to honor a shared fan with a collaboration. This book is brought to life by two of the best audiobook narrators, Kevin Free and Ron Butler. Kevin Free seriously blows my mind! I listened to him read the Murderbot series, then So This Is Ever After, and now Crimes of Passion, and I could not have told you that it's all the same voice actor. He has an incredible range!
Related article: The Best Free Audiobooks for Road Trips
You Made a Fool of Death with Your Beauty
Akwaeke Emezi (Author), Bahni Turpin (Narrator)
Get the Audible book**
Or listen on Scribd**
This book… This BOOK!! I had noticed this title and was intrigued. Then I saw an article in British Vogue where the authors says that they wanted to write a real Romance, not LitFic pretending to be Romance. The whole article was wonderful and I started the audiobook on Scribd right away. And after just 10 minutes, I was already completely in love with this book. Ooh, the bisexuality of it all! Feyi is a party-going introvert. She's an artist who keeps her pain – and her heart – behind walls. And I loved her even more for it! The story is about her way back into the dating pool and evolves into a forbidden older man / younger woman Romance. Bahni Turpin did the narration which is, as you would expect, absolutely amazing! I find the cover and title both breathtaking and they really give you an idea of how beautifully written this book is!
Incandescent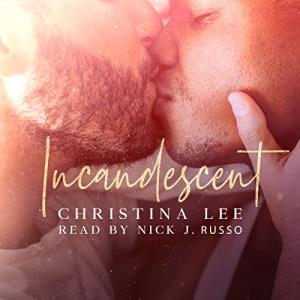 Christina Lee (Author), Nick J. Russo (Narrator)
Get the Audible book in a deal**
Let me again say, ooh, the bisexuality of it all! Haha. Incandescent was so wonderful! This is an M/M Romance between two men who meet in a grief group after losing their wives. It's such a sweet, warm story. I loved every second of it! Even though it deals with love after loss, it's not in that sense an angsty book. The two men are very much in touch with their feelings and very reflected on where they stand and what they are ready for. The audiobook is read by Nick J. Russo who really brought out all their emotions!
Set On You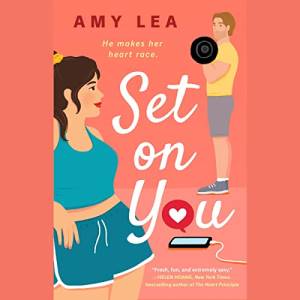 Amy Lea (Author), Carolyn Kang (Narrator)
Get the Audible book**
Or get it on Libro.fm**
Set On You is a really fun enemies to lovers Romance! Crystal meets Scott in the gym and hates him. He seems to be set on breaking every rule and she just can't stand it (totally feeling it, Crystal!) Nevertheless, the two can't stay away from each other but then Crystal hears that he is in a serious relationship! That sure ignites the animosity again. The audiobook is narrated by Carolyn Kang who is delightful to listen to! I hope she will narrate a lot more Romance audiobooks.
The Fae Keeper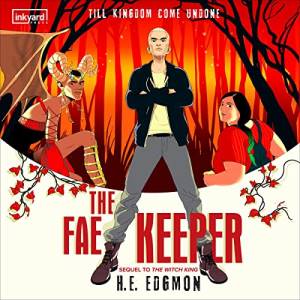 H.E. Edgmon (Author), Dani Martineck (Narrator)
Get the Audible book**
Or listen on Scribd**
The second part is finally here, I'm so excited! I absolutely adore this duology about a trans guy who had managed to dodge his fated mate for several years, before being pulled back into the fae world. It's such a profound, beautiful Fantasy story of second chances that moved me deeply, but was also really good fun and super entertaining! The Fae Keeper is an epic conclusion to The Witch King and I was completely blown away by this story! Dani Martineck is one of my favorite narrators and these two audiobooks, The Witch King and The Fae Keeper, are simply a must-listen!
From Bad to Cursed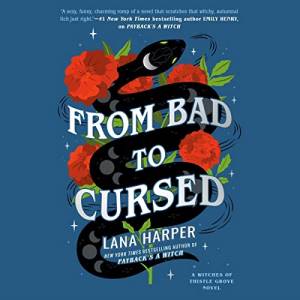 Lana Harper (Author), Meg Price (Narrator)
Get the Audible book**
Or get it on Libro.fm**
We're returning to Thistle Grove! While this book works as a stand-alone, I highly recommend starting with book 1, Payback's a Witch, as it was one of my favorite audiobooks of 2021. Isidora is a witch who works with death magic and summons demons for fun. She loves to lean into the dark, gothic image. But at the same time, she's also a kind and nice person. Her nemesis, Rowan, doesn't see that side of her though and the two have always been at odds. After a terrible curse is cast on another witch in Thistle Grove, Isidora and Rowan work together to solve the crime. I love the setting of this book and this is a very entertaining paranormal Enemies to Lovers Romance. Meg Price's narration was great!
Heroic Hearts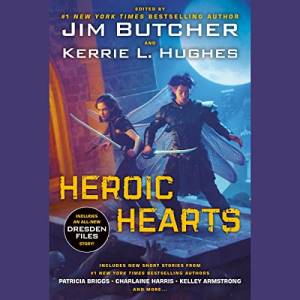 Jim Butcher (Author, Narrator), Kerrie Hughes (Author), James Marsters (Narrator), Alexandra Harris (Narrator), Cassandra Morris (Narrator), Maggi-Meg Reed (Narrator), Luke Daniels (Narrator), Travis Baldree (Narrator), Suzanne Elise Freeman (Narrator), Sean Patrick Hopkins (Narrator), Johanna Parker (Narrator), Daniel Henning (Narrator), Nancy Linari (Narrator), Holter Graham (Narrator)
Get the Audible book**
Or get it on Libro.fm**
Heroic Hearts is a super entertaining Urban Fantasy anthology, featuring stories from some of the most popular authors in the genre. While I enjoyed most of the stories, I completely fell in love with the one by Kerrie Hughes! It's about a troll who works in a train station (also, the trains are sentient) where he saves a mysterious boy and a woman. It was so completely my kind of thing, I NEED to read more like that NOW! Jim Butcher's story was funny, yet heartwrenching since it is set after the last Dresden book. And I also particularly enjoyed the one by Kelley Armstrong. If you want to read more UF or are already a big fan, this is a great book to get. It's a bit like a shopping list of authors you might wnt to check out 😉
Audiobooks I listened to in May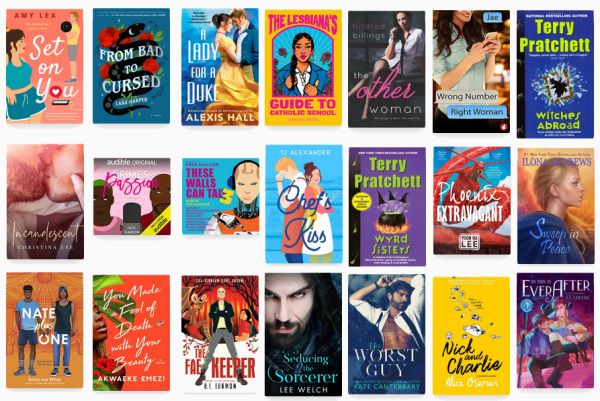 In May, I finished 21 audiobooks. And what a blast I had with these! There are a few in particular I also want to recommend to you, in addition to the newly released books above.
I found a Heartstopper novella on Scribd, Nick and Charlie by Alice Oseman**, which was delightful! I have never read the comics but I have watched the Netflix show 3 times already. It just makes me so happy. And it was nice to hear a story set a few years after the time the show covers and hear how their relationship continues to thrive!
Then I listened to my first Kate Canterbary book, The Worst Guy. That was a lot of fun and I'm looking forward to her upcoming books! (Which might or might not have to do with the fact that she tweeted she was struggling with certain types of Romance heroes and would henceforth only write bisexual guys. Well, count me in!)
So This Is Ever After by F.T. Lukens** completely blindsided me because I had not heard a peep about this book until someone asked for recommendations for books similar to Legends & Lattes. And I'm so glad I noticed this book now even if I'm late to the party! It was so entertaining and cool. It's an M/M Fantasy Romance with a bit of a nod at LitRPG. This group of adventures had beaten the evil king but now one of them is crowned as the new king and he doesn't know how to handle that at all! Also, he needs to get married right away or he will die.
And last but not least, I want to recommend Phoenix Extravagant by Yoon Ha Lee** to you. It's an Asian Fantasy with a nonbinary protagonist and it is so, so beautiful! It's standalone and there is a dragon!
I hope you will have fun with my audiobook month and Pride month recommendations 🙂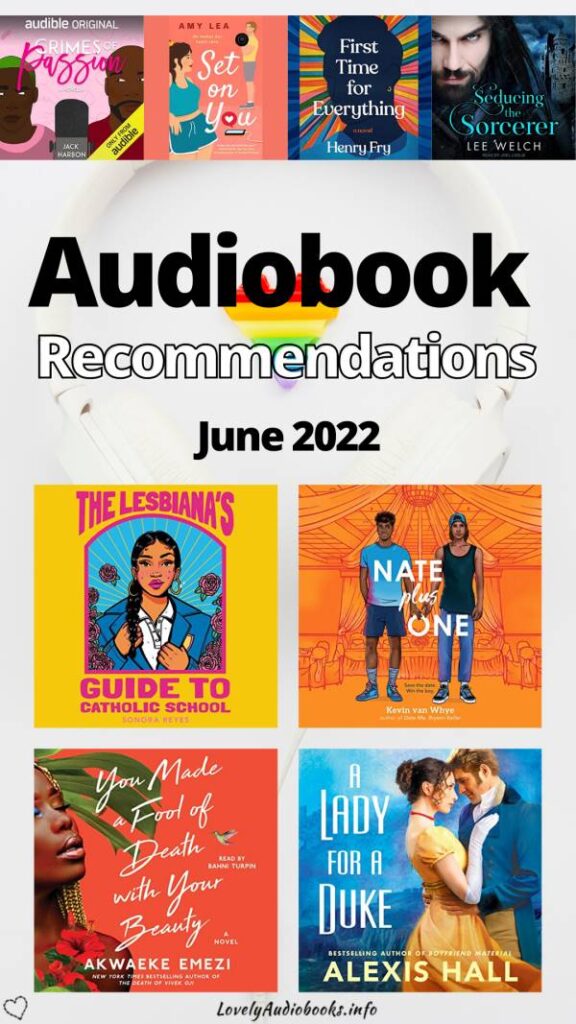 New Audiobooks
/