This month, I'm sending my audiobook recommendations into a very different world than just 4 weeks ago. It's scary and the temptation to wait and doom scroll Twitter is huge. But to some extent, for most of us, daily life has to continue. Kids and furballs demand to be fed. There's only so long you can get away with ignoring the laundry and the dishes. And as always, audiobooks are there for us. They provide escapism, a moment to dive into a different world, to think about something else, and help us focus on what's right in front of us.
So, let's get right to it…
**The marked links and book covers on this page are affiliate links. If you use them to purchase something, I earn a fee at no additional cost for you. Disclosure**
Black Love Matters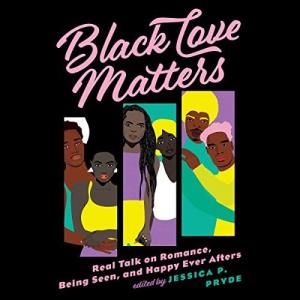 Jessica P. Pryde – editor (Author), Jessica P. Pryde (Narrator), Gina Daniels (Narrator), Julienne Irons (Narrator), Angel Pean (Narrator), André Santana (Narrator), Tashi Thomas (Narrator)
Get the Audible book**
Or get it on Libro.fm**
The anthology Black Love Matters gathers essays of some of Black Romance's most popular authors and I have scribbled down names of new-to-me authors in a frenzy, basically. Some essays were interesting and fascinating and taught me a lot. While others hit me right in the feels, especially the second one by Allie Parker. I came to Romance relatively late and vividly remember that moment when I first got that Romance book reading feeling. I can't describe it as well as Allie Parker, but yeah, it's a whole thing and as much as is possible for me as a white European person, I deeply felt what these authors described about how much love stories – and love stories in which you can see yourself – matter. A must-listen even if you don't usually go for nonfiction!
Related article: The Best Audible Alternatives to try in 2022!
Homicide and Halo-Halo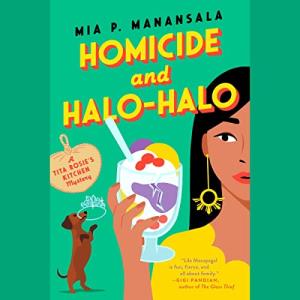 Mia P. Manansala (Author), Danice Cabanela (Narrator)
Get the Audible book**
Or get it on Libro.fm**
Homicide and Halo-Halo is the second book in the Tita Rosie's Kitchen cozy mystery series. I adored the first book and the second one was just as wonderful! The food is absolutely mouth-watering (even more so in this book than in the first, if you love anything sweet and dessert, as I do). There's some suspense, but not too much, it's all very cozy still. I was extremely hooked though and the book was over way too fast! Danice Cabanela was once again fantastic as the narrator of this story. All characters came to life so beautifully!
Sweatpants Season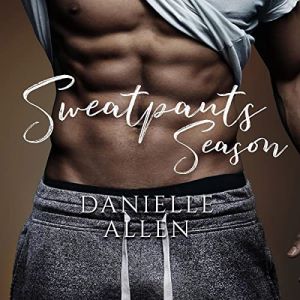 Danielle Allen (Author), Wesleigh Siobhan (Narrator)
Get the Audible book in a deal**
I love Wesleigh Siobhan and found this book through her (#NarratorMotivated). I have such a crush on both her female and male voices! They're just so good! Danielle Allen is a new-to-me author and this is her second audiobook. I was instantly hooked by the feminist heroine Akila, but was a bit worried whether Carlos could really redeem himself. Their chemistry was fantastic and kept me hooked! There was instant lust but it took the two a long time to act on it. I loved that the enemies to lovers made so much sense here. But yeah, Carlos was skirting the line for most of the book but I felt a sense of satisfaction when he finally understood what was happening. A great Romance audiobook!
Related article: How to get Audible books cheaper with Amazon Whispersync
Make A Scene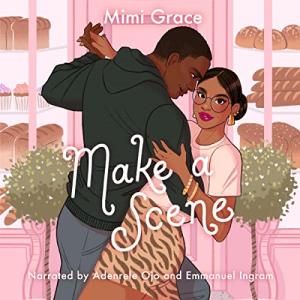 Mimi Grace (Author), Adenrele Ojo (Narrator), Emmanuel Ingram (Narrator)
Get the Audible book in a deal**
Get it on Libro.fm**
Or listen on Scribd**
Make A Scene is up there on my list of best book covers of the year! Look at it, so adorable!! I really, really love this cover. And the story did not let me down. Fake relationship is one of my favorite tropes and it felt so wonderful and natural here! Duncan wants to help Retta with this thing, but he is also fascinated by her. You can really feel how the attraction is there from the beginning, and it just keeps growing. I enjoyed this low-angst book so much and Adenrele Ojo and Emmanuel Ingram perfectly brought it to life!
I'm So (Not) Over You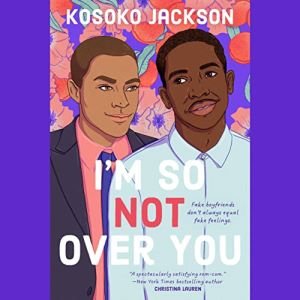 Kosoko Jackson (Author), Timothy Bell Reese (Narrator)
Get the Audible book**
Or get it on Libro.fm**
I'm So Not Over You is a super fun Romantic Comedy! It's second chance meets fake dating which is already a winner trope combo in my opinion. It's solely from the point of view of Kian who is an extremely likable protagonist. He is at the same time a person with many insecurities but also with a very sharp tongue and that gets him in trouble quite a few times. Hudson, Kian's ex, asks him to pretend to still be his boyfriend for a cousin's wedding – a huge affair since Hudson's family is very rich. Personally, I really liked that Kian and Hudson didn't break up over one big misunderstanding, as we see so often. Instead, we learn more about Hudson through Kian's eyes and it's explained between the lines why things happened the way they happened, how sometimes, you can be meant for each other but still not get things right the first time around. The narration by Timothy Bell Reese was absolutely fantastic and had a big part in me enjoying this audiobook so thoroughly!
Legends & Lattes
Travis Baldree (Author, Narrator)
Get the Audible book in a deal**
Legends & Lattes is a Cozy Fantasy (which is really what you imagine when you hear that genre term)! It's audiobook narrator Travis Baldree's debut book about an orc warrior who retires from fighting and opens her own coffee shop together with a succubus and a ratkin. Yep, this book is as adorable and escapist and cozy as it sounds! The narration for his own characters and story is absolutely wonderful and I loved loved loved every second of this book! So much so, I have already listened to it twice. Even though the stakes are low, this is a captivating, wonderful, enchanting story that will pull you into a fantastical world without all the grim and the world-saving and the everyone-is-taking-themselves-sooo-serious. An absolutely lovely audiobook I wholeheartedly recommend!
Delilah Green Doesn't Care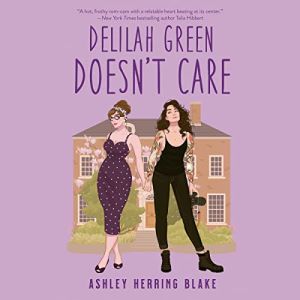 Ashley Herring Blake (Author), Kristen DiMercurio (Narrator)
Get the Audible book**
Or get it on Libro.fm**
I crushed hard on Delilah! Delilah Green has been through a lot and has built up a very badass, tough outer shell to hide her soft, mushy, artist soul center. Both her love story with Claire, the girl she had been pining for since they were kids, and the journey she takes with her step-sister are heart-wrenching! All characters in this story are so lovable and I enjoyed the build-up very much. In the first chapter from Delilah's point of view, we hear about her terrible step-sister and her awful friends. Just to jump to Claire's point of view, the step-sister's best friend! While not every dysfunctional family is only based on misunderstandings, it worked so well here and I loved to see an all-around happy ending for Delilah. Kristen DiMercurio was new to me and absolutely fantastic to listen to!
Dead Collections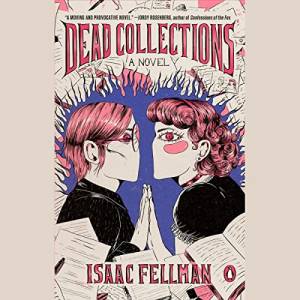 Isaac Fellman (Author), Dani Martineck (Narrator)
Get the Audible book**
Or get it on Libro.fm**
My brain is weird and for some reason, it insisted that Dead Collections could absolutely not be a novel but had to be some short story collection. Well, I have no idea what is wrong with my brain… No, I do actually, but anyway, Dead Collections by Isaac Fellman is, in fact, a wonderful, emotional, mesmerizing queer Romance novel! Sol is a trans man and has been a vampire for 5 years. Elsie is a widow who asks Sol to archive her late wife's work. The take on vampirism resonated very strongly with me and is a fascinating way to think about bodies, identity, illness, and generally how weird and difficult being a person and having a body can be. I loved Dani Martineck's narration! They have a great range of voices and are so pleasant to listen to.
Audiobooks I listened to in February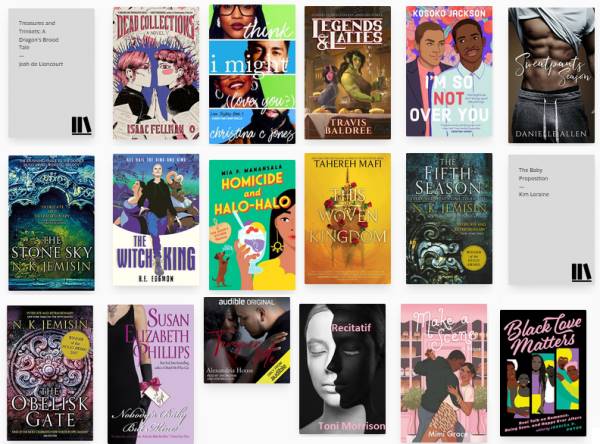 My most noteworthy backlist listen in February was definitely The Broken Earth trilogy by N.K. Jemisin. It was intense! The world-building is insanely good and I felt very deeply for the characters. I found the third book pretty difficult for me personally though since the dystopian setting felt more palpable than in the previous two books (I always think that I'd definitely be one of the people being left to die somewhere on the road, sigh). Robin Miles does the narration of all three books and is, as always, absolutely amazing!
On the other side of the spectrum of Fantasy is the very cute novella Treasures and Trinkets by Josh de Lioncourt which I also enjoyed very much! Reay Kaplan did the wonderful narration of this tale about a princess who befriends a servant girl. The two break out of their assigned roles, seek adventure, and find love.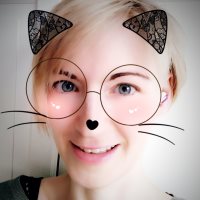 Eline Blackman (pronouns: she/they) fell in love with books as a child – with being read to and reading herself. 10 years ago, she bought her first Audible book. It was love at first listen! An average of 250 audiobooks per year has become the new normal and you will rarely see Eline without a wireless earbud. Romance and Fantasy are the go-to genres for this audiobook fan.
New Audiobooks
/