Are you in search of your next great audiobook listen? My audiobook recommendations for May are all "Audible credit worthy", and I'm sure you will find some of your favorite audiobooks of 2023 here!
We will travel into the past with truly delightful Historical Romance novels and have our hearts broken and mended in emotional Contemporary Romance books. And depending on your mood, you can lose yourself in excellent Literary Fiction or get a chuckle with a cute Romantic Comedy!
**The marked links and book covers on this page are affiliate links. If you use them to purchase something, I earn a fee at no additional cost for you. Disclosure**
Queen Bee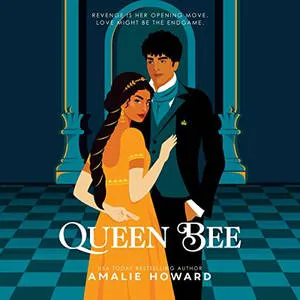 Amalie Howard (Author), Nikki Patel (Narrator)

Get the Audible book**
Or get it on Libro.fm**
Or get it on Audiobooks.com**
Amalie Howard's new Young Adult Historical Romance is so much fun! Lady Ela Delvi goes on a revenge spree after having been ruined by the words of a jealous friend.
After three years in a girls' boarding school, she got the chance to return to the Ton with a new look and a new name to get back at her former best friend.
I particularly adored the author's note at the end, in which she discusses the prevalence of queer people and People of Color in Regency-era England, as well as her research into many of the details of the story, e.g., early hair coloring.
The narration was so perfect! Nikki Patel's voice fits Ela so well, and she is such a pleasure to listen to.
Related article: How to find the Best Audiobook Service for you
Something Spectacular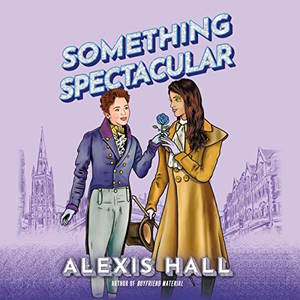 Alexis Hall (Author), Robyn Holdaway (Narrator)

Listen for free with Kindle Unlimited**
This book is so delightful! It is truly funny but also heart-warming, and I absolutely appreciate the great length Alexis Hall went to for the poetry meeting scene.
Peggy is a wonderful character, and Robyn Holdaway did a genius narration! They have a fantastic range of voices.
This book starts out as the story of an unrequited love. Peggy could never move on from her crush on her best friend, but Arabella could not reciprocate her feelings.
Peggy would do anything for her, though, and when Arabella asks Peggy to talk to a very attractive opera singer for her, Peggy instantly agrees. But when Peggy and Orfeo, the singer, instantly feel attraction, things get rather complicated, very interesting, and wonderfully spicy!
Something Spectacular also fabulously ties in with the couple from the first book in the series!
Related article: More Nonbinary Books on Audible
Yours Truly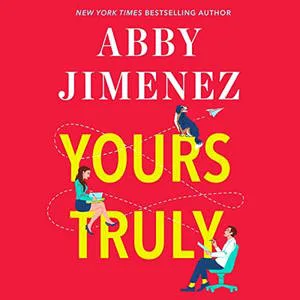 Abby Jimenez (Author), Kyla Garcia (Narrator), Zachary Webber (Narrator)

Get the Audible book**
Or get it on Libro.fm**
Or listen on Scribd**
I loved Abby Jimenez's newest book! Yours Truly is wonderful!
Jacob is this very squishy guy and the type of complex Romance hero I love (and would love to see more of). His relationship with Bri is not straightforward. Bri agrees to fake date Jacob, but Jacob also offered to be the kidney donor Bri's brother so desperately needs.
This is such an emotional and tender book, and it's wonderfully narrated by Jacob Morgan and Kyla Garcia. They both perfectly embody these characters!
Just thinking back on this book makes me feel all gooey on the inside <3
The Fiancée Farce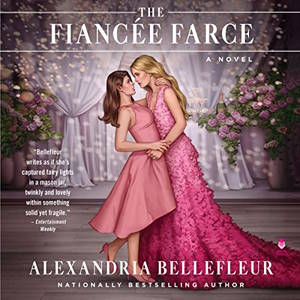 Alexandria Bellefleur (Author), Lauren Sweet (Narrator)

Get the Audible book**
Or get it on Libro.fm**
Or listen on Scribd**
Yes, fake dating is one of my favorite Romance novel themes! So, of course, I was all over Alexandria Bellefleur's newest book as soon as it was published.
And it's fantastic! It's probably my favorite by this author so far.
Tansy and Gemma are both interesting characters who match so extremely well. Where Tansy is shy, Gemma isn't scared to be pushy. Where Gemma is insecure, Tansy is her rock.
And it doesn't hurt at all that we're saving an indie bookstore and a publishing company with morals in this novel!
Related article: The Best Fake Relationship Romance Books on Audible
If Only You
Chloe Liese (Author), CJ Bloom (Narrator), Nelson Hobbs (Narrator)

Get the Audible book**
Or get it on Libro.fm**
Or listen on Scribd**
The last Bergman sibling is finding her happily ever after! Ziggy is a truly wonderful character who really gets to shine in her own book. And she makes such a fascinating match with her brother Ren's best friend.
Ren insists that Sebastian is a good guy, but everyone sees him as a bad boy. And that reputation is exactly what Ziggy wants to get rid of her own good-girl image.
CJ Bloom and Nelson Hobbs did a wonderful job with this entire series and brought Ziggy and Sebastian to life perfectly! I simply love this series and can't recommend it enough!
Jasmine and Jake Rock the Boat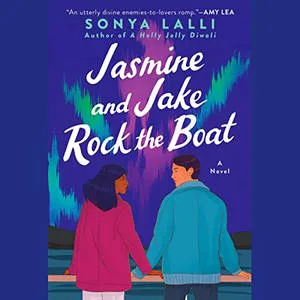 Sonya Lalli (Author), Mayuri Bhandari (Narrator)

Get the Audible book**
Or get it on Libro.fm**
Or get it on Audiobooks.com**
Jasmine and Jake Rock the Boat is a captivating book in that grey area between Romance and Women's Fiction.
Jasmine just left her long-term partner. But things were extremely messy, and she has a lot of soul-searching to do. Out of pure spite, she ends up on a cruise with her estranged parents and a whole bunch of other seniors… and Jake, the nephew of an Indian auntie who always made life extremely difficult for Jasmine.
There are a lot of complex emotions at play here, but I instantly liked Jasmine, and the book managed to really make me feel her struggles.
The narrator was new to me but was so fantastic to listen to!
Sea Change
Gina Chung (Author), Jeena Yi (Narrator)

Get the Audible book**
Or get it on Libro.fm**
Or get it on Audiobooks.com**
While I expected a bit more adventure and sea creature shenanigans based on the blurb, I still enjoyed Sea Change very much.
We get to know Ro, who's navigating a breakup that rattled her badly, as well as the difficult relationships with her best friend and her mother, and the grief over her lost father.
This book was much more lit fic than what I usually go for (I just couldn't pass up the octopus on the cover). But I certainly have no regrets! The writing and narration were so compelling. Jeena Yi is excellent! I also enjoyed the setting in the near future with people flying to Mars for the first time.
Love & Other Scams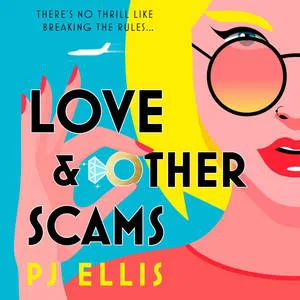 Philip Ellis (Author), Sarah Lambie (Narrator)

Get the Audible book**
Or get it on Libro.fm**
Or listen on Scribd**
If you enjoy a good heist story, you'll love Love & Other Scams as much as I did! This is fun and wild and fast-paced, and I felt way too much satisfaction about a crime, haha.
Cat has made a habit of improving her miserable financial situation by taking a wallet from someone's pocket whenever the opportunity arises.
But then she meets Jake, and with his incredible sleight of hand skills, she can't help but wonder if, with his help, she could steal the immensely valuable engagement ring from the finger of her frenemy.
This audiobook is so entertaining! There is a bit of a rights issue, though (at least, I would consider it an issue).
There are two different audio versions of this book. I have listened to the UK one narrated by Sarah Lambie, which is available on Scribd and LibroFM. She did an excellent narration!
On Audible, you will likely find the US version read by Jessica Elisa Boyd. If you can only access this one, please make sure you listen to a sample first.
The Secret Service of Tea and Treason
India Holton (Author), Elizabeth Knowelden (Narrator)

Get the Audible book**
Or get it on Libro.fm**
Or get it on Audiobooks.com**
India Holton's Dangerous Damsels are so wildly entertaining! In the third part of this series of stand-alone books, two agents are sent into the middle of a gathering of pirates to prevent the assassination of the Queen.
This is such a fun and unique adventure full of extremely colorful characters (including the two couples from the first two books), and I laughed out loud so many times. I adore this ridiculous world with its flying houses!
Elizabeth Knowelden excels at the posh British accents, and the book ran like a movie in my head. How I wish this would be adapted on screen! I'm sure it would be a blast.
Filthy Bromance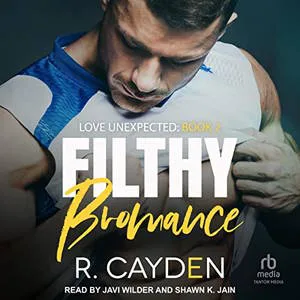 R. Cayden (Author), Javi Wilder (Narrator), Shawn K. Jain (Narrator)

Get the Audible book in a deal**
Or get it on Libro.fm**
Or listen on Scribd**
My last audiobook recommendation for May is this M/M Romance gem! If you enjoy books about later-in-life coming outs and friends to lovers, this one is for you since both guys figure out their sexuality together.
This love story absolutely made me melt! Reggie and Everett build such a tender, honest friendship and develop these sweet feelings for one another. It felt so natural how one thing led to another in this book.
The narration by Javi Wilder and Shawn K. Jain perfectly brings both guys and all their complicated emotions to life! In addition, of course, to lots of steam and spice and all things nice 😉
New Audiobooks
/