Welcome back to my monthly audiobook recommendations post! If you're looking for something new to listen to, I hope you'll find something here that strikes your fancy. This month's selection ranges from Science Fiction to Christmas Romance, with a bit of Fantasy thrown into the mix as well. Happy listening!
**The marked links and book covers on this page are affiliate links. If you use them to purchase something, I earn a fee at no additional cost for you. Disclosure**
Station Eternity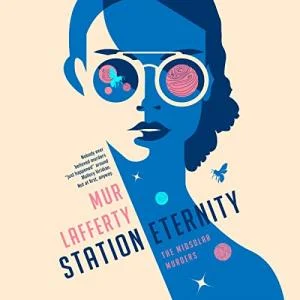 Mur Lafferty (Author), Sarah Mollo-Christensen (Narrator)
Get the Audible book**
Or get it on Libro.fm**
This murder mystery in outer space completely blew me away! The set-up of Station Eternity already sounded super fun: Mallory is basically the unwilling protagonist of a cozy mystery series. Wherever she goes, dead bodies appear. And while she tried to make this unfortunate fact a career, it didn't quite work out. Suspicion followed her wherever she went.
After 18 cases, she just couldn't bear the guilt anymore of having her personal curse cause death and grief to the people around her. So, she used the opportunity to flee to an alien space station as the first human on board. And while that does put a stop to the murders for a little while, she soon finds out that a spaceship with humans is on the way to the station. And all hell breaks loose!
Sarah Mollo-Christensen has a beautiful voice and brought this epic, captivating, thrilling, fun yet reflective Sci-Fi story to life!
Related article: These are the Best Audiobook Apps!
The Holiday Trap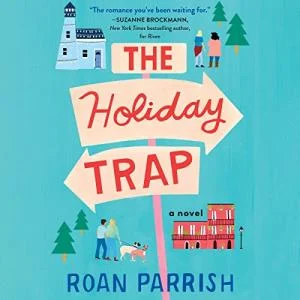 Roan Parrish (Author), Natalie Duke (Narrator), Pete Cross (Narrator), Hillary Huber (Narrator)
Get the Audible book**
Or listen on Scribd**
 I loved The Holiday Trap so, so much! I enjoy the "swapping lives" trope in general. And this audiobook production is particularly well done with 3 different voices, sometimes taking turns for text message exchanges.
Truman and Ash's storyline was heartachingly sweet. And it was great to have this contrast to Greta and Claris' storyline which I found so fun, but which also made me contemplate the way we communicate – and how easily unfortunate dynamics develop.
I loved how Greta was growing and finding out things about herself throughout the book. And Claris is so dreamy! It was wonderful to get to know and come to understand her through Greta's eyes. An absolutely wonderful queer romance that's not only great for the holidays!
Prince of Flowers
Nazri Noor (Author), Greg Boudreaux (Narrator)
Get the Audible book in a deal**
You didn't think I'd see a book cover like this one and not immediately buy it, did you? Not to mention that Greg Boudreaux narrates it and he has become one of my favorite M/M narrators. The storyline of Prince of Flowers could more than keep up with the fantastic narration and the stunning cover.
Locke is a perpetual student at a magical academy. But one day, he accidentally binds a powerful fae prince to himself! This is a rather uncomfortable situation both for him, because he doesn't think he can really control this powerful being, nor for Sylvan, who all of a sudden finds himself forced to be in the human world.
Related article: How to get Audible books cheaper
Just Like Magic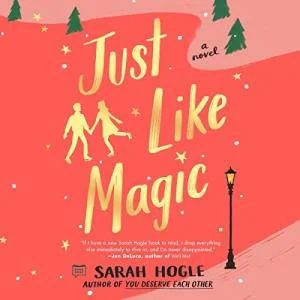 Sarah Hogle (Author), Tavia Gilbert (Narrator)
Get the Audible book**
Or get it on Libro.fm**
Oh my, Just Like Magic by Sarah Hogle is wild! It's so absurd but in a cute and very entertaining way. I loved the heroine, Bettie, who starts out as… well… quite an unlikable person. She is a cancelled, then forgotten Social Media influencer. Then she accidentally conjures a holiday spirit on Christmas, who appears in the body of a hot dude!
"Hall" tells Bettie that he will fulfill all her wishes until she feels the Christmas cheer. And Bettie is out to take revenge on anyone who has ever wronged her!
I found this book so fun! It's definitely different from other Christmas Romance books you might have read. And in all its ridiculousness, it manages to be so wholesome and sweet and romantic. So enjoyable and wonderfully narrated by Tavia Gilbert!
Mistakes Were Made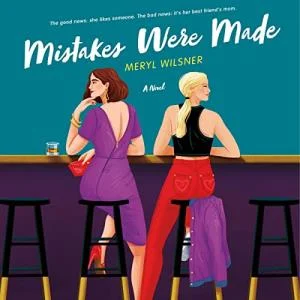 Meryl Wilsner (Author), Quinn Riley (Narrator), Stephanie Németh-Parker (Narrator)
Get the Audible book**
Or listen on Scribd**
Mistakes Were Made by Meryl Wilsner has been one of my most anticipated books of 2022 and, oh my, could it keep up with my expectation! After a One Night Stand, Erin finds out that the woman she slept with is actually one of her daughter's best friends.
Erin and Cassie want to keep it a secret and leave their little thing in the past. But they keep crossing paths and can't keep their hands off one another.
This book is SO HOT! And I loved that it wasn't as extremely angsty as you might expect with this premise. There is definitely some drama and some worrying. But it isn't over the top. It's such a beautiful love story, perfectly balanced, very emotional, and so… inevitable! The narration by Quinn Riley and Stephanie Németh-Parker let these women come alive!
The Stand-Up Groomsman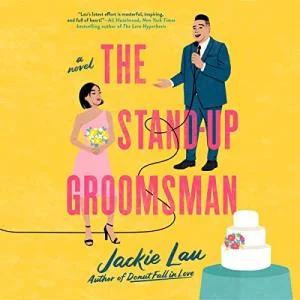 Jackie Lau (Author), James Sie (Narrator), Eunice Wong (Narrator)
Get the Audible book**
Or get it on Libro.fm**
I love Jackie Lau's writing so much! And while I'm partial to her self-published books, I also really loved The Stand-Up Groomsman.
This is such an enjoyable story with a heroine who finds it difficult to trust others and be emotional, and a hero who doesn't look like the typical Romance hero. It is so utterly charming, funny, lovable, and sexy!
The narration by James Sie and Eunice Wong is absolute perfection and it's so much fun to listen to them bring these two people to life. If you are looking for a great Romantic Comedy, pick up The Stand-Up Groomsman!
A Cosmic Kind of Love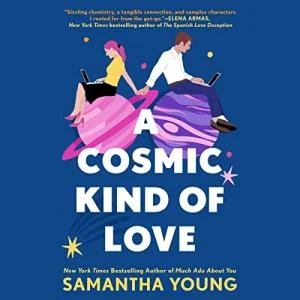 Samantha Young (Author), Andi Arndt (Narrator), Noah B. Perez (Narrator)
Get the Audible book**
Or get it on Libro.fm**
I cannot walk past a Romance that starts with emails. And I'm so glad I picked up A Cosmic Kind of Love!
Hallie accidentally gets hold of the private videos that an astronaut sent his ex-girlfriend from space. She can't stop watching and then decides to come clean in an email to him. Christopher has been back on Earth for a while but he is in a bad place and doesn't care for such weird fan mail. But then Hallie keeps emailing him, and he keeps reading.
This story was so sweet and beautiful. But also, please inject Noah B. Perez straight into my ear! Well, that sounds weird and creepy. And I did have this amazing voice in my ear for many hours. But it was SUCH A PLEASURE and I want MORE! I will for sure keep an eye out for more of his narrations.
A Thief in the Night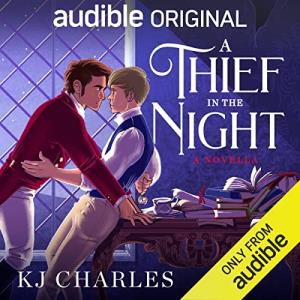 KJ Charles (Author), James Joseph (Narrator), Ryan Laughton (Narrator)
Listen for free with Audible Plus**
A Thief in the Night is the glorious new Audible Original by KJ Charles! It's a Historical Romance about a career thief and an Earl.
The two had a tryst which ended with the former stealing the latter's pocket watch. A little while later, the two meet again when Toby applies for employment at the Earl's estate.
This is such a fun story narrated so perfectly by James Joseph who I absolutely adore and Ryan Laughton who was new to me and did a great job!
Related article: Audible Plus vs Premium Plus
Season of Love
Helena Greer (Author), Barrie Kreinik (Narrator), Emily Lawrence (Narrator)
Get the Audible book**
Or get it on Libro.fm**
A queer, Jewish, Hallmark-y Christmas Romance? I bought this audiobook so fast, SO FAST!!
After the death of her eccentric aunt, the Jewish owner of a giant Christmas tree farm, Miriam is forced to face her family and her past that she had left behind many years ago. Back in the house that holds so many memories, Miriam meets Noelle, the very butch, very grumpy manager of the farm.
I adored this book and the wonderful narration by Emily Lawrence and Barrie Kreinik who brought these two very different women to life and filled their special love story with so much emotion!
Paris Daillencourt is About to Crumble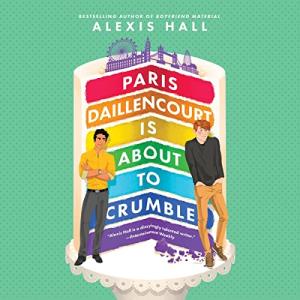 Alexis Hall (Author), Ewan Goddard (Narrator)
Get the Audible book**
Or get it on Libro.fm**
Paris Daillencourt is About to Crumble scratched my "I want something like Boyfriend Material" itch! I loved how Alexis Hall's sense of humor takes centerstage here and, yes, I have a weakness for an absolute trainwreck of a hero, like Paris.
Paris is ridiculously funny but also immensely tragic. But that's something that resonates very deeply with me, how he keeps his sense of humor while having to deal with a pretty serious health issue, in this case, debilitating anxiety.
This book and the amazing narration by Ewan Goddard are like a really good cake: filling and satisfying and just the right amount of sweet!
On the Hustle
Adriana Herrera (Author), Lola James (Narrator), Sean Crisden (Narrator)
Get the Audible book**
Or listen on Scribd**
I couldn't wait for On The Hustle! I love Adriana Herrera books and this one was particularly amazing. It's the second book in the Dating in Dallas series, following Alba, the best friend of Julia from Here to Stay.
As the title implies, Alba hustles. She works three jobs while building her own brand of bookish interior design. I found her so admirable yet also so very much in need of someone who takes some of the burdens from her shoulders. Theo, however, had to do some work to convince me of being good enough for Alba! (He did, though, haha.)
This is such a deeply romantic, wonderful book and I loved, loved, loved the narration by Lola James and Sean Crisden!
A Very Merry Bromance
Lyssa Kay Adams (Author), Andrew Eiden (Narrator)
Get the Audible book**
Or get it on Libro.fm**
Book 5 in the Bromance series might actually be my favorite one! A Very Merry Bromance is, as you might expect, a Christmas Romance and it is so utterly charming and fun.
Of course, we also have the meta level here, this time with a novel inside the novel that is your typical Hallmark trope with a Christmas-hating heroine having to come back to her hometown and meeting a gruff and upstanding guy.
In the actual novel, we also have a Christmas-hating heroine and a hero who means well but doesn't always do well. Andrew Eiden did an absolutely captivating, perfect narration as we have come to expect, and I loved every second of this book! I actually had a bit of a book hangover afterward because it was absolute perfection – and not only for the holidays!
Audiobooks I listened to in October
Things have settled down quite a bit over the last month and I feel like I'm on top of my audiobook game again, haha! (In case you don't know, we bought a fixer-upper this summer and moved in at the end of September.)
I finished 28 audiobooks in October, a bunch of them were quite short, and many of them kept me delightfully entertained while I filled in the walls of our living room. Funny thing that, but when you take out two walls, apparently, you have a whole lot of wall repair work to do! I can't wait for our living room to be done 🙂 It's slowly starting to look more like a room than a construction site and it's all very exciting!
Now, in October, I finally bought I Wish You All the Best by Mason Deaver. I've wanted to listen to that book for so long and it was outstanding! It's a very emotional Young Adult novel about a kid, Ben, who comes out to their parents as nonbinary.
Ben's parents kick them out and they move in with their estranged older sister who had left the family home a couple of years earlier. It's such a tender, raw story about figuring things out, picking up the pieces, and finding love through family, friends and romantically.
I also listened to the latest Steve McHugh book. I'm such a fan of the Hellequin world and this new series starts out very promising indeed!
In October, I also really felt like mixing things up genre-wise so I picked up some Thrillers as well.
The Method is a very new Audible Plus book narrated by Zachary Quinto. It's written by James Patterson and, well, I'm not much of a fan of him tbh. But the audiobook was still fun, thanks to Zachary Quinto's wonderful narration and for the simple fun of seeing/hearing him as a serial killer again. (I loved Heroes!)
Shutter by Ramona Emerson was breathtakingly good! It's kind of a Mystery Horror Thriller and there were some descriptions that I didn't pay close attention to because I didn't want those gruesome images in my head. I'm such a wimp but I'm so glad I gave this book a try!
Rita is Navajo and works as a forensic photographer. She can see the ghosts of the dead people at the crime scenes she covers. And they know that she can see them!
But I didn't only listen to dark stuff! I also picked up a Meghan Quinn book, The Change Up. Ooh, this was so much fun! I loved the narration, I loved how the friends to lovers trope was handled here, and I loved the sexy times!
November to me tends to feel like a bit of an in-between month. So, if you can't quite let go of the Halloween mood yet, check out my Monster Romance audiobook list. And if you are ready to get into the festive spirit, pop by my favorite Christmas Romance audiobooks 🙂
New Audiobooks
/