My audiobook recommendations for October include many different flavors of Contemporary Romance, and some great Paranormal Romance and Urban Fantasy books that are perfect to get in the mood for Halloween!
In my parts of the world, September always feels like "Fall light". Leaves are starting to change their color, it doesn't quite feel like Summer anymore, but the weather is still mostly nice and jackets are optional. Good times! October, however… Well, let me put it like this, I hate cold, dark, rainy weather. So, me and October, we aren't the best of friends, haha.
But it is a good time to cuddle up with books, I grant you that, and I have listened to some great ones lately that, no matter if you love or hate Fall, will make October an awesomely bookish month!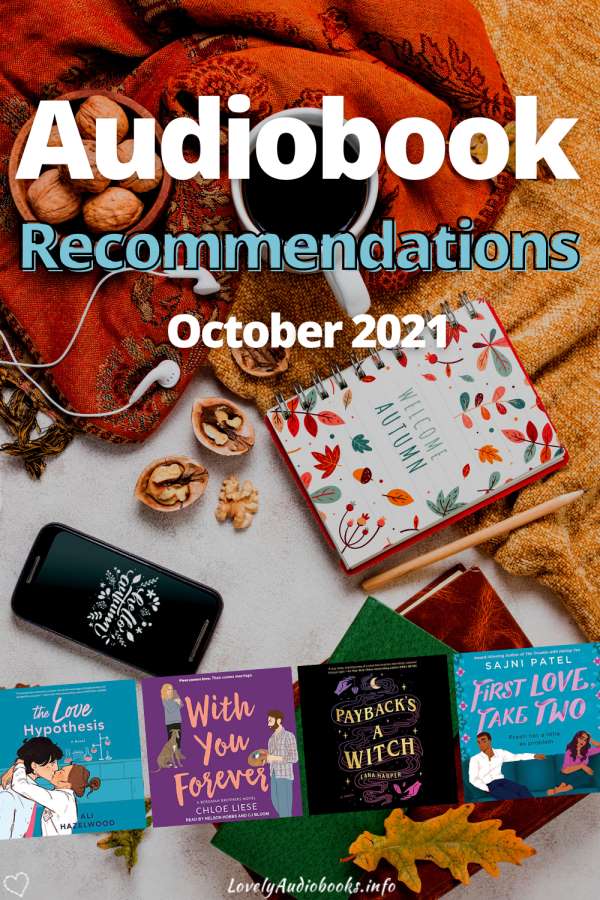 **The marked links and book covers on this page are affiliate links. If you use them to purchase something, I earn a fee at no additional cost for you. Disclosure**
The One and Only Crystal Druid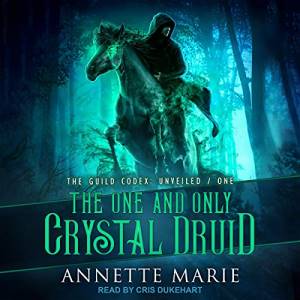 Annette Marie (Author), Cris Dukehart (Narrator)
Get the Audible book in a deal** (Release date Oct. 12)
or Get it on LibroFM** (The first audiobook is free!)
I can't get enough of Annette Marie's Guild Codex world! It is so amazingly done and one of my absolutely favorite Urban Fantasies! The One and Only Crystal Druid is the very aptly named first book in a new series focussing on, as you might have guessed, the one and only Crystal Druid. This book works as an introduction to the Guild Codex world (you can still catch up later once you are hooked). And you absolutely don't want to miss this crazy Chaotic Neutral energy! The only reason Zak and Saber don't make a truly frightening pair is that neither plays well with others. These two are such unique characters and Cris Dukeheart is always a pleasure to listen to!
Related article: Why LibroFM is my favorite Audible alternative
With You Forever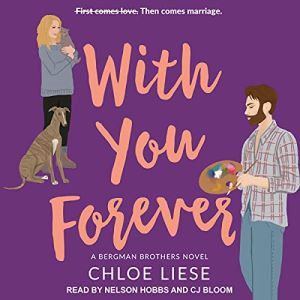 Chloe Liese (Author), CJ Bloom (Narrator), Nelson Hobbs (Narrator)
Get the Audible book in a deal**
or Get it on LibroFM**
I adore Chloe Liese's Bergman Brothers series so much! And With You Forever did not disappoint. Chloe Liese always centers characters in her stories who don't usually get a lot of representation in Romance and Rooney is a great example of that. Rooney has a form of Inflamed Bowel Syndrome and is just going through a flare-up. The book is very real about her symptoms and everything that comes along with them. And it makes her love story with Axel all the more beautiful! I loved this book and CJ Bloom and Nelson Hobbs brought it to life so well.
Never Say Never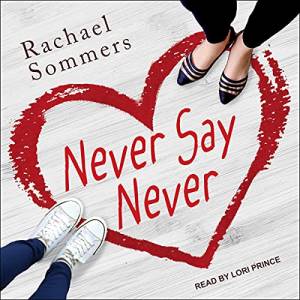 Rachael Sommers (Author), Lori Prince (Narrator)
Get the Audible book**
or Get it on LibroFM**

Never Say Never is a steamy age-gap Romance between a hard-working single mom and the young woman she hires as a nanny to look after her son. This book has great bisexual representation and I loved both women in this story so very much. It is utterly charming and emotional! Lori Prince did a wonderful narration. I'm highly recommending this audiobook both for fellow Bi/Lesbian Romance fans and for anyone who is curious about trying out an F/F for the first time!
Related article: Check out my favorite Bisexual WlW and Lesbian Romance Audiobooks
The Love Hypothesis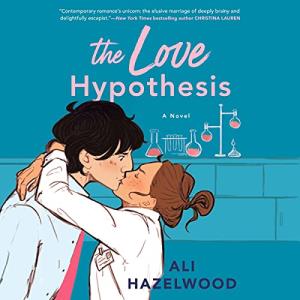 Ali Hazelwood (Author), Callie Dalton (Narrator)
Get the Audible book**
or Get it on LibroFM**
The Love Hypothesis by Ali Hazelwood is probably the most hyped Romance book at the moment. My first impulse with books like that is to stay away. However, I had an early copy and listened to it before the hype, so I went in without any special expectations. And I honestly loved it! I'm sure not everyone will love how Ali Hazelwood handled certain sensitive topics. But the characters drew me in completely. They are so cute and romantic together and the fake relationship trope was so much fun! The narration was wonderful, too. The author has official content notes on her website you might want to check out if you have triggers.
Related article: The Best Romance Audiobooks of 2021
A Lot Like Adios
Alexis Daria (Author), Seraphine Valentine (Narrator)
Get the Audible book**
or Get it on LibroFM**
Alexis Daria's stories are just as beautiful as her book covers! And even though I found Gabe a bit exasperating, A Lot Like Adios was a wonderful book that I enjoyed very much and couldn't turn off. Michelle is such a fantastic, kickass heroine and I was absolutely rooting for her. And hey, if it's Gabe she wants, who am I to judge?! Seraphine Valentine was great as always!
Payback's a Witch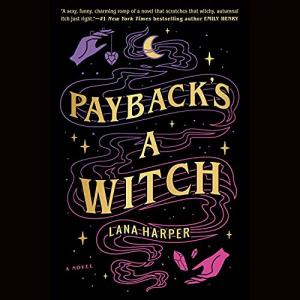 Lana Harper (Author), Jeremy Carlisle Parker (Narrator)
Get the Audible book** (Release date Oct. 5)
or Get it on LibroFM**
I adored this Paranormal Romance / Urban Fantasy so very much! Payback's a Witch by Lana Harper was one of my absolute highlights lately! The storyline surrounding a magical tournament was very gripping. And then there's Emmy's love interested, Talia, a super sexy, super powerful witch. The two are friggin adorable together! Jeremy Carlisle Parker was new to me but the narration is great. I definitely consider this a must-listen audiobook in October! Payback's a Witch is also on my list of 13 weird and spooky Audiobooks for Halloween.
First Love, Take Two
Sajni Patel (Author), Soneela Nankani (Narrator)
Get the Audible book**
or Get it on LibroFM**
First Love, Take Two is the second part in The Trouble with Hating You series. I loved the first book and the second one was just as wonderful! Soneela Nankani is really one of my favorite narrators. This is a very emotional second chance Romance and the love story between Preeti and Daniel is so friggin romantic! It also tackles the topic of mental health, specifically anxiety and touch aversion, in a very good way. And we get to see some of the aftermath of what happened in the first book with Liya which I found great. Sajni Patel doesn't shy away from very difficult topics. And even though I'm sure not everyone agrees with how she handles them, her stories definitely work for me. I would wish for official content notes though since there are triggers aplenty in this book as well as in the first one in the series.
No Words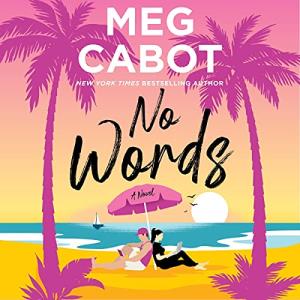 Meg Cabot (Author), Piper Goodeve (Narrator)
Get the Audible book**
or Get it on LibroFM**
No Words was my first Meg Cabot book and I loved it! This is a wonderful Romantic Comedy. It's emotional, it made me laugh out loud, and it made me swoon. I took some time to warm up to Will because, yes, initially, the Nicholas Sparks vibes were pretty strong. But I just went along with Jo and her adventures in the Florida Keys. This is such a nice escape from the increasingly bad Fall weather in my parts of the world! And Piper Goodeve was such a pleasure to listen to.
Check out the best Cozy Mystery audiobooks I have listened to here!
Which books do you recommend this month?
Please tell us in a comment below about the books and audiobooks you've enjoyed (or didn't) lately!
If you have a book blog you can also add a link to your book reviews directly in the InLinkz tool below.
This is not limited to audiobooks! You can share any type of book review, be it negative or positive, for print books, ebooks, or audiobooks, a list of mini-reviews for several books, or a discussion of one book, with spoilers or without, Romance, Horror, Non-Fiction, or anything in-between! If it's a book review, you can share your link with us through the tool so we can all visit your blog.
You can also check out this Introduction to the Monthly Link-Up.
New Audiobooks
/