February is here! I have a bunch of Audible book recommendations for you and I'm looking forward to book reviews from my fellow book bloggers!
We're in the middle of winter now and it's really friggin cold in these parts. But it's perfect for cuddling up with hot cocoa and a book. This month, I have a few new audiobooks for you that I've already listened to and loved, and I'll share with you my pre-orders for February, the Romance audiobooks I'm really looking forward to listening to soon!
At the end of this post, you'll find this month's book blogger link-up. If you are a reader interested in more book recommendations, check out my fellow book bloggers there. And if you write book reviews, please share them with us!
First Comes Like
written by Alisha Rai, narated by Saira Ayers and Neil Shah
I received an early listening copy of First Comes Like from LibroFM and I'm so, so excited for you to listen to it soon, too! The audiobook will be out on the 16th and it was my absolute highlight among the audiobooks I listened to in the last weeks. First Comes Like is such a warm and romantic story that has its entirely own theme. I'm in love with this book!
The Jake Ryan Complex
written by Bethany Crandell, narrated by Xe Sands
The Jake Ryan Complex is one of the newest free audiobooks in Kindle Unlimited and I had a great time with this one! Xe Sands is an absolutely amazing narrator and I loved how she fleshed out the character of Mac, a successful doctor who cares more for her career than for her love life but is constantly pressured by her very toxic mother to "find a man". It's a beautiful novel with a very heartwarming ending!
Honey Girl
written by Morgan Rogers, narrated by York Whitaker
Honey Girl is my February pre-order! It will be out on the 23rd and I'm so looking forward to this WlW Romance. It has a "hi, I'm your wife, we got married in Vegas, don't you remember?!"- theme.
Quarantine and Chill
written by Kenya Wright, narrated by Lacy Laurel and Vikas Adam
I don't know about you, but I feel like I'm ready for a pandemic Romance. So far, I've stayed away from this. But I currently have a voice crush on Vikas Adam because he was so amazing in The Marriage Code. So, I'm excited to see where this will take us!
After the Fairy Tale
written by Terence Gray, Erin Day, and Ian Thake, narrated by Ali Ahn, Teddy Hamilton, Dave Gillies, and a full cast
Audible Plus is starting to fill up with really great Romance audiobooks! After the Fairy Tale is an Audible Original, written for audiobook production. I had a fantastic time with the full cast narration and the story: Amanda is back in her small town after winning a Bachelor-type TV show – but the last episode hasn't aired yet so it's all hush-hush. And while her TV boyfriend is busy with promotion, she runs into a childhood crush. Such a cute Rom-Com!
Audiobooks I've listened to in January 2021
Roommate by Sarina Bowen, one of my most anticipated audiobooks of January, was definitely a highlight! The narration by Teddy Hamilton and Stephen Dexter was perfect and the story absolutely wonderful and heartwarming.
I also picked up Cutie and the Beast for narrator-motivated reasons. I was in a Joel Leslie kind of mood and if you're looking for a captivating M/M Paranormal Romance, this one's a great choice!
Ruby Lang's Playing House was a recommendation I stumbled over on GoodReads. I listened to the audiobook on Scribd and it was the perfect, light, fake-relationship novella I needed! I so recommend this one!
I listened to a few more novellas and short audiobooks that were all a lot of fun. They're all in Audible Plus: Brides Mates, a cute M/M Romance; A Tail as Old as Time, a fun story about two neighbors who are brought together by their pets; The Five Year Hitch, a podcast type of production about an on-and-off couple; and lastly, Lauren Blakely's very cute One of Those Flings for a bit of summer feeling.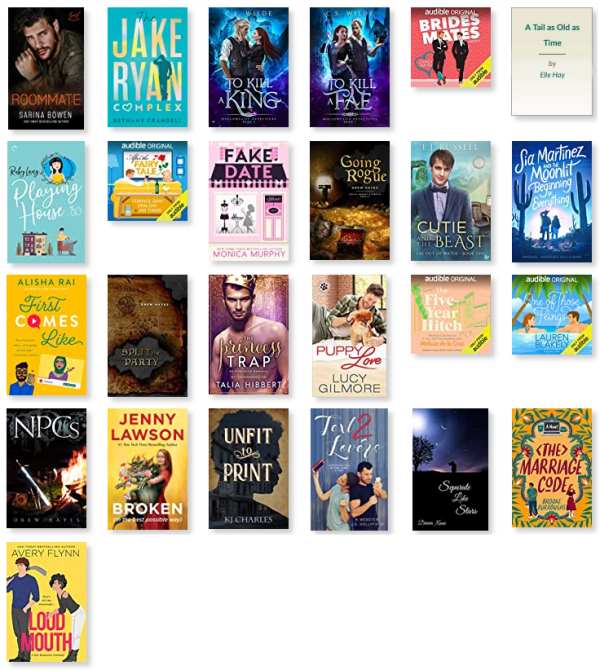 The February 2021 Book Blogger Link-Up
Every month, Lovely Audiobooks hosts a book blogger link-up where fellow bloggers can share recent reviews. The book review link-up is open to all genres, book formats, and opinions, be they negative or positive, for print books, ebooks, or audiobooks, a list of mini-reviews for several books, or a discussion of one book, with spoilers or without, Romance, Thrillers, Non-Fiction, or anything in-between.
If you want to link up for the first time, please take a quick look at the Introduction to the Monthly Link-Up. Then simply add your book review link to the tool below to get more visitors and shares!
If at all possible, take a second to add a backlink to the end of your blog post so more people will find the link-up, join in, and discover new books and book blogs to read. If you have a few extra minutes, pop by some of your fellow linker-uppers, and maybe even share or comment on their posts. Everyone loves engagement 🙂 And, of course, please share the link-up itself!
You can also use the hashtag #ReviewOTM (for your Review Of The Month) on Twitter for ANY of your book reviews – not only the ones you add to the linky. I'll be happy to give them a retweet!
Have fun!
Blogging, New Audiobooks
/