First Comes Like by Alisha Rai is already one of my favorite Romance novels of 2021! The third book in the Modern Love series is even better than the previous two books and a highlight in this year that hasn't started out easy.
First Comes Like is not really an internet love story. It's not really a mistaken identity Romance. It's not an arranged marriage love story. It's a little bit of a famous actor story and a little bit of a fake relationship book. But most of all, it's really an incredibly tender, charming Romance that shows how we can find love in the most unexpected ways. And while it touches on all of our favorite tropes (even the enemies to lovers banter and "there's only one bed"), it feels like Alisha Rai lets things unfold naturally between Jia and Dev without forcing them into one trope.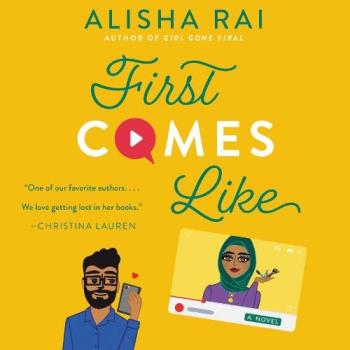 First Comes Like
written by Alisha Rai
narrated by Saira Ayers and Neil Shah
The author of The Right Swipe and Girl Gone Viral returns with a story about finding love in all the wrong inboxes…

Beauty expert and influencer Jia Ahmed has her eye on the prize: conquering the internet today, the entire makeup industry tomorrow, and finally, finally proving herself to her big opinionated family. She has little time for love, and even less time for the men in her private messages—until the day a certain international superstar slides into her DMs, and she falls hard and fast.
There's just one wrinkle: he has no idea who she is.
The son of a powerful Bollywood family, soap opera star Dev Dixit is used to drama, but a strange woman who accuses him of wooing her online, well, that's a new one. As much as he'd like to focus on his Hollywood fresh start, he can't get Jia out of his head. Especially once he starts to suspect who might have used his famous name to catfish her…
When paparazzi blast their private business into the public eye, Dev is happy to engage in some friendly fake dating to calm the gossips and to dazzle her family. But as the whole world swoons over their relationship, Jia can't help but wonder: Can an online romance-turned-offline-fauxmance ever become love in real life?
I want to say that First Comes Like is a slow burn. But it's also love at first sight. This book is so many things! And yet, it's really just one wonderful love story. Jia and Dev are both virgins, but they are adults, and the way they approach these new romantic experiences was very touching.
First Comes Like is a beautifully written novel and you can't help but love these two families! Alisha Rai found the perfect balance here in the way their respective family interacts with Jia and Dev. Both struggle with family members feeding their insecurities and being kind of "the bad guys", but ultimately, these people also show that they love Jia and Dev dearly and do what they think is best to support them. The storyline surrounding Dev's niece was utterly heartwarming as well and was the kind of warm blanket story I needed.
We also see a lot of healthy communication in this Romance book which is always a plus in my opinion. Nevertheless, this is not in any way a boring book! I'm mentioning that because slow burn and healthy communication sometimes result in stories that are so free of conflict and angst that there's really not much there anymore that draws me in. That's not the case with First Comes Like! Due to their individual concerns and insecurities, the expectations from their families, as well as being at major turning points in their lives, Jia and Dev have quite a lot to overcome. And any worries and conflicts felt natural and made sense to me. And both are such utterly charming and compelling characters that I couldn't stop listening!
And honestly, I did not see the direction coming that this story took! But I completely loved it.
First Comes Like Audiobook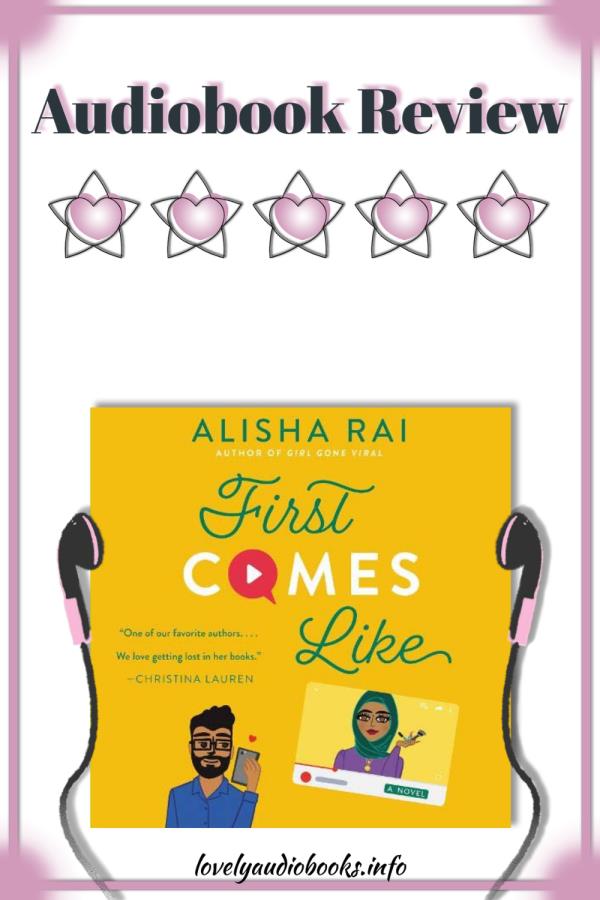 Oh boy, did I love Neil Shah's narration! He is so, so good and I enjoyed listening to him very much. He has a beautiful voice and did such an emotional narration, it completely drew me in.
I had somewhat mixed feelings about Saira Ayers. She has a great range of voices and the dialogue scenes were all fantastic. But I would have liked a little bit more emotion and intonation outside of dialogue scenes.
Nevertheless, this is a good audiobook production and during my January book slump, First Comes Like was a total breath of fresh air that had my earbuds glued to my head!
Recommending First Comes Like by Alisha Rai
First Comes Like by Alisha Rai is the Romance to make you fall in love with Romance again! This is without a doubt the most creditworthy audiobook you can get in February.
Get the Audible book**
Get the audiobook on Libro.fm** (The first one is free!)
I received this audiobook for free from LibroFM. It was my decision to write a review. If you want to know more about this Audible alternative, check out my guide to LibroFM!
And if you're looking for more great audiobooks, take a look at my favorite Romance audiobooks of 2020!
Review
/