If you're looking for gift ideas for the audiobook fan in your life, or if you need inspiration for cool stuff to treat yourself with, these gift ideas are audiobook-lover-approved (namely, by me!).
Below, you can find some fun items like shirts and mugs that show off our love for audiobooks, as well as some really handy devices that make listening more comfortable.
**The marked links and images on this page are Amazon and Etsy affiliate links. If you use them to purchase something, I receive a small fee at no additional cost for you.**
Audiobook-ish Mugs
I love sipping a cup of tea while listening to my audiobook and browsing on my phone. But whether you and the giftee are tea or coffee drinkers, mugs that fit your passion are always a fantastic thing to have and a great gift idea for all kinds of occasions.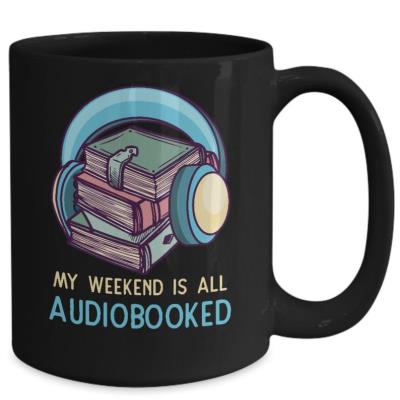 Black mug with beautiful audiobook image with headphones and a stack of books.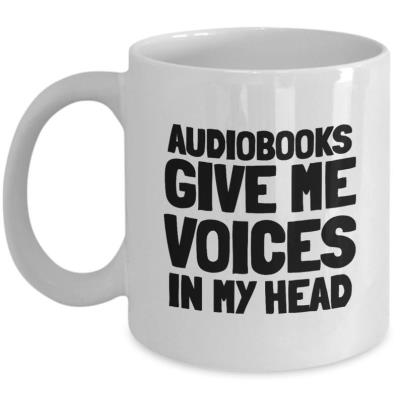 White mug with phrase.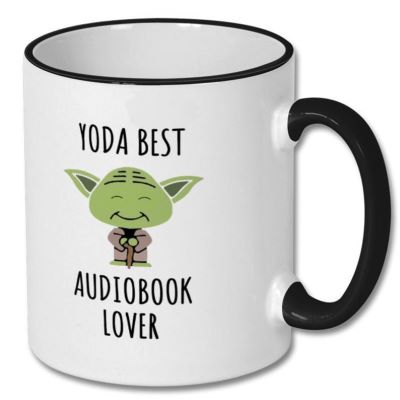 Cute white mug with different accent colors and a little comic Yoda for Star Wars audio fans!
White mug with a book and headphones.
T-Shirts for Audiobook Fans
Most of these funny audiobook t-shirts are available in different colors or even in different cuts.
I love the underwhelmed smiley face on this shirt. And that line fits perfectly for us avid audiobook readers. "Why are you talking to me? I'm listening to my audiobook!!" We've all been there, I think…
For us die-hard Audible fans, the perfect t-shirt that summarizes the basic necessities!
A cute t-shirt to show off your love for audiobooks. I love the image with the headphones-wearing cat on a chair!
Hah, I love the phrase on this shirt! I feel this. And the fonts are beautiful.
Headphones and Earbuds for Audiobooks
The right gear can make such a difference for your audiobook listening even if you're not too bothered with the actual sound quality.
For example, I feel most comfortable with a one-sided Bluetooth earpiece. I have sensitive ears (this is a thing, really!). And they are very nice to wear. But they also allow me to hear the doorbell, or my husband when, for whichever reasons, he thinks it is a-okay to interrupt my audiobooks. WTH, right?
However, as a passenger on a long drive or in public transport, noise-canceling earbuds or headphones are the way to go. Depending on the noise level, you might not even be able to hear your audiobook at all with normal headphones or earbuds but you'll at least have to crank up the volume. So something noise-canceling is the way to go here.
Audiobooks: The Perfect Gift Idea for Audiobook Fans!
Audiobook CD boxes are to the audiobook fan what special hardcover editions are for eye-readers. If there's an audiobook they love and listen to again and again, they might enjoy showing it off on their bookshelf. I do that with my Torchwood CD's 🙂
If you aren't entirely sure what kind of books your audiobook fan loves, grab a gift card for them. Trust me, this is not a boring gift, the audiobook listener in your life will be over the moon for this!
Amazon's physical Audible gift card is actually a really sweet deal and a great audiobook gift idea. You get 3 Audible credits or 3 months of membership for only $30, instead of the usual $45. Audible itself sells digital gift cards for 1, 3, 6, or 12 months.
You can unsubscribe at any time by clicking the link in the footer of my emails. For information about my privacy practices, please read the Privacy Policy.
All about Audiobooks
/