If you are looking for the perfect gifts for audiobook lovers you have come to the right place! Because this audiobook addict here knows exactly what we really want and need.
Below, you can find some fun items like shirts and bookish mugs that show off our love for audiobooks, as well as some really handy devices that make listening more comfortable. And I have for you my recommendations for the best audiobook gift cards! There is more out there in the audiobook store world than just Audible. And other stores have gift cards that might be a whole lot more fun for the audiobook lover in your life!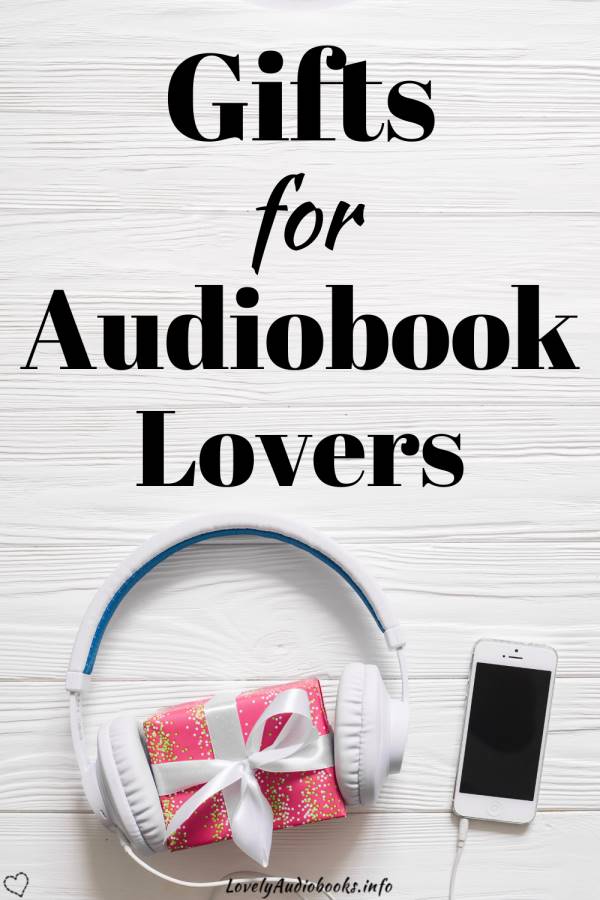 **The marked links and book covers on this page are affiliate links. If you use them to purchase something, I earn a fee at no additional cost for you. Disclosure**
Audio Bookish Mugs
I love sipping a cup of tea while listening to my audiobook and browsing on my phone. But no matter if the recipient of your gift is a tea or coffee drinker, bookish mugs that show off our aural passion are always a fantastic thing to have and one of the best gift ideas for all kinds of occasions.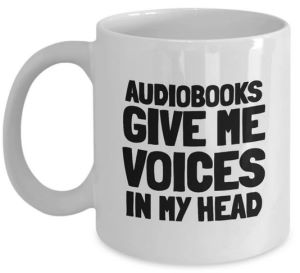 The line on this mug never fails to make me chuckle! It's a white mug with the phrase "Audiobooks Give Me Voices In My Head" in black letters.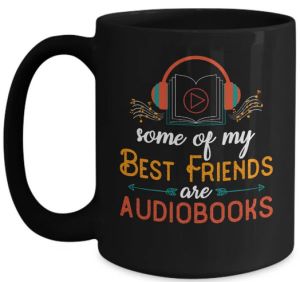 I love the fonts and colors on this bookish mug! It is black with red and green headphones on a book and the phrase "Some of my Best Friends are Audiobooks" in different colors.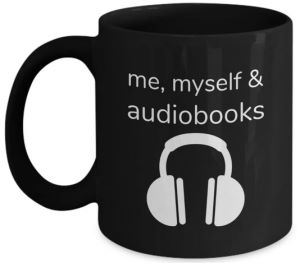 It's true, we audiobook fans have a tendency to escape into our book world! This is a black mug with white headphones and the phrase "me, myself & audiobooks" in white letters.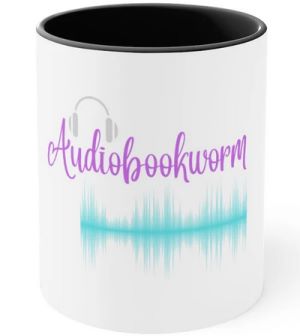 I'm an audiobookworm and not ashamed of it! This is such a cute mug that will be the pride and joy of any audiobook fan. It's white on the outside, black on the inside, with soundwaves, grey headphones, and the word "Audiobookworm" in purple letters.
T-Shirts and Tote Bags as Gifts for Audiobook Lovers
What better way to share our audiobook love with the world than with a cool t-shirt or tote bag?! These cute items are perfect gifts for audiobook lovers. And you can tell that these Etsy sellers are all audiobook fans themselves.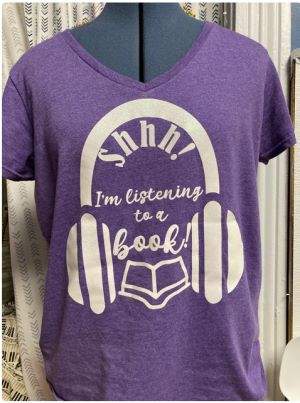 I'm so in love with this shirt! The cut, the wonderful colors, and that line " Shhh! I'm listening to a book!". So good!! And the seller, Katherine, was so kind to provide a special 10% discount coupon for Lovely Audiobooks readers. Just use LOVELYAUDIOBOOK on check-out.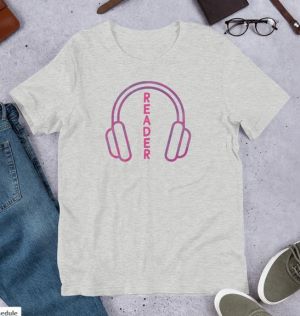 I love this understated shirt! It simply shows an image of headphones and the word "Reader". Because audiobooks are reading!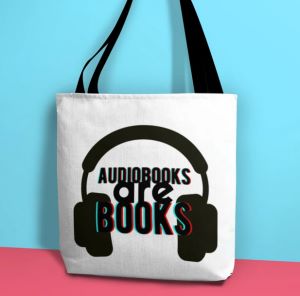 Truer words! This badass tote bag shows off huge headphones and the words "Audiobooks are Books". I love it!!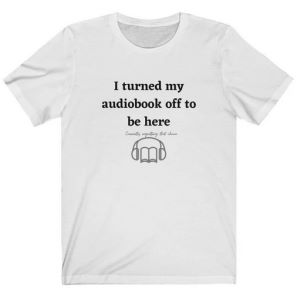 The slight bitchiness of this shirt actually makes this the perfect gift for audiobook lovers! Because yes, " I turned my Audiobook off to be here"! In cursive under that line, it says "Currently regretting that choice" which made me laugh out loud. And there is a beautiful little logo of an open book and headphones. If there has ever been a must-own shirt for audiobook fans, it's probably this one!
Headphones and Speakers for Audiobooks
The right gear can make such a difference for avid audiobook listeners even if someone isn't an audiophile. It's all about comfort for both wearing and using headphones. Personally, I feel most comfortable wearing a one-sided Bluetooth earpiece. I have sensitive ears (this is a thing, really!). They don't hurt my ears and they also allow me to hear the doorbell, or my husband when, for whichever reason, he thinks it is okay to interrupt my audiobook listening. WTH, right?!
Lovely Audiobooks Approved: Anker Soundcore Life Dot 2
These are the earbuds I have been using for the last year and I'm so happy with them! They are nice to wear on just one side and very comfortable in the ear, but they are also surprisingly noise-canceling when I wear them while traveling. They are a very strong alternative to Apple AirPods, especially for Android users.
Bone Conduction Bluetooth Speaker
If you are looking for an alternative to normal speakers, this item might be a great option – whether you buy it for yourself or a partner. It's a very slim Bluetooth speaker that you can place under your pillow to play audiobooks while you are falling asleep without the hassle of using headphones or bothering your partner with a normal speaker. It uses bone conduction so only the person lying on the pillow can hear the sound. This item has a lot of positive reviews from audiobook listeners who use it for exactly this purpose.
Elf Ear Headphones
These little things are just about the coolest thing I have seen in a long time! These are simple plug-in earphones, but they have an elf ear form! If this isn't the best gift for audiobook lovers who enjoy Fantasy, I don't even know anymore! They might just be a joke gift, but they are damn good at it.
The Best Gift for Audiobook Lovers? Audiobooks, of course!
Audiobook gift cards are probably the most thoughtful gift you can give to an audiobook listener. Trust me, the audiobook addict in your life will be over the moon for them! While an Audible gift card might seem like the obvious choice, there are actually some other options that I think are a lot more fun.
Last Christmas, I gave my husband… my heart, but also a Libro.fm gift card, haha! I chose that over Audible because not only do the sales on LibroFM support indie bookstores, their audiobooks are also DRM-free. That means the audiobooks can be downloaded as MP3 and listened to on any device and in any app that the gift recipient wants. That makes this a particularly awesome audiobook gift card! I feel like this is the best alternative to giving someone a CD set of their favorite audiobook.
Another option that is really something special is the Chirp gift card**. In other audiobook stores, a gift card is worth a specific number of credits that can be exchanged for one audiobook each. But with Chirp, your gift card is actually worth money and can be exchanged for as many audiobooks as the recipient wants. E.g. if you give them a $15 gift card, that would be 1 audiobook on Audible, but on Chirp, they could choose 7 audiobooks for $1.99 each! Chirp has really great short-term deals, often for bestselling, popular audiobooks. I think this is a really fun gift for audiobook listeners!
And lastly, I can recommend to you the Audiobooks.com gift card**! What makes this one special (and you should tell the gift recipient about this) is that it can be used to join an Audiobook Club. Club members can listen to all of the included audiobooks during the length of their gift subscription (one credit equals one month membership in the club). So, this gift card allows the recipient to borrow and listen to as many audiobooks as they want!
I'd love to hear your opinion in the comments. If you're an audiobook listener yourself, what would be the perfect gift for you?
All about Audiobooks
/