The Guild Codex Spellbound Series by Annette Marie is an Urban Fantasy series that is now finding its wonderful conclusion with the release of book 8, Damned Souls and a Sangria!
There are so many aspects I feel are noteworthy about The Guild Codex Series. Not only is the worldbuilding very intriguing (and I'm so glad there are two more series set in this amazing universe), I also particularly enjoyed how Spellbound's main character Tori is "just a human", but still manages to hold her own. Annette Marie, the author, keeps an amazing balance between giving this character power to survive in the magical world and keeping her realistically human.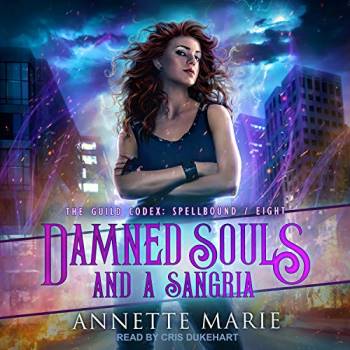 Once upon a time, I was your average spunky redhead with the lamest employment history ever, a shaky relationship with my only family member, and no idea what I was doing with my life.
Now, I'm a pseudo mythic with the best bartending job in the world, the most amazing (and hot) best friends I never knew I needed, and a guild of misfit magic users who've become my extended family.
And I'm about to lose it all.
In my desperation to save Ezra, I stumbled into a web of ruthless deception – and seriously pissed off a sleeping hydra. Now its every murderous head is turned toward me and my guild, and I don't know how to stop it. I'm not sure I can.
I'm not sure anyone can.
But if we don't, we're all doomed – Ezra, Aaron, Kai, and my beloved guild.
Damned Souls and a Sangria is the epic finale to the Spellbound series and I thought it wrapped up the major storylines really nicely. We're finally finding out what will happen with Ezra and also Kai. Both of them were in a bad place at the end of book 7. And I enjoyed how Tori developed throughout the series.
One thing that's mentioned in the blurb and that I find really noteworthy is that Tori stays a "pseudo mythic" throughout the series. It's so rare to find a Fantasy character who remains "a normal human" and doesn't turn out to have hidden superpowers. And even though mythics tend to view humans as lesser-than, I found how Tori fought for and defended her place in their world worked so well.
Is this the end to The Guild Codex Series?
Fortunately, the Guild Codex is a universe with three interconnected series: Guild Codex Spellbound, Guild Codex Demonized, and the latest addition is Guild Codex Warped. So, even though Spellbound, the original series, is ending, we'll have many more books to look forward to in this fantastic world. Next up is the conclusion to The Guild Codex Demonized Series, Delivering Evil for Experts** which will be out on Audible in January.
The Guild Codex Narration
I'm a big fan of Cris Dukeheart and think she's the perfect narrator for both Spellbound's Tori and Demonized's Robin. She has a fantastic range of male voices and is an all-around pleasure to listen to. I binged the entire extended series in one go and really missed this pleasant voice and the fun characters when I was done.
Recommending The Guild Codex: Spellbound Series
If you've been holding out on The Guild Codex Spellbound Series because you prefer a finished series, then I can tell you: This one is really worth your time, don't wait any longer now! And if you have started with Spellbound, I'm sure you'll be absolutely pleased with the epic conclusion in Damned Souls and a Sangria.
Get Damned Souls and a Sangria on Amazon**
And don't forget – even though these audiobooks are absolutely Audible-credit-worthy – as a Kindle Unlimited US subscriber you can pick them up in a cheap Whispersync deal for just $7.49 when you borrow the ebook through KU. The audiobooks are, of course, yours to keep!
Related article: How to get your audiobooks cheaper with Kindle Unlimited
Thank you, Tantor, for giving me a free copy of this audiobook! It was my decision to write a review.
Review
/