SEO from a newbie for newbies!
In this post, I want to tell you a few things about SEO (which stands for Search Engine Optimization).
And we'll start with the basics: What can you do so more people will find your book blog on Google. And why is it worth it for hobby bloggers to invest time and effort into this?
Chances are you've experienced the same thing as me: I publish a book list, put it on Twitter and Facebook, and get a bunch of views from there and the WordPress viewer. Awesome! And the next day or two days later, I only have 10% of the views from the day I posted. Bummer!
Social Media traffic
Obviously, social media is a great way to promote your blog. People find your post, read it, maybe follow your blog, maybe share your post. But it's also very short-lived. A few hours later or the next day, your Twitter or Facebook post is buried. You have to write new social media posts in the hopes of reaching more people.
You have to actively keep doing things (namely, posting on Twitter or Facebook). Otherwise, no one visits your 2-day old awesome blog post anymore which is really a shame.
Search Engine traffic

The beauty of search engine traffic is that it's passive. It doesn't matter much when you published your blog post. If it fits someone's search, they'll visit your blog to find an answer to their question.
You've probably done it yourself 1000 times. I certainly have. And it doesn't even matter if the blog post I visit via Google has been published yesterday or last year (unless the content is outdated, but that rarely happens with bookish topics).

So, let's establish at this point that search engine traffic is a totally awesome thing. Everybody loves internet searches. Why not let Google bring new readers to your book blog!
Why you want to optimize your blog…
Maybe you're blogging just for fun. You don't use affiliate links and all you want is to write about books you love and meet other people who love to read. And you think all these optimization things only matter for people who want to blog as a career.
But the content you create has value. It's awesome, you put effort into it, and you've decided to share it with the world. It's worth it to help the world find it! SEO is so awesome for hobby blogs because it doesn't even take as much time and effort as actively promoting on social media. While you're reading books, people can find your website and fall in love with your favorite stories. So, consider investing those few extra minutes to optimize your blog and help people find your book blog on Google.

Now, the longer your blog is around and the more posts you have, the more traffic you will get from search engines. That happens all by itself. But you don't just have to wait for your blog to get older. You can also actively do a few easy things to get more visitors from Google or Bing.
Yoast SEO
Yoast is THE SHIT! This is actually a must-have WordPress plugin.
You simply install it like any other WP plugin. And all it does is being a guide. It gives you helpful pointers to optimize your blog post so Google likes it better. That's a big deal though.
At first, when I read about Yoast, I couldn't imagine that it can make much of a difference. Since it doesn't exactly go to Google and tell them that my book reviews are awesomesauce. But believe me, it makes a world of a difference!
Yoast tells you how to improve the readability of your post, for example by making sentences and paragraphs shorter and using more headlines. And it asks you to pick a keyword for your post and then helps you to optimize your post for that keyword.
The Keyword is the most likely search term people would use who'd want to find your blog post. So this is something you should always think about for a moment. Who'd be interested in reading this post and what are the most likely words they'd type into Google.
For book reviews, I usually use the author's name or the title of the book series as keywords. Yoast then tells me whether I used the term often enough – but not too often – and if I used it in my image descriptions. It gives a list of points that help improve the impression Google will get of the quality of the content.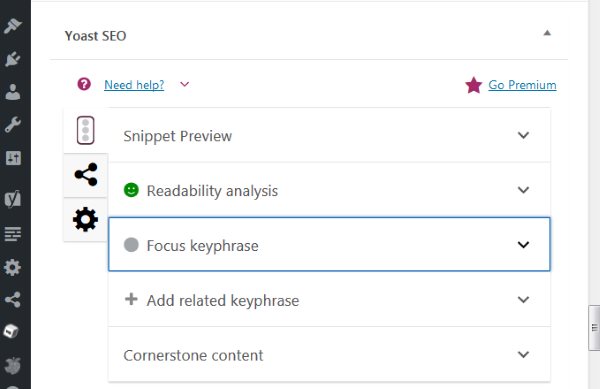 Domain Authority (DA)
If you've been hanging around bloggers on Twitter for a while, you've probably come across the term DA. It's short for Domain Authority and is a measurement that gives you an idea of how high your page ranks on Google.
It works kind of like this: If you write a review on Game of Thrones and your DA is 12, and someone else writes one but has a DA of 25, their website will show up higher in a search for "Game of Thrones review" than yours.
This thing is developed by MOZ and you can use their website to find out your DA. But I always go to SEOreviewtools to check mine. They have a lot of nice, free tools for Search Engine Optimization. You can also put your URL into the Website SEO Checker to find out how happy Google is with your website.
Based on the results, you can make a few small tweaks to your blog that will be a big deal for Google. For example, having the right length and keywords in your title tag (which you can change in WordPress > Settings > General) or meta description (which you can change in Yoast).
Google always strives to give people the best results for their search. So they filter out websites that seem spammy or badly maintained, and instead favor those websites that seem like they offer quality content.
The most important ways to improve your DA are backlinks (for example with blogging awards like Liebster or blog hops) and social media shares. But everything Yoast tells you helps to improve your DA because it will make your website appear more reliable and professional to Google.
Any questions?
That was it with part 1 of How to optimize my book blog for Google! In part 2, I want to show you a few free tools that can help you find inspiration for blog posts that people search for on Google.
Those tools work no matter if you're on a free WordPress.com plan or have a self-hosted blog. However, to install Yoast you either need a paid WordPress.com account or be self-hosted. Check out my guide for cheap blog hosting if you want to go self-hosted.
And if you haven't yet, check out my Pinterest guide for Book Bloggers. Pinterest is a great tool to get new visitors to your blog. And it also works mostly passively, just like SEO.
Thank you for reading and please let me know if you have any questions!