Review: Match Me If You Can (No Match For Love 7)
by Lindzee Armstrong
narrated by Tiffany Williams
Pick it up on Amazon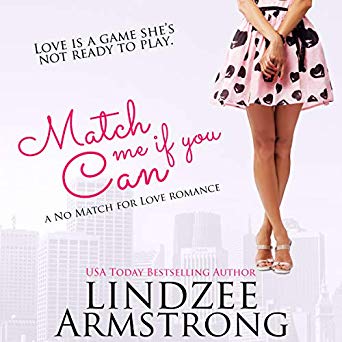 Number 7? Yes, but don't worry, it's a stand-alone! The story initially made me think of the Calloway Sisters series, since the heroine Tamera struggled with unfortunate internet fame and countered it by taking part in a reality show.
This story is really adorable with lots of previous heartache and bad experiences. The two protagonists were absolutely likable. And I appreciated how Lindzee Armstrong created parallels between their experiences. What really stood out were the inner monologues in which the characters could truly relate to each other. How they act towards one another becomes understandable and meaningful. I could really appreciate how the storyline was constructed.
This is a "clean" romance. Even though I normally like my books dirty, it was a very entertaining novel and I didn't miss any naughtier scenes. There were a lot of struggles and emotional wounds that the characters had to deal with. So it felt pretty natural that they would need the entirety of the book to really find each other.
I don't care much for sex scenes that are added at the end as an: "Look, there's sex in this book!". For me, sex belongs in romance novels when it's an integral part of the storyline. It's not a must and it shouldn't be used to bloat up a book or appeal to the reader. A good romance novel makes me empathize and takes me along on a somewhat heart wrenching path that (usually) ends with a Happily Ever After. Sex can – but doesn't have to be – a part of that path.
Tiffany Williams did a wonderful narration. I think the ebook might have read a bit too sweet for me, but her voice gives Tamera substance and a little bit of an edge. This book is written in third person and has changing points of view, but only one narrator. This works just fine, since Tiffany Williams has honestly fantastic male voices. While the story is "clean" without any naughty scenes she still brings passion into it. Her ability to do different voices is great and it's easy to differentiate between characters. The intonations made this a very captivating listen for me.
Despite it being a "sweet romance" it didn't get boring. Quite the opposite actually! I finished it in two days and was always looking forward to listening. Since I'm a somewhat jaded listener, that is quite meaningful really.
I have to amend my initial statement a tiny bit though. While this is a stand-alone I feel I kind of missed out on Tamera's backstory. I would have liked to know more details about her past experiences. I liked her but there were some hints that she was more of a villain in the first book. So it might be more enjoyable to read the first book in the series before this one.
Publisher's summary

Love is a game she's not ready to play….

Football star Wyatt James messed with the wrong quarterback, and now he's paying the price. After falling for the same girl, Wyatt ends up blamed for a career-ending move that gets him traded from his dream team to the B-list Los Angeles Coyotes. Now he's starting over in a new state while praying the scandal doesn't get picked up by the press. With his life in total upheaval, he's only certain of one thing – he's never falling in love again.

When Tamera discovers her boyfriend and sister's secret affair, her heartbreak propels her to reality TV star fame. Now she's got a big-time Hollywood talent agent, a famous quarterback best friend, and a determination to never again let a man derail her life. Without a relationship weighing her down, it's only a matter of time before her acting career takes off and she can quit selling houses to pay the bills.

When Tamera unexpectedly ends up as Wyatt's real estate agent, sparks fly – until they find out her best friend and his nemesis are the same guy. As things heat up in the press, vicious lies spread like wildfire, and neither is sure what to believe. Can their hearts heal enough from past hurts to trust in a future together?

Fall into this fun and flirty romance today!

The No Match for Love series follows the matchmakers and clients of Toujour on their journeys to love. Each story can be listened to as a stand-alone, so start with whichever book catches your interest the most!

Current books in the series:
Miss Match
Not Your Match
Mix 'N Match
Strike a Match
Meet Your Match
Mistletoe Match
Match Me If You Can
Narrator Interview
Tiffany was so kind to answer a few questions for Lovely Audiobooks.
Lovely Audiobooks:
You narrate many different genres, what do you like best about narrating Romance?
Tiffany Williams:
I enjoy narrating all kinds of genres, but romance is such fun as I am a hopeful romantic at heart. To have the chance to voice a sweet romance with a lovely, happy ending is such a delight. Plus, a few of the sweet ones have a bit of spice which adds nicely to the mix.
Lovely Audiobooks:
You have theatre training, but how exactly did you get so good at doing male voices?
Tiffany Williams:
Yes, I do have theatre training and love doing stage work. Audiobook narrating gives me my theatrical fix as I get to be all the characters in the book. It's like a one-person show. Great fun! Thank you for compliment on my male voices. I think my natural alto voice lends itself nicely to creating male voices. A slight lowering of my voice gets the base for male characters, then I can add texture, tone, pace, etc. to give them their own sound.
Lovely Audiobooks:
When you read to your children, did you do it with a full set of voices or did you just read?
Tiffany Williams:
When I read to kids, I totally do voices. There's a lot of fun & freedom to do all kinds of silly things, some of which come in handy in the booth. I read to my kids regularly, (mostly my youngest at this point, since the oldest is in middle school), and to my Girl Scout Troop, too. I think the fun voices help get & hold the kids attention. My daughter now does voices when she reads to me. It's so funny to hear what she creates.
Narrator Info
Tiffany has been narrating audiobooks since 2013. She's has been working professionally since 1993 as an actor; director; producer; costume, sound and prop designer; stage manager; technical assistant; box office assistant; board member; business manager, production manager and college professor for theatres in the North Texas area. She has also provided voice-overs for plays, phone messaging services, and training videos. Tiffany has directed numerous productions of "The Vagina Monologues" which raised monies for Hope's Door, Victims Outreach and the Dallas County Sexual Assault Coalition. Since moving to the East Coast, she has been using her theatre training to narrate audiobooks, and currently has over 85 titles available in various genres: sweet romance, fantasy, self-help, cozy mysteries, and more. Tiffany and her audio engineer husband, Sean, opened Airbending Media Productions, LLC in 2014, and fully produce audiobooks from their home office/studio.
*ARC*
A big thank you to Tiffany Williams! Aside from answering my questions, she also gave me a free copy of this audiobook in exchange for an honest review.
Oooh-Factor:
3 out 5 sweet-romance-stars
Audio-Factor:
Audiobook > Book
Pick it up here:
Review
/