Never Have I Ever is Lauren Blakely's newest audio-first release. This is a beautiful enemies-to-lovers single dad Romance between a wedding planner and a divorce attorney. The story deals with some pretty serious topics but it's just so warm and sweet and will make you go "awww 😍".
written by Lauren Blakely, narrated by Amanda Ronconi and Jason Clarke
Enemies to Lovers
The protagonists of Never Have I Ever, Zach and Piper, share the same group of friends since college. But Piper was never happy that Zach joined their group.
However, due to proximity, their relationship develops from frenemies to Piper becoming best friends with Zach's 10 year old daughter. And the banter between the two adults just cracked me up.
Single Dad
Zach is a single father of two adorable kids. Lauren Blakely is so amazing at writing children. And Henry and Lucy are perfect.
I loved how Lucy and Piper form their friendship and the role Piper takes in the kids' lives.
'You make me feel so many things. You make me feel everything. For the longest time, I thought I would never feel this way again.'
Related article: My favorite Single Parent Romance Books
The Everything-Fruit
Piper is a wedding planner and the way she described herself melted my heart. She's the one who looks decent in every color and can take over any role because she doesn't stand out. She says she's not only no one special, but actually so bland that she calls herself the everything-fruit.
Narration
Never Have I Ever is narrated by the absolutely amazing Amanda Ronconi and Jason Clarke. I love their voices very much and they brought this story to life perfectly.
As an avid Romance audiobook listener, you probably know the two. But if you don't, I should add that they both have a great range of different voices. So it's easy to recognize who's talking. And their intonations are always on point so you'll find yourself entirely captivated by this story.
Recommendation
I wholeheartedly recommend Never Have I Ever by Lauren Blakely. It's a wonderfully warm, emotional love story.
You can listen for free with an Audible Escape subscription.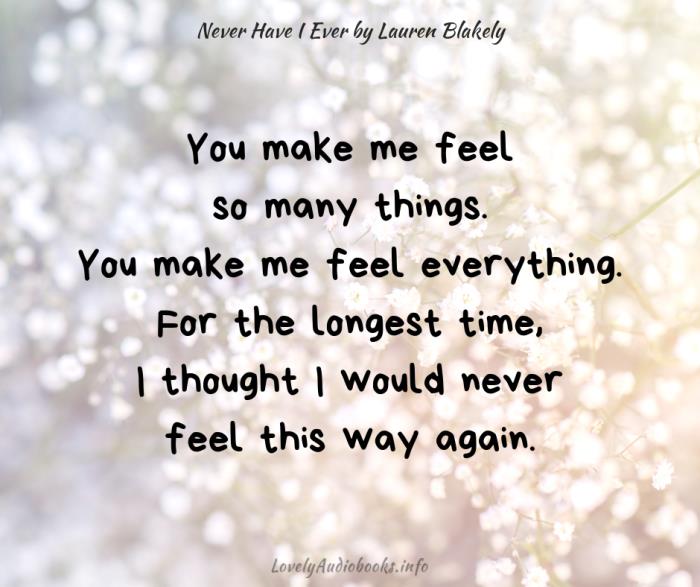 Review
/