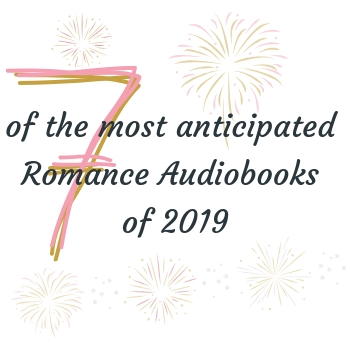 New Releases we're waiting for in 2019
This will be a good year for romance readers! We can look forward to a lot of fantastic new romance audiobooks in 2019.
Audiobook readers are patient readers. At times there are months between the release of an ebook and its accompanying audiobook.
But that doesn't mean we can't get crazy excited over the wonderful new audiobooks we're hoping to listen to this year!
This list is the result of posts in Facebook groups and having chatted with some avid audiobook listeners, asking them which new romance audiobooks they are most looking forward to in 2019.

by Lauren Blakely (Author), Andi Arndt (Narrator), Sebastian York (Narrator), January Lavoy (Narrator), Julia Whelan (Narrator), R.C. Bray (Narrator), Shane East (Narrator), Joe Arden (Narrator), Erin Mallon (Narrator), Dion Graham (Narrator), Savannah Peachwood (Narrator), Jason Clarke (Narrator), Robin Miles (Narrator)
Let's start the list with one that I believe isn't just an audiobook, it's an event! Romance Audiobook fans all around are waiting eagerly for Lauren Blakely's first full cast production, featuring almost every big name in romance narration.
Birthday Suit will be out on the 14th of January and can be pre-ordered now!
Publisher's Summary

There is no rule in the Man Code as unbreakable as this: No matter how beautiful, smart, clever, and witty she is, do not – under any circumstances – fall in love with your best friend's woman. Yeah. So there's that. Look, it's not like I didn't know I screwed up by falling for her.

Also, for the record, unrequited love sucks big time. And, I might have cut myself some slack by now, given everything that went down in the last few years, but Lulu just walked back into my life in a big way.

There are three things I've never been able to resist – my friends, my family, and chocolate. Leo Hennessy? He was nowhere on that list. He's been a true friend – a friend who walked through hell and back with me. Now, I'm stepping into my new future. I didn't expect it to include a riddle-filled, race-against-the-clock scavenger hunt across New York City. With Leo.

Suddenly, I'm looking at this man with new eyes… But my life spun out because of a man once before, and I can't risk my fresh start, no matter what the temptation. And Leo is most definitely a temptation of the sexiest, sweetest, and most dangerous variety. More irresistibly delicious than chocolate…
Beard Necessities** by Penny Reid
Much, much later in the year, we will get the finale of Penny Reid's Winston Brothers series! Beard Necessities is the story of Billy and Claire. We've heard a lot about them over the previous 5 parts of the series, having our little hearts crushed when Billy's engagement to someone else is mentioned in Dr. Strange Beard, book 5 of the Winstons (click to read my review).
The ebook is set to release on October 7th and the audiobook will hopefully follow shortly after. In September, Claire's story will be released as book 5.5 (Goodreads).
Hosed** by Pippa Grant and Lili Valente
Later in January we're expecting the release of the audiobook for a hot new firefighter rom-com:
Publisher's Summary

The world's sexiest firefighter is about to get a second chance with the virgin next door…

He's bossy, arrogant, and so ridiculously hot he should come with a warning label and a pair of flame retardant coveralls.

He's also the boy who broke my heart when we were in high school.

I want to move in next door to Ryan O'Dell the way I want to be a virgin gamer geek suddenly in charge of running my sister's sex toy factory. Too bad both are written in my stars.

Yeah, I'm the world's oldest virgin code-writing nerd.

And even though he intimidates the heck out of me, I can't seem to control my libido when he's around.

Where is my dignity? My self-respect? My panties?

Seriously…. Have you seen them? Anyone?

Maybe they're hiding in his bedroom. With my heart.

Yeah, I know. I'm hosed.

So hosed.

Hosed is a steamy, fun romantic comedy between a firefighter and the virgin nerd next door, complete with a pet raccoon, scandalous gossip, and dildo football. (No, really.) This romance has no cheating or cliffhangers, and ends with a banging hot happily ever after.
Remember The Kiss Quotient? Of course you do 😉 It was, after all, one of the best and most popular romance novels of 2018! Now we're looking forward to Helen Hoang's next book.
The Bride Test will be released as audiobook on May 7th. The narrator is not yet known, but you can already pre-order it!
Publisher's Summary

Khai Diep has no feelings. Well, he feels irritation when people move his things or contentment when ledgers balance down to the penny' but not important emotions, like love. His family knows better – that his autism means he just processes emotions differently. When he steadfastly avoids relationships, his mother takes matters into her own hands and returns to Vietnam to find him the perfect bride.

As a mixed-race girl living in the slums of Ho Chi Minh City, Esme Tran has always felt out of place. When the opportunity arises to come to America and meet a potential husband, she can't turn it down. Seducing Khai, however, doesn't go as planned. She's hopelessly smitten with a man who's convinced he can never return her affection.
Sally Thorne's new book after The Hating Game is most certainly a highly anticipated romance! Looking at my Goodreads there's an almost never-ending list of friends who have marked this as to-be-read. And you won't have to wait long anymore!
99 Percent Mine will be released as book and audiobook on January 29th and you can pre-order it!
Publisher's Summary

Fans and critics alike raved over USA Today best-selling author Sally Thorne's smash hit debut novel, The Hating Game – which sold in over 20 countries. Now she's back with an unforgettable romantic comedy about a twin sister and brother struggling over an inheritance – and the sexy best friend who comes between them.

Crush: a strong and often short-lived infatuation, particularly for someone beyond your reach….

If Darcy Barrett hadn't met her dream man when she was eight years old, the rest of the male population wouldn't be such a let-down. No one measures up to Tom Valeska, aka the best man on Earth, not in looks, brain, or heart. Even worse is the knowledge that her twin brother Jamie saw him first, and claimed him forever as his best friend.

Tom's off limits and loyal to her brother, 99 percent. One percent of Tom has had to be enough for Darcy, and her adoration has been sustained by his shy kindness. And if she's honest, his tight t-shirts.

Now Darcy's got three months left to get her life together, before her twin insists on selling the tumble-down cottage they inherited from their grandmother. By night, she's working in a seedy bar, shooting down lame pickups from bikers. By day, she's sewing underwear for her best friend and wasting her award-winning photography skills on website shots of pens and novelty mugs. She's enjoying living the messy life, and a glass of wine or 10… until that one night, when she finds a six-foot-six perfect package on her porch.

Tom's here, he's bearing power tools – and he's single for the first time in a decade.

As a house flipper extraordinaire, Tom has been dispatched by Jamie to give the cottage a drastic facelift that will result in a ton of cash. Darcy doesn't appreciate Tom's unsentimental approach to knocking down walls, and he really, really doesn't approve of her current burnout boyfriend. They can't be in the same room together without sparks flying – and it's not the faulty wiring. One bedroom wall separates them at night, and even that's looking flimsy.

Will Tom ever see Darcy as anything other than a little-sister obstacle to get around? And can she stand up to her most formidable opponent – her twin? This time around, she's determined to make Tom Valeska 99 percent hers, and he's never managed to say no to her yet…
by Marni Mann (Author), Ava Erickson (Narrator), Aiden Snow (Narrator), Teddy Hamilton (Narrator)
This is a book that was named many times in the audiobook groups. And the narrator cast for this is absolutely top notch! Fortunately, we can get our hands on it soon.
When Ashes Fall will be released on the 15th of January and you can pre-order it!
Publisher's Summary

"When Ashes Fall is a tautly written, complex, and emotionally-charged love story that takes the reader on an unforgettable, unexpected, and deeply moving journey." (USA Today)

It's been said that you can't love two men at the same time. You can't split your heart, soul, and body in half. But I'm here to tell you, you can.

Dylan Cole is like ice, sharp and unpredictable, the thunder inside a tumultuous storm. Smith Reid is warmth, soft and gentle, perfect like a sunny day. Both are mine. But I can have only one.

There are two sides to this tale. I'm here to tell you mine. If you think this story is about a cheater, you couldn't be more wrong.
The ebook has been released a bit over a month ago and it's already a huge hit! Now we're eagerly awaiting the audio version. The Wish Collector doesn't only have a beautiful and different cover. Mia Sheridan is also an outstanding romance author.
Publisher's Summary

New Orleans, a city of mystery and magic, of secrets and dreams, and a history drenched in both love and the deepest of heartache.

When ballet dancer Clara Campbell arrives in New Orleans, lonely and homesick, she is immediately captivated by the story of Windisle Plantation and the tragic tale that is said to have transpired beyond its gate. Legend has it that it is abandoned by all living souls, but to Clara's great surprise, it is not a ghost she hears through the stone wall surrounding the property, but a flesh and blood man. A scarred stranger with a pain deeper and darker than the churning waters of the Mississippi river that flows beside his self-imposed prison.

The ruined man behind the wall hides himself from the world. The last thing he expects is to find a friend in the selfless girl who speaks to him through the cracks in the rock. The girl who keeps returning week after week. The girl who makes him wish for things he has long since given up on. The girl who strikes both fear and hope within his wounded heart. But there can be no future for them, no life beyond Windisle, for no one knows better than him that monsters only live in the dark.

The Wish Collector is the story of shame and triumph, of loneliness and love, and the miracle of two hearts connecting despite the strongest of barriers between them.
Thank you for reading! I hope you found some audiobooks to look forward to and to add to your "to be read"-list.
If you liked my article about new romance audiobooks in 2019, please take a second to share it 🙂