With the year ending soon my blog is slowly moving towards its halfsiest birthday (halfsy? halfsest?… 6 months blogiversary, argh!). And this year I've joined two reading challenges officially, and one unofficially.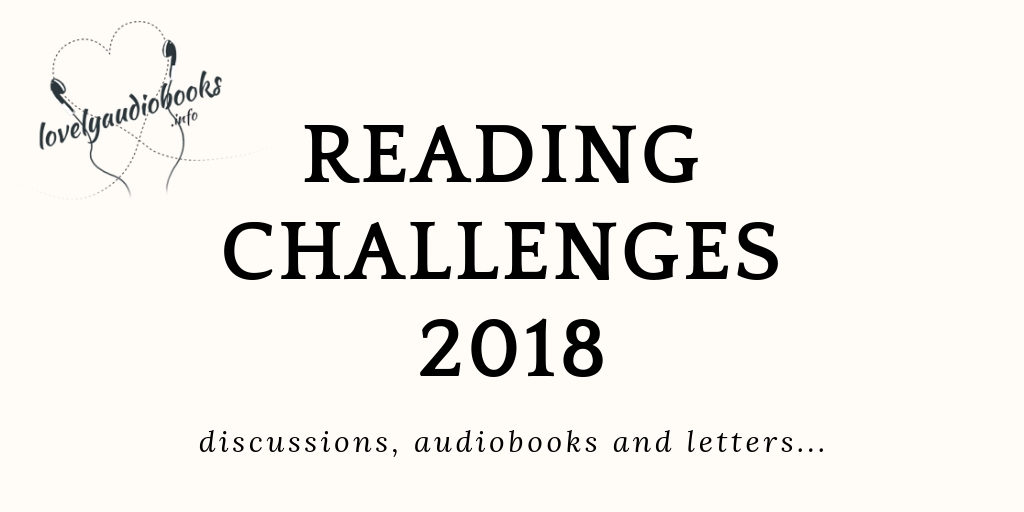 #1 Hotlistens Audiobook Challenge 2018

The current tally: 12 audiobooks in Mini Reviews and 40 single reviews since the blog came to be in July 2018. That means between those and the audiobooks I've listened to before blogging I crushed the Audiobook Challenge! I aimed for the highest level of Marathoner 50+ audiobooks. Yay 🙂
#2 2018 Discussion Challenge
I aimed for one discussion (level 1-10 Discussion Dabbler), and I did one. Actually, I did two. But I didn't enter the other one into the challenge. I don't think I'll aim for a higher level than Dabbler next year since I am ridiculously argumentative and have a bajillion pet peeves. I'm worried you'd roll your eyes even more at me than you already are. So, let's rather not open that can o' worms. >,>
"Official" discussion post: Do you care about your favourite authors' political views?
Second discussion post: Are romance novels the white bread of literature?
#3 A to Z Challenge 2018

I haven't joined this one officially but I'm working hard on filling out the empty letters in my author and narrator lists. Sadly though, I don't think I'll be able to finish even just the author one this year 🙁 Some unexpected letters have proven very tricky. But I found some truly entertaining books on this quest. Most prominently: my X listen, The Dragonian's Witch by Meg Xuemei X. That wasn't my usual genre but it was absolutely awesome!
My goal until the end of the year are to at least listen to the books by authors with the missing letters, then review them all in January. I already listened to my G (Reasonable Doubt** by Whitney G), N (The Heart of Christmas** by Brenda Novak) and Y (Understudy** by Cheyanne Young). Now I still need to find I L T and U. That's doable!
The 2019 A to Z Challenge, hosted by Ginger Mom and Books & Bindings
Goals for 2019

Next year I'll definitely join the audiobook challenge again. I've got that one, guys 😉
I don't do any Goodreads reading challenges because… well… Goodreads and I, we're just not friends. I like to look up books there, but I can't keep track of my reading with it. It's too much hassle for me and I keep forgetting. Then I'm bummed out that I forgot and don't even bother anymore at all. So yeah, just the audiobook challenge for me!
It would be nice to join a few more book blogger challenges, now that I got my feet wet. So I do want to do a few discussion posts (but, you know, less than 10… so I don't annoy anyone with all my opinionatedness). And I'll look for a few more.
After filling out the author index, I want to focus on the narrator one. This A to Z thing is such a great way to look beyond what I would normally pick and try out new genres. Depending on how well that goes, I might do the book title A to Z as well. But I currently don't even have a list for that 😀