Review: The Unlikeable Demon Hunter (Nava Katz 1)
by Deborah Wilde
Pick it up on Amazon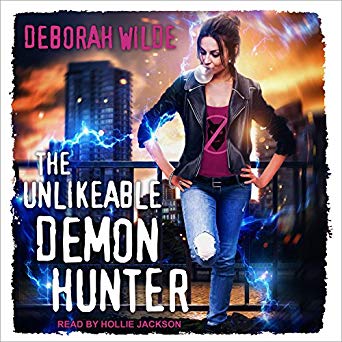 First things first, Nava Katz is NOT unlikable. She is quirky. She is unlike! And she is also not particularly good at demonhunting, what with being thrown into it entirely unexpectedly, hence without training.
As a Buffy-fan and someone who can't move past a book with the word "demons" in the title, I of course had to get this one. And I have no regrets! This is a very entertaining Urban Fantasy with some great sex scenes. Romance… not so much yet. I assume Nava will still have to work out some personal issues before she and her friend with benefits can become more. She's a pretty complex protagonist and I felt I could relate to her. She has many different sides to her personality, being both kind of a badass, but also in some ways scared of being hurt and shaken from past experiences. She feels like a real person, not a cardboard-character that you can describe with one word.
Also, this is narrated by Hollie Jackson. I'm considering a rename of this blog to "Hollie Jackson fanclub", because it is dawning on me that I can never go wrong with a Hollie Jackson audiobook. Obviously, her narration is always top-notch, but the stories she chooses are usually right down my alley, too.
I can't say too much more about this book without listening to more of the series, since obviously this is only the first part and introduction into the world and life of Nava. But if you're looking for a fun UF/PR that doesn't take itself too seriously, has demons and truly diverse characters without stereotyping, then this is definitely a good choice!
Publisher's Summary

Ari Katz is intelligent and driven and will make an excellent demon hunter once initiated into the Brotherhood of David. However, this book is about his twin, Nava: a smart-ass, self-cultivated hot mess who is thrilled her brother is stuck with all the chosen one crap.

When Nava half-drunkenly interrupts Ari's induction ceremony, she expects to be chastised. What she doesn't expect is to take her brother's place among the until-now all-male demon hunters. Even worse? Her infuriating leader is former rock star Rohan Mitra.

Too bad Rohan's exactly what Nava's always wanted: the perfect bad-boy fling with no strings attached, because he may also be the one to bring down her carefully erected emotional shields. That's as dangerous as all the evil fiends vying for the bragging rights of killing the only female ever chosen for Demon Club.

Odds of survival: eh.

Odds of having a very good time with Rohan before she bites it: much better.
Oooh-Factor:
5 out of 5 hot-as-hell stars
Yep, this is a sexy one, just wait for it.
Audio-Factor:
Audiobook > Book
Hollie-Jackson-fanclub, y'all!
Pick it up here:
Audible audiobook "The Unlikeable Demon Hunter"
If you own the e-book or can download it as part of your Kindle Unlimited subscription, you can pick up the audiobook for a reduced price.