Aw man, all the things I want to tell you about Wicked Lies Boys Tell by K Webster…
This will be one of those ridiculous swoony reviews because… Well… I just loved it. I loved everything about this audiobook. It was So! Damned! Good!
written by K Webster, narrated by Teddy Hamilton and Jacob Morgan
Friends to Enemies to Lovers
I shortened this a bit for the headline. But Penn and Cope start this story as enemies. They were friends their entire life until Penn did something that Cope couldn't forgive.
The angst was oh so sweet! Yes, it probably reflects badly on me how I love my angsty romance. But… aw man, these Wicked Lies Boys Tell gave me all the feels!
And what I particularly loved was how their actions and reactions were absolutely understandable. It felt so real and raw how they maneuvered themselves into this situation. While, how they got out of it, was utterly romantic.
This wasn't silly, pointless teen angst. The boys had to deal with huge, life-altering problems.
Which made the happy ending even happier!
Related article: My Favorite Friends to Lovers Romance Audiobooks
The Title and Cover
Let me swoon for just a moment over this beautiful cover, and even more so this title and how it rolls off the tongue. It really got to me and was what drew me in first. Before the blurb completely won me over.
Although I felt like the blurb sounded a lot darker than the story actually was. At least as far as the relationship between Cope and Penn goes. There are some very dramatic side characters that force a lot of the issues on the two boys.
And I unrelatedly need to mention how much I loved Leah. She was so wonderful and added a lot of warmth to the story.
Narration
I just… I just can't. OMG. Did I say the blurb won me over? No. Actually, it was the narrator cast.
Teddy Hamilton. Jacob Morgan.
Did I mention how I just can't even? These two are like… in my top 5 of favorite male narrators. And both put their everything into this audiobook.
The narration was simply amazing!
Recommendation
Yeah, Wicked Lies Boys Tell by K Webster seriously gets all my recommendations. You want this audiobook! It's emotional, it's real, raw, very sexy, and incredibly well narrated.
You need this in your life.
You can buy the audiobook for a reduced price on Amazon. It's an Audible Original production and if you buy the ebook and audiobook together on Amazon, you pay less than half of the cost of an Audible credit. Now get to it already!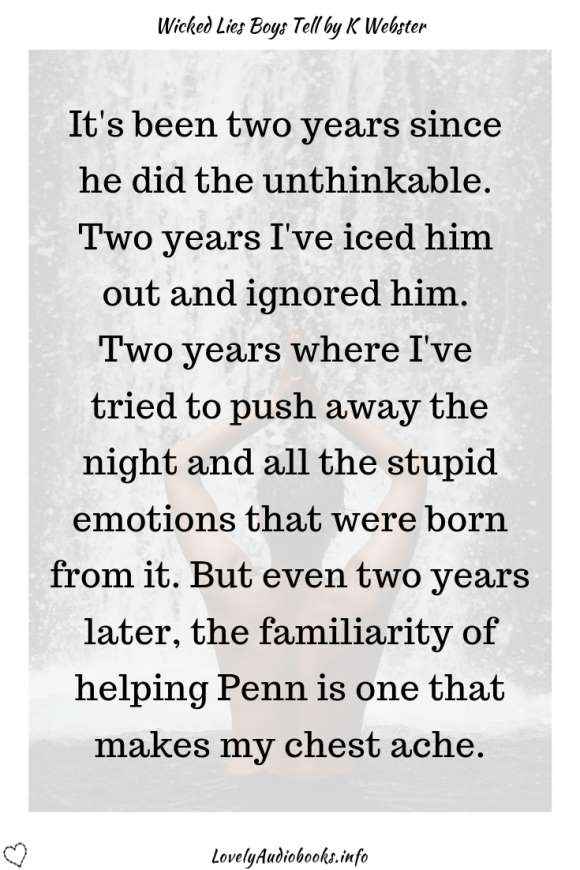 Wicked Lies Boys Tell by K. Webster is also on my list of my favorite MM Romance books on Audible!
Review
/