When you want to listen to the best YA Fantasy books, it's difficult to even know where to start. There are so many fantastic titles out there! So, below, you will find the best YA Fantasy audiobooks that you can listen to for free on Spotify.
This post was written for Lovely Audiobooks by Kat from The Bibliosmile, a wonderful book blog about all things Young Adult books!
Audiobooks on Spotify
Spotify is arguably the world's most popular music streaming service. With over 165 million subscribers and an estimated 400 million monthly active users, it's no wonder.
But wait, let me tell you something.
Did you know that besides songs and podcasts, Spotify also streams free audiobooks? If you're anything like me, you're probably thinking something like, "KJFHLSDHFLKJHSDKJFHLSKJHFLKFJSFFSDJ." In other words: "No, I did not know this" in the sacred language of fangirling everywhere.
So without further ado (or any more nonsensical fangirling), scroll down to discover the 20 best YA fantasy books on Spotify that you can listen to for free right now.
And don't forget to shout out your favorites in the comments below!
Related article: The Best Places to Find Cheap Audiobooks in 2021!
Why Should You Listen to YA Fantasy Audiobooks?
Let me guess.
You're head-over-heels in love with YA fantasy books, but you still aren't convinced that audiobooks are your cup of tea. You may wonder if listening to your favorite Young Adult fantasy titles on audio is actually worth it.
I've been there—for years I was hesitant to start listening to audiobooks too. Especially lengthy fantasy epics with complicated worldbuilding, complex magic systems, and intricate world maps.
But just keep reading and I'll share three big reasons that are guaranteed to change your mind.
Related article: Audiobooks vs Reading Print/Ebooks: Are Audiobooks good for you or what?
1. It's easier to immerse yourself in the story
Okay, get this:
According to a study conducted by the University College London, stories are more "cognitively and emotionally engaging when presented in an auditory format."
Why do I say this?
Because it's scientific proof that audiobooks can help our brains better visualize and connect to a narrative.
Simply put, the sensory experience of listening to YA fantasy books in audio format just hits different. It's like watching a movie unfold in your mind; the author's words jump off the page and truly come alive.
Related article: 5 Things You didn't know about Audiobooks!
2. Epically long fantasy books are less intimidating on audio
YA fantasy books—and the SFF genre in general—are notorious for being epically long.
Now I don't know about you, but reading a book that's over a thousand pages sounds pretty daunting. Who has time for that?!?
However.
As Sara Hildreth explains on Libro.fm: *"*Nothing beats conquering a 1000+ page book while simultaneously tackling your to-do list."
So if you've been meaning to pick up that massively popular (and massively long) YA fantasy series for years now, then take the audiobook for a spin. You'll be surprised how fast 30 hours of audio can fly by!
3. You learn the correct pronunciation of names and places
Ever come across a fictional name in a high fantasy novel that had your tongue doing the tango? (I'm looking at you, J.R.R Tolkien. I couldn't pronounce Éowyn to save my life. And don't even get me started on Joe Abercrombie's Half a King, where ridiculous names like Keimdal, Ankran, Sumail, Jaud, and Grom-Gil-Gorm are the norm.)
The good news?
If you listen to YA fantasy books on audio, you'll learn how to read these difficult-to-pronounce names the way the author originally intended. Say goodbye to flipping back to check the pronunciation guide every few sentences.
Related article: Which The Hobbit Audiobook should you get in 2021?
How to Find Audiobooks on Spotify
By now you've probably realized that listening to SFF audiobooks is definitely worth it. But where can you find free YA Fantasy audiobooks on Spotify?
Since there's no straightforward way to search Spotify for audiobooks, it's not as easy as it sounds. To help you out, I've put together a handy list of Spotify playlists and podcasts that provide high-quality audiobooks that you can start listening to this very second.
And the best part?
THEY'RE ALL COMPLETELY FREE.
How to Listen to Audiobooks on Spotify
Curious about how to listen to free audiobooks on Spotify?
Check out this simple one-minute explanation that will help you get started in no time!
The 20 Best YA Fantasy Books to Listen to on Spotify
Presenting the most magical, transportive, and purely addictive YA fantasy books that you can currently listen to for free on Spotify—from epic witchy assassins to deadly cursed carnivals.
1. Descendant of the Crane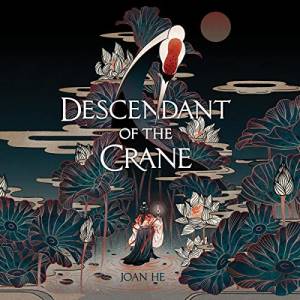 Joan He (Author), Nancy Wu (Narrator)
Listen to the Audiobook for Free on Spotify
Looking for a dark YA fantasy book full of unexpected twists, intricate worldbuilding, and lots of delicious political intrigue? Then stop looking, because Descendant of the Crane is all of those things and more. Pitched as a Chinese-inspired Game of Thrones, Joan He's fantastical debut is catnip for high fantasy audiobook lovers everywhere.
2. Mortal Engines
Philip Reeve (Author), Barnaby Edwards (Narrator)
Listen to the Audiobook For Free on Spotify
Mortal Engines is a classic YA fantasy book about a mysterious young woman named Hester Shaw who must stop the city of London––now a giant predator on wheels––from devouring everything in its path. Pair that unique premise with a top-notch performance from narrator Barnaby Edwards, and you've got a story that will make SFF audiobook fans go wild!
3. The Raven Boys
Maggie Stiefvater (Author), Will Patton (Narrator)
Listen to the Audiobook for Free on Spotify
For as long as she can remember, Blue has been warned that she will cause her true love to die. She never thought this would be a problem. But all of that changes when she meets Gansey. With over 300,000 ratings on Goodreads, it's safe to say that The Raven Boys is one of the best YA fantasy books of the 2010s. Best of all, the narration for the audiobook is engaging and a pure joy to listen to!
4. Children of Blood and Bone
Tomi Adeyemi (Author), Bahni Turpin (Narrator)
Listen to the Audiobook for Free on Spotify
This Goodreads Choice 2018 Winner is a diverse Ethiopian-inspired #OwnVoices YA fantasy like no other. It follows one young African girl's quest to restore magic to her forsaken people, the Maji. What's more, it's been picked up by Lucasfilm and a movie adaption is currently in the works. So now's the perfect time to listen to the audiobook on Spotify!
5. Wicked As You Wish
Rin Chupeco (Author), Cassie Simone (Narrator)
Listen to the Audiobook for Free on Spotify
Did you grow up listening to the classic tales of Robin Hood, Peter Pan, or Alice in Wonderland? Then I guarantee this is one of the best YA fantasy audiobooks on Spotify for you. In the words of bestselling author Kendare Blake: "Wicked As You Wish is a great read for fans of fairy tales, myths and legends…Come for the adventure, stay for the sassy jerkwad firebird."
6. The Light at the Bottom of the World
London Shah (Author), Shiromi Arserio (Narrator)
Listen to the Audiobook For Free on Spotify
Need a free YA fantasy audiobook that will transport you to another world? Then you won't want to miss Light at the Bottom of the World by London Shah! Set in a post-apocalyptic underwater London, this immersive SFF audiobook follows the story of Leyla McQueen, a Muslim Afghani-British teen who must enter a prestigious submersible marathon to save her father from a terrible fate.
7. The False Prince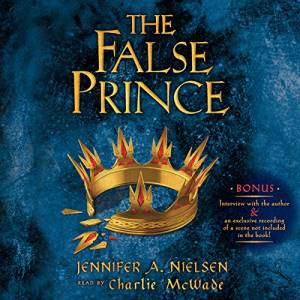 Jennifer A. Nielsen (Author), Charlie McWade (Narrator)
Listen to the Audiobook for Free on Spotify
Turns out: The False Prince is one of the best YA fantasy audiobooks on Spotify right now. Charlie McWade's narration is addictive and instantly sucks you into the story. Full of orphans, murder, treachery, and deceit, this medieval-inspired Young Adult fantasy book is perfect for diehard fans of Megan Whalen Turner.
8. Gold Spun
Brandie June (Author), Kathleen McInerney (Narrator)
Listen to the Audiobook for Free on Spotify
You've never listened to a YA retelling like this one. Gold Spun is a funny and fast-paced YA fantasy reimagining of Rumpelstiltskin starring a seventeen-year-old girl named Nor. When Nor rescues a handsome faerie in the woods, he gifts her with a magical golden thread. Best of all, the audiobook is narrated by Kathleen McInerney, the same woman who voiced Ash Ketchum in the first eight seasons of Pokémon!
Related article: Really Funny Romance Audiobooks to make You Laugh out Loud!
9. The Candle and the Flame
Nafiza Azad (Author), Christine Tawfik (Narrator)
Listen to the Audiobook for Free on Spotify
The Candle and the Flame is a William C. Morris YA Debut Award Nominee about djinn, female friendship, Arabic culture, and the importance of family. But most of all, it's a beautifully slow-paced YA fantasy audiobook with "Women being women in the most fantastic ways possible." And if that quote from the author doesn't make you want to immediately pull up this audiobook on Spotify and start listening, then I don't know what will.
10. Forest of Souls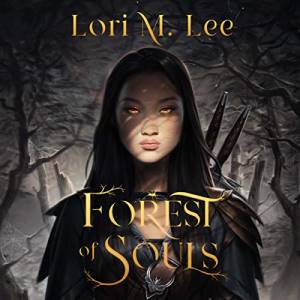 Lori M. Lee (Author), Cindy Kay (Narrator)
Listen to the Audiobook for Free on Spotify
Out of all the free YA fantasy audiobooks available on Spotify today, this is the title I'm most excited about. Forest of Souls is an eerie YA debut with expansive worldbuilding and a magic system inspired by Hmong shamanism. I'm a complete sucker for anything pitched as "dark YA fantasy," so you can bet I'll be adding this one to my TBR right away!
Related article: 13 Weird and Spooky Audiobooks
11. Reign the Earth
A.C. Gaughen (Author), Soneela Nankani (Narrator)
Listen to the Audiobook for Free on Spotify
To save her people, Shalia agrees to marry the king of the Bonelands. But the only thing her wicked new husband cares about is exterminating all the Elementae—mystical people who can control earth, wind, air, and fire. Reign the Earth is an intensely dark YA audiobook about overcoming abusive relationships. It addresses heavy themes that are extremely relevant today against the backdrop of a rich fantasy setting.
12. By a Charm and a Curse
Jaime Questell (Author), Jesse Einstein (Narrator), Stephanie Einstein (Narrator)
Listen to the Audiobook for Free on Spotify
If you adore magical carnivals, evil curses, and lyrical prose for days PULL UP A CHAIR YOU'RE IN THE RIGHT PLACE. By a Charm and a Curse is a YA fantasy audiobook about a traveling circus bound by a spell that protects its members from ever growing older or getting hurt. If you ask me, this is hands down one of the best audiobooks on Spotify for readers who devoured Caraval or The Night Circus.
13. The Girl of Hawthorn and Glass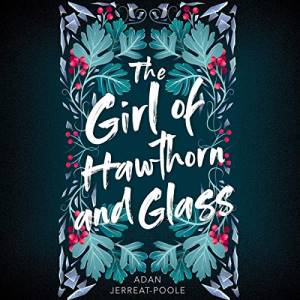 Adan Jerreat-Poole (Author), Gina Rogers (Narrator)
Listen to the Audiobook for Free on Spotify
What do you get when you mix together a non-binary witchy assassin, a lovable group of misfits, and a murder attempt gone wrong? Here's a hint: it's a delightful queer Young Adult fantasy, unlike anything you've listened to before. So if you're searching for unique YA audiobooks on Spotify, don't overlook The Girl of Hawthorn and Glass.
Related article: 15 of the Best LGBT Romance Books on Audible
14. We Are the Fire
Sam Taylor (Author), Eva Kaminsky (Narrator)
Listen to the Audiobook for Free on Spotify
Fire magic. Twisted alchemy. Lovers at odds. Strong friendships. Fantasy folklore. A bit of kissing. Any of that spark your interest? Then you should definitely add the We Are the Fire audiobook to your Spotify play queue. This explosive 2021 YA fantasy novel is as electrifying as it is heartbreaking and will undoubtedly remind Greek mythology geeks of the infamous Legend of Spartacus.
15. The Scorpio Races
Maggie Stiefvater (Author), Steve West (Narrator), Fiona Hardingham (Narrator)
Listen to the Audiobook for Free on Spotify
On the prowl for an audiobook to quench your epic YA fantasy thirst? Then you're in luck because The Scorpio Races by Maggie Stiefvater is the slow-paced, quietly atmospheric audiobook of your SFF-loving dreams. With its impeccable narration and two freaking fantastic voice actors, it would be an absolute crime to pass up this free audiobook on Spotify.
16. Elatsoe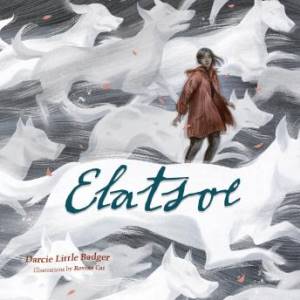 Darcie Little Badger (Author), Kinsale Hueston (Narrator)
Listen to the Audiobook for Free on Spotify
Elatsoe is a daringly unique YA Fantasy with a touch of mystery set in a world where paranormal beings walk among us. It centers on a Lipan Apache teen who can raise the spirits of the dead and how she sets out to solve her cousin's murder. If you're completely soft for Indigenous stories and asexual representation, then this YA audiobook should be high on your to-read list.
17. Any Way the Wind Blows
Rainbow Rowell (Author), Euan Morton (Narrator)
Listen to the Audiobook for Free on Spotify
If you're absolutely addicted to Rainbow Rowell, Fangirl, or the Simon Snow trilogy, then rejoice because the series finale is now available for free on Spotify! Any Way the Wind Blows takes the gang back to England, back to Watford, and back to their families for their longest and most emotionally wrenching adventure yet.
18. A Winter's Promise
Christelle Dabos (Author), Emma Fenney (Narrator)
Listen to the Audiobook for Free on Spotify
What say you to a YA fantasy book translated from French pitched as Howl's Moving Castle meets Pride & Prejudice, with a healthy dose of steampunk thrown in? If you're anything like me, you'll say: HECK TO THE FREAKIN' YES! You can bet your sweet banana bunches I will be listening to this free audiobook on Spotify ASAP.
19. Splinters of Scarlet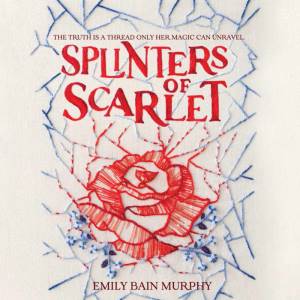 Emily Bain Murphy (Author), Kat Rose-Martin (Narrator),
Listen to the Audiobook for Free on Spotify
Splinters of Scarlet is a YA historical fantasy set in nineteenth-century Denmark, where secrets can kill and magic is a deadly gift. It's an atmospheric wintery read that some readers have dubbed "Downton Abbey with magic." That sentence alone makes me believe that this will be one of the best YA fantasy audiobooks I'll listen to all year.
20. Of Silver and Shadow
Jennifer Gruenke (Author), Kelsey Navarro (Narrator), Jennifer Jill Araya (Narrator), Eric Fox (Narrator), Daniel Casper (Narrator)
Listen to the Audiobook for Free on Spotify
As somebody who absolutely needs more New Adult/Upper YA fantasy audiobooks in her life, Of Silver and Shadow's dark and gritty setting immediately caught my attention. Featuring the forbidden lovers trope and a rag-tag team of rebels working to overthrow the government, this Young Adult novel is the perfect remedy for my Shadow and Bone Netflix hangover.
Related article: The best College Romance books on Audible
About the Author
Kat is a certified Content Marketing strategist and the award-winning blogger behind The Bibliosmile. Her life's passion is connecting overwhelmed readers with YA books that will make them smile. Kat has been known to mysteriously appear by chanting "The friends-to-lovers trope is far superior to the enemies-to-lovers trope" ten times under the full moon. When she isn't busy reading, you can find her on Twitter, Instagram, or Goodreads
---
Thank you so much, Kat, for all this very useful information on how to listen to audiobooks on Spotify and your amazing recommendations for YA Fantasy books we can listen to for free there!
Need more? Check out the best Fantasy audiobooks on Kindle Unlimited!
Booklist
/